The Loop
How long would you be out if you got cross-checked directly in the jaw? One game? 10 years?
On Wednesday night, the Montreal Canadiens extended their series against the Philadelphia Flyers with a gritty 5-3 Game 5 victory. Up 3-2 late, the Canadiens gave up the game-tying goal, but then quickly answered to take back their one-goal lead and then finished it off with an empty-netter.
Just making it out of the qualifying round was an impressive feat for the Habs, who entered the 24-team playoff format basically as the 24-seed (12th seed in the East) with a record of 31-40-9. That they've now made it this far, against the No. 1 seed in the Eastern Conference, mind you, is a borderline miracle.
But it's not as surprising after witnessing what occurred in the third period of Game 5, when Brendan Gallagher, Montreal's eighth-year right winger, was cross-checked directly in the jaw by Flyers defenseman Matt Niskanen. Here's the slow-mo:
Damn, looks like it may have hurt. Might need a closer look though:
GOOOOOOO! Yeah, looks painful!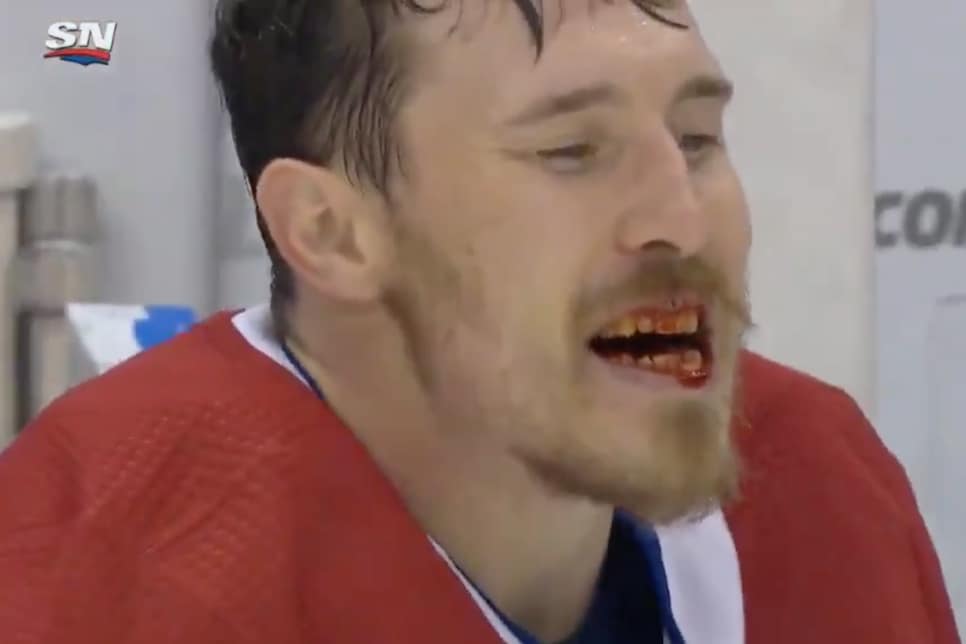 Of course, Gallagher plays hockey, so he popped right back up and went to the bench to get some work on the chompers. And yes, he did finish the game. No wonder the Canadiens are still in this thing. All heart. All grit. All battle. Word is that Gallagher is getting a CT scan and his status is in question for Game 6. It's more than likely that his jaw is fractured or broken, which probably won't stop him from attempting to play. The team doctors might have other ideas, though.
If he does miss a game or two, he went down swinging. Gallagher scored his first goal of the playoffs midway through the second period to make it a 3-2 game, and he had three hits in just over 18 minutes of ice time. All this was after he was benched in Game 4, by the way. "He's got one of the biggest hearts of anyone I've ever played with," said Canadiens goalie Carey Price. No lies detected.
So, how much time are you missing if you take a stick to the jaw like that? One game? Two games? 10 years? I think I'm just going straight to the casket. That'd be enough life for me.