Speed, speed, speed
The longest player in pro golf is in the Wells Fargo field, but it's not who you think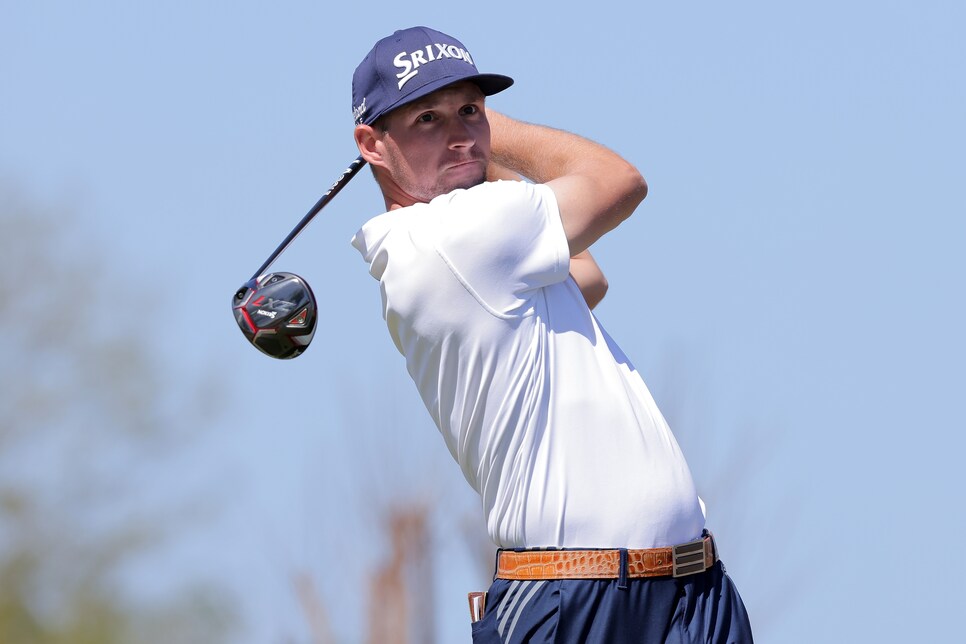 POTOMAC, Md. — The guy's so long he voluntarily took driver out of the bag. The holes simply wouldn't allow for it. It's part of the deal when your "fairway finder" flies 330 yards.
Brandon Matthews, who's in the field at this week's Wells Fargo Championship on a sponsor's invite, doesn't yet play full-time on the PGA Tour. But he might just be the longest player in professional golf.
The name might ring a bell, too, for something other than being a bomber. The 27-year-old went viral in 2019 for the way he handled an unfortunate situation—he was in a playoff in a PGA Tour Latinoamerica event when a man with Down syndrome made a distracting noise in his backswing. Matthews missed the putt, lost the tournament and gained thousands of fans for the grace he showed, signing a glove for the fan and refusing to blame anyone but himself for the loss.
The gesture caught the eye of the Arnold Palmer family, who extended him an invite to play in the Arnold Palmer Invitational. He missed the cut in his lone previous PGA Tour start and returned to the anonymity of mini-tour life, grinding away until winning the PGA Tour Latinoamerica's Order of Merit and securing full status for the 2022 Korn Ferry Tour season. He finished T-2 in his third KFT event in February then won his fourth to all but lock up a PGA Tour card for next season.
That's the pertinent background info. Now, time for the fun part: his obscene length. Golf Digest editorial director Max Adler actually played alongside Matthews in the 2013 U.S. Amateur, and while Alder isn't setting any speed records, he'd never been outdriven by 100-plus yards like he was that week. Repeatedly. And that was when Matthews was a teenager, before added some grown-adult strength. (And a fiancée, who's on-site this week).
Matthews' dad taught him the game and did so in a distinctly modern manner. Whereas many teachers previously prioritized accuracy, the growing consensus among modern instructors is to teach speed first. It's a byproduct of the strokes-gained era, which has underscored how vital distance is in the professional game. By and large, the best players in the world crush the ball. So: Hit it far, then learn how to hit it straight. Matthews' dad was ahead of his time.
"From a very young age I was just trying to hit it as hard as I can, so I developed power before I developed technique," Matthews says. "So I think that was one of the main reasons why I hit it so far, because I just learned it at an early age, hit it as hard as you can."
As he attempts to flash the guns at TPC Potomac at Avenel Farm, Matthews comes into the week off three straight missed cuts on the Korn Ferry Tour. He also ranks "only" 34th on that circuit in driving distance at 307 yards. That stat can be misleading even on the PGA Tour—only certain holes are measured, and 305 yards on firm turf in Texas is not the same as 305 yards on spongy kikuyu in Southern California. It's the same story on the Korn Ferry Tour; driving distance simply isn't a reliable stat for telling you who the longest players are. That's especially true for Matthews, who has been like Aquaman without his trident in recent weeks.
"Two out of the last three weeks I took driver out of the bag," Matthews said. "And it's just so painful to do because for me, I've been hitting my driver so well for the past few years. We just looked at golf courses, my caddie and I, Colton [Heisey], the last few weeks and it just doesn't fit anywhere. There's not a hole that we can hit it. You know, when I do have driver in the bag, obviously there's a big advantage there, especially if I'm hitting it well and consistent and I feel good with it. So I do feel good with it this week and it is nice to have that thing back in the bag."
Per his longtime coach, Dale Gray, Matthews' clubhead speed with driver is around 135 miles per hour. His 5-iron flies 231 and can carry the d-stick up to 340 when he goes at one.
"Super long arms, wide arc, it's unlike I've seen," Gray says, his face glowing like a man who knows how lucky he is to be working with that kind of speed.