The Loop
PGA Championship 2020: Brandel Chamblee draws wild Brooks Koepka comparison, is in major-week form
For those of us not on site, one of the sneaky best parts of major championship weeks is Golf Channel's "Live From" show. It's a cross between "Inside the NBA on TNT" and ESPN's "First Take." A wonderful mix of sharp, stats-based analysis and fiery hot takes that have led to on-set explosions. The difference: many of the past on-set explosions are real, as opposed to the staged ones you see on ESPN and FS1.
"Live From" has pitted Brandel Chamblee against David Duval, against Frank Nobilo, against Justin Leonard and sometimes, even against host Rich Lerner. The one constant, of course, is Chamblee, who makes plenty of sense about 85 percent of the time. But we all tune in for the 15 percent of the time he's on Mars while his co-analysts are back on earth.
On major weeks, Chamblee always brings his A game in both areas. His statistical analysis is often spot-on, but when he breaks out a narrative-based take he's come up with in his brain, you simply must pause the TV and gather everybody around it. This one from Wednesday would fall in that bucket: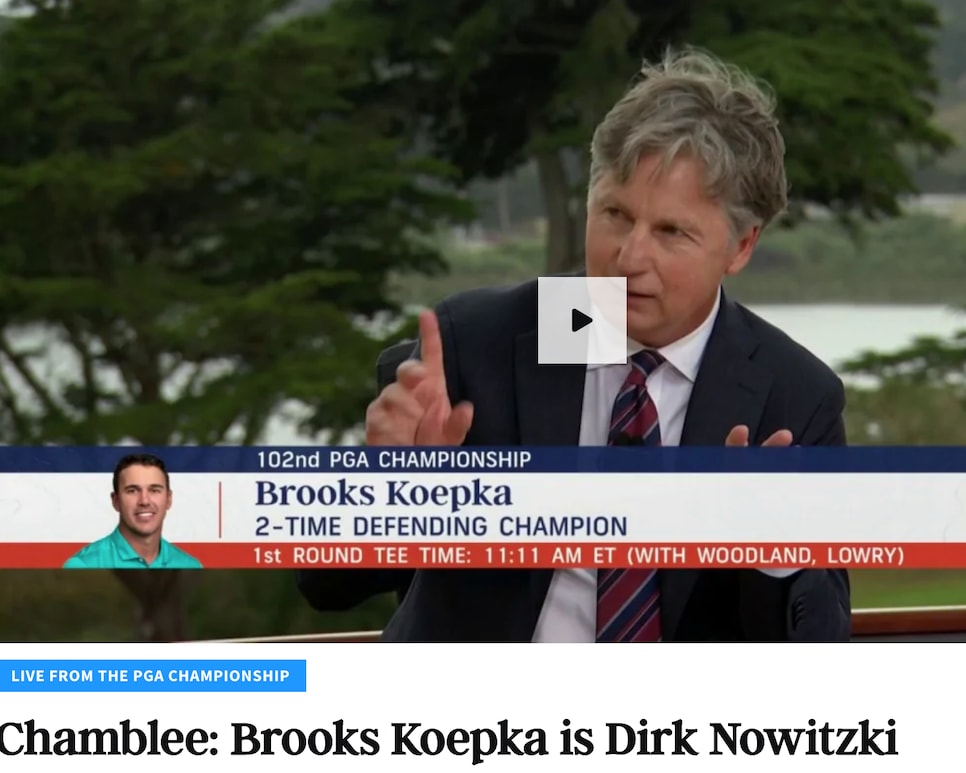 Simply exquisite. It's only Wednesday and Chamblee is drawing comparisons between Brooks Koepka and Dirk freaking Nowitzki. Just wait until Saturday night, when Brandel discusses whether or not Tony Finau has "the clutch gene."
Now, to be fair, Chamblee's comparison wasn't completely off base. If you have the time, go check out the full breakdown. But for now, I tried to pick out the best excerpts.
"Brooks Koepka has only won five percent of his PGA Tour events, but he's three times the player in majors," said Chamblee. "Now, there's a lot of ways you can break that down - the best stat available is strokes-gained, because it's a relative stat and it takes into account the strengths and weaknesses of the field.
"Pretty much every single major championship he plays in, he's a different player than he is in regular tour events. And you sit here and you sort of rack your brain to try and come up with another tour player who was like that, I couldn't really do it. I've started to look at other sports, and there was one player that stuck out. There is a fella by the name of Dirk Nowitzki, and Dirk Nowitzki was one player in regular season games and a completely different player in the playoffs. On average, he scored higher in points, rebounds, assists, steals blocks. All the way across the board.
"When you look at Brooks Koepka, there are four mained strokes-gained categories. In the six majors I just mentioned - that's 24 stats - he was better 21 of 24 times than he was the rest of the year. He's Dirk Nowitzki."
OK, not bad. I may have gone with Andy Pettite, Bernie Williams or Derek Jeter, but that's just the Yankee homer in me.