The Loop
Brandel blocks Ian, a surprising Tiger Woods sighting, and the best shot at the Players you probably didn't see
Welcome to another edition of The Grind, where we are still basking in the glow of the shot heard round the world played incessantly by me around the office. It came on Wednesday at the Players on TPC Sawgrass' famed 17th, and I'm not sure why Golf Channel didn't show it on loop like that Sergio Garcia hole-in-one. OK, so it was on a replica of the par 3 set up for fans, but Brooks Koepka was still impressed:
I just wish I had the technical skills to dub Verne Lundquist's "In your life!" call over it. (Can someone help me with that?) For someone who had never had a hole-in-one before (I know, I know, it doesn't count as a real hole-in-one), it was quite a rush. It was also nice to get attention at the Players for something other than my Chili's Streak (But yes, that record run of casual dining is still alive at 35 nights!). In any event, there's much to, um, digest. Let's get to it.
Si Woo Kim: What an impressive Sunday for Kim considering how unimpressive his tee-to-green game was. But despite only hitting eight greens in regulation, Kim went a remarkable 10-for-10 in scrambling to win by three shots. Sounds reminiscent of someone else's short game. . .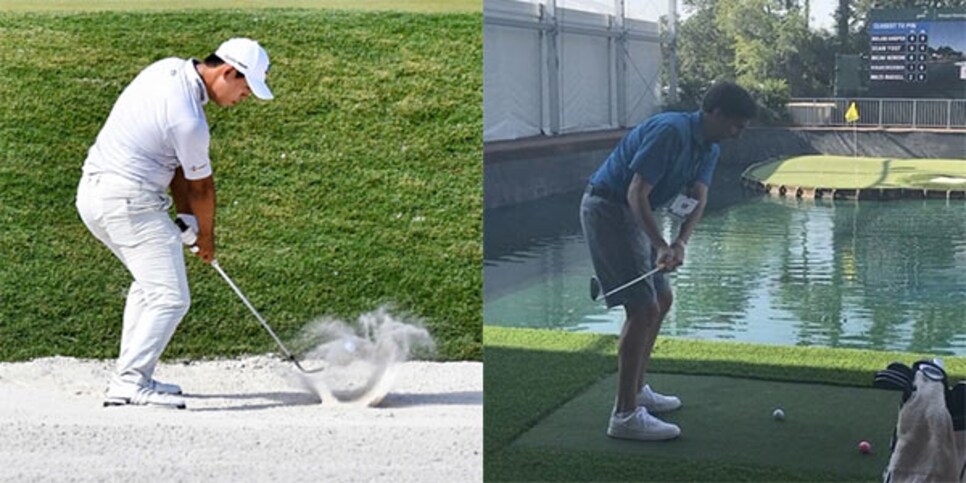 But seriously, we're buying a lot of stock in this guy. In fact, we started doing so last January. The guy who first earned his PGA Tour card when he was 17 is now the youngest Players champ ever. As writers scrambled to learn about the phenom on Sunday, we learned something else about him on Monday: He's frugal.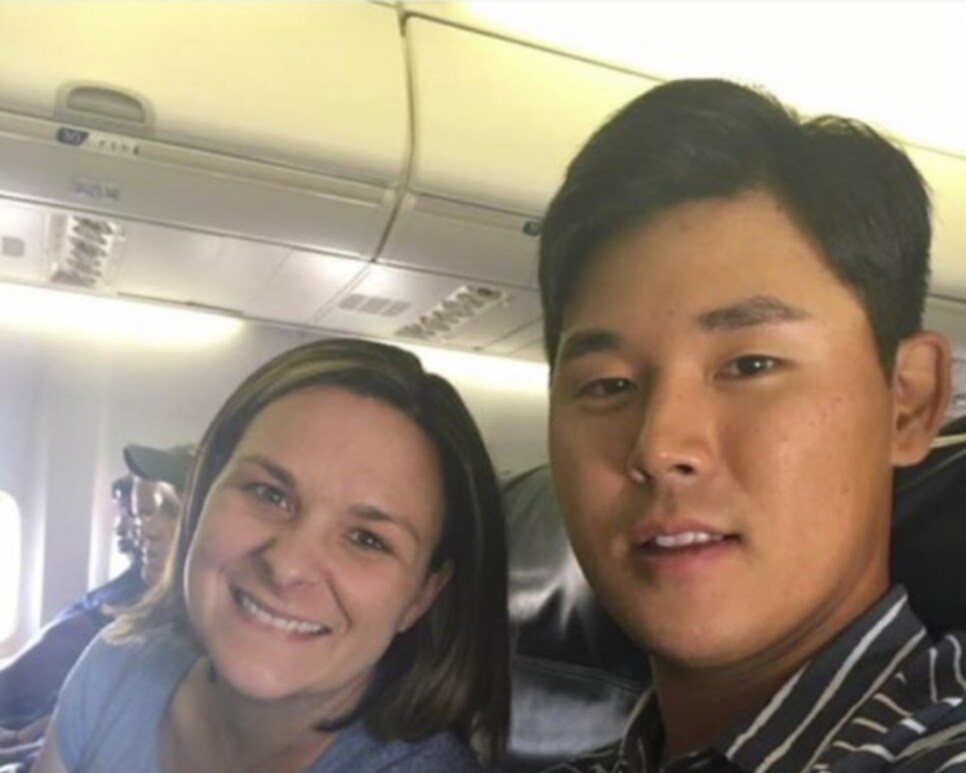 That's the Players champ, fresh off winning nearly $2 MILLION, sitting in a middle seat in the 30th row of coach. Props, Si Woo.
Ian Poulter: Three weeks after learning he'd get to compete in the Players thanks to a PGA Tour calculation caught by fellow tour pro Brian Gay, Poulter took advantage by earning the second-biggest check of his life. Yes, he nearly threw away hundreds of thousands of dollars with a rather untimely shank on 18, but he responded with a recovery shot that was more impressive than Sergio's ace or Rafa Cabrera Bello's albatross.
Si Woo Kim's back: The day after winning the Players, Kim withdrew from this week's AT&T Byron Nelson with a bad back. We wouldn't think much of that except it's the fifth back-related WD this season. Reminder: the dude is only 21. Also, sitting in a middle seat in the back of a plane isn't going to help.
Ian Poulter's critics: There are a lot of these in general (and they had a rough week), but two in particularly, Steve Elkington and Brandel Chamblee, emerged during the final round. Both were critical of Poulter's decision to lay up on the par-5 16th, asserting Poulter was playing for a paycheck instead of trying to win. Poulter later stood up for himself, but couldn't respond directly to Chamblee because the Golf Channel analyst had previously blocked him on Twitter.
Not that we should be too surprised. Chamblee claims to have blocked 20,000 people. Odds were good one of them was Ian Poulter.
J.B. Holmes: We've seen some final-round meltdowns through the years, but what Holmes did on Sunday at the Players was downright historic. The co-leader through 54 holes, Holmes shot 84 and finished T-41(!). How is that even possible?! (Full disclosure: J.B. is on my fantasy golf team. Sigh.)
Greg Norman: The Shark took a bite out of golf announcers in a recent column, saying they're boring. I have an idea. Maybe Norman should try being an announcer himself. Oh. Right. Nick Faldo had the perfect response.
Actually, I think Greg might need a hug.
The PGA Tour heads to Dallas/Fort Worth for the AT&T Byron Nelson, aka that event Sergio Garcia won last year but no one remembers because he won a slightly bigger tournament last month.
Random tournament fact: The two winners before Sergio Garcia? Steven Bowditch and Brendon Todd. Yeah, you probably don't remember that either.
RANDOM PROP BETS OF THE WEEK
-- Brandel Chamblee would have gone for the green in Ian Poulter's spot: 1.134 MILLION-to-1 odds
-- Si Woo Kim will win the 2017 Players: 500-to-1 odds (Actual odds. And some guy genius actually bet 200 Euros on it.)
-- There is still no way I'll ever make a real hole-in-one: LOCK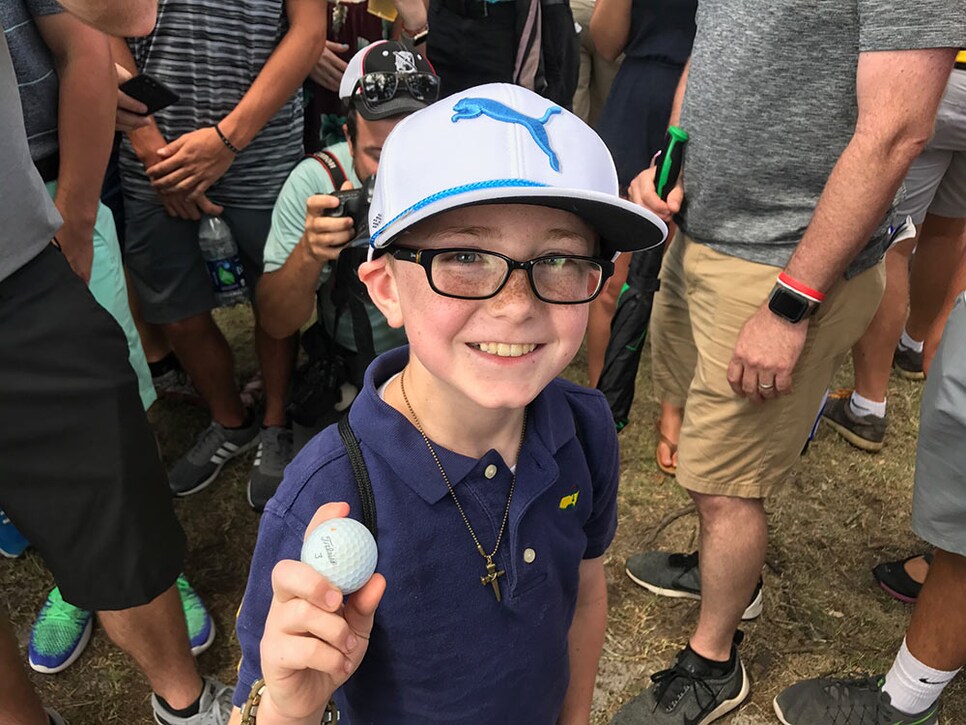 And here's a mother and her daughters betting quarters on players making/missing the green on No. 6 during the final round.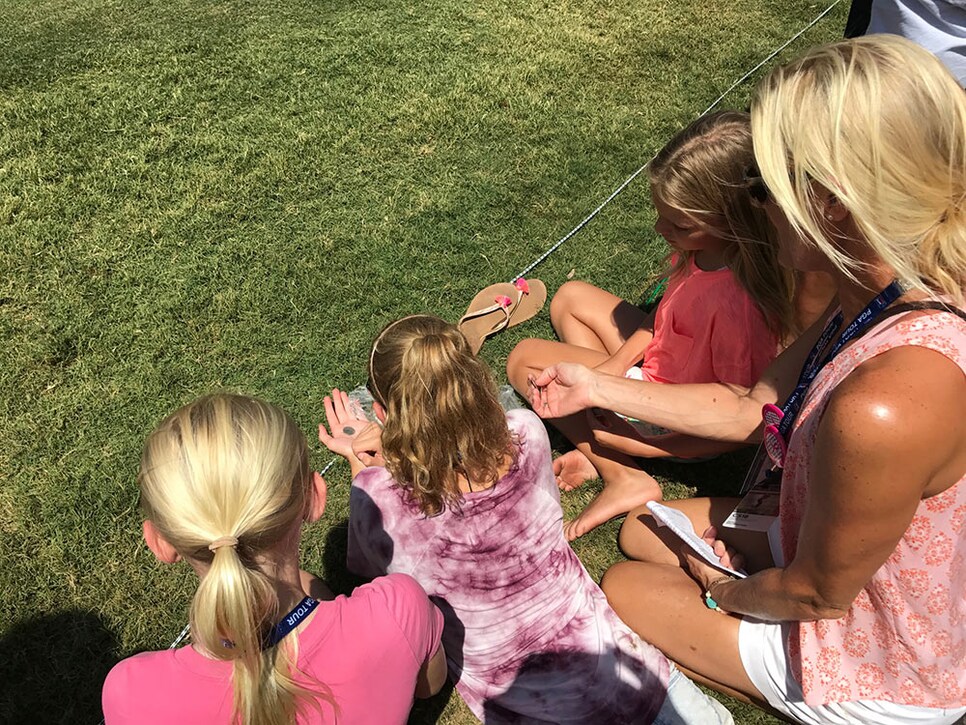 Get kids into golf and gambling early, is what I always say!
I mean, how could it be anything else? Here's a (slightly) different angle!
And here's a photo of Brooks and I pulling off a perfect high five.
Take notes, PGA Tour pros.
THIS WEEK IN TIGER SIGHTINGS
On Monday, this photo of Tiger Woods posing with a fan at a Michaels (Yes, a Michaels) surfaced:
It appears Tiger was coming from a workout. At least, we hope he was. That shirt looks a little crusty. . .
And Woods was also spotted somewhere else:
On the bright side, the 14-time major champ isn't limited to staying "horizontal" these days.
CELEBRITY GOLF PHOTO OF THE WEEK
At one point on Friday, Vijay Singh was tied for the lead and Nick Lachey was the biggest celebrity at TPC Sawgrass. I miss 2002.
"I'm conscious and trying to sleep on my right side and that's sort of facing away from Erica and she's like, 'Why? Are you not happy with me? What's going on?' I'm like, 'No, no, it's fine. I'm just taking care of my back.'" – Rory McIlroy. Husbands everywhere should file that excuse away.
Clifton McDonald, a "pro," shot 127 in a U.S. Open local qualifier. He did not qualify. . . . Vijay Singh and caddie Kip Henley parted ways a day after Singh played in the penultimate group in the third round of the Players. Some things never change. . . . Augusta National legend Dan Yates passed away at 98. The man who attended the first 78(!) Masters will be missed. . . . Fans who register for a Michelob Ultra promotion will receive 95 cases (yes, CASES) of beer if Brooks Koepka makes a hole-in-one at a tournament this season. Seeing my ball go in the hole has to help his chances, right?. . . If you wondered why people were walking around TPC Sawgrass with hats that have a shrimp on them, that's because Jacksonville's minor league baseball team has changed its name from the Suns to the… Jumbo Shrimp. This is not a joke. . . . And finally, I topped off a week of unhealthy meals by eating Five Guys out of an actual TROUGH in the Atlanta airport.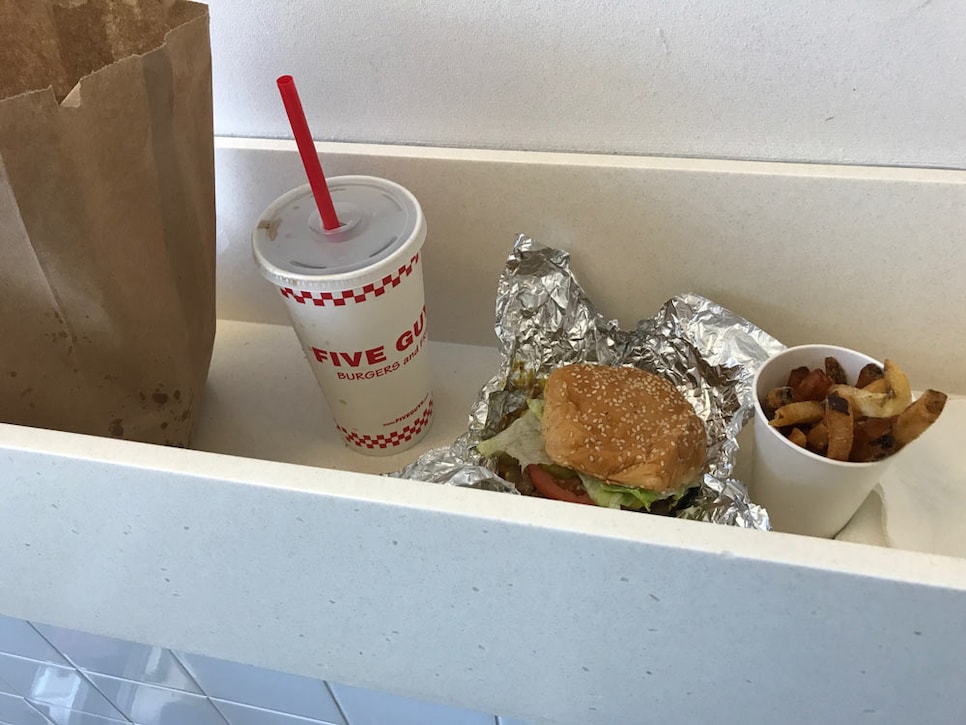 RANDOM QUESTIONS TO PONDER
What did Ian Poulter wind up getting Brian Gay?
What did Tiger Woods wind up getting at Michaels?
Why am I having trouble fitting into my pants?