News
Braden Thornberry beats Joaquin Niemann in first-round match worthy of final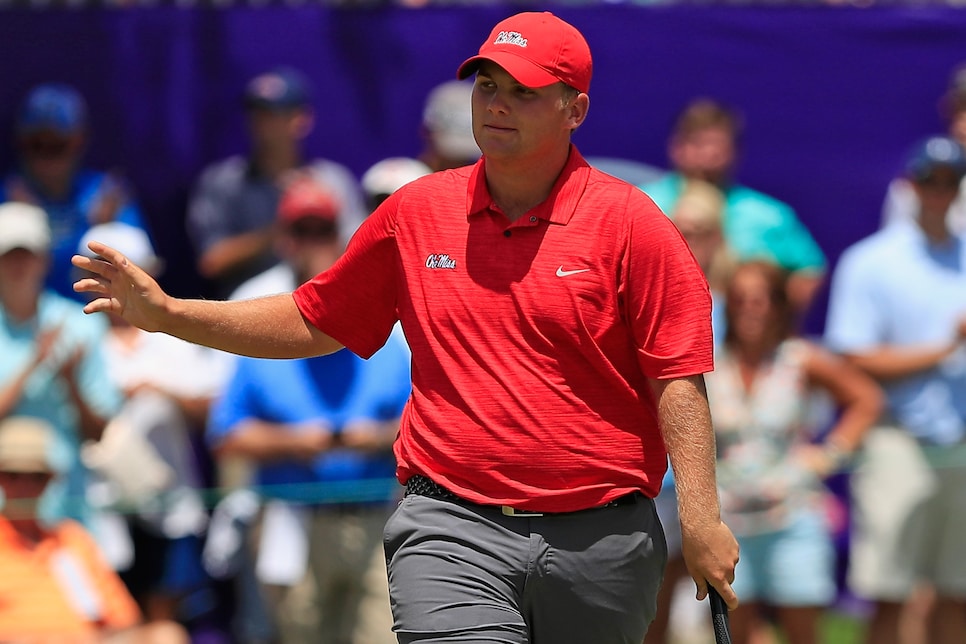 Match play promises nothing, least of all that the two best players meet in the final, so it will have to suffice that Joaquin Niemann of Chile and Braden Thornberry served up a dramatic opening act in the U.S. Amateur on Wednesday.
It came down to the 18th hole, as anyone would have scripted a match between the Nos. 1 and 3 in the World Amateur Ranking. The third-ranked Thornberry, on a roll that suggests he's underrated at No. 3, prevailed, 2 up, at the Riviera Country Club to advance to the round of 32 on Thursday.
"Kind of unfortunate for two of the higher ranked players to play each other in the first round, but you got to do it at some point," Thornberry said. "Today was definitely a step in the right direction. The course was playing hard today and I played well, so hopefully I can carry that momentum over."
Neither player was ahead by more than a single hole through the first 17 holes. Thornberry won the 12th hole to pull even and the 13th hole to take a lead. He won by holing a 25-foot downhill birdie putt at the 18th hole.
Thornberry, 20, won the NCAA individual championship earlier this summer as a Mississippi sophomore and was awarded the Haskins Award as the outstanding college player. Neither, incidentally, was the most impressive moment of the year.
In June, Thornberry, playing on a sponsor exemption, tied for fourth in the PGA Tour's FedEx St. Jude Classic. Later, he also won the prestigious Sunnehanna Amateur.
Niemann had made it to the round of 16 in the U.S. Amateur a year ago, tied for 29th in the PGA Tour's Greenbrier Classic, has won two professional events, and was No. 1 in the World Amateur Ranking.
Meanwhile, Maverick McNealy, No. 2 in the ranking, bowed out in the first round, losing to Connor Syme of Scotland, 2 & 1.
"I played very, very solid and tried not to give him much," Syme said. "I always thought he was going to come back at me, which he did. He never gave me anything on the back nine. Even when he made bogey on 16, I still had to massively work for it. It was obviously a very difficult match, but I'm absolutely delighted to get through to the next round."
McNealy's goal now is a rematch in the Walker Cup at Los Angeles Country Club next month, provided both are on their respective teams.
"I'm leaving here with a little bitter taste in my mouth," McNealy said. "I could have done a lot better than I did. But that's only motivation to work hard.
"I'm still very confident in my game. I think I've seen flashes that I haven't seen for a long time in my game this week. It's just been trending the right way. I think for the last nine or 12 months I felt like my game has been very close but I just haven't quite had that event or round or shot that kind of breaks me through. So I'm looking forward to hopefully getting a chance in two weeks and maybe get something going there."
The medalist Hayden Wood, meanwhile, handily defeated Chris Crisologo of Canada, 4 & 3. Wood, son of former U.S. Junior Amateur champion and PGA Tour player Willie Wood, won three straight holes, 12 through 14, with pars.