Women's Mailbag
Am I good enough to move on from beginner's clubs? Your questions, answered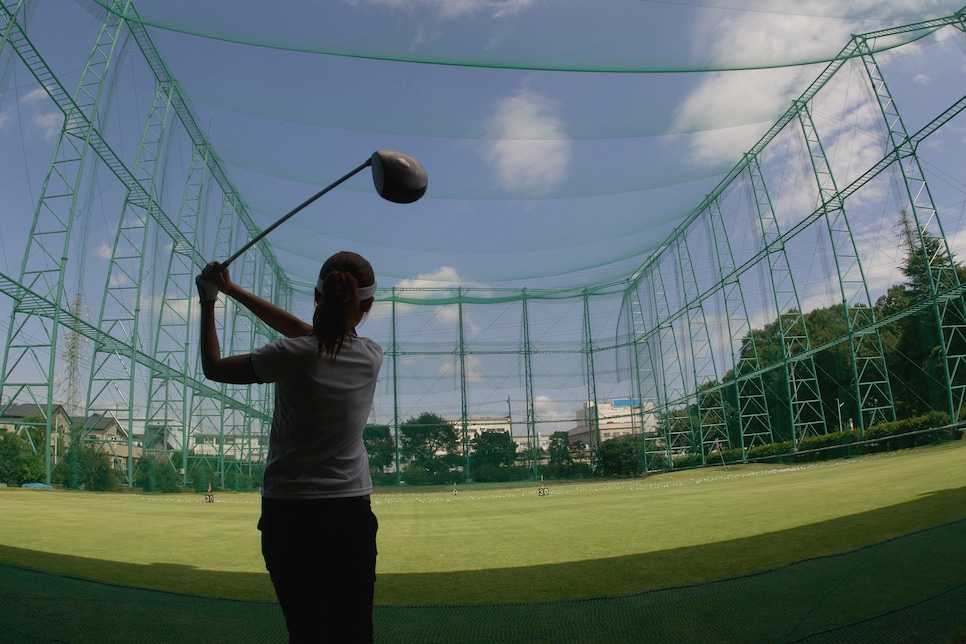 In our third women's mailbag, where we answer questions from our female readership, we're going to talk about equipment. If you have a question you would like to have answered, you can submit it here. It might be female-focused, but guys, if you have a question, we're not going to ignore you.
I'm a mid/high-handicapper and have an old box set, from some time in the early 2000's. I hit my junior daughter's wedge and was actually chipping with accuracy. Was I just lucky or is it time to investigate? I've never considered myself 'good enough' to use beyond a basic set. - Gail, from Kentucky
There are a few things that pop out to me here. First, there is no certain level of "good enough" for upgrading your clubs. You're out there playing, so that automatically makes you good enough to get fit for a set of clubs. And second, golf club technology has come a long way since the early 2000's. You're going to be amazed at what's out there.
I spoke with Monica Stratton, a fitter at Carlsbad (Calif.) Golf Center, to hear what she'd recommend. It's great that you had a good experience with your daughter's wedges, but Stratton says to actually start with irons and then go with wedges that match those.
"If someone's a mid-to-high handicap, irons are a good start. The boxed sets are generally heavier than the newer technology clubs you'd be fit for. They say they're women's and they're light, but they're not as light as what you can get when you get custom fit or buy a name brand," Stratton says. "For wedges, I generally have people get the wedges that fit the iron set they get fit into. They'll be lighter and not as clunky as what a box set would be. There are also some specialty wedges, some with a bigger sole to help her get out of the sand."
It can be intimidating to sign up for a club fitting for the first time, but don't stress. The fitter is there to help you. And if you're worried about it being too costly, Stratton points out that the cost of a good box set and getting fit for the clubs you need can actually be similar.
"If you break it down, you might not really need 14 clubs," Stratton says. "If I custom fit you, it might end up being just a little bit more than a nice boxed set, but it's all the clubs you need. There's not going to be any wasteful clubs you're not going to end up hitting. Sometimes you don't need the full set. I sell 10-11 clubs all the time."
As far as the age of your clubs are concerned, Stratton says to upgrade, "Every 4-5 years on a driver and woods. Irons you can push out to 6-7 years. But if you're in that 10-year realm, there's so much technology, especially for women, it's just getting better and better for customization and making things lighter and easier to hit. There are so many more options today than there were 10 years ago."
Stratton also recommends checking in with your fitter every couple of years. "The fitter isn't always going to try to sell you something," Stratton says. "They're just going to try and check that what you're using is good for you or if there's anything better out there for you. sometimes I'll have people come in and I'll say, You're good."
You're certainly good enough to try out some clubs outside of your old boxed set. Find a fitter—check out our list of America's Best Fitters to find one near you—and start a conversation explaining your current set and that you want to try out some irons. The fitter will take it from there.
My daughter has started playing golf. I don't know a lot about it and want to keep up with what's going on. - Ali, from New York
I think the easiest way to start educating yourself about golf and keep up with what's happening would be to start following some golf accounts on Instagram. That way, when you're scrolling through your feed, you'll start seeing golf content all the time. It'll become a part of your daily routine. It's an easy way to learn a bit more about golf and be exposed to what other young female golfers are doing. I'm assuming you already follow Golf Digest, but here are a few other accounts I'd suggest you follow.
This junior golf program offers girls' clinics at 500 different locations across the country for girls aged 6-17. On this account, you'll see content from different Girls Golf groups. If you like what you see, maybe you'll be able to find a clinic near you.
From introducing kids to the game to offering competitive tournaments, U.S. Kids Golf covers a wide range of junior golfers. Follow them to see content from tournaments and junior golfers across the country. They also sell kids golf equipment if you're looking for gear.
Following the LPGA Tour is a great way to find role models for your daughter. Stars on the tour come from all over the world. You'll learn their stories, and get to watch a lot of great swing videos—which is never a bad thing.
This non-profit gets kids access to golf courses by subsidizing green fees. They work with over 1,700 courses to get a $5 rate for kids to play. Some locations cost even less than $5.
I'd also suggest following some instructors. Teachers will post videos of drills or tips that will help educate you about the more technical parts of the game. If your daughter is struggling with a certain part of her game and you don't have access to lessons from a teacher, you might be able to find helpful information from a teacher's account, like our Teaching Professional, Erika Larkin (below).