VIRGINIA WATER, England — For the 30 players still on the Wentworth course when Thursday's play in the first round of the BMW PGA Championship was called at 6:30 p.m., until things resumed on Saturday morning, the gap between shots was exactly 36 hours and 50 minutes. Not that anyone was complaining. It's not every day a reigning monarch dies, certainly not one, as was the case with Queen Elizabeth II, who has been on the throne for 70 years.
Still, with play on Friday canceled, the 144-strong field was collectively left with time on their hands. What to do with a day off in the middle of the biggest event on the DP World Tour? Hit balls? Take in the sights? Watch the many tributes to Her Majesty on television? The choices were many and the verdicts varied.
"The last day and a half or so has been a bit weird," said Lee Westwood just after completing his opening round of 68 with an eagle on the par-5 18th on Saturday. "I was fortunate enough to meet the Queen a couple of times. The world lost a nice lady on Thursday. Each time I was around her I left with a smile on my face. I was always excited to meet her, and she never disappointed. I always went away feeling better about the world. She was a remarkable woman.
"I've seen her during functions at Buckingham Palace. I got my OBE [Order of the British Empire] from her. She treated everyone the same and had time for everyone. It was impressive. She was on her feet for hours on end and had a conversation with everyone. The breadth of her knowledge was incredible."
In golf terms, Westwood was unperturbed. At 49 and playing in his 29th consecutive BMW PGA Championship, the former World No. 1 has pretty much seen it all. Although, as one of the LIV players in the field, his presence has created controversy on a DP World Tour where he has now played 587 times.
"We're used to delays in play, even if this one was a bit different," Westwood continues. "It was longer than most and, of course, the most unfortunate kind. It hasn't really crossed my mind that I might have an extra incentive to do well this week. I've always loved the PGA Championship. I've never missed it. It's the flagship event on the European Tour. I've been a member for almost three decades and I've never stopped wanting to support it. I've always enjoyed the course too. Wentworth is in a great place on the calendar now. It's a really good course, and this is a proper event."
An event that has been reduced to 54 holes in order to still finish up on Sunday evening. DP World Tour officials said on Friday that a Monday finish to allow for 72 holes was not possible given staff, facilities and security conflicts due to the on-going plans for a state funeral.
Players wore black ribbons on Saturday to honor the Queen and the flags at Wentworth flew at half-staff. A two-minute silence was also held at 9:50 a.m. local time with the proclamation of King Charles III shown on screens around the Championship Village.
One group ahead of Westwood, perhaps just as well given their recent spat on social media, Eddie Pepperell was not unhappy with an opening effort that saw him round in 69. In the field only after receiving a sponsor's invitation, the 31-year-old Englishman is enjoying a decent 2021-22 season after losing his tour card last year, which might have something to do with why he hit only a few balls on his unexpected day off.
"I didn't do anything really," he said. "I've been staying at the Queenwood Club, which is nearby. So that was helpful. But was a strange day, a slow day. Having a day off in the middle of a tournament is not something I think I've ever experienced before. It's not something I'd like to see repeated either. I hated it to be honest. It didn't feel good at all, especially in these circumstances."
Pepperell notes it's always difficult to find the rhythm of a round once it has been interrupted. "And this was an extreme example. It was difficult to pick up again this morning," he said. "Then again, it depends how you feel about getting up really early to play just a few holes. I'm never great in the mornings. My body tends to feel better later in the day. But we did get a break this morning with the weather. This morning it was much nicer than it was when we stopped on Thursday evening."
Defending champion Billy Horschel was one player who took things a step further than Pepperell. The newly minted U.S. Presidents Cup member got away from golf completely Friday to take in the sights and sounds of a nation in mourning.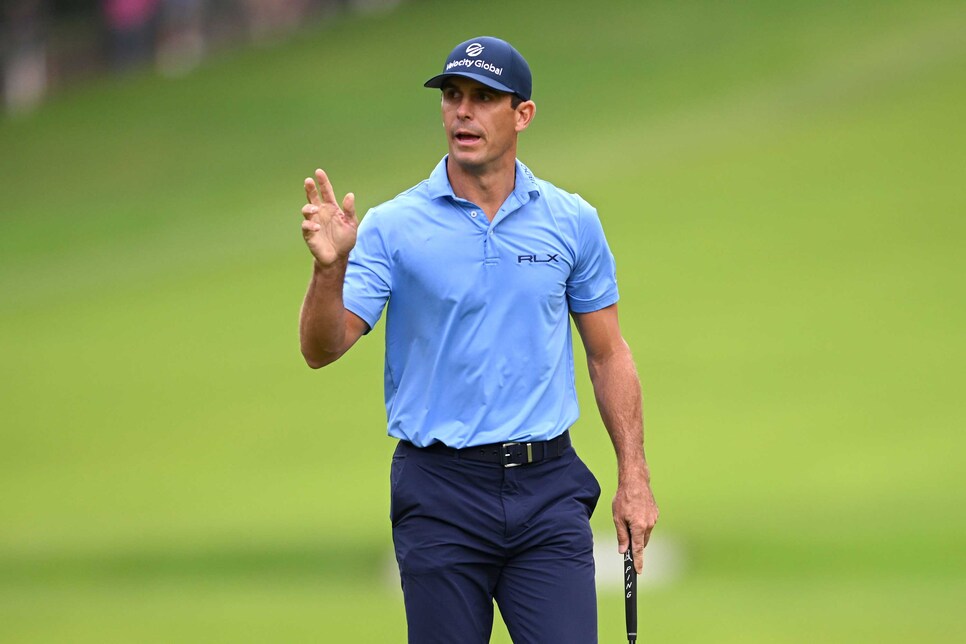 Billy Horschel said that he and his wife went to Windsor Castle, 20 minutes from Westworth, on Friday to pay their respects to the Queen.
Ross Kinnaird
"My wife and I went into Windsor, to the castle, to pay our respects," said Horschel, the castle only 20 minutes away from Wentworth. "It's obviously a very sad moment for this country. The Queen was an amazing woman, and this is a historic time. So it is special to be here. And surreal. We had a walk round the town and took it all in. There was no golf involved. I didn't feel the need to hit any balls. One day off is not going to kill me."
All of which was in direct contrast to the day "enjoyed" by DP World Tour chief executive, Keith Pelley, and his fellow officials. It wasn't until 3:30 p.m. Friday that they were able to announce the plans for the weekend. Complicating matters was the decision of the U.K.'s soccer leagues to collective cancel all professional soccer games on Saturday, but help was at hand. When it was announced that the cricket test match between England and South Africa was going ahead at the Oval ground in London, only 26 miles from Wentworth, the situation became clearer. Had cricket decided to follow suit and cancel, finishing the BMW PGA Championship on time would have been a lot more difficult to justify.
"Yesterday we had a number of conversations with the government through the department of Digital Culture, Media and Sport and saw the guidance that came from the Palace," Pelley said. "Most of the conversations that I had were with the England and Wales Cricket Board, and we both felt that bringing people together at this particular time, having both had the honor and respect of the day of cancellation on Friday, was the right decision and the right thing to do. I have heard from so many players that want to honor Her Majesty and felt that playing was the right way to do it."