Gambling
BMW Championship 2020 DFS picks: Why our expert likes what he sees from Tiger Woods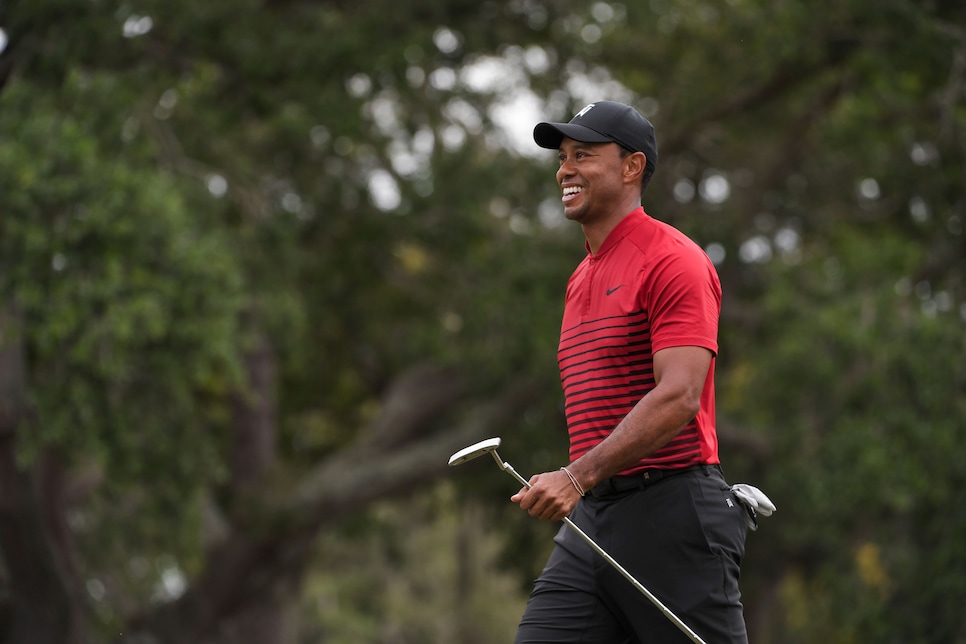 There are a lot of interesting variables to account for this week at the 2020 BMW Championship. First of all, the venue: Olympia Fields, which hasn't hosted a PGA Tour event since 2003. The past five winners of BMW Championships have been 20-under or better, and Jim Furyk won the '03 U.S. Open at 8-under, which at the time tied the 72-hole scoring record mark.
BMW Championship 2020 DFS picks:
Salary Range: $9,000 and above
High Upside: Rory McIlroy ($10,300 DraftKings | $11,500 FanDuel)
Yes, there is some reason to be optimistic about McIlroy for this week. Hear me out: Since the restart, the big flaw in his game has been his irons. He's been basically tour average in that range, but last week was a big improvement for him. He gained 5.14 strokes on approach, which was seventh-best in the field and his best mark since golf has returned. Now, the putting was bad at TPC Boston, losing 6.49 strokes to the field. Per the RickRunGood.com database, that's his second-worst putting performance in the past five years. So, if we make two (maybe big) assumptions that his irons are back to where they were pre-shutdown and his putter won't be the worst of his career that could mean "Rory is back." Obviously golf is a lot more complicated than that, but this is a glimmer of hope for McIlroy is an otherwise terrible run for him.
Safest Option: Daniel Berger ($9,700 DraftKings | $11,200 FanDuel)
Berger's success since the restart has been well-documented. He has five top-15 finishes in six events since the restart. His T-3 at the Northern Trust last week is his latest success, and the stats point to keeping it up. He's averaging 2.38 strokes gained per round in that span, the only player on tour with more than two. The all-around game is even more impressive. Berger ranks 13th off-the-tee, sixth on approach, 13th around-the-green and seventh in putting. When you are that solid in every facet, you tend to have an incredibly high floor.
Most Likely To Disappoint: Dustin Johnson ($11,500 DraftKings | $12,000 FanDuel)
We have to consider what a "disappointment" would be for Johnson. If you are expecting him to replicate his performance last week, winning a playoff event by 11 shots, you will be disappointed. The reason he falls into this category is because I expect him to see a big boost in ownership and, at this salary, he will really need to finish in the top 5 to payoff. Using implied odds from bookmakers, Johnson will finish in the top 5 about 31 percent of the time meaning that he will "disappoint" 69 percent of the time.
Pick To Win: Justin Thomas ($10,800 DraftKings | $11,700 FanDuel)
In a vacuum, Thomas is the most well-rounded player on tour, and he might actually be the best player. The only thing that ever holds him back is his putter, like it did last week at the Northern Trust. He lost 4.01 strokes to the field on the greens, en route to a T-49 finish. The good news for Thomas is that he has a great history of bouncing back the next week from a poor putting performance. Per the RickRunGood.com database, here are the results for Thomas following putting weeks as poor as he had at the Northern Trust: He finished second at the Workday Charity Open, third at the Waste Management Open, 12th at the 2019 WGC FedEx St. Jude Invitational, second at the 2017 Tour Championship and won the 2017 PGA Championship. Thomas has bad putting weeks, but he usually doesn't compound them the following week.
High Upside: Tiger Woods ($8,600 DraftKings | $10,500 FanDuel)
Woods had "that look" about him on Sunday morning when he birdied his first four holes en route to a 66. Not only did he pass the eye test, but this was statistically his best round since the final round of the 2019 Memorial Tournament (31 rounds ago). Both his driving and approach game were sublime, and he has all the incentive to keep his foot on the gas this week at Olympia Fields. He needs a sixth-place finish or better to advance to the Tour Championship. If Tiger plays like he did on Sunday for three or four rounds this week, we will be seeing him in the last few groups.
Safest Option: Scottie Scheffler ($9,000 DraftKings | $10,600 FanDuel)
You could easily make the case that this spot belongs to Harris English, and I'd have no problem with that. But let's shine a spotlight on Scheffler's performances lately. Now with back-to-back fourth-place finishes at the Northern Trust and the PGA Championship, Scheffler is showing that he can compete in all the biggest fields, no matter the course setup. Per the RickRunGood.com database, no golfer is averaging more strokes from tee-to-green than Scheffler in the last four weeks. He's making a late push to be crowned PGA Tour Rookie of the Year and will look to continue that success at Olympia Fields.
Most Likely To Disappoint: Paul Casey ($8,100 DraftKings |$9,600 FanDuel)
Casey has made it clear that he's tired, which happens when you play six consecutive weeks. This will be week No. 7, and the numbers are showing that fatigue could be playing a role in his last two events. He lost strokes on approach in both of them, and you would have to go back to January 2017 to find consecutive events that Casey lost strokes in that category. Adding up his numbers and his comments are equaling a fade for me this week.
Pick To Win: Matthew Wolff ($8,200 DraftKings | $9,800 FanDuel)
Wolff shot an uncharacteristic 77 in the third round at TPC Boston. He was able to bounce back with a 67 on Sunday and played his other three rounds at a combined 14-under. He will still be volatile, but his game is getting more mature each and every week. It also helps that Wolff won the collegiate Illini Invitational at Olympia Fields in 2018. In a week where so few golfers will have any course experience, Wolff has winning experience.
High Upside: Jason Kokrak ($7,500 DraftKings | $8,400 FanDuel)
We saw ice in the veins from Kokrak last week to eagle No. 18 on Sunday to secure his spot in this week's BMW Championship. This is now back-to-back top 15s for Kokrak, who has seen great success in the BMW Championship in his career. His last three starts have resulted in top-20 finishes in all of them. While this will not be the same course, there are takeaways from event history like strength of field, format and time of year.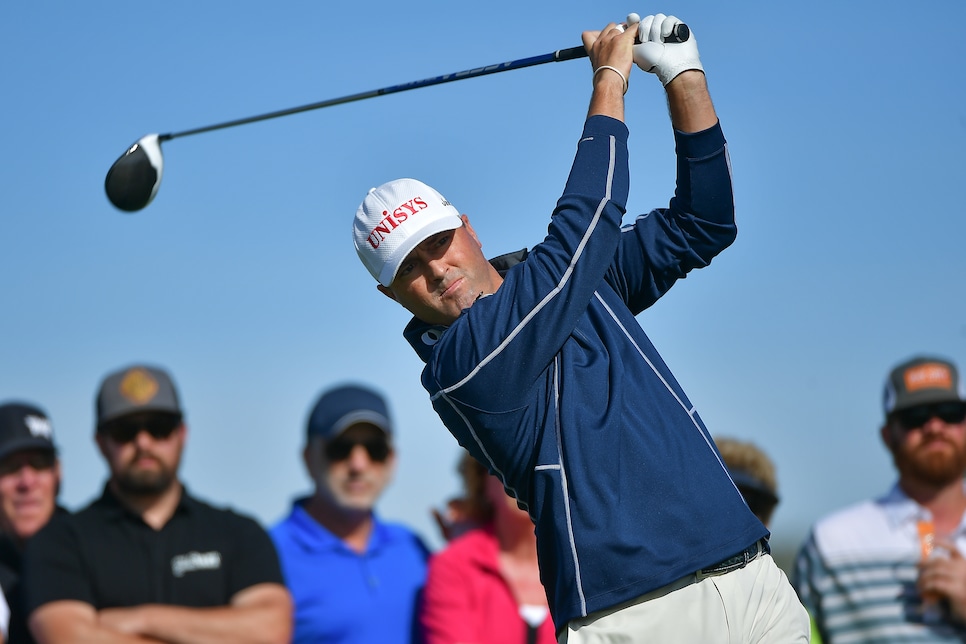 Safest Option: Ryan Palmer ($7,600 DraftKings | $8,700 FanDuel)
Palmer might be having the most overlooked season by any player on tour. He contended deep into Sunday at the Sony Open and Farmers Insurance Open. Since the restart alone he has four top-15 finishes with three of them being top-eight finishes. Since the Workday Charity Open, he's sixth in Strokes Gained and behind only Scottie Scheffler in Strokes Gained: Tee-to-Green. This is pure value on a veteran who will not be exposed by how big this stage is.
Most Likely To Disappoint: Alex Noren ($7,900 DraftKings | $9,100 FanDuel)
I stared at Alex Noren's name on the spreadsheet for a long time before realizing he's going to disappoint us. The raw results have been fantastic. He finished third at the 3M Open, 22nd at the PGA Championship and eighth last week. The problem is how he's been doing it, relying on his short-game. He's gained at least 6.8 strokes per event between putting and around-the-green. That's hardly sustainable, and even more concerning is that he ranks outside the top 100 in both Strokes Gained: Off-the-Tee and Strokes Gained: Approach.
Pick To Win: Russell Henley ($7,800 DraftKings | $8,800 FanDuel)
Henley offers a few qualities that become incredibly appealing in fantasy golf. Firstly, he "pops." Sure, he'll miss cuts but when he plays well, his name can be found on the first page of the leaderboard. You'll notice that he has three top-10 finishes in his last six starts. He also hits his irons better than most. He hits them so well, in fact, that he's averaging the best Strokes Gained: Approach number of anyone since the restart.
High Upside: Robby Shelton ($7,400 DraftKings | $7,100 FanDuel)
You don't have to look far for evidence of Shelton's upside. In fact, his back nine on Sunday was a blistering 29 that included four birdies and an eagle. That was a stretch he needed to secure his place in the Top 70 and advance to the BMW Championship. That run secured a top-15 finish for Shelton, who also finished third at the 3M Open a few weeks ago. Don't expect consistency from Shelton, but he always has a run like this lurking.
Safest Option: Talor Gooch ($6,600 DraftKings | $7,800 FanDuel)
Talor Gooch is a top-25 machine, now with four such finishes in his last six events. This shouldn't be too big of a surprise to avid fans, as Gooch has played well all season long. In fact, he made 13 consecutive cuts from the Safeway Open to the Charles Schwab Challenge. That's even more remarkable when you realize the tour average for consecutive cuts is four. Gooch will enter the week at No. 52 in the FedEx Cup Standings, so expect him to grind over every shot for the duration of the week.
Most Likely To Disappoint: Maverick McNealy ($6,200 DraftKings | $7,100 FanDuel)
McNealy is likely to fall victim to the ever-popular, putting regression. McNealy gained 9.63 strokes/putting on the field last week, which was the best event of his career and the sixth-best event by any golfer this season. Even with that outrageously good putting performance, he was only able to muster a T-61 finish. The rest of his game was exposed, losing strokes in every other facet. If that continues and his putter cools offs, it'll be a long week for McNealy.
Pick To Win: Kevin Streelman ($6,400 DraftKings | $7,600 FanDuel)
Streelman might have the most win equity of anyone under $7,000. He has a few "close calls" this season including his runners-up at Pebble Beach and TPC River Highlands. He also has a T-7 at the Workday Charity Open and has made six consecutive cuts. While the cut line won't matter this week, Streelman can freewheel it toward contention.