FIRE PIT COLLECTIVE
Blood, Sweat and Tees: Daniel Augustus has endured tragedy and abuse, but golf continues to drive him
Editor's Note: This article first appeared in Fire Pit Collective, a Golf Digest content partner.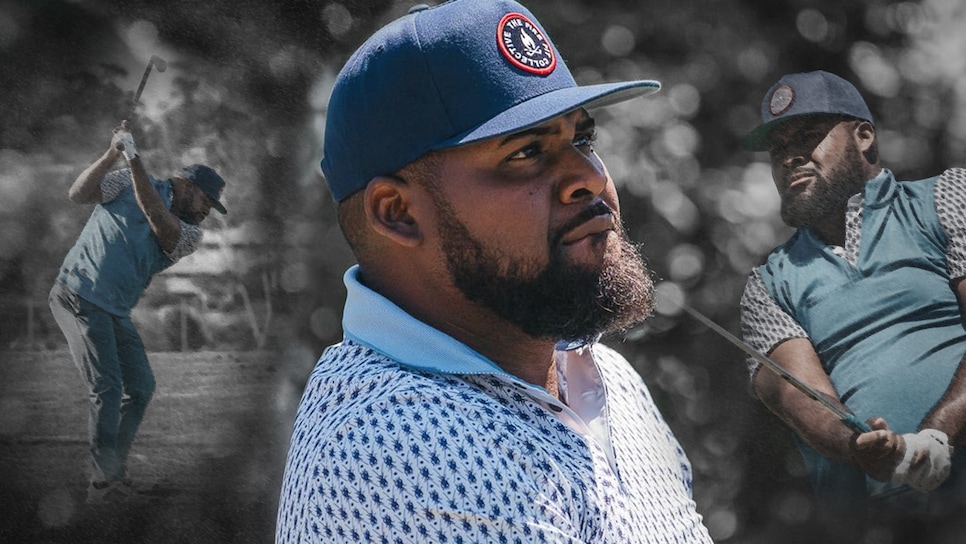 Daniel Augustus IV felt a sharp pain in his neck. He reached back and felt the blood. He was 13, and his stepfather, whom Daniel says had used him as a punching bag from the time he was 7, had just stabbed him with a hanger. As he bled, Daniel went to his mother, screaming that he was going to call the police. She demanded that he not. While crouched on the floor of his family's cramped apartment on the island of Bermuda, holding his neck as the blood trickled out, his mother protecting his abuser, Daniel was faced with the cruelest reminder: A decade earlier, his father had been stabbed to death.
"I've never been more determined to make it," Augustus says. He's 35 now and living on the couch of Fire Pit Collective co-founder Matt Ginella and his wife, Katie. Four kids and two dogs share the space with one mini-tour player. Augustus is broke. Flat broke. Not that he could return home even if he had any money. Because of visa issues, he hasn't been back to Bermuda for almost three years. Considering all of those circumstances, I was surprised by his response when I asked if he had reached a crossroads in his career. As we talked about his journey, I started to understand.
Daniel was born in Devonshire Parish, the first child of Beverly, a school teacher, and Daniel, a construction worker. The young family lived in a small two-bedroom apartment outside Hamilton, the capital of Bermuda. Amid the family's humble means, there was a lot of love in the home. On Nov. 5, 1990, the phone rang. It was a call that would forever change the Augustus family.
It has been a trying couple of years. Covid-19, lost sponsors and unfilled promises were just a few of the hurdles. Augustus was promised a $50,000 grant from a nonprofit foundation that intended to support a few players. Augustus received $13,000 before the foundation folded. A rum company helped for a few years, but when Covid hit, it decided to go in another direction. The business of a financial sponsor that had helped Augustus struggled during the pandemic, so that potential source of revenue dried up too. Despite being fifth in points on the APGA Tour, Augustus wasn't invited to the lucrative, 18-player Billy Horschel Invitational, which offered a $40,000 check to the winner. (The field was primarily drawn from the previous year's points list.)
Daniel's grandfather was on the other end of the line; he was in a dispute with an associate. He was calling for help, and Daniel's father rushed out the door. The details of what followed are not well known, at least to Daniel. He has tried to piece the story together from his dad's friends and associates. All that is known is that there was a fight, and Daniel's dad was stabbed multiple times. He died at a hospital. Daniel T. Augustus III was 30.
In 2019 Augustus fired a final-round 65 in windy conditions to come from five back and win his first significant mini-tour event on U.S. soil. The victory on the Florida Elite Tour was worth $5,000. He also won multiple times on the Moonlight Tour, a tiny yet legendary circuit in Florida. Between extended trips to play in the States, he would fly home and work to support his family and his playing career. Those trips home stopped a long time ago, as Augustus is concerned the Bermudan government wouldn't let him return to the United States.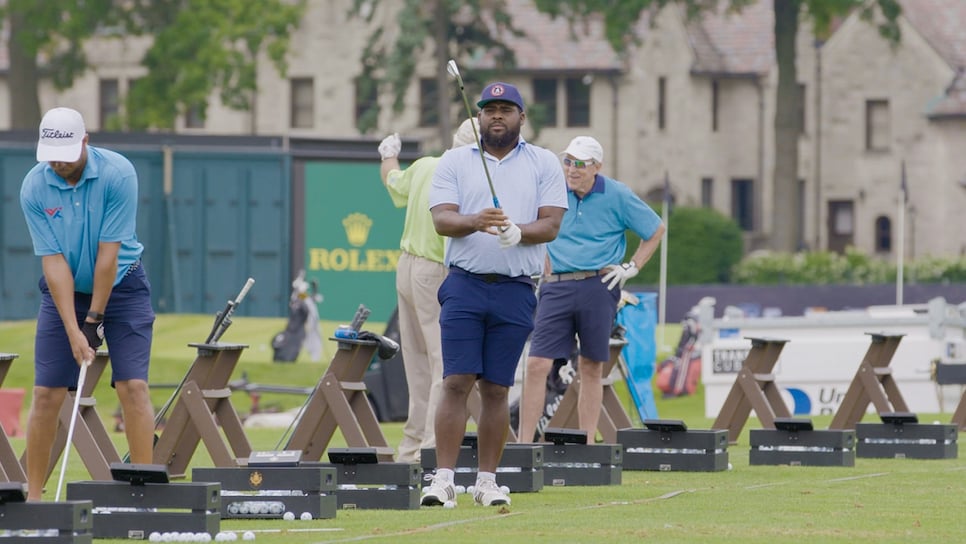 For a few years after his father's murder, Daniel spent a lot of time at his grandparents' house. His grandfather John, who died in 2020, and his grandmother Marjorie, who died last week, were among the most influential people in his life. They were more like parents. "My grandparents were my everything," Daniel told me in a text after learning of his grandmother's death. His mother, Beverly, continued to work as a teacher to pay the bills. Her house also became a safe haven for a man who would repeatedly terrorize Daniel.
In 2017, Augustus was working as a chauffeur during the America's Cup, an international sailing competition in Bermuda. It was a much better job than the work he had done in landscaping, which was hard on his body after a motorcycle accident had left him with broken ribs and a concussion. He was out of money again and working dawn to dusk, driving the rich and famous around his home country. That's when he reconnected with a one-time member at one of the clubs where Augustus had worked. He became Augustus's sponsor.
Daniel vividly recalls the first time he met his future step-dad, Terry Taylor. He was 7, and when he went to hug his mom, the man stopped him. Daniel immediately sensed "that he didn't want me around." Daniel says the abuse started soon after the man moved into the apartment. It continued for 10 years—three to four times a week at its worst.
In 2016, Augustus was in his third year working as a first assistant at Tucker's Point, a high-end resort course in Bermuda. That is when a member at the club gave him his next break in the form of a $16,500 check to attend PGA Canada Q school. It was the opportunity Augustus had waited for since turning pro in 2010. The hopes were quickly extinguished as he struggled terribly at Q school under the immense pressure of knowing his future was riding on that one event. He went back to teaching at Tucker's Point.
The stepfather hit Daniel only when his mother wasn't there to witness the abuse. (Reached by phone to comment for this story, Taylor refused comment) When he complained to his mother, Taylor would claim Daniel was lying. Women at his mother's church counseled her that Daniel was probably jealous of the new man in her life. When he was 13 and his stepfather abused him, Daniel picked up a golf club to defend himself. That is when his mom walked in. "See, look at your son," Daniel recalls Taylor saying. "He's crazy." Daniel would do anything he could to avoid coming home, knowing what was awaiting him.
In 2012 Augustus won the Bermuda Open, a small yet prominent event. He hoped it was the break he needed, but it didn't lead to any opportunities. He was stuck in his job as a teaching pro at Port Royal. He would practice between his long hours at the club, falling further behind the players who didn't have to work full-time jobs.
After the stabbing, the physical pain wore off quickly. As the two of us talked, I realized the mental scars are still fresh. The stabbing produced a small wound that didn't require stitches, but what Daniel remembers most about the incident is that his mom wouldn't allow him to call the police. As he recounted the story, he cried, often pausing to collect himself. "There was a lot of resentment for a long time," he says. "I'm not sure I'll ever get completely over it." The very person who swore to protect him had let him down in the worst way. Having had years to reflect, Beverly says, "Daniel has been through so much. I'm very proud of the man he has become." She and Taylor divorced years ago.
Paine College in Augusta, Ga., is a long way from Bermuda, and after three years of trying to play collegiately in the States, Augustus finally got his opportunity. In his first college tournament, he finished sixth. He won in his second start and finished third in helping Paine to its first conference championship. The Lions were headed to the national tournament until news came that a player was ineligible. That player was Daniel Augustus IV; the school had been notified he wasn't eligible based on his SAT score. The coach was fired and Augustus returned to Bermuda, never to play college golf again.
The abuse finally ended when Daniel was 17. One day while being hit yet again, he lost it. He doesn't remember what object he threw at his stepfather, but that's what finally ended 10 years of mistreatment. Daniel had grown quickly, and for the first time he was looking eye-to-eye with the person who had caused him so much pain. That was the most important day of Daniel Augustus's life.
Like many teenagers, Augustus played a lot of sports. Cricket and soccer were his favorites. That changed when he won a golf tournament at age 15. Golf would be his outlet from home life and the teenage gangs in his neighborhood. The gangs left him alone, knowing he had to travel for golf, and if he were in a gang, that wouldn't be safe.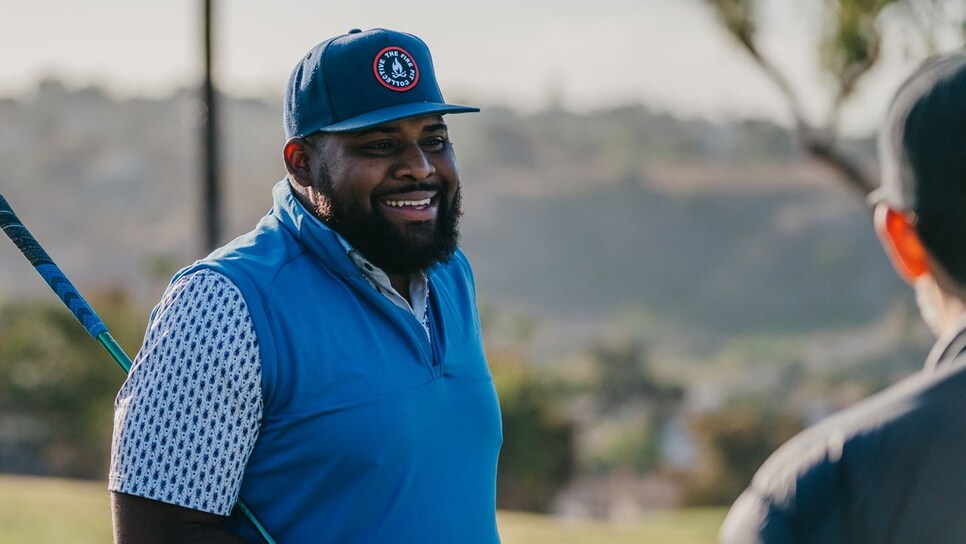 The pain became too much, and he needed to work through it. So about three years ago, Daniel started seeing a psychiatrist. There was the dad he never knew, a stepfather who almost destroyed his life and a mother he resented. That is a lot to unpack. He remains a work in progress, but he talks with his mother often. He continues to focus on himself.
Augustus was 4 when he picked up a stick and a plastic ball for the first time. No one in his family remembers why; none of them played golf. Soon after, a neighbor known as "Uncle Jarmo" took him to his course. Ocean View is a 2,900-yard, nine-hole muni outside Hamilton. It is where Augustus would learn the game that would save his life.
Daniel Augustus IV is more determined than ever to make it to the PGA Tour.