FIRE PIT COLLECTIVE
A 'pro' showed up for a PGA Tour pre-qualifier, shot 69* and had a two-hole stretch for the ages
Editor's Note: This article first appeared in Fire Pit Collective, a Golf Digest content partner.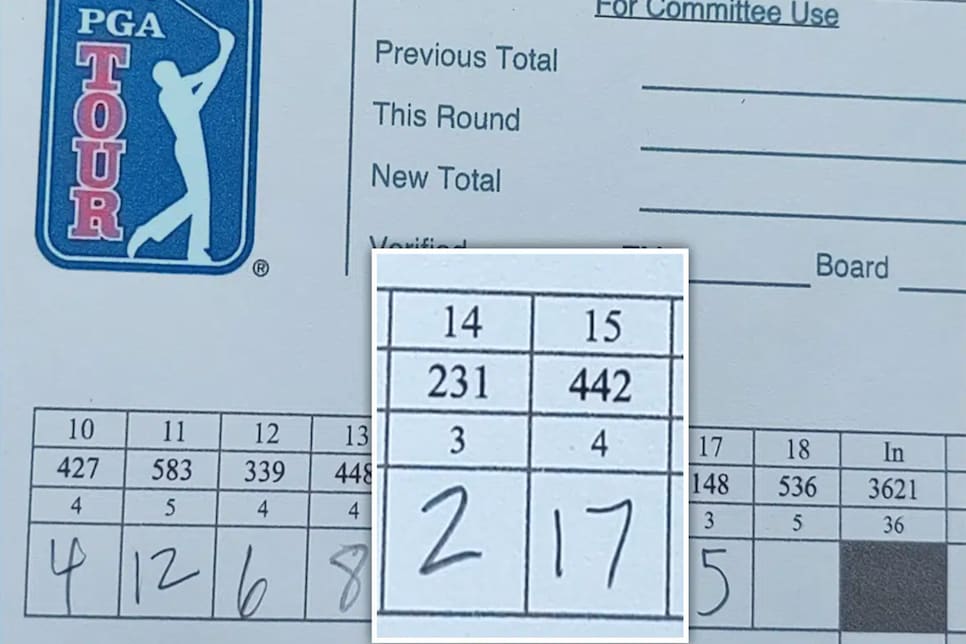 A player who shoots a 69 typically would be close to advancing at a PGA Tour pre-qualifier, and that score might even be good enough to get through. Well, on Wednesday, a player fired a 69 … on his first nine holes before he WD'd. The 33-over-par total included maybe the most ridiculous two-hole stretch since John Daly went 18-2 at Bay Hill in 1998.
First a little background: Pre-qualifiers are played the week before Monday qualifiers. They are in place to control the size of the Monday field and weed out players just like this. Sadly, what unfolded at ChampionsGate Golf Club in Orlando for the upcoming Butterfield Bermuda Championship wasn't the first time this has happened, nor will it be the last. People always ask how players such as this get into these pre-qualifiers. The answer is simple: They simply click "pro" when signing up, eliminating any handicap requirement. (Amateurs must have an index of below 2.0 to enter.) They pay the $250 entry fee and, like that, they are in the field. With so many pros signing up, it's almost impossible for PGA of America section officials, who run the qualifiers, to do any vetting.
Nick Scheib was on the range on Wednesday morning when he saw a player whiffing while warming up. "Man, I hope I don't play with him," he thought. Sure enough, as he walked to his cart, which are allowed in pre-Qs, he discovered his cartmate was the same player who had been struggling on the range. Syed Zaki mentioned before teeing off that he had forgotten to bring two clubs, but after a good drive and a decent approach and chip on the 10th, the group's first hole, Zaki was left with six feet for par. The third player in the group asked Zaki to move his coin; he turned and said, "What do you mean?" The player took Zaki's putter and showed him how to move the coin; he also had to move it back for him. Saki made the putt for par. Even through 1.
Zaki found trouble on the next hole when he duck-hooked three shots off the tee. (He was using Srixon Divides, the two-colored balls.) According to Scheib, Zaki considered quitting, saying, "I don't want to lose any more balls." But his seventh shot found the fairway. He made a 12.
He made a double bogey and a quad at the next two holes, and then Zaki pulled off one of the most incredible two-hole combos in golf history. The 14th hole at ChampionsGate is a par-3 that was playing 231 yards. The wind was blowing left to right. Hitting 3-wood, Saki delivered a perfect shot that never left the flag, ending a foot and a half from the hole. He made the putt, and according to Scheib, raised his hands in celebration before proclaiming, "That is my first birdie!" Like ever, Scheib took that to mean.
The next hole was a 447-yard par-4. Zaki had to reload off the tee and found his second ball in a sandy area left of the fairway. He topped the next shot, and the ball embedded directly in front of him, leading to an unplayable lie. He then hit multiple balls into a penalty area fronting the green, eventually playing from inside the hazard before finally finding the green. There was just one problem — this ball was all white. The other two players didn't have the heart to tell him he had played the wrong ball; they let him sign for the 17.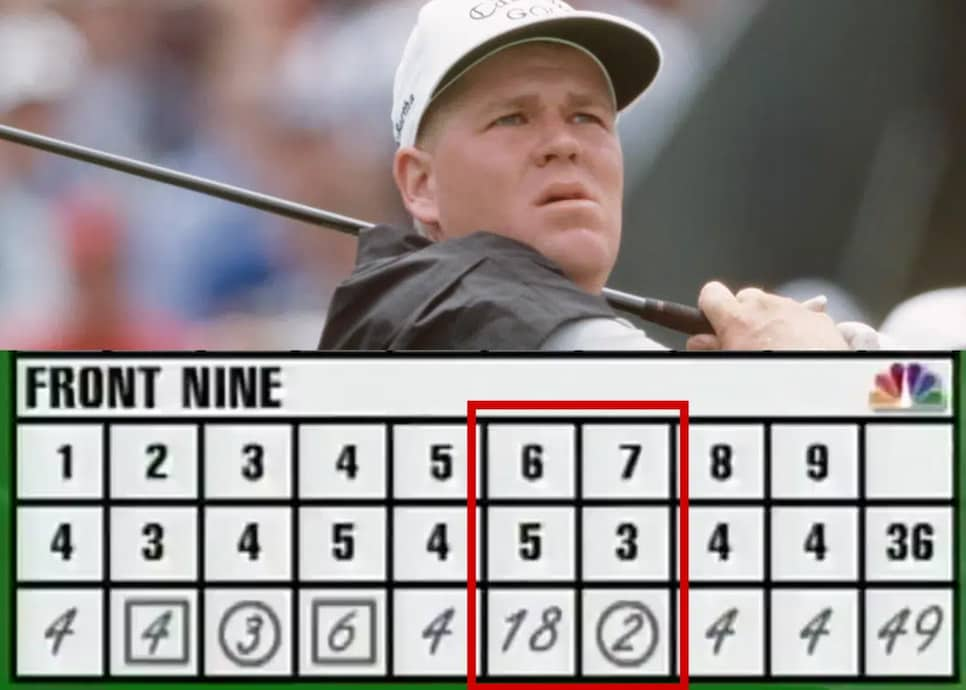 So Zaki played the 14th and 15th holes in 2-17. Nineteen strokes. With a birdie. That's one fewer than Daly needed at Bay Hill, when he followed up an 18 at the watery par-5 6th hole with a deuce at the next.
On the next hole, Saki fell in a bunker while making a bogey. He doubled the 17th, and on the finishing hole, Scheib estimated his playing partner made a 10 before deciding he had experienced enough. Saki announced he was done, and after driving him to the parking lot, Scheib followed protocol and asked for his scorecard. Saki said he wanted to keep it. Perhaps it was a memento for having broken 70.
Yes, it was an expensive nine holes. But you can't say it wasn't memorable.