FIRE PIT COLLECTIVE/ASK ALAN
Blowing up the OWGR, the world's best course, Eugenio Chacarra vs. Tom Kim and more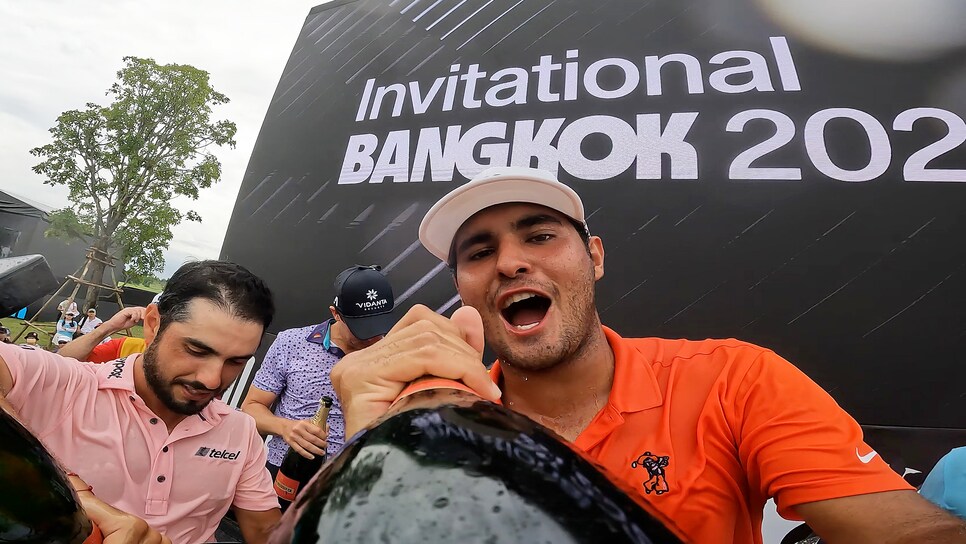 The Ask Alan mailbag is open for business. Here are this week's best questions:
Eugenio Chacarra winning $4.75M at LIV Bangkok versus Tom Kim winning $4M so far on [the PGA] Tour with two wins … who will be offering to trade lives with the other? @DeyAlcalde
I think they're both pretty happy where they are, as well they should be. Chacarra is not only going to make an obscene amount of money, but as LIV's first (only?) young keynote player he also will benefit from a ton of promotion. An open question has been can LIV create stars or merely poach them? Chacarra, 22, will be an important test case and figures to get a lavish amount of attention to help him succeed. Meanwhile, Kim, who just turned 20 this summer, is surfing on a tidal wave of goodwill on the PGA Tour. All of its big-name players are going to do everything they can to make him feel happy and valued, so he won't be tempted by LIV's next big offer. (Kim has already turned down one, tendered before the Presidents Cup.) Both situations seem pretty ideal.
Kim had no bogeys over 72 holes. How does a human being have no drives O.B., no three-putts, 100 percent sand saves, no clear mishits? #askalan @REOSuperFan
I've been thinking about this, too. Even on an easy setup, the man had to conjure nearly perfect execution. And this is across four days, with varying atmospheric conditions, early tee times, late tee times, a variety of playing partners, pregame meals, and then the pressure of having to win a tournament. Just an absolutely ridiculous performance. But that doesn't mean he was perfect; a great iron shot can redeem a bad drive, just as a long putt can erase a poor chip. Give Kim credit for resourcefulness as well as stellar play.
People used to think the OWGR was an independent body! But obviously Jay Monahan and Keith Pelley, who sit on the governing board, cannot be impartial when it comes to LIV, and fellow board members Mike Whan and Seth Waugh and Martin Slumbers and Will Jones (Augusta National) are caught in the crossfire, too. Keith Waters has a seat at the table representing the International Federation of PGA Tours, but his day job is COO of the old European Tour. They could all recuse themselves on matters related to LIV, but that would leave the future of professional golf in the hands of only one man: Peter Dawson, the very old-school former head of the R&A, who chairs the OWGR governing board. Given his long relationships with the other board members, it's easy to think of Dawson as compromised, but he has spent the last five years working as a (presumably well-paid) strategic consultant for the golf tourism industry in Dubai. So clearly he is a believer in (cough, cough) growing the game in the Middle East, and he might listen to the LIV arguments with something like an open mind. I'm not sure anyone knows what the process would be for the OWGR to blow up its own organization and appoint a new board, but how about this for an idea: Create a governing council with 23 members, one from each of the global tours that are awarded World Ranking points. All the various conflicts of interest would more or less cancel out, and the professional game could labor toward some kind of consensus on what to do with LIV.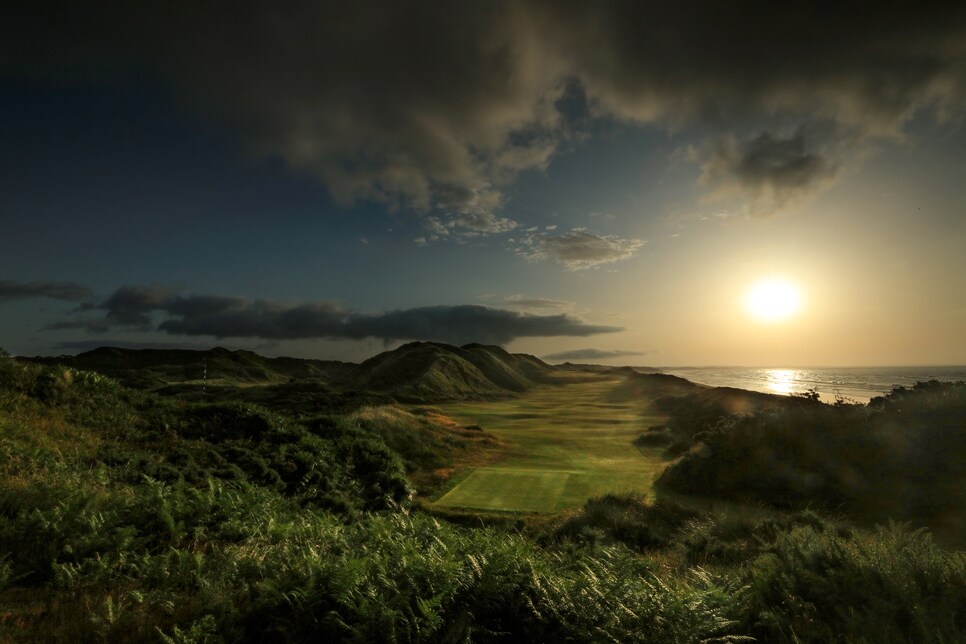 I need to play it again. I've only been on the property once, around the turn of the century. Matt Ginella, and I, along with a couple of wingmen, were barnstorming through Northern Ireland, and we hit RCD on the Sunday before it was going to host a big tournament. The course was closed, but an Irish don sneaked us on. However, we didn't have access to caddies or even yardage guides. There are so many blind shots there, and I distinctly remember the deflating feeling of us hitting four decent tee shots into the crosswinds, cresting a hill and not being able to see any of our balls in the fairway. But it's an awesome piece of ground and the greens are amazing. RCD is clearly a great course, but I need a do-over to fully experience the magic.
If rumored LIV changes—72 holes, a cut, a qualifier, etc.—come to fruition, is this another Monahan mistake? He's forcing their hand but may end up giving them more legitimacy long-term with a widely accepted format that's more difficult to ridicule. Thoughts? @kylelabat
We can blame Jay Monahan for a lot of things, but this is a bridge too far. LIV has said from the beginning that this year is a beta test and things will evolve. With the OWGR declining to bend the knee, it has become obvious that LIV will have to try harder to meet the established criteria. Going to 72 holes, having a cut and a more attainable qualifying system are the keys, and that template was established by the World Ranking bylaws, not Monahan.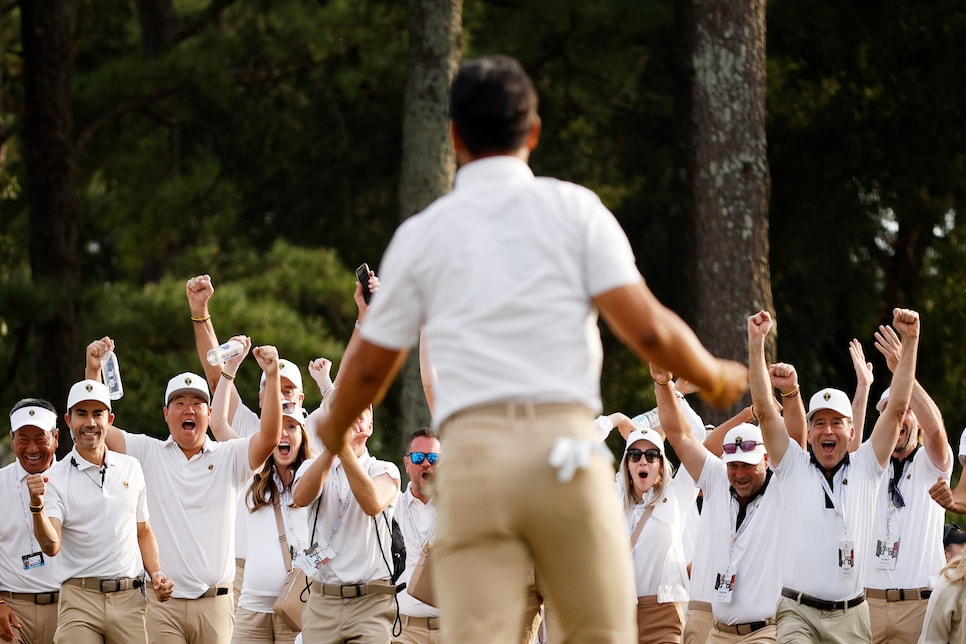 A 22 year-old won on LIV while a 20 year-old won on the PGA Tour. Are the wins equivalent or does it not matter anymore? Seems like Tom Kim "earned" his more? @dleect
Oh, it certainly matters, it's just not black and white to weigh these things. The top 20 at LIV Bangkok featured, in descending order, a Masters champion (Patrick Reed), 15-time Euro tour winner (Paul Casey), a dude who has made 464 cuts on the PGA Tour (Charles Howell III), 32-year-old future Hall of Famer (Brooks Koepka), the winner of a 2021 WGC (Abe Ancer), a Ryder Cup monster (Ian Poulter), a 29-year-old U.S. Open champ (Bryson DeChambeau), maybe the best player in the world (Dustin Johnson), a Hall of Famer who won last year's PGA Championship (Phil Mickelson), a former World No. 1 (Lee Westwood), the 22nd-ranked player in the world (Joaquin Niemann) and another Masters champion (Sergio Garcia). Those are some weighty résumés, but it was only 54 holes with no cut at a course and tournament with no pedigree. Tom Kim had to survive the cut and conquer a much deeper, much hungrier field, but his pursuers had far less starpower. It's certainly harder to win a PGA Tour event, but when you lay out who Chacarra beat, that feels more impressive. I'm going to call it a push. (*Ducks.*)
I agree the 23-year-old South African is a tantalizing talent, a long-hitter with great hands around the green. And Higgo seems like a tough kid, having lost his dad at early age and launching his career at the height, or nadir, of COVID. But considering he has played in six majors, missing four cuts and failing to finish better than 47th, I'm going to take the under.
Doesn't it make sense going forward for every college superstar to just go to LIV immediately for a few years, make $10M or so, and then jump ship to the PGA Tour to play "real golf" and start contending at majors? They can shore up their money situation without losing any of their prime years, and then go focus on major championships without having to worry about money at all. @luke_peacock
Well, sure, but that assumes there will be a spot for them on LIV and, more to the point, that there will be access to the major championships if these young players throw in with the, uh, disruptors. I will say this: LIV Golf may be the best thing to happen to U.S. Open and British Open qualifying! If the LIVsters are frozen out of World Ranking points for the next 10 or 11 months, which is a distinct possibility, you may see a bunch of brand-name players going through the qualifying process, which will be way too much fun.
Rate the likelihood Greg's tour would succeed without infinity dollars backing it up. 5 percent? Less? @fakePOULTER
This is like asking, Would I have played as many great golf courses if I wasn't a golf writer? Some things just are, like it or not.