Memorial Tournament
After awful round in Memorial, Billy Horschel recovers with an outpouring of support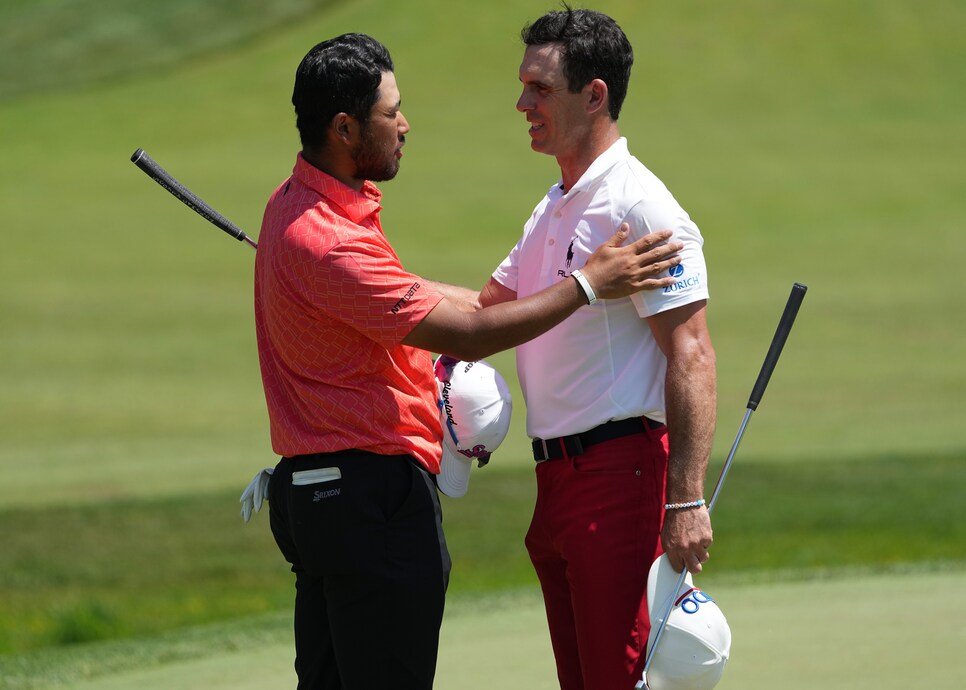 DUBLIN, Ohio — Waking up early Friday to find several dozen text messages on his phone, Billy Horschel felt hopeful that he was going to have a good day in the second round of the Memorial Tournament.
Or at least better than the previous day. And he was right.
Buoyed by support from friends, fellow athletes and some of his PGA Tour peers, Horschel was a different golfer on a temperate morning at Muirfield Village Golf Club. Though he still made a half-dozen squirrely swings and chopped up one hole for a triple bogey, the defending champion submitted a respectable even-par 72.
The Florida native wasn't close to making the cut, but he was 12 shots better than his opening round of 84, the one that set a dubious tournament record as the worst first round by the previous year's winner. And playing alongside Hideki Matsuyama and Patrick Cantlay, who fired 65 and 67, respectively, Horschel felt somewhat satisfied to at least hold his own.
"It was much better," said Horschel, exuding a sense of relief. "It still didn't feel great. I hit better shots and I made it work, but still, some bad swings in there. Still not able to constantly hit the fade or cut the way I want. But, overall, it was a good day."
After enduring an emotional post-round interview on Thursday that saw him fighting back tears throughout, Horschel, 36, returned to his rented home near the course to regroup with his family. He consulted with his swing coach, Todd Anderson, over the phone, seeking a remedy to his swing faults. About 9 p.m., after video of his interview went viral on social media, his phone started going off. That helped him sleep better.
Then came the outpouring of texts that awaited him when he awoke Friday morning. Among those sending encouragement were Max Homa, with whom he won a foursomes match in last year's Presidents Cup, England's Richard Bland and CBS broadcaster Colt Knost.
"I was in a good frame of mind already when I went to bed last night, and when I woke up, I knew I was gonna come out and battle and work hard and try and make something out of this week," said the seven-time tour winner. "But when you get all those, all those messages, just people taking time out, that's what meant a lot to me. To just take a few minutes to send a message goes a long way. It gives you a little more pep in your step."
Horschel converted six birdies after being shut out on Thursday. His only real struggle was at the par-5 fifth hole, where he cut-blocked a drive into the deep rough and then tried to gouge out his second over a creek but instead found the hazard.
"All I had was 60 yards to get over the hill and into the fairway and I couldn't do it," he said, laughing slightly. "I wanted to do something. I wanted to shoot something under par. I think I was two under and I tried to push it and see if I couldn't get to five or six [under] and push down a little harder. And the car didn't want to respond. She pushed back."
The U.S. Open is next for the former FedEx Cup winner, and his record in majors is a source of frustration. Horschel has posted just one top-10 finish in 40 appearances, that coming in the U.S. Open in 2013 at Merion when he was T-4. There is a lot of work to do to prepare for Los Angeles Country Club, but at least he feels like he's hit the bottom and is working his way back up.
"There were a lot of quality shots out there. But you can tell there's still some bad ones in there, and that's the issue," he said. "There's still too many bad ones, probably four to six a round that are hurting me. [But] the train's going forward. It's just zigzagging as it's going forward a little bit right now, and it needs to go a little straighter."