News
If the shoe hits ... Billy Andrade gets assist from tour official's Tom Brady-like toss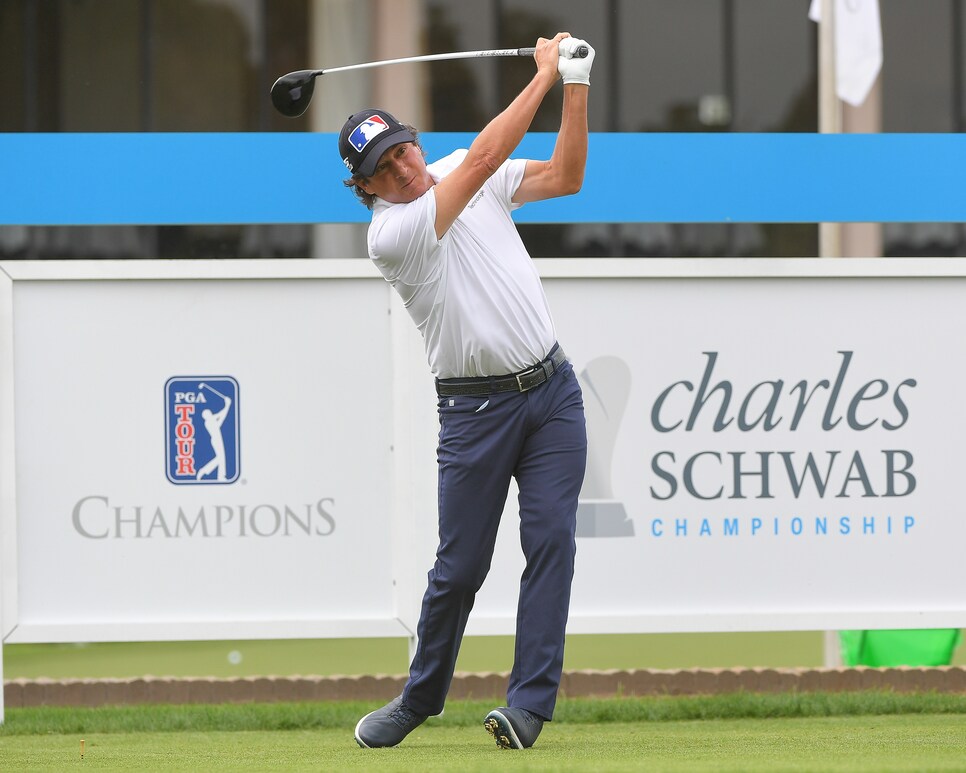 Having grown up in New England, Billy Andrade is a huge New England Patriots fan. He worships quarterback Tom Brady—at least until TB12 left for Tampa. His idol would have been shaking his head and laughing on Friday with the weak arm Andrade showed in a bizarre rules circumstance at the Champions Tour's Charles Schwab Cup Championship.
Andrade sliced his drive on the par-5 seventh hole at Phoenix Country Club into the trees. The ball didn't come down, and so the search began to see if they could identify anything up in the tree. Champions Tour official Brian Claar, a former tour player, arrived with binoculars. They found a ball, but Andrade couldn't see the red line with which he marks his ball. If he couldn't know for sure it was his, the ball is officially lost, Andrade would suffer a penalty stroke and have to return to the tee.
That's when they got creative. And desperate. And, thankfully, the affable Andrade happened to be mic'd up for the Golf Channel broadcast, along with playing partners Brandt Jobe and Tim Herron. An unidentified bystander offered Andrade his shoe. "I asked for a football," Andrade would later joke.
Andrade's "throw" of the shoe at the ball wasn't captured on TV, but it apparently had the trajectory and power of a wounded duck. "It was a heavy shoe; that was my problem," was Andrade's excuse. When someone threw the shoe back, Andrade was about to try again when Claar stepped in. And the guy wearing a long-sleeve dress shirt and tie threw a a perfect pass—the shoe tumbling end over end before it struck the golf ball like a pass to Gronk's chest, knocking it to the ground.
"It does have the red line; that was awesome!" Jobe exclaimed. "Good shot, dude!" Herron said.
Andrade still had to take a one-stroke penalty for an unplayable lie, and he made bogey on the hole, but he, Jobe and Herron were still laughing about the shoe shot a couple of holes later.
Talking to the camera, Jobe said, "It's been a strange day so far. We're having fun."
So were we watching them.