Monday Superlatives
There is nothing more to say about the big three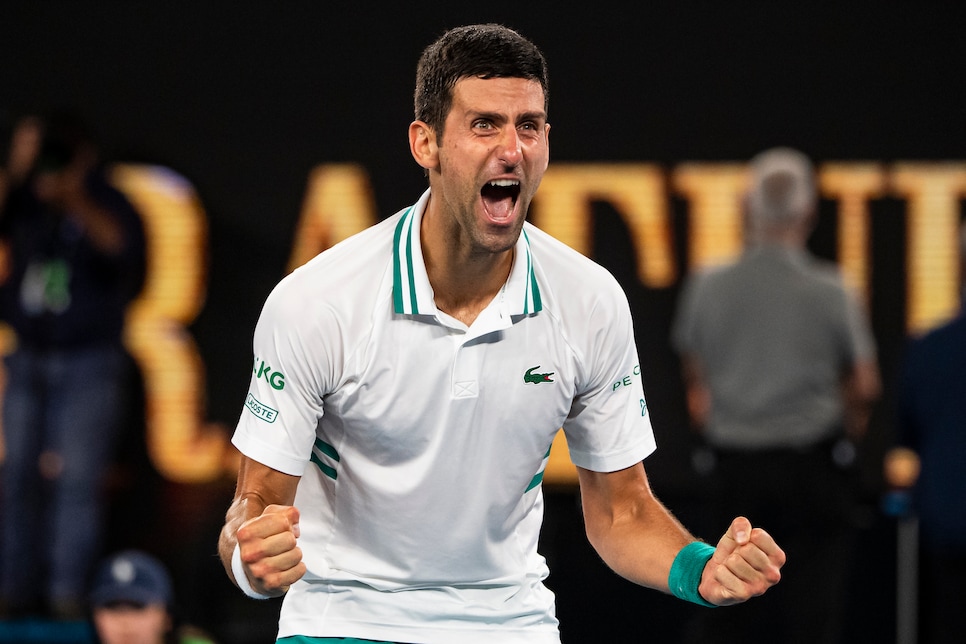 Yes, yes, I get the irony—I'm claiming that we're all tapped out on talking about Djokovic, Federer, and Nadal, but here I am leading the column with them and, by definition, saying things. You got me. But consider this my eulogy for Big 3 Takes, because as of Novak Djokovic's victory in the Australian Open, there is no longer anything worth saying.
(Note: I will be saying more in approximately three months when the French Open begins. Please forget you read this column the minute it's over.)
Seriously, though, what's left? Djokovic just spent two weeks complaining about food, quarantine, a torn muscle, and anything else he could think of, seemed extremely vulnerable, and then went out and dominated the whole damn field, including Daniil Medvedev, a guy coming in on a 20-match win streak and probably the best hope of the next generation. An impressive resume, and absolutely none of it mattered.
There was one semi-exciting moment of the championship match, and it came in the first set, which was a back-and-forth affair that saw Medvedev serving at 5-6 with a chance to force a tiebreak. Instead, he does what everyone in his generation does with a title on the line against one of the big three: He folded. A series of bad errors left him down 0-40, he won two points to briefly raise the collective hope, and then dumped a forehand into the net. At that point, you knew the match was over, and indeed it was, with Djoker annihilating the young Russian in the final two sets.
I'll always be grateful that I got to watch these three in the prime of my sports fan life, and I wouldn't trade their reign for anything, but also, every story must end, and this one just doesn't. Djokovic had a great quote when asked about the new generation taking over:
"There's been a lot of talks about the new generation coming and taking over the three of us. But realistically that isn't happening still. I mean, we can talk about it all day if you want. But with all my respect for the other guys, they still have a lot of work to do."
That just about sums it up, right? Time passes, seasons change, but still Djokovic and Nadal win more slams than anyone, and while Federer might be finally past his slam-winning days, it took until almost age 40 before anyone could subdue him, and he still could win Wimbledon.
Meanwhile, the first time any of the young guys got a chance to meet in a slam final, it only happened because Djokovic hit a ball woman in the throat by accident, and the spectacle of the young guys battling it out was a choke-fest. An exciting choke-fest, to give Thiem and Zverev some credit, but a choke-fest nonetheless. If anything, it was the exception that proves the rule.
The conclusion here is simple: Nothing changes. The situation in 2006 is the same as the situation in 2021. It's a triopoly, if that's a word, and there's nobody out there with the talent and cojones to take it from them. What more can you say?
Ranter of the Year: Draymond Green
A few weeks ago, we highlighted Draymond Green's vicious verbal takedown of Rodney McGruder, and we didn't even make it a month before he forced us to feature him yet again. The following rant is about James Harden, and I don't even think I agree with Green's take entirely (by most accounts, Harden essentially held his former team hostage). However, I very much like the way he says it, and his general point is dead-on:
Also, bonus points for use of "castrated." He may have meant castigated, or he may have said exactly what he meant. If it's the latter case, mazel tov Draymond, that's some good orating.
Bonehead play of the week: Draymond Green
I'm one of those people who remains convinced that Green cost the Warriors an NBA championship in the infamous 3-1 Cavs comeback year, and this incident from the Dubs' game against the Charlotte Hornets on Saturday was a reminder of the price his team pays for his temper:
You take the good and you take the bad with Draymond, but man, how do you possibly get T'ed up there with your team leading by two? The Hornets tied the game up, got the ball back, and then this happened:
Pretty cut and dry on who bears the blame for that one! Gotta know when to rant, Dray.
The Fernando Tatis Sr. of the Week: Caleb Pendleton, FAU
Did you know that Fernando Tatis (by which I mean the father, not the outrageously rich son) is the only man in MLB history to hit two grand slams in one inning? This past week, FAU freshman Caleb Pendleton told 'Nando to hold his beer, and did the same exact thing in the first two at-bats of his college career. The amount of luck, skill, and just general weirdness it takes to accomplish that is off the charts. Watch:
If you're wondering, as I did, whether Pendleton is the son of '90s baseball legend Terry Pendleton, I'm sorry to inform you that this story stops just short of that level of perfection.