News
'Big shot Jon' strikes again as Rahm wins the BMW after holing another epic, can-you-believe-it putt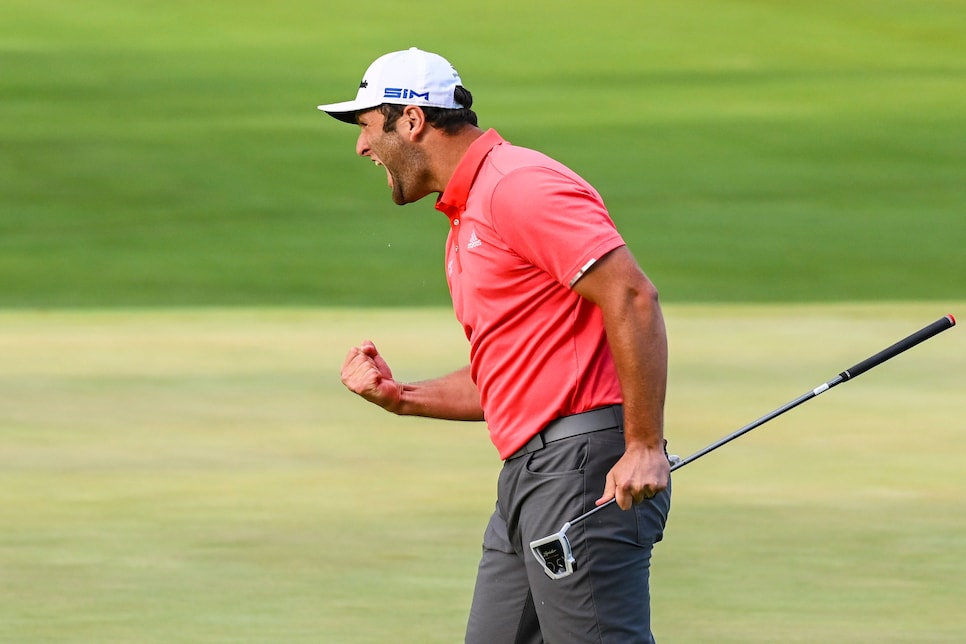 OLYMPIA FIELDS, Ill. — Dustin Johnson made a double-breaking 43-footer for birdie, over a ridge, on the 72nd hole of the BMW Championship, to get into a playoff. The 50-or-so people gathered around the 18th green went nuts. So did Twitter. It was the signature moment of a delightfully brutal week at Olympia Fields.
That is, until Jon Rahm said Hold my cerveza.
"I made an unbelievable putt," Johnson said. "And then Jon made an even more ridiculous putt on top of me."
Rahm holed a 66-footer for birdie on the first playoff hole—66 feet!—to win the BMW and deny Johnson of back-to-back victories in the first two FedEx Cup Playoff events. Joaquin Niemann and Hideki Matusyama finished two back in a tie for third.
For Rahm, it's his second victory since the post-COVID restart and the fifth of the 25-year-old's PGA Tour career.
And Rahm won it despite an epic mental blunder on Saturday, when he picked up his ball on the green before marking it and was penalized a stroke. He still managed to shoot 66, tied for the lowest score of the third round, and closed on Sunday with a six-under 64, the lowest score anyone shot all week on this U.S. Open-ready course.
Rahm's winning total of four-under 276 ties the highest on tour this season. Only five players finished the week under par; Rahm played his final 37 holes in 11 under. The preposterously good weekend allowed him to claw his way to the top of a leader board after sitting at six over par, seven strokes off the lead through 36 holes.
"After Friday, I went to the range and figured some things out, just got comfortable," Rahm said. I knew it wasn't far away. Slowly got better each day. Figured it out, came out on Saturday and played really good golf, and just kept it going today."
Rahm's making a bit of a habit of this—winning tournaments despite spotting the rest of the field a shot or two. In July, when he won the Memorial to (briefly) reach World No. 1, he was docked two strokes on Sunday for accidentally moving his ball as he set his wedge onto the grass. Rahm holed that chip for birdie, but the record books show a bogey. That penalty soiled an electric moment, although it did not cost him the victory.
There was no ruining this one, either. Rahm let out a primeval yell as his ball kissed the flagstick and drop in the cup. It was a starkly different reaction than Johnson's understated fist-pump and simple raised finger when his ball also caressed that blessed flagstick and dropped 15 minutes earlier. Both players then drove golf carts—both feet pressed pedal-to-the-medal, both caddies in the passenger seat, all four mouths wired shut—back to the 18th tee for a mano-y-mano showdown between the No. 1 and No. 2 players in the world. (By the way: Johnson's solo-second finish keeps him in the top spot. For now.)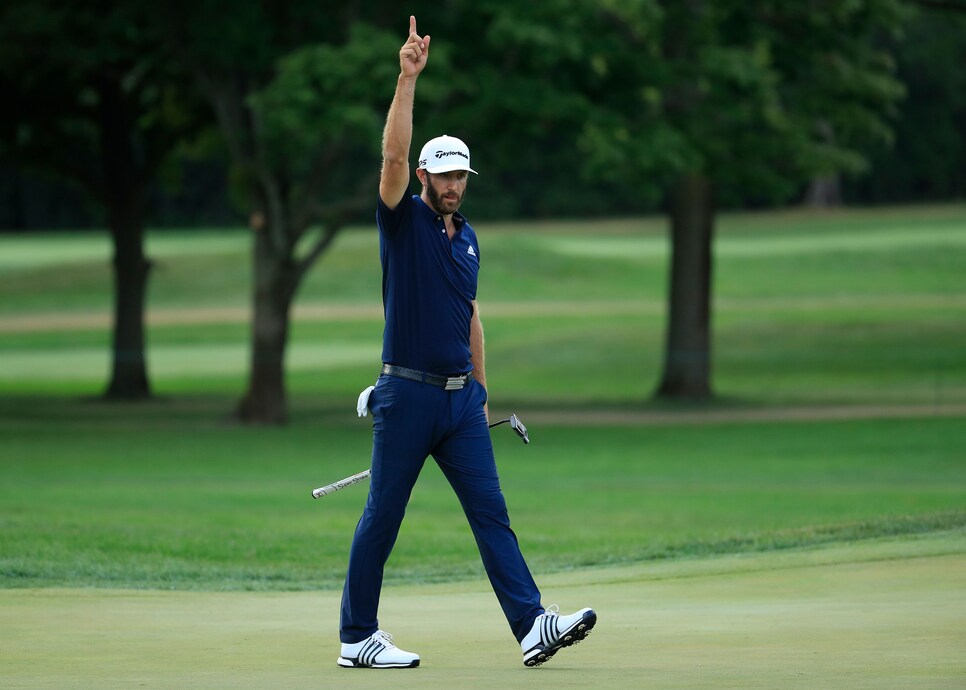 When Dustin Johnson made a 43-foot birdie on the 72nd hole to force a playoff, it looked like the World No. 1 had regained all the momentum.
Andy Lyons
Rahm played first, sending a high cut on a draw-friendly hole into juicy rough down the right. No angle at all to a front-right pin. DJ played next and pulled his into the trees. With the light fading quickly, he couldn't tell where it ended up. So when he saw one ball in the center of the fairway, he assumed it was Rahm's. A marshal gave him the good news.
"Oh, that's me? It's nice."
Nice indeed. Johnson played his approach into the fat part of the green, a slight pull, but nothing to complain about with his opponent in the rough. Rahm muscled one onto the very back-left portion of the green, miles away from that front-right pin, a ridge between him and the jackpot.
"I don't have a set method that you can just teach," Rahm said of his approach to reading a putt like that. "I'm a feel player. I grew up on golf courses with a lot of slope, so putts with slope is something I enjoy, I like, and I'm comfortable reading and putting. It felt right in my alley."
Still, he had no delusions about actually making the thing.
"My hope was to get myself somewhat of a doable uphill putt, somewhere hopefully within three feet. But that was extremely difficult, so three to six feet. I was just kind of hoping to give myself that type of chance. Obviously still wanted to put on a good roll, but my focus was solely on speed so I could give myself the best chance."
The pace was perfect. The ball crawled to the top of that ridge, and Rahm raced to get behind it, trying to see how the ball broke around the hole in preparation for his comebacker.
Only there was no comebacker.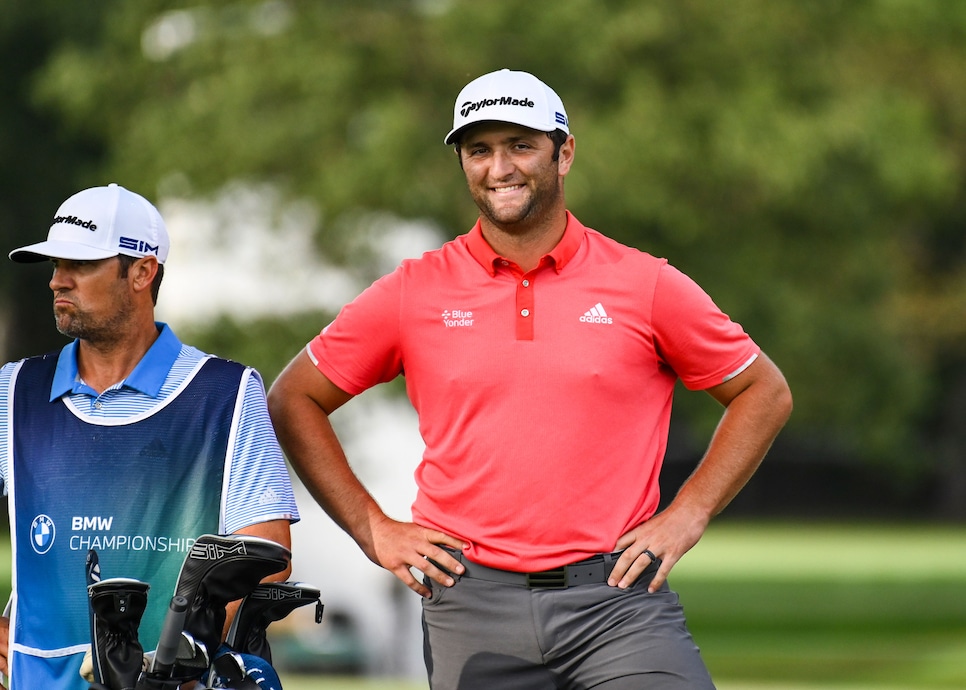 Rahm couldn't contain his joy after the turn of events in the playoff.
Keyur Khamar
The putt capped a dramatic comeback, and one that seemed destined to come up short as his ball soared toward the water hazard right of the 15th fairway—the one place you can't hit it on that hole.
But the golf gods owed him one. Granted, Rahm can't blame anyone for his ball-marking blunder. But as far as penalties go, that was a rather innocuous one. No funny business intended. He took the one-shot penalty and moved on. So when his ball ricocheted off trees back into safety, the word karma sprang to mind. Rahm would go on to make birdie, then made a 30-footer for birdie on 16 that no one will remember.
The 66-footer, though, will be impossible to forget. That is, if he can ever wrap his around it.
"I still can't believe what just happened."