Equipment
Rickie Fowler gives us a lesson in how to style a wide variety of colors—and look great doing it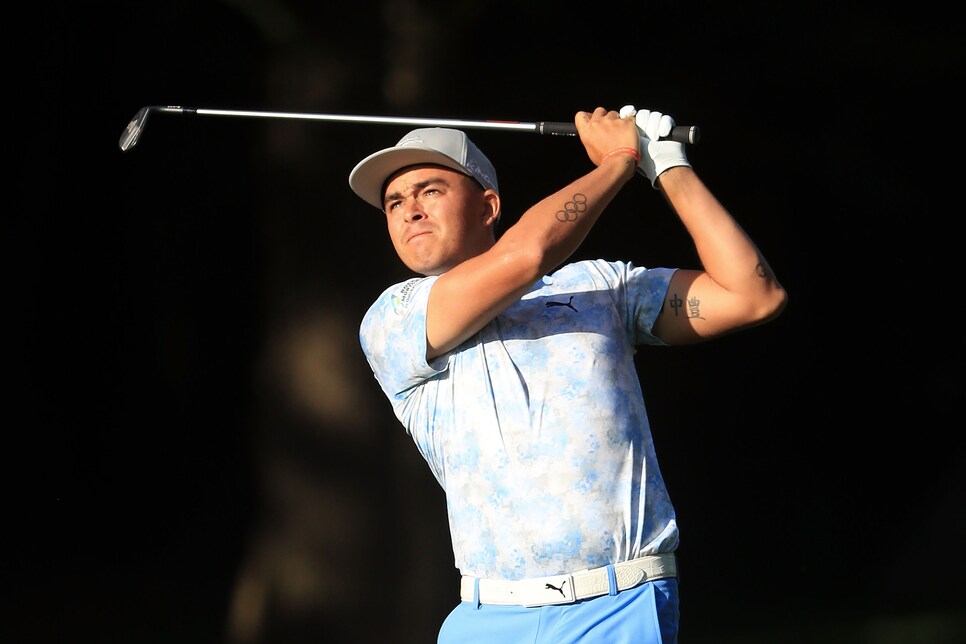 Rickie Fowler has cemented his status as one of golf's biggest trend setters ever since his iconic oranges caught the eyes of golf fans when he turned pro in 2009. Find Fowler at any tournament, and there'll undoubtably be dozens of Rickie copycats decked out in orange threads and flat brim caps cheering him on.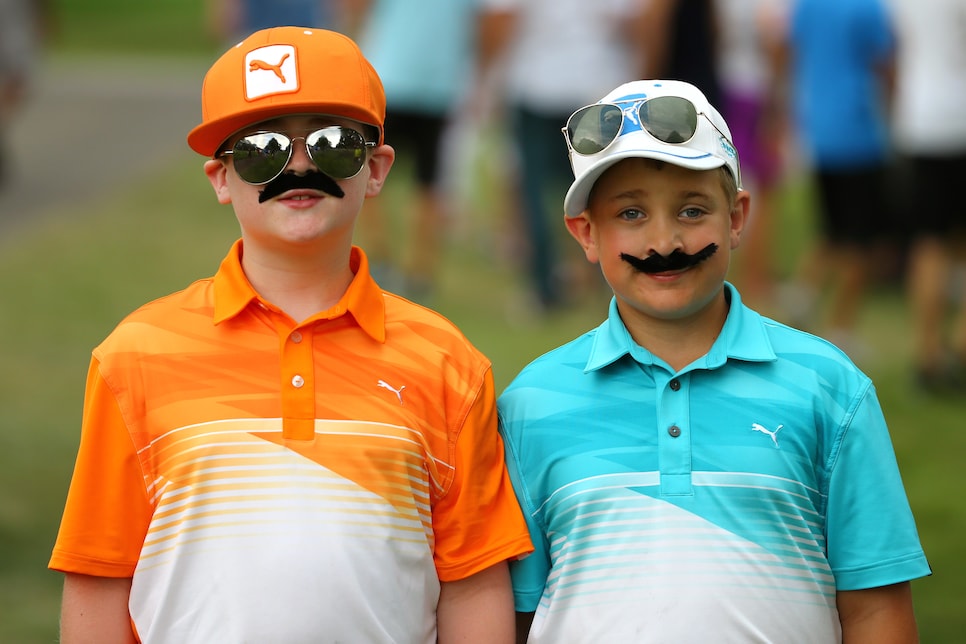 Though orange has become his most recognized look, the 29-year old isn't afraid to take risks with other bold hues or striking patterns in his apparel and accessories. The California native grew up a shy kid who loved the colors on motocross racers' uniforms. That's how he realized he could use color to express himself, too.
Last week at the Wells Fargo Championship in Charlotte, Fowler's showed off colors with expertise as he featured vivid brights and crisp neutrals. In his first tournament since his runner-up finish at the Masters, Fowler left T-21 but earned attention for his 76-foot eagle putt during the final round and looked great in the process. Here's a rundown of the outfits that voted him our best dressed on tour last week: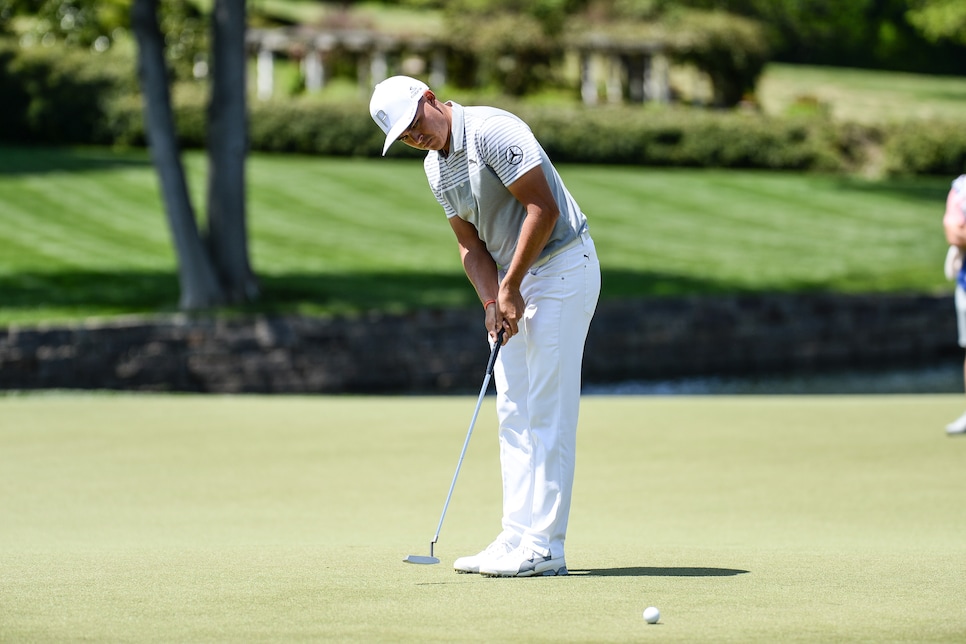 Fowler's Puma Pounce Stripe Golf Shirt ($60) is a how-to on wearing gray. Stay away from solid gray tops, as they tend to look lackluster and unflattering. Look for micro-patterns—like herringbone, heather or tight stripes—to add texture and style to the look. The shoulder-and-arm stripes kept Fowler's look smart and eye-catching even without the color.
While gray might seem like a quiet neutral that can be livened up with bright accessories, it tends to look best with other neutrals, like Fowler's all-white Six Pocket Golf Pants ($80). His TitanTour Ignite Golf Shoes ($160) and Puma P Cap ($28), too, maintained the same white-and-slate theme to pull the outfit together.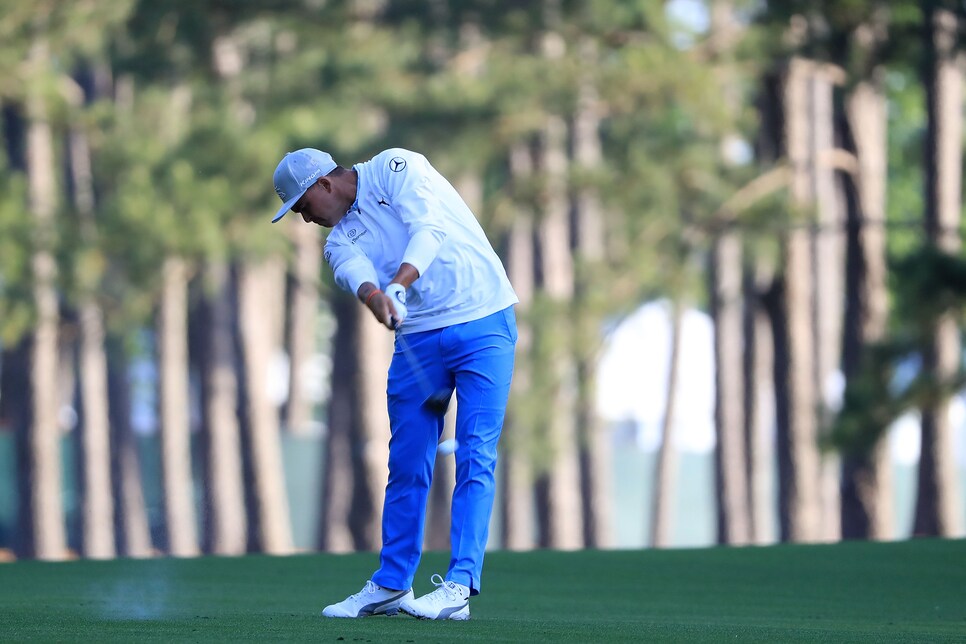 On Friday, Fowler was an experiment in hues of blue. You couldn't miss those bright blue pants from a mile away. He initially paired the bright blue with a clean, white mock-neck popover, a lesson to be learned in layering. Always make sure that your warmer layers won't clash with your outfit, especially when bright colors are in play. Even if you "probably won't wear it," take an extra moment when you grab a sweater to make sure you'll still look good if the temperatures drop.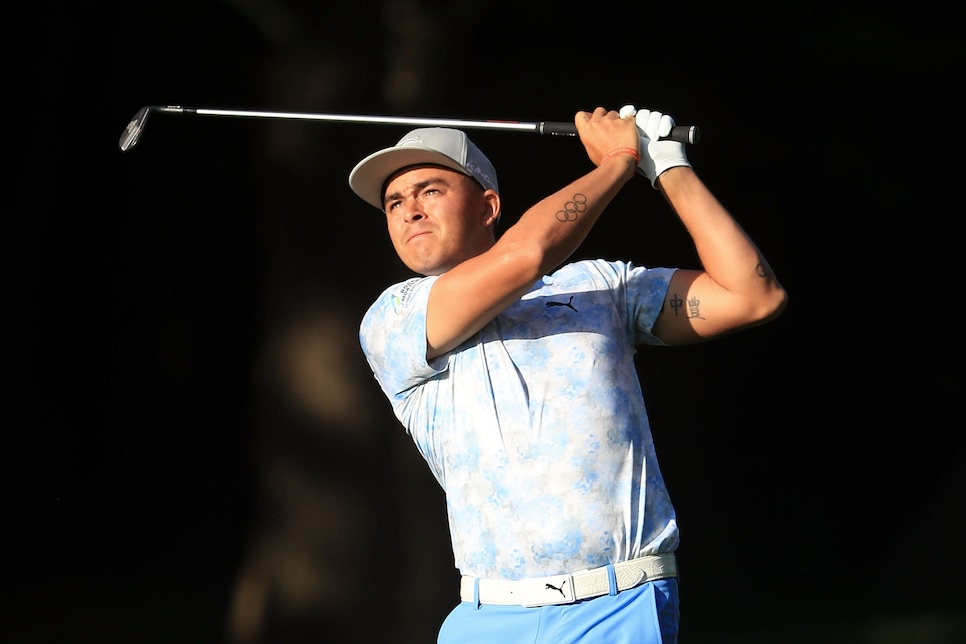 When the temperatures warmed up at Quail Hollow, Fowler revealed the Puma Digital Tech Camo Golf Polo underneath. The digitial-camo pattern looked almost cloud-like against the darker shade of his blue pants. Also contributing to the airy-look is the company's cooling PWRCOOL fabric that has a flattering, weightless look and feel.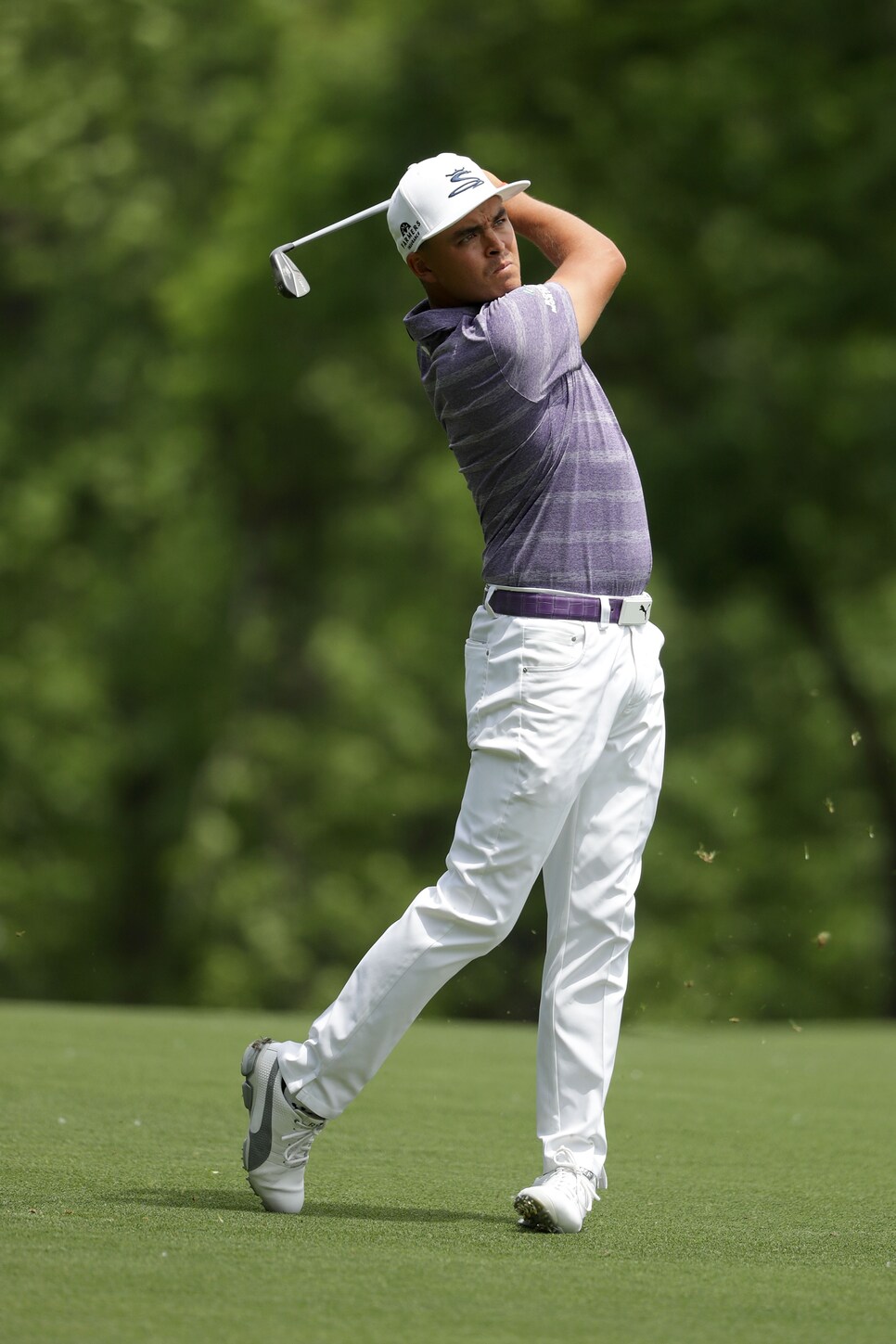 Purple was the color of the day for Fowler's third-round look. He made the Puma Pounce Stripe golf shirt ($55) look great against simple white pants, a basic white flat-brim cap (Cobra Tour Snake Snapback Golf Hat $28) and quiet golf shoes (TitanTour Ignite Golf Shoes). In line with his history of making bold fashion moves, his snakeskin-like purple belt certainly made a statement. Typically you want to avoid belts with bright colors and/or patterns, but with Fowler's slim waistline and simple ensemble, the risk paid off.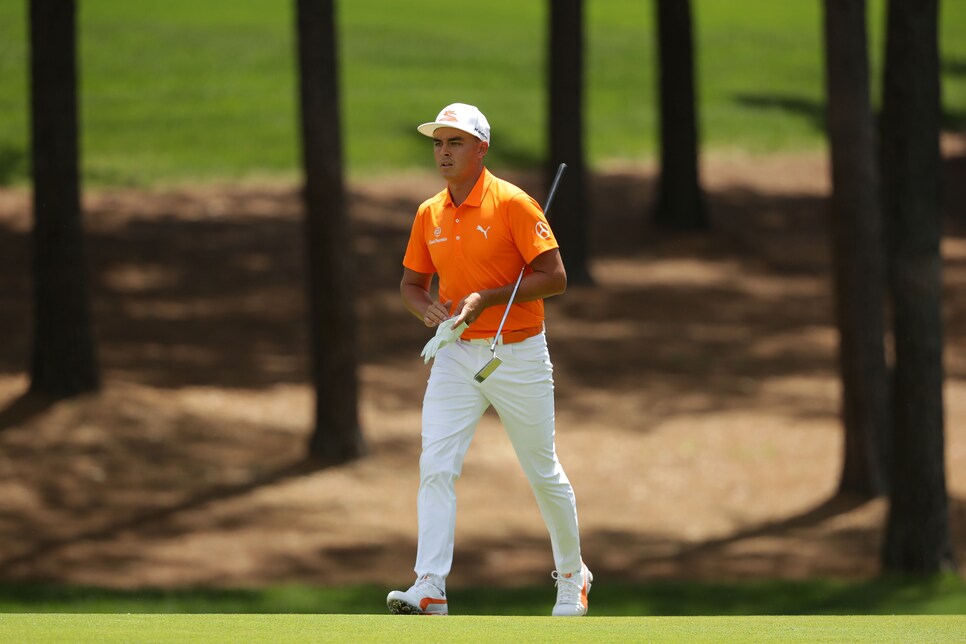 Back on his Oklahoma State orange on Sunday, Fowler's simple Puma Essential Pounce Polo ($55) was complemented by a white cap and shoes with orange details and another pair of simple white trousers. It's a look he has perfected over his nine-year professional career.
Don't be afraid to take a few style cues from Fowler's looks. When done well, bright colors can make a fabulous statement on the golf course. Just pay mind to the tailoring—bright colors will bring attention to poor fitting clothes and the result is not flattering.
And for the littlest Rickie fans in your family, make sure you check out the youth versions of Fowler's looks.