The Loop
5 reasons why Rickie Fowler nailed his Sunday outfit at Erin Hills
From his red-hot 65 on Thursday to his finishing 72 on Sunday, Rickie Fowler put together four stronger outfits than ever at the 117th U.S. Open Championship. His navy-on-white Friday ensemble was clean and classy, making it our personal favorite, but it's his Oklahoma-orange Sunday getups that've evolved drastically over time. And only for the better. Here are five reasons why Rickie nailed his Sunday outfit at Erin Hills, and how you could, too: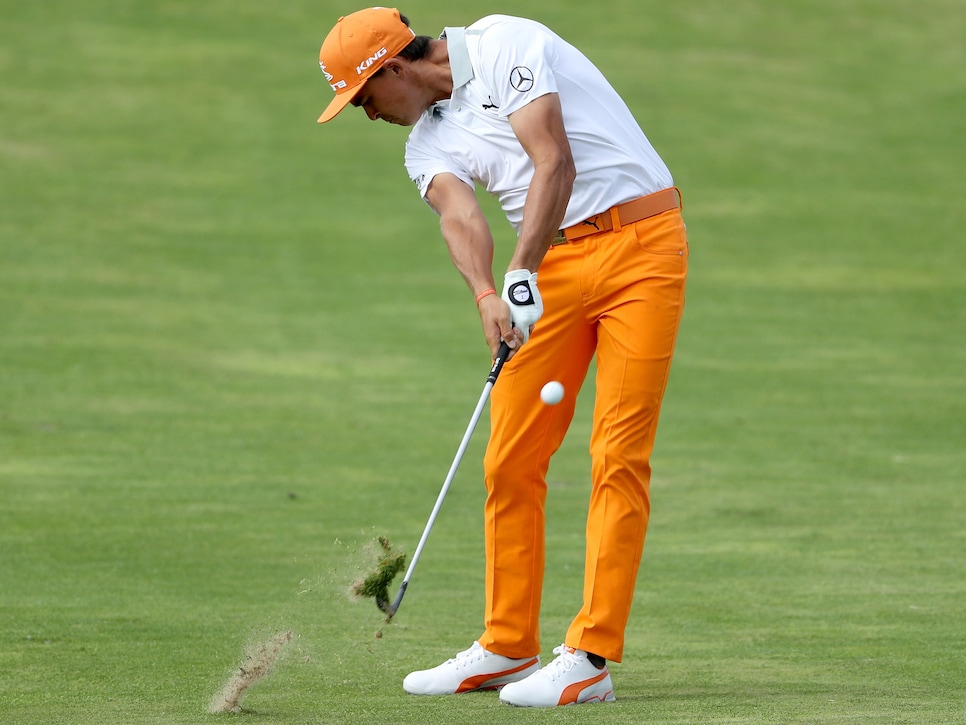 1. He wore graphic socks. While most golfers lazily pair golf shoes with white ankle socks (pro tip: STOP doing that), Rickie opted for a graphic crew sock, adding a dash of style to an already-stylish ensemble. Conversely, white ankle socks do a great job of making any outfit look less sophisticated.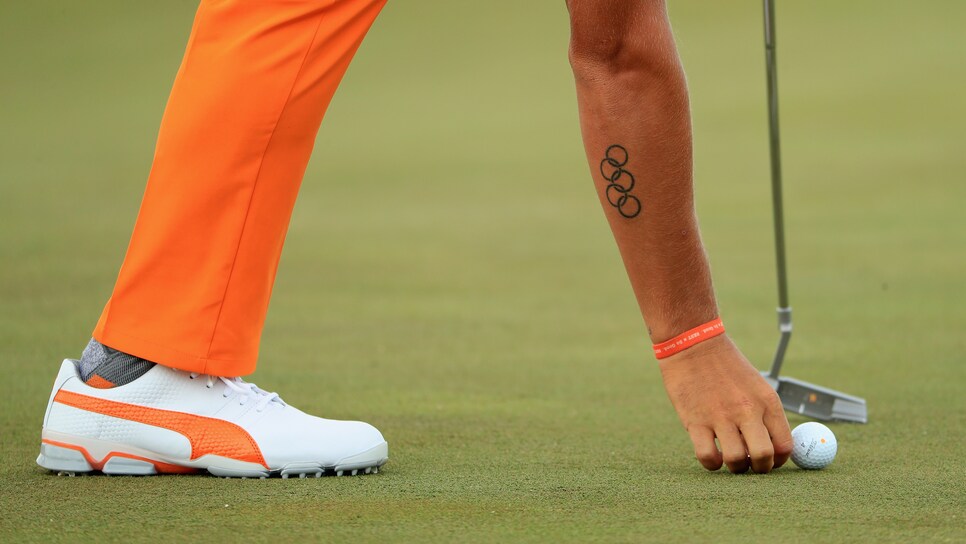 2. His pants were perfectly tailored. From their length (they lightly kissed the top of his shoes) to the way they fit (they weren't at all baggy but also didn't look like leggings), Rickie's pants now fit more flawlessly than ever.
3. He matched his belt with his trousers. Matching your belt with your shoes is old-school and outdated. Matching your belt, instead, with either your pants or your polo instantly makes any outfit look more modern, seamless and slimming.
4. He grounded a loud color with a neutral base. Rickie's Sunday-orange has become expected, but if you or I tried to pull off that color it'd be surprising and eye-catching. That makes it ever more important for us to emulate Rickie's method of basing a bright color with a more muted hue. Rickie was able to make his orange pants look classy because he paired them with a white polo and white shoes.
5. He's clearly slimmer and fitter than ever. Rickie used to get called out for having a "dad bod," even when he was just 25 years old. But now? No way. He's clearly been watching his diet and hitting the gym. We'd like to think his girlfriend, Allison Stokke, has something to do with this transformation.
Since Rickie's first three outfits at Erin Hills were just as solid as his Sunday look, here's a recap of what he wore from Thursday through Saturday (including those awesome gray hi-tops he wore during his third round).