The Loop
Bernhard Langer's near-anchor stroke has him in contention at the Masters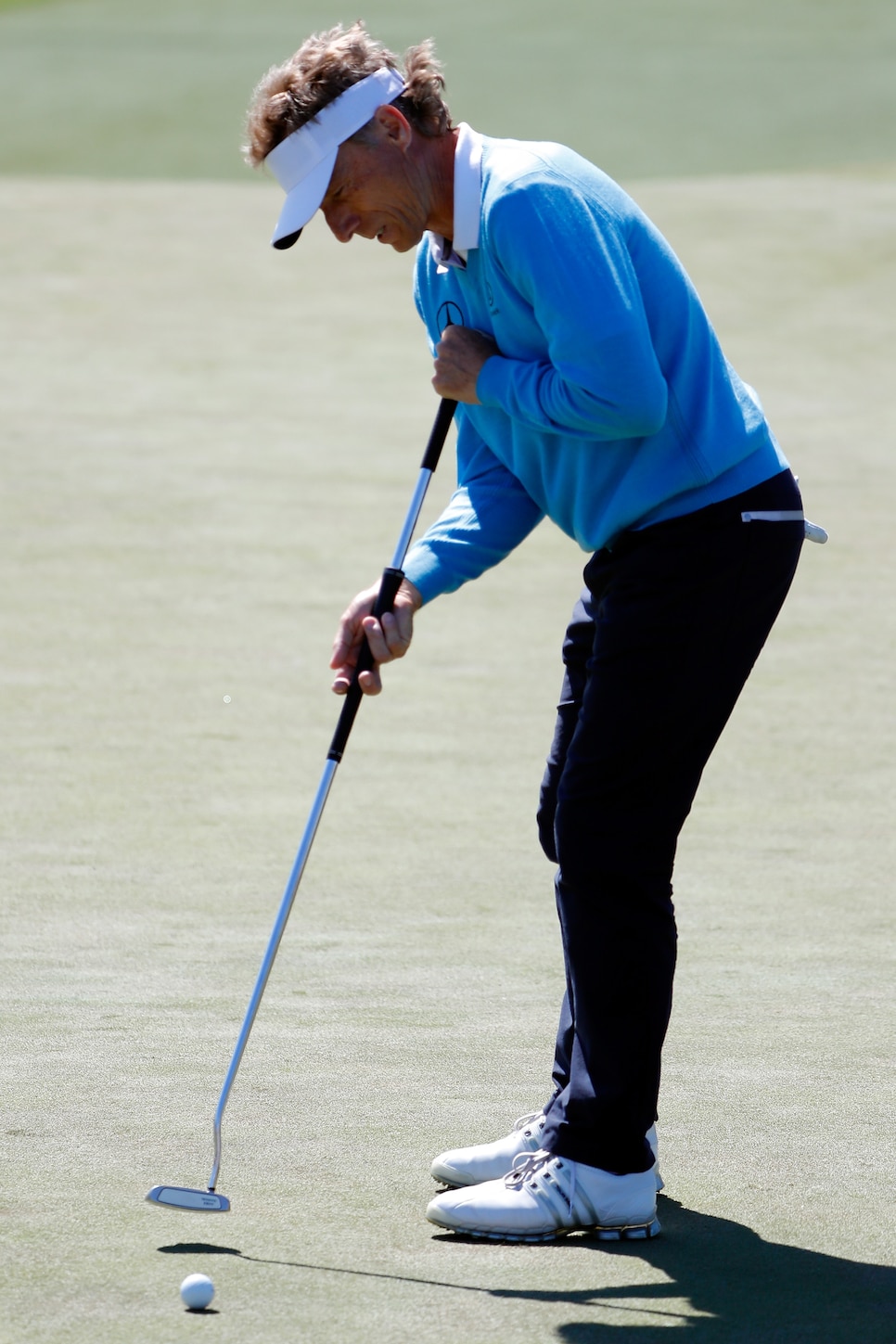 Given Bernhard Langer's advanced age, the 58-year-old's super-long putter could be considered a kind of crutch -- both literally and figuratively.
Langer has ripped up the senior circuit for eight years with his anti-yip wand, winning five majors and 24 other tournaments against the oldsters. But at Augusta, where Langer won in 1985 and 1993, he was considered to be too short off the tee to be anything more than a nuisance -- especially when the USGA banned the anchoring of long putters for 2016
Cue Saturday, when he hit 12 fairways and 12 greens and made five birdies on the way to a 70 -- when the wind made real par something like 75. That left Langer two shots off the lead, and in authentic position to become the oldest major champion in history.
Putting confidence was the crucial element. Instead of transitioning back to a short putter like Adam Scott, Langer has kept his long putter and simply moved it from against his chest to a hovering position just in front. He makes his regular practice strokes with the putter anchored, then moves it away from his chest for the real thing.
As anybody who watched Ernie Els six-putt on Thursday could see, the yips are a terrible affliction. Langer has come back from them three different times, so it isn't hard to understand why he'd be open to trying a wildly alternative style.
"The most important thing in putting is that the ball starts on the intended line at the required speed," says top California teacher Matt Wilson, who is based at La Rinconada Country Club in Los Gatos. "The stye a player uses doesn't really matter as long as he or she can make those things happen. Jordan Spieth, Rory McIlroy and Bernhard Langer all use a version of a 'non-traditional' method. Bernhard is just different in the length of putter he's using. He's following the letter of the rules, and experimenting within them. It's part of what makes golf so great. There are all kinds of ways to do it."
Langer's goal is to come as close as he can to making a pendulum stroke from a fixed point -- which gives him control over his yip tendencies. "It's the same kind of stroke I'd recommend for a player using a traditional putter," says top Texas teacher Corey Lundberg, who is the director of instruction at the Club at Carlton Woods in The Woodlands. "If you're using a short putter, picture an imaginary line running up from your putter to a point at your chest, and make sure the end of the handle is pointed at that spot through the whole stroke."
Perhaps the best tip to learn from Langer is his willingness to try a variety of styles and lack of ego about doing something totally different. "If you're having issues with your putting, experiment with a traditional grip, left hand low grip and really anything else that feels comfortable," says Wilson. "Keep track of which version lets you roll the ball end over end at the correct speed. Once you find it, practice it and don't be afraid to take out on the course."