News
Bernhard Langer shockingly has work to do on Sunday to win another season-long Schwab Cup title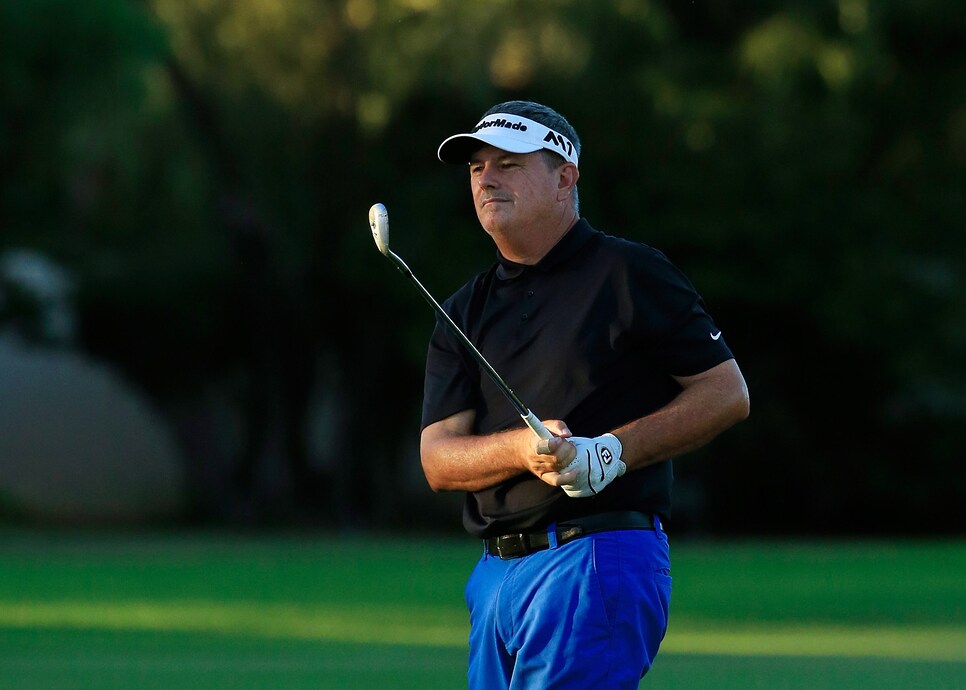 Michael Cohen/Getty Images
He's won seven tournaments in 2017, including the first two of the three-tournament Charles Schwab Cup Playoff events. Yet Bernhard Langer amazingly has some work to do if he wants to claim a fourth-straight season-long Schwab Cup title, much less win the PGA Tour Champions finale for 2017.
Langer, a four-time Schwab Cup winner overall, shot a three-under 68 on Saturday at Phoenix Country Club to put himself in a tie for 22nd at the Schwab Cup Championship. With his three-under overall score, he sits nine strokes back Saturday's leader, Paul Goydos, but still has a clear path to the year-end prize.
That said, he'll have to pick up ground on Goydos, who has opened with 64-66, and hope some of the other names lurking on the leader board don't go too low on Sunday.
If Goydos, 22nd on the points list entering the event, hangs on to win the championship (a very real possibility given he's the defending champion in the event), Langer would have to finish T-13 or better to win the Schwab Cup. Should Goydos stumble, Lee Janzen, No. 23 in points, could win so long as Langer is T-15 or worse.
Where perhaps Langer's biggest competition for the year-long title truly lies in with Kevin Sutherland, who is tied for third in Phoenix, two back of Goydos. Sutherland began the week fifth on the points list, meaning a victory in the finale also guaranteed him the year-long title as well.
Another player who could hurt Langer's chances is Scott McCarron, who came into the week second on the points list and sits T-8 in the tournament, four strokes behind Goydos. Like Sutherland, McCarron would win the year-long title with a victory in Phoenix, regardless of where Langer finishes.
If Langer doesn't walk off with the Schwab Cup at day's end Sunday, it will be a true upset. The 60-year-old has been in the lead in the season-long points standings 23 of 25 weeks in 2017.
Since the season-long Schwab Cup race's inception in 2001, only twice as the season-long winner also been the winner of season-finale: Tom Watson in 2005 and Tom Lehman in 2012.