News
How exactly is Bernhard Langer *still* so damn good?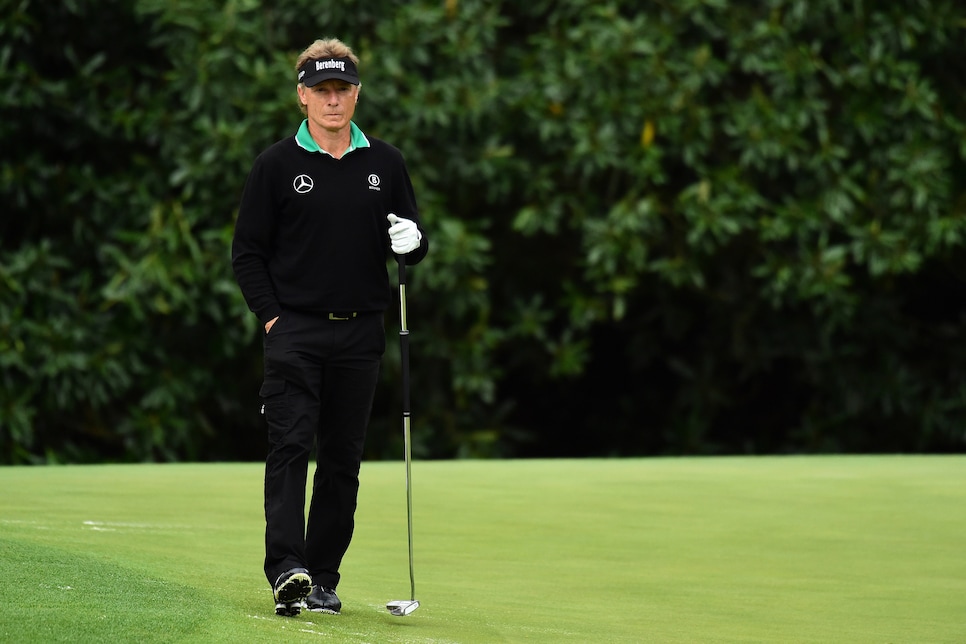 AUGUSTA, Ga. — What follows is not to suggest Bernhard Langer is going to win the 81st Masters at age 59.
But what Germany's greatest golfer—with two green jackets and 42 European Tour victories—did last year at Augusta National is worth remembering. As much as he has with the ongoing brilliance of his PGA Tour Champions Tour career, which includes not only victories, but a current streak of 35 consecutive under-par rounds that broke the old record of 31, Langer's first three rounds in the 2016 Masters stand as proof that he will be remembered as a model for getting absolutely everything available out his game.
It's been forgotten because Langer finished with a Sunday 79 to tie for 24th. But that was the product of the ultimate course manager deciding to roll the dice for a victory that would have shocked the world.
"The Masters is not so much about the driver as it is a second shot golf course," he said before this year's event. "The first three rounds, I really played good golf, very smart, putted decent. Two shots back, I thought, 'How many chances will I get to win another major?' So I went all out to shoot a low round."
Playing with Hideki Matsuyama in the next-to-last group, Langer went for the pin on the first hole, but bogeyed after catching a bit of a flyer and going over the green. When he doubled the third hole, he was out of options other than to keep pushing. "Augusta gives you such a fine line, a few inches where if you are off a foot, it makes a huge difference," he said. "I got blown out of the water just going for stuff. It wasn't really my best style of golf, but no regrets."
The larger point wasn't lost. Just like Jack Nicklaus' T-6 at the 1998 Masters at 58, or Tom Watson losing a playoff for the Open Championship in 2009 at 59, Langer further proved he is truly special. Said Jason Day, who was the No. 1 in the world when he played with Langer in the third round: "I could tell how great he is."
Langer's greatness lies in his organized, consistent but also intuitive approach to patient improvement. If you're a golfer, it's worth paying attention.
On Fitness:
The man who Gary Player calls his heir to promoting the benefits of healthy living says "I've worked out all my life. I do a lot more when I'm home than when I'm out on tour. I stretch at least twice a day. I've never done really heavy weights. I try to stay consistent. Now, giving people hope is part of the motivation."
Langer has kept his 5-foot-9, 160 pounds remarkably unchanged in both dimension and suppleness. He hurt his back at 19 while in the German military, but otherwise has remained mostly injury free.
"I feel the effects of aging," he says. "I have aches and pains. There are things I can't do. If I played soccer I would get hurt. If I play tennis for an hour or two, I hurt. But in golf, I can practice and play and not hurt."

On Technique:
Langer has stayed with his lifelong coach, Willy Hoffman, who he met in Germany as a 16-year-old assistant pro. A symbol of their approach is the evolution of Langer's grip, gradually moving from four knuckles showing on the left hand to about two knuckles today.
"Bernhard doesn't go in for overhauls or chasing the latest theory," says Peter Jacobsen. "That's tempting for players out here who desperately want to improve, and then find themselves going backwards. Bernhard had a way of avoiding that trap."
Soren Kjeldsen, who calls Langer his golfing hero, sees an artist underneath what is often presumed to be a mechanized approach. "Bernhard is so in tune with what he's feeling, and understands himself so well, that he can make the right small adjustments in the middle of a round," Kjeldsen says. "At the professional level, that's the real art of the game."
Langer credits the collaborative nature of his association with Hoffman. "It was a great benefit to be under Willy alone," he says. "I still call him three or four times a week, and see him once a year, but he never discouraged me from trying to figure it out for myself. I would ask him, 'Would you mind if I saw Peter Kostis, or Jim Flick, Bill Strasbaugh, or pick David Leadbetter's brain?' And it was always OK with him. He wanted me to feel free to try things, but in the end, Willy has known me the longest and the best, and I knew he had insight into me. We did changes, but in a way that allowed me to stay competitive every single year. And now I have it narrowed down to things that I know work for me. As far as controlling the ball, I believe I'm a better golfer than I've ever been."
On Efficiency:
Langer's says his swing speed with a driver is "about 101, 102 mph, and it's not going to get any faster." But his solid contact and low-spin ball flight allows him to average about 280 yards off the tee. From there, Langer uncannily avoids errors.
Says Nicklaus, "He just doesn't make a lot of mistakes on the golf course. He hits the ball long enough and he's a good iron player and he just plugs along and shoots his 67 or 68 and that seems to be pretty good when you add up three or four of them." Or as Langer himself put it before the fourth round last year at Augusta: "Length is great, but there's still other ways of doing it. If you hit it exactly where you want to hit it, you can still shoot under par, and that's what I've been trying to do."
On Competitiveness:
Langer's will and grit has been beyond question since overcoming the yips at least three times, and more recently, successfully adjusting to the USGA's ban on anchoring  by keeping the handle of his long putter slightly away from his chest.
"He keeps figuring it out," said Vinny Giles, who in 2009 won the U.S. Senior Amateur at age 66. "You do that because you really care, because you really love to play, and because you really want to win."
Langer doesn't disagree. "I'm still very hungry, why I'm not sure," he says. "I guess I just love the game of golf. I'm a pretty good loser, but maybe it's as simple as I like to beat the people I'm playing against."
Langer isn't counting himself out this year, but even if he never contends again at the Masters, he's proud of the role he's played in showing what's possible. "An over-50 player is going to win a major championship sooner or later," he says. "The younger guys are staying in better shape, and will be better than we are now when they get older."
Of course, Langer has proved he can still be better than a lot of younger players. How he got there is not just an example for old guys, but for every golfer.