Crunching the Numbers
How Bernhard Langer broke a golf record considered unbreakable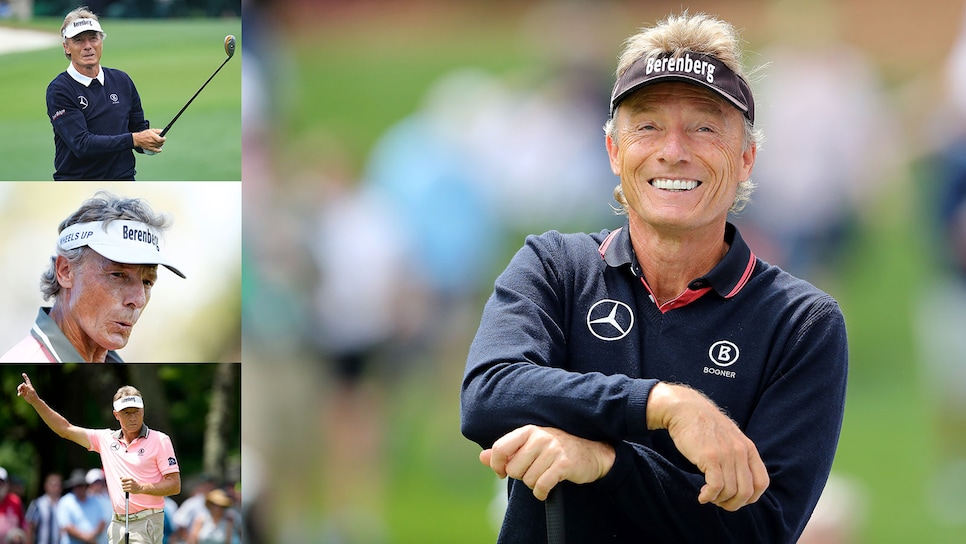 It was a late Wednesday in mid-March. At this point of a tournament week on the PGA Tour Champions, the best golfers in the world age 50 and older are usually on the driving range, putting green or chipping area, working on their swings, their psyches or whatever else it takes to be ready for battle when the shots start counting for real on Friday. Just not this Wednesday.
With the pro-am cancelled due to rain that had plagued Southern California for weeks, many of the 78 players set to tee it up in the Hoag Classic had left Newport Beach Country Club long ago. Some had never showed up in the first place. Why bother? As the 19th century philosopher, Scarlett O'Hara, once noted, "Afterall, tomorrow is another day."
That wasn't the case for one of the 78, however. He had no plans of waiting until tomorrow. To him, every day matters. Every day of getting in the work necessary to be the best he can be. It had been his mindset since the 1970s, while growing up in Germany, a country not known for producing world-class golfers. And he wasn't about to change now at the ripe young age of 65.
So, on this cold Wednesday afternoon, there was Bernhard Langer, hitting one chip shot after another. Getting, as he put it, "the feel of the grass."
"Every golf course has different grasses," Langer later explained. "You need to practice the short game because the club goes through the ground a little different with different grasses and putting on Poa annua greens is different than putting Bermuda greens."
That attention to detail is essential for Langer. "I don't want to have any surprises out there," he said. Who else would put in that kind of work?
Nobody, and that's one of the reasons he made history on Sunday, passing Hale Irwin with victory No. 46 to become the winningest senior golfer of all time thanks to a dominant performance at the 43rd U.S. Senior Open at SentryWorld in Wisconsin.
No one saw this day coming, and that includes Langer. At least not when he turned the big 5-0 back on Aug. 27, 2007 and launched his second career in the game he loves.
"When I first came out, I was hoping to be one of the top five or top 10 on this tour, which was a reasonable goal," Langer said of his senior aspirations. As for anything more ambitious, Langer admits to seeing Irwin's remarkable 45 wins (16 more than the next person on the career win list, Lee Trevino) and thinking "this is not going to be broken for a long, long time."
Only when Langer clicked off senior win No. 40 in the summer of 2019, shortly before turning 62, did the goal truly emerge. "I wasn't supposed to be winning at this age," he thought, "but there are always exceptions, and I was one of the dominant players out there every year."
Langer's first senior tour victory, the Administaff Small Business Classic, came in October of his rookie season of 2007, which he won by eight strokes. Only nine months earlier Irwin, then 61, claimed his 45th and last senior victory in Hawaii. Talk about a changing of the guard.
Bernhard Langer is presented the winner's trophy at the 2007 Administaff Small Business Classic, the first of his record 46th senior title.
Bob Levey
Langer won three more times in 2008 and another four in 2009. There has not been a year since when the World Golf Hall of Famer hasn't won at least one event, and the 46 victories include 12 senior major championships, another record he holds, by three over Gary Player and four over Jack Nicklaus.
So then, how did Langer pass Irwin—in his mid-60s, no less?
The conventional wisdom on this circuit has always been to pick up your wins (and paychecks) as early as possible, preferably before turning 55 or 56, when your body truly begins to break down—they call it hitting the wall—and the new "youngsters" come aboard.
Langer, however, won 13 times since turning 60. That's more wins than all but 24 players have for their entire senior careers. And Langer is the only player to win past age 64, having done it now five times.
Suffice it to say, Langer has kept himself in remarkable shape and has remained relatively healthy, never a guarantee at this stage of a player's career. Or at any stage, really.
"Put a picture of him at 21 next to a picture of him now at 65," Peter Jacobsen suggested, "and other than maybe some wrinkles around his eyes and on his face, I don't see any difference in Bernhard Langer then and Bernhard Langer now."
His faith in God has been another factor in his favor. A born-again Christian since the mid-1980s, he approaches the game—and his life—with an inner peace his peers would no doubt dream of having. "I have played with a greater purpose," he said. "I knew God would love me whether I missed the cut or won."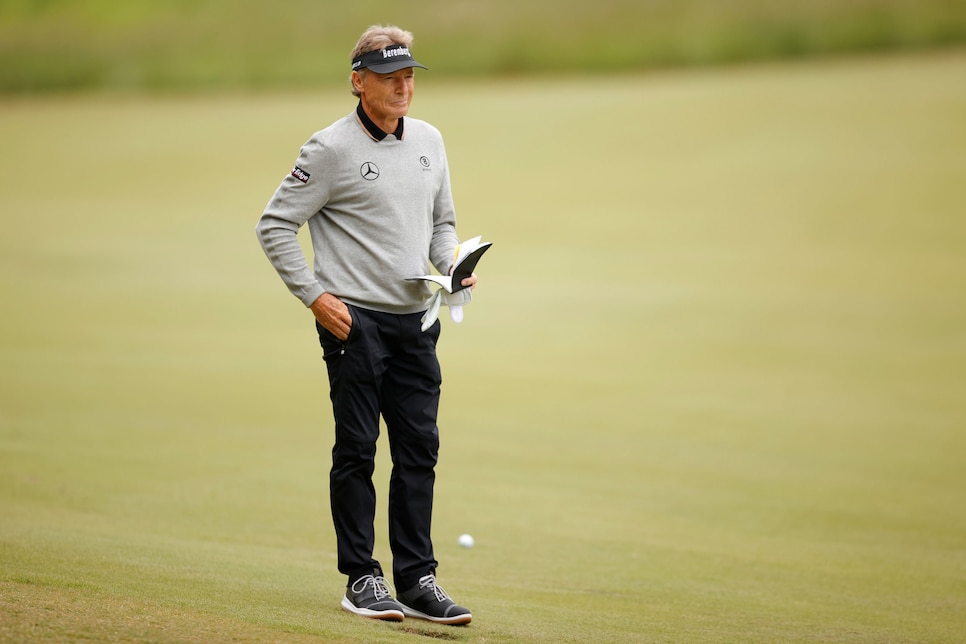 Beyond these reasons is the intangible quality that all of the greats in sports possess. Call it desire, determination, whatever. You have it or you don't, and he has it in spades. There is no other way to explain what the man has overcome. More than most members of his profession, that's for sure.
Take a case of the yips, which Langer has had to conquer on several occasions.
Tony Jacklin was paired with him at one event in the early 1980s when Sam Torrance, the other member of the threesome, asked Langer in the scoring tent afterward, in reference to a very short putt he had just made, whether he had hit it once or twice.
Langer's putting was "that shaky," Jacklin explained, "that Sam had to pose the question." (Just once, Langer assured Torrance.) Those days, as you might expect, were tough on him. "People didn't even want to watch me," Langer said, "and you can't hide."
Mind you, this was a player who won 42 times on the European Tour and three times on the PGA Tour, including two Masters victories. Talent was never the question. But staying mentally sharp was.
Of all the putts he missed, one stands out—the six-footer on the final green during his 1991 Ryder Cup singles match on the Ocean Course at Kiawah Island against, ironically enough, Irwin, which handed the the U.S. a victory over Europe in the "War by the Shore." It is hard to imagine any player in the sport ever feeling more pressure than Langer encountered at that moment.
Jacklin was very concerned, and with good reason. "I really thought it was a possible career-changer," he said. "To a lot of people it would have been a devastating thing."
It was devastating, alright. So devastating that he won the very next week, on the first playoff hole over Australia's Rodger Davis at the German Masters. To even get into the playoff, he canned a 10-footer on the last hole in regulation. If that doesn't tell you what the man is made of, nothing will.
Langer isn't dominant in any one aspect of the game, which means absolutely nothing. "He's good enough at everything," Lee Janzen said. "He drives it straight, his short game is very good, and he's really good from inside 10 feet."
Or, as Paul Goydos put it, "Does he do anything better than me? No. He just beats me."
Goydos said that Langer's success should make everyone reevaluate assumptions that we've had for a long time about athletes and the aging process. "He doesn't fit any of those molds," Goydos suggested. "Mentally, he's as sharp as anybody out here. He doesn't make [mistakes]."
In the end, it comes down to a simple question: How badly do you want it?
When it comes to Langer, the answer is obvious.
Billy Andrade recalled the time he showed up for the 3M Championship just outside Minneapolis in his rookie season of 2014. It was a Tuesday. He was there to pick up his courtesy car when he spotted Langer on the driving range. Just two days earlier, Langer had captured the Senior Open Championship at Royal Porthcawl in Wales … by 13 strokes!
"He was the only one [out there]," Andrade said. "It was mind-blowing. He was already focused on the next tournament."
Getting the feel of the grass, no doubt.