The Loop
Bernhard Langer gets robbed (sort of), Rickie Fowler's fans get robed, Grayson Murray rips his elders & Brooks Koepka monkeys around
Welcome to another edition of The Grind, where we won't be satisfied until we encounter LeBron James on our morning commute. Seeing King James mingle with us common folk would be a treat. Plus, it would be great to use his 6-foot-8, 270-pound frame to help barrel into crowded subway cars. Speaking of surprising characters barreling past people, how about Kevin Sutherland ending Bernhard Langer's reign of terror at the Charles Schwab Cup Championship? (And how about that transition to another one of the world's most dominant athletes?)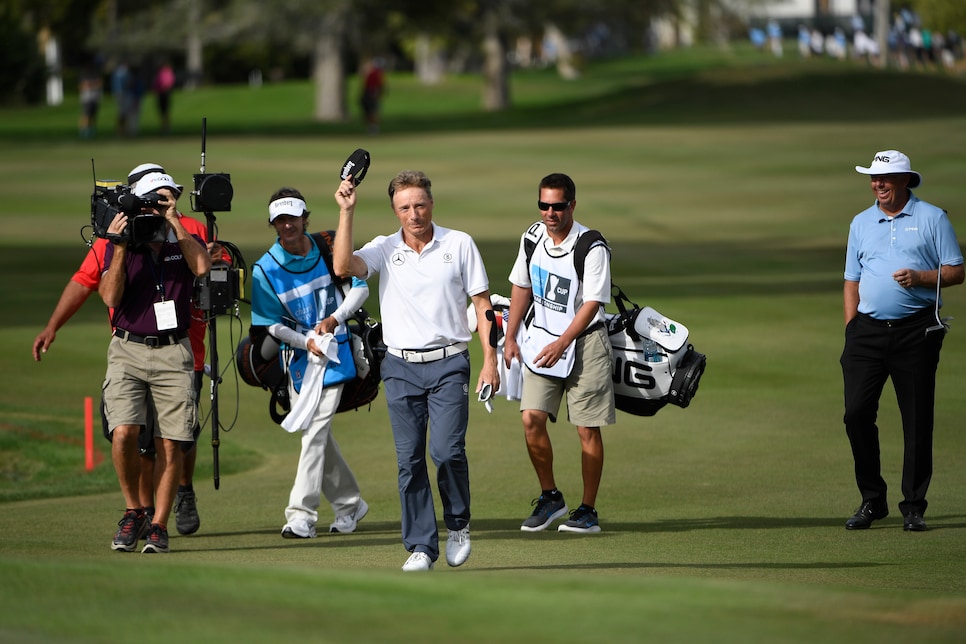 I'd be lying if I said part of me didn't feel like Langer got robbed, but as a New York Giants fan, I also realize that the best player or team doesn't always win in the postseason (Suck it, 18-1 Patriots). And if you want any drama in the season finale, there has to be something on the line even if a player wins the first two playoff events like Langer did. This is how it works in EVERY sport. In any event, Kevin Sutherland is your 2017 Charles Schwab Cup champ and we'll all live. Even Bernhard.
Patton Kizzire: Not only did Kizzire win his first PGA Tour title at the OHL Classic at Mayakoba, but he did so by beating Rickie Fowler head-to-head during a 36-hole Sunday marathon. It was only a matter of time for the 2015 Web.com Tour Player of the Year, but it's nice for him to not have to wait long for a maiden victory. Speaking of waiting for a long time. . .
Kevin Sutherland: Say what you will about the Charles Schwab Cup format, but Sutherland played great at the PGA Tour Champions season finale. And he couldn't have picked a better time to get his first senior tour victory – and his first win anywhere since the 2002 WGC-Accenture Match Play. When people also complained that he didn't deserve to win!
Poor guy. Well, not really. He's laughing all the way to the bank this week.
Kevin Hall: The best story coming out of Web.com Tour Q School last week was this 34-year-old advancing to next month's final stage. Deaf since he was 2 due to meningitis, the 2004 Big Ten individual champ while he was at Ohio State wrapped up at least conditional status on the developmental tour for next season.
Bernhard Langer's 2017: Seven wins. Three majors. The 60-year-old Langer's year was a remarkable achievement, even if he didn't win a fourth consecutive Schwab Cup. Besides, it's not like Langer gets stripped of those seven wins or all the money he made. And it's not like he's going to be denied winning every player of the year award. He just didn't get to take home that final big trophy. Like the Patriots. Those two times. Against the Giants. Long live Eli The Great!
Rickie Fowler's 2017: For as well as he played – statistically, Fowler was better than ever – picking up just one win has to be viewed as a disappointment. Yes, Fowler, who turns 29 next month, already moved past $30 million in on-course earnings and ascended to No. 7 in the Official World Golf Ranking, but he remains stuck on four PGA Tour titles in 197 career starts. For comparison, his 24-year-old buddy Justin Thomas won five times in 25 starts this past season.
Terrifying wildlife encounters: This faceoff between a King Cobra and a mongoose happened on the course before last week's Nedbank Golf Challenge on the European Tour:
All the golfers who were brave enough to stick around for the actual tournament are winners in my book.
Grayson Murray: Now in his second season on the PGA Tour, Murray is still causing controversy on Twitter. Murray's target this time? The senior tour, including guys like Langer and Sutherland.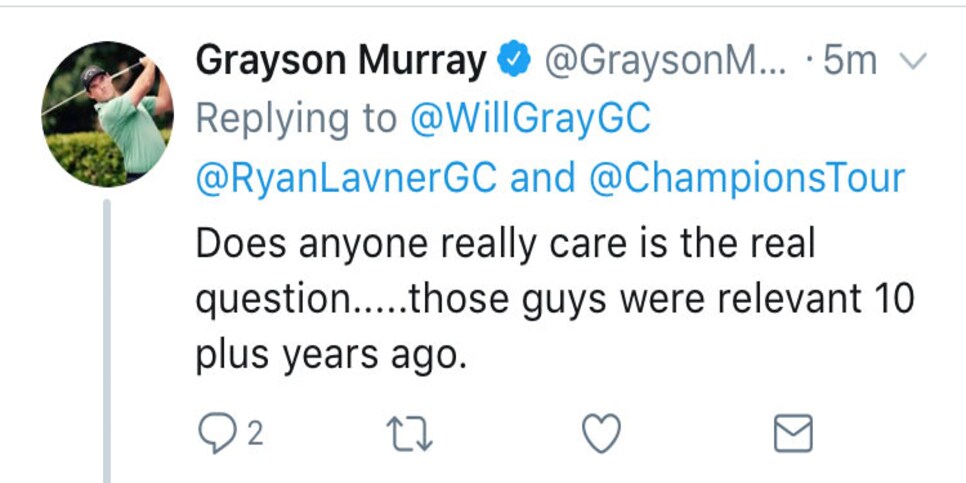 After a series of mostly nasty responses, Murray took the tweet down on Sunday night. To his credit, he eventually offered up this apology. On Tuesday:
The "Golf Rod": As in, I think this baby will sell, sell, sell. The "Golf Rod" is not an official name, but it's what I'm calling this clever creation by European golf instructor Steve Waltman.
Personally, I wouldn't buy the thing because fishing is more boring than Season 3 of The Affair, but I think other people would. Don't be surprised if a similar gadget pops up on a future episode of Shark Tank.
The PGA Tour heads to Sea Island for the final official event of the fall, the RSM Classic. And the European Tour's season finally wraps up with the DP World Tour Championship in Dubai. According to the European Tour's stats, Tommy Fleetwood has a 73-percent chance of winning the Race to Dubai. Justin Rose is next at 24 percent followed by Sergio "So you're saying there's a chance" Garcia at 3 percent.
Random tournament fact: It will be hotter in Dubai.
RANDOM PROP BETS OF THE WEEK
-- Kevin Sutherland feels bad about winning the Schwab Cup: 1.44 MILLION-to-1 odds
-- The Patriots will win the Super Bowl again: 3-to-1 odds (They're the favorites. Again. Sigh.)
-- Even if the Patriots win, their fans will still be haunted by the "Helmet Catch": LOCK
How about Rickie Fowler's robed fan club at the OHL Classic at Mayakoba?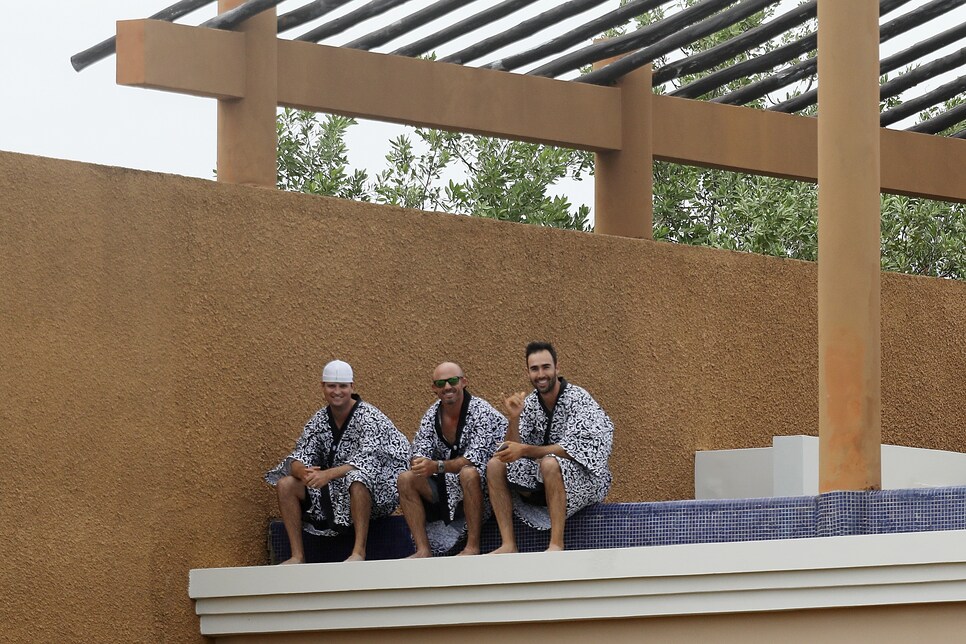 That's Zach Johnson, Jonathan Byrd and Cameron Tringale. This part of the "Sea Island Mafia" will remain pretty comfortable with this week's home game.
The European Tour struck gold again with this "Bad Coaching" video:
Great stuff, but it wasn't really fair to include Padraig Harrington. No swing thought or practice method is too kooky for the three-time major champ.
VIRAL VIDEO OF THE WEEK (EMBARRASSING DIVISION)
Japanese Prime Minister Shinzo Abe took an incredible tumble into a bunker during his round with President Trump. And if not for a pesky TV station, he would have gotten away with it without anyone noticing:
THIS WEEK IN BELEN MOZO IN A BIKINI
Belen announced she is taking a one-week break from social media with this post.
"It was never meant to be fair. It was meant to be playoffs. Everybody in the field was given a chance to win. Is it fair? No, it's not, but that's how it is right now." -- Bernhard Langer. Fair enough.
THIS WEEK IN DUSTIN JOHNSON-PAULINA GRETZKY BROOKS KOEPKA-JENA SIMS PUBLIC DISPLAYS OF AFFECTION
Brooks and Jena's off-season tour headed to Thailand:
Where Jena met a particularly friendly primate:
Something tells us Brooks isn't too worried.
Arnold Palmer earned $40 million in the past year since he died, which places him at No. 2 on Forbes' highest-paid dead celebrity list (Yes, this is a thing). Another King, the King of Pop, Michael Jackson, was No. 1 for a fifth consecutive year at $75 million. . . . Branden Grace won the Nedbank Golf Challenge in his home country of South Africa. More importantly, he didn't encounter any King Cobras or mongooses (mongeese?). . . . Free Drop Billy is the name of a 2018 Kentucky Derby horse, currently with 25-to-1 odds. He will clearly be a betting favorite, though, in golf circles. . . . The 2027 PGA Championship and 2020 Women's PGA are headed to Aronimink, and the 2028 PGA Championship and 2032(!) Ryder Cup are headed to Olympic Club. Stay tuned for more big venue news next month when I reveal where the 2018 HGGA Championship (my annual golf trip) is heading. . . . And finally, check out this lame fortune cookie message I got recently: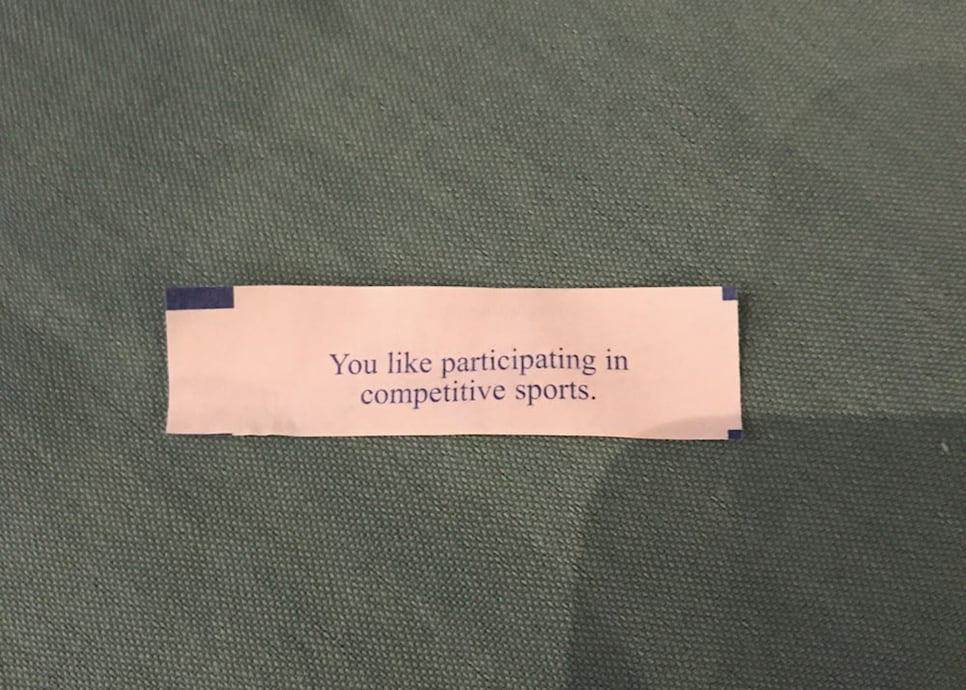 Even this year's New York Giants haven't given up that much.
RANDOM QUESTIONS TO PONDER
Who will play in the 2032 Ryder Cup?
Who will upset Bernhard Langer in the 2032 Schwab Cup?
Did that "Golf Rod" guy file for a patent yet?