News
Bernhard Langer, at 61 as good as ever, wins SAS Championship by six shots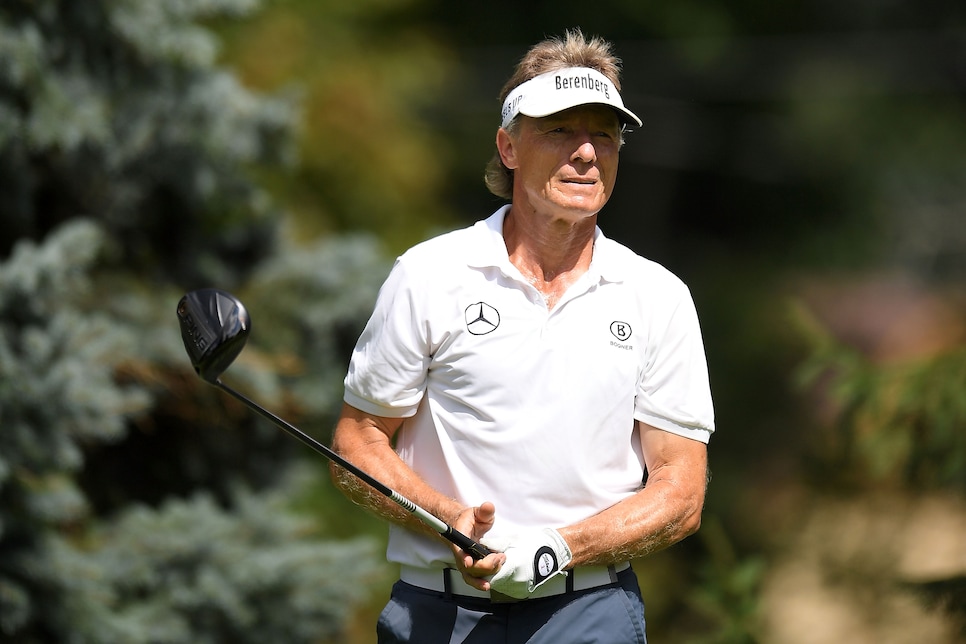 It was only an illusion, the appearance that Bernhard Langer, at 61, had begun his initial descent to age-induced mediocrity. His six-shot victory in the SAS Championship on Sunday put that notion to rest.
It was his second victory of the season (he has finished second five times), second in the SAS Championship (he won in 2012) and his 38th on the PGA Tour Champions, second only to Hale Irwin's 45.
Langer shot a seven-under par 65 at Prestonwood Country Club in Cary, N.C., equaling the lowest round of the day. He played 54 holes in a tournament record 22-under par 194. Scott Parel finished second by also shooting a 65, while Langer's 36-hole co-leader Gene Sauers shot a three-over 75 and tied for fifth.
"I knew I was close," Langer said. "But there was always something missing in the puzzle. Either the driver wasn't good enough or the putter or the irons. This week was very special. It was pretty amazing."
The illusion was the result of Langer only having won once previously this year, in the wake of his best season on the senior tour, when he won seven times.
The reality is that heading into the three-tournament Charles Schwab Cup playoffs, Langer leads the tour in Schwab Cup earnings with $1,918,904 and is tied for the tour lead in top 10s with 12.
Moreover, he is the defending champion in two of the three playoff events, including the Dominion Energy Charity Classic on deck.
"Any time you've won on a course before, you feel comfortable, you like the place," he said.
This victory was a record fourth since turning 60. Irwin is second with three.
"We all age and it shows," Langer said. "Things are hurting and aching that didn't hurt 10 or 20 years ago, but that's life and you just make the best of it. The good thing is the golf ball doesn't know how old I am.
Langer opened the SAS Championship with rounds of 62 and 67, as did Sauers, the two of them turning the final round into a two-man competition. For awhile.
The lead for Langer became three through nine holes, then on the par-4 10th it doubled to six, when Langer made a birdie and Sauers a double bogey. The rest was simply a victory lap for Langer, who played a bogey-free round.