Count 'em all
Behold the ugliest scorecard in golf history
OK, so we may have exaggerated a tad with that headline. After all, it was just earlier this year that our Shane Ryan chronicled the amazing story of two college golfers combining to shoot 434 in a single round to help save the Meredith women's golf program. (Seriously, go read that story if you haven't already). But the scorecard making the rounds on golf social media on Wednesday is quite something.
It involves three guys named Matt, Ryan, and Nick. And a total of 417 strokes for their threesome to finish the round, including a tidy 175(!) for Nick alone. Have a look at this scorecard from August 4 at Laurel Hill Golf Club in Virginia that was first shared on Reddit: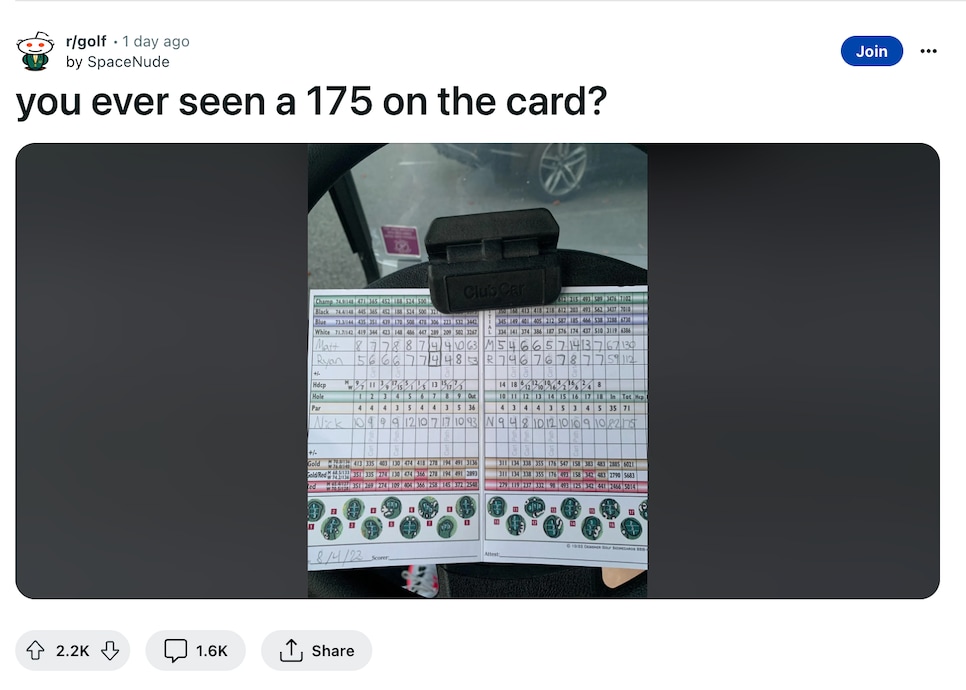 Wow. And to answer the question, we can't say that we've ever seen that before. By our math, that's an average of 139 for each golfer. Good lord, that's a lot of shots. And that round must have taken a loooong time to finish.
In fact, the post receieved a lot of backlash from people criticizing the group for slow play. But the poster replied with this:
We agree and got lucky with an open course, mid day, 100 degree tee time!
Nick is 1 month into golfing and our friend group thinks they can get out there and easily break 100, so we HAD to end that!!!
In general our motto is 'fast and bad' on the course to keep it going
Fair enough. As long as they had the groups behind them in mind. And we're glad Nick learned his lesson. Although, it was a painful one at that.
Although, it's not like Matt and Ryan exactly lit it up with a 130 and a 112, respectively. Actually, those two had quite the duel in the sun going until Matt made a 14 and a 13 on back-to-back holes late in the round. Tough.
But the trio took care of the par-3 11th with (relative) ease, all recording a bogey. Which prompted a pair of hilarious comments:
The memory of that hole will keep him coming back.
I assume there was a hazard on the green such as a bear or tiger, and they all wrote bogey and moved on.
But we are not here to scorecard shame. In fact, we applaud these guys for sticking it out and being sticklers for counting every single shot. Most struggling golfers would have stopped keeping score well before they made the turn.
So keep at it guys. Although you might want to look up the term "equitable score control" at some point. And if you happen to frequent Laurel Hill, good luck not getting stuck behind this group the next time you play.