The Loop
Behind the camera: Why Johnny Miller usually does his broadcasts in bare feet
We're spending the week embedded with NBC/Golf Channel at the Players. Here's the seventh and final part in our series.
It's a rare commercial break and the lights inside the 18th-hole broadcast booth come on to give our photographer a chance to take a few photos. Johnny Miller is visibly startled.
"Are we going on camera?" he says as he sits up in his chair. "I have my tie loosened."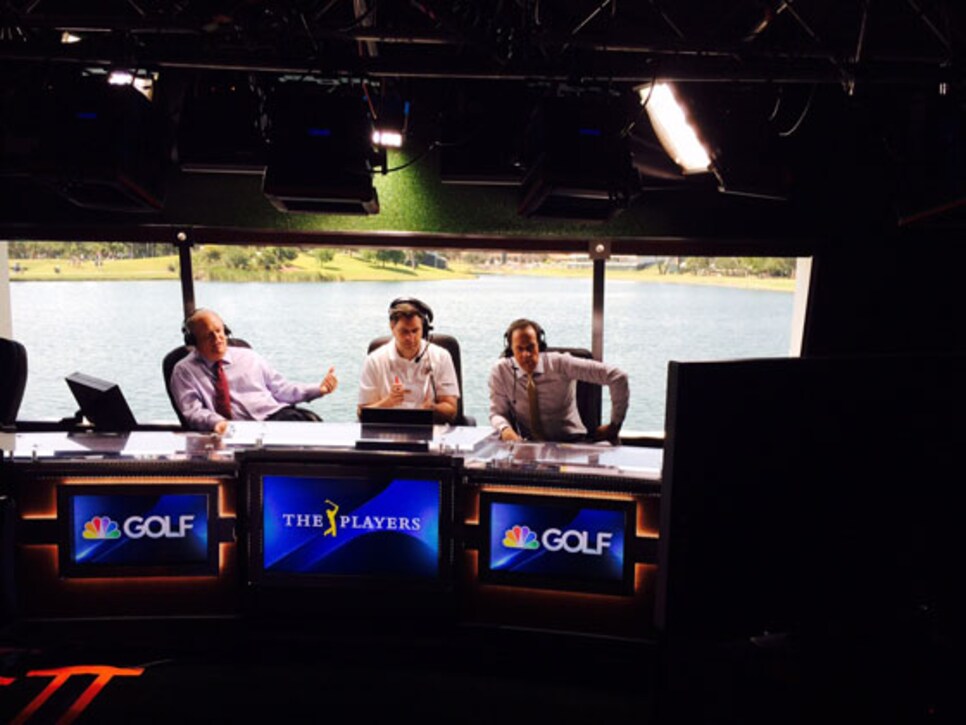 Miller quickly tightens it up, but is told he is not going on camera at this point. The exchange makes you realize how little Miller and play-by-play partner Dan Hicks are actually on screen throughout the broadcast despite their continuous dialogue throughout the coverage.
What's something else viewers at home don't realize?
"The first thing that pops into my head is Johnny more than half the time broadcasts in bare feet," Hicks says with a laugh after the two are off the air for the day.
Miller is quick to add a somber reason for this. He has Compartment Syndrome in his legs, which he says is one of the reasons he stopped playing professionally. He has to ice each of his legs twice a day for half an hour, and it makes sitting for long periods of time very uncomfortable. Miller even shows off he's wearing really loose shoes with no socks to help combat the problem.
We switch to a happier topic: Does the NBC/Golf Channel crew hang out on the road after the cameras turn off?
Miller, thanks in large part to his condition and his wife, Linda, usually being with him, doesn't usually partake in the festivities, but he's quick to point out who does.
"Roger Maltbie is our P.M. person. He loves the P.M," Miller chuckles. "Roger could have his own 'renta-buddy' business and make a living. He could be in the Yellow Pages: Renta-Buddy with Rog."
"I usually say, 'Rog, what are we doing tonight?' "
Miller and Hicks are as comfortable together away from the camera as they are on it, and both note the friendliness permeates their entire crew.
"This could not happen without liking each other off the course," Hicks says of their broadcasts. "It's a close-knit group."
Gil Capps, NBC/Golf Channel's managing editor/researcher sits closely between the two as the broadcast airs. He never says anything, but constantly hands cards of info and stats to golf's longest tenured 18th-hole TV duo, which is in its record 16th consecutive year working together.
"I'm so confident with him, I know if I'm gagging or something, if I wanted to take a 10-minute break, nobody would even know," Miller says of Hicks. "He knows the game so well. He could do my job. That's a big deal. It really is a team effort."
Speaking of the rest of the team, Nick Faldo and Terry Gannon quietly enter the studio a few minutes ahead of their shift during this early round broadcast and stay in the back. Well, Gannon does. Faldo, it turns out, is quite the troublemaker. At one point as Miller uses his telestrator, Faldo leans over him to check his work. Then he playfully rattles a container of plastic utensils to distract his colleagues.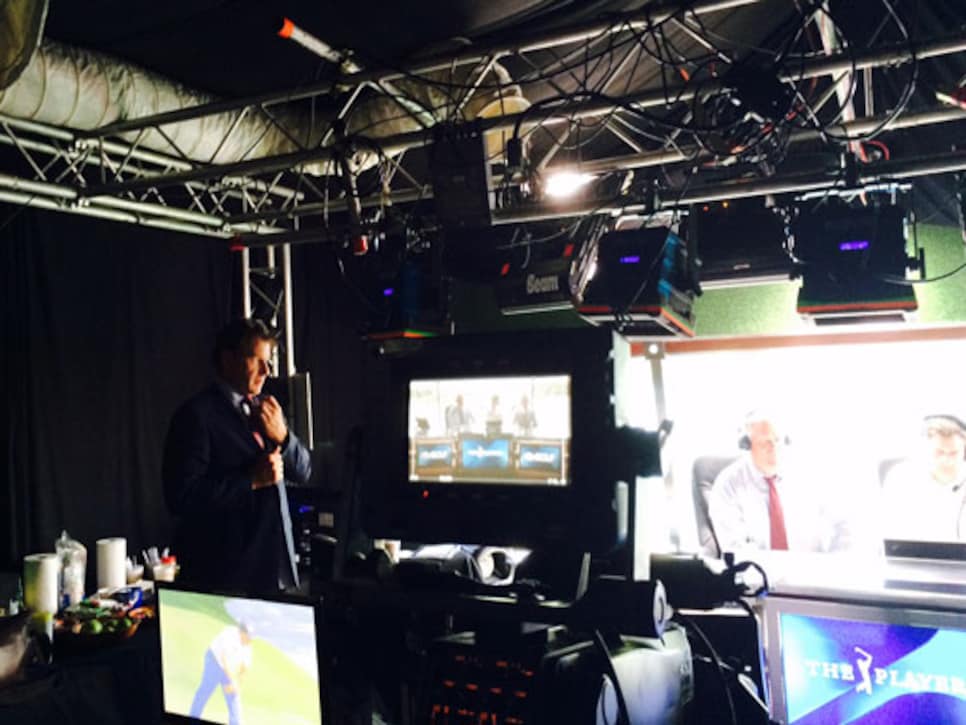 Faldo the troublemaker lurking.
But for the moment, Miller has the stage. He talks about Sergio Garcia's hinged wrists and demonstrates it for everyone even though he's not on camera. He suggests Phil Mickelson after pulling a sand wedge from his bag for an approach, "might spin the you-know-what out of it." Hicks looks at him and holds in a chuckle.
Miller sees Charley Hoffman force a laugh during a disastrous triple bogey in the first round.
"There's mad and there's a laugh," Miller says. "And the laugh is worse."
Hicks notes Hoffman's seven strokes on the hole, and Miller gives a quizzical look and starts air-counting and mimicking Hoffman going back and forth over the first green. He gets to seven, smiles and nods.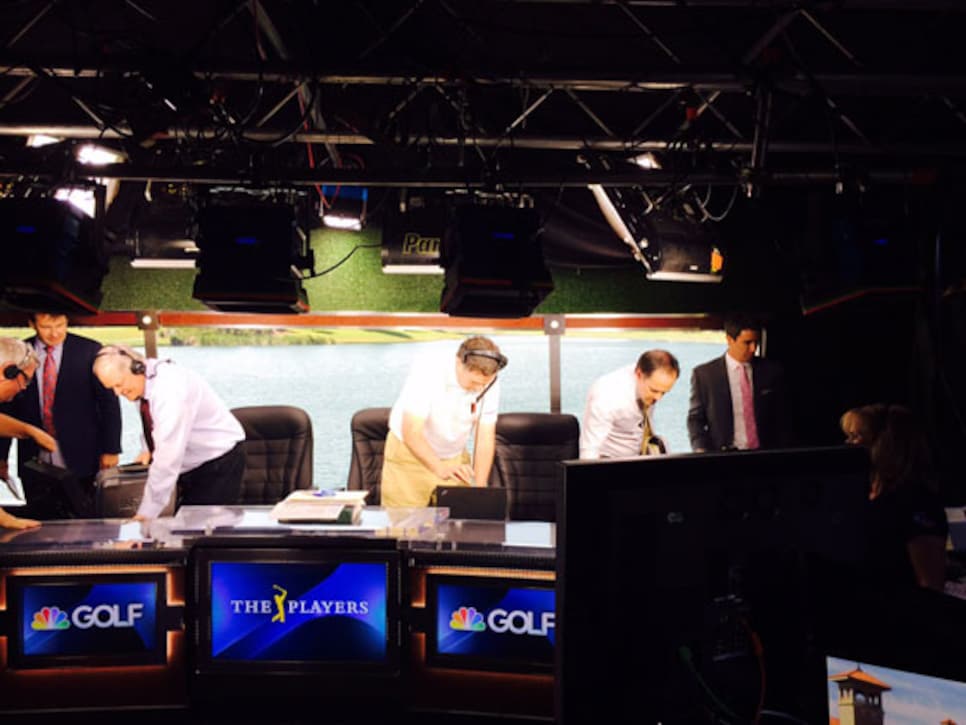 It's readily apparent Miller and Hicks love what they do. Why wouldn't they? So what's the most difficult part of the job?
"When you get a leader board that the public doesn't know well, you've got to do some serious selling," Miller says. "That's tough."
"Yeah, when that happens, our associate producer, Tom Randolph, will give me a look, pat me on the back and say, 'Dan, you're going to earn your money tomorrow.' "
Shoes optional, of course.