News
Beau Hossler pulls off rare feat on disastrous hole at Web.com Tour event
In Thursday's first round of the Web.com Tour's News Sentinel Open, the rising star needed 11 shots to complete one hole himself. What made the blowup even more unusual, though, was that none of those shots were putts. Well, at least, not technically. Take a look at the play-by-play of Hossler's fifth hole at Knoxville's Fox Den Country Club: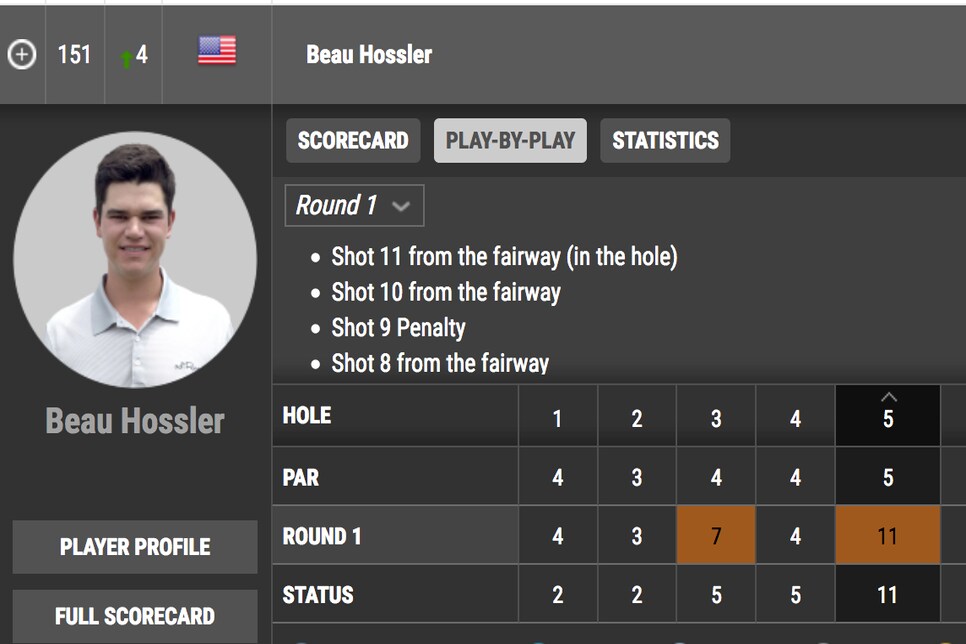 Obviously, that photo was taken before Beau shot himself out of the tournament on one hole. But as you can see, his 11th and final shot came from the fairway. Since there's no yardage listed or video, we don't know from how far away (he could have been putting from the fringe), but it goes down in the stats as a zero-putt. A rare zero-putt 11, that is.
Beau added another triple bogey to his card in a rough opening round of 85, however, Hossler was back out there grinding on Friday morning, and he's had a nice season otherwise. In just nine starts, the former All-American at the University of Texas has two runner-up finishes and is close to earning his PGA Tour card at No. 24 on the Web.com Tour's money list. Thursday's unusual score won't help matters, but at least it didn't hurt his putting stats.