News
A bear showed up on the course at Barracuda Championship, but, alas, he wasn't Golden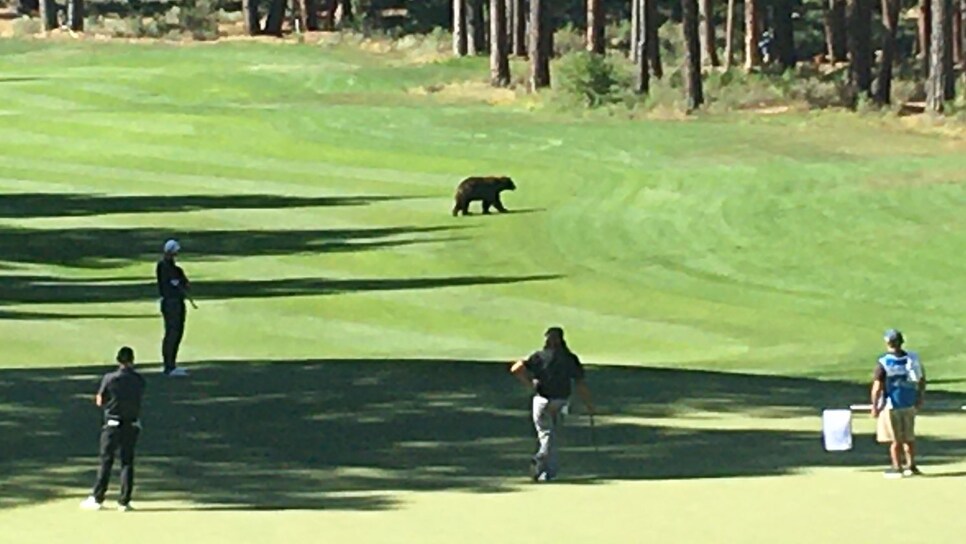 Lions and tigers? To the best of our knowledge, none have encroached on the play at a PGA Tour event.
Bears? Maybe not before Friday but add that to the list of wacky animal encounters.
The PGA Tour tweeted a photo from the second round of the Barracuda Championship that showed a small bear loping across the fairway as the players gawked from the green. The tournament, previously known as the Reno-Tahoe Open, is being played for the first time in Truckee, Calif., at Old Greenwood Golf Course. And, yep, you might have guessed this, it was designed by the Golden Bear, Jack Nicklaus.
The course is at high elevation in a forest, so it's not a total surprise that a bear would appear during play, but it's still a pretty cool sight. For the record, the creature had to be a black bear, because those are the only native bears that exist in California.
Admittedly, a 600-pound grizzly could have created a more dramatic encounter.
As for the other animal antics, the tour has its own video reel of them. Personally, I'm partial to the monkeys wrestling in the fairway at Mayakoba, but their No. 1 pick is … well, we won't spoil it. Hints: seagull, golf ball, Players Championship.