The Loop
Bathroom break results in two-stroke penalties for a pair of players at the NCAA Women's Championship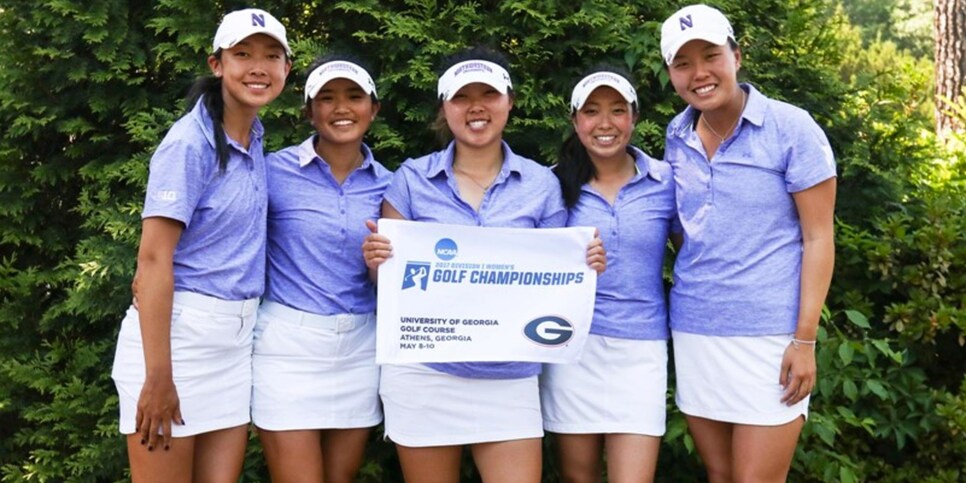 When you've got to go, well, you've got to go. Just don't use a golf cart to get you there.
That's the lesson learned by Northwestern's Sarah Cho and Kent State's Kelly Nielsen, who during the weather-delayed second round of the NCAA Women's Championship on Sunday at Rich Harvest Farms were each assessed two-stroke penalties for … using the bathroom.
OK, so technically the penalties weren't specifically for using the bathroom—the Rules of Golf can be harsh, but they're not that harsh. Rather, it was for the method in which they got to the bathroom. Under the conditions of competition for the championship, players are mandated that they "must not ride on any form of transportation during a stipulated round unless authorized."
Players have been authorized to take carts to speed up play on the otherwise long walks from the third to the fourth tee, ninth to the 10th tee and 11th to the 12th tee. However, Cho (hold the flag in the photo above) was not authorized to jump into a cart to visit the ladies room after finishing up the 18th hole to avoid delaying her group from teeing off on the first hole.
Similarly, when Nielsen got a ride from a Kent State staffer to find the facilities coming off the 13th green, she too had breached the rules.
Northwestern coach Emily Fletcher appeared to know right away that Cho's pit stop was going to cost her. "I pretty much knew all day long we were two shots higher [than the scoreboard showed]," Fletcher told Golfweek. However, Fletcher decided to hold off telling Cho, a junior who won the 2015 Big Ten individual title, of the mistake until after the round, so as not to throw her game off.
Cho's one-over 73 became a three-over 75 when she and her coach conferred in the scoring tent before Cho signed her card. Interestingly, there were several portable bathrooms near the 18th green Cho could have used that would have avoided the infraction.
The good news is that Northwestern still remained in the lead as a team after 36 holes despite the penalty. The Wildcats' second-round 10-over 298 puts them out front by eight strokes with 18 more holes to play before the 24 team field is cut to eight schools for match play on Monday.
As it turned out, Nielsen's mistake didn't cost her team as her 79-turned-81 was already going to be the Golden Flahses' drop score for the round. Kent State remained in second and seemingly in good position to reach match play as well.
Long story short, golfers have another reason to be careful when "taking relief" on the course.