News
Back to work for Koepka and DJ, Munoz's putting intervention and another caddie eyes the broadcast booth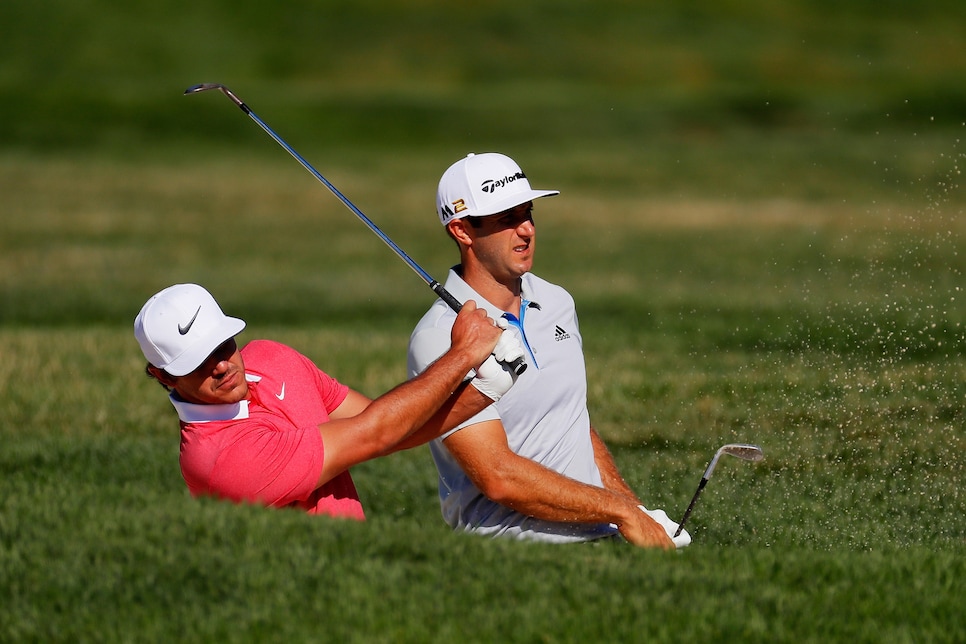 Kevin C. Cox/Getty Images
After a trip to Las Vegas and attending a July 4 celebration together in Tequesta, Fla., it's time for Brooks Koepka and Dustin Johnson to focus once more on golf. I also think the transition is already happening. Between workout sessions at Joey Diovisalvi's gym in Jupiter, Fla., and rounds nearby at Medalist and Old Palm, the 2016 and 2017 U.S. Open champions began the peaking process for next week's Open Championship at Royal Birkdale. Koepka, ranked No. 10 in the world, has a goal of overtaking his close friend, who has held the No. 1 spot since winning the Genesis Open in February. "He said yesterday, 'I'm closer [to No.1] than ever before,' '' Diovisalvi said. "But it's got to be easier to get from where I was [playing the European Challenge Tour in 2013] to where I am, than it is getting from No. 10 to No. 1." For Johnson, two-a-day workouts began two weeks ago while he stayed with the grandparents of his two children at Sherwood Country Club north of Los Angeles. Coming off back-to-back missed cuts, Johnson went to two Soul Cycle sessions a day with Wayne Gretzky as part of a 10-day camp orchestrated by Diovisalvi. Back home, Johnson was throwing in 45-second bursts on a versa climber between reps with the weights. "I want to say this as carefully as I can," Diovisalvi explained to me last week. "It's good to miss cuts every once in a while. It gives them a better state of reality." Koepka and Johnson will be arriving at Birkdale the weekend prior to The Open, and are scheduled to stay in the Hambric Sports house rented by his management group.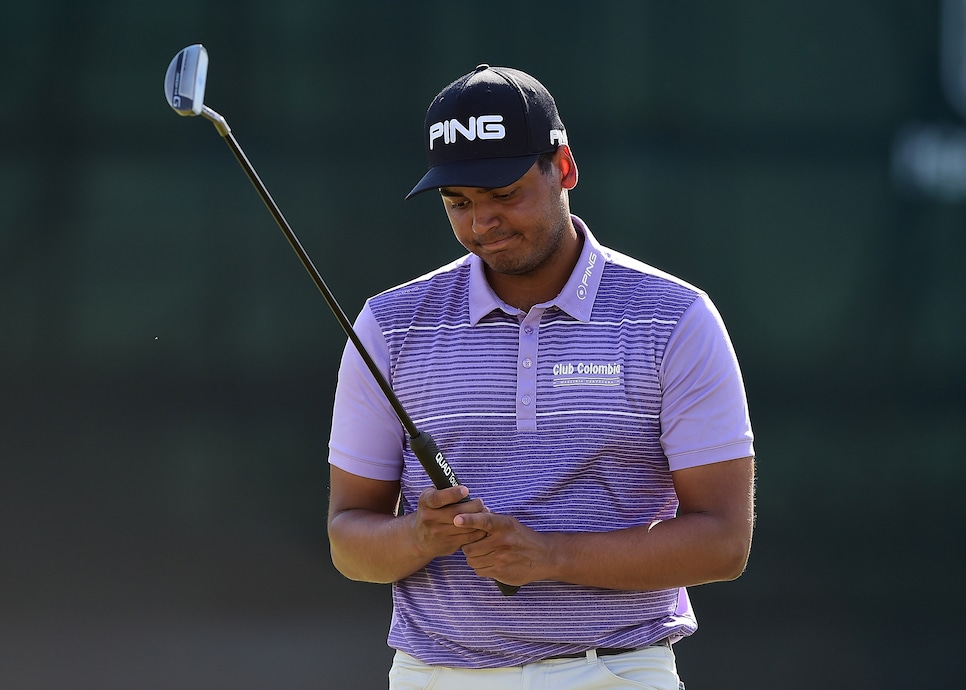 Jared C. Tilton/Getty Images
PGA Tour rookie Sebastian Munoz drain putt after putt on the new greens of Old White TPC and wondered if this was the norm. Turns out it wasn't until a putting intervention the Wednesday prior to the start of The Greenbrier Classic, which paid off for Munoz in the form of an exemption into the Open Championship. The 24-year-old from Colombia and the University of North Texas made 396 feet, 1 inch worth of putts during the first three days of competition after a session with Spain's Gonzalo Fernandez-Castano, who ranked sixth in strokes gained/putting before his missed cut at The Greenbrier. The lesson occurred late Wednesday—after the two spent the earlier part of the day fishing (see photo) at the resort—and lasted only 10 minutes because it worked right away.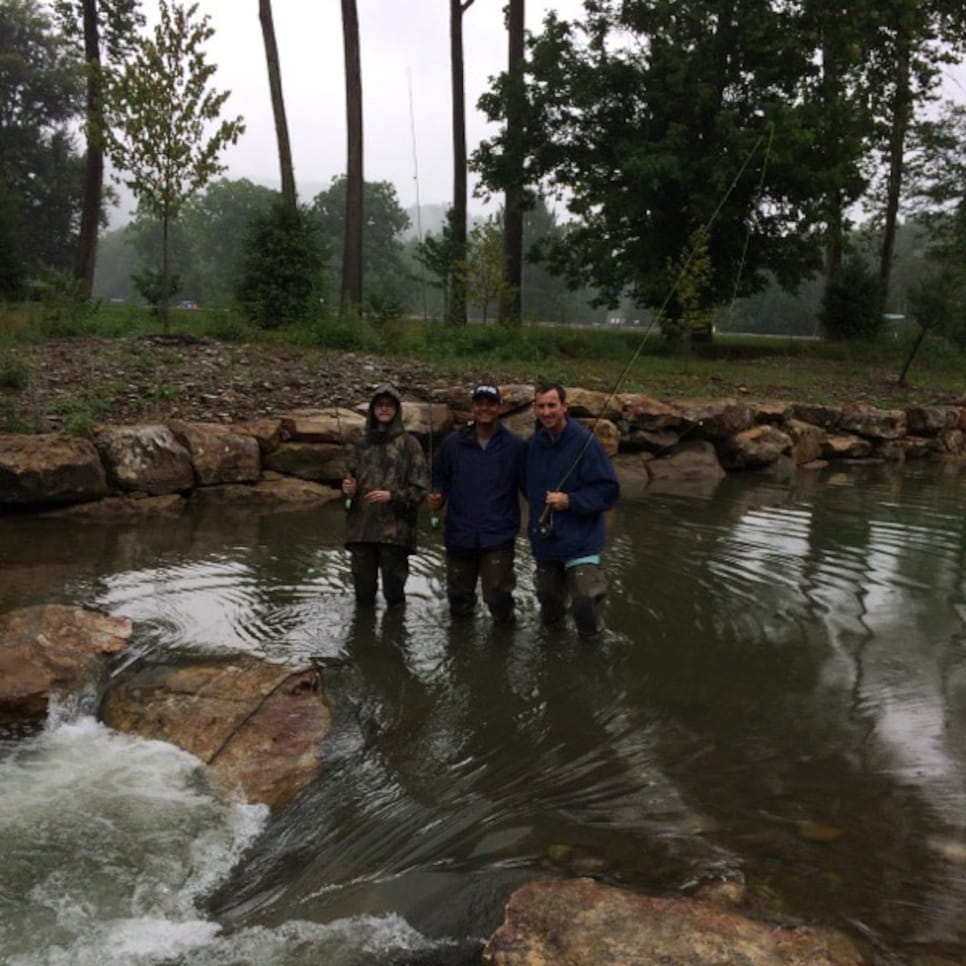 "He told me he was paying too much attention to what the putter head was doing," Fernandez-Castano said. "I told him, 'You can't putt like that!' You have to forget about the putter head." Fernandez-Castano told him to focus on a dimple on the front side of the golf ball, and Munoz proceeded to make six straight putts. After Munoz shot 61 in Thursday's opening round, Fernandez-Castano jokingly told him that that was the last putting lesson he was going to give. With the pressure turned up Sunday, Munoz made only 32 feet of putts, the longest from 3 feet, 10 inches, as the leader the first three days in West Virginia shot a two-over 72 to fall to a tie for third. Disappointing, yes, but the finish did lock up a spot into his first major at Birkdale and gave him a 162.5-point boost in the FedEx Cup standings that jumped him from 198th to 140th.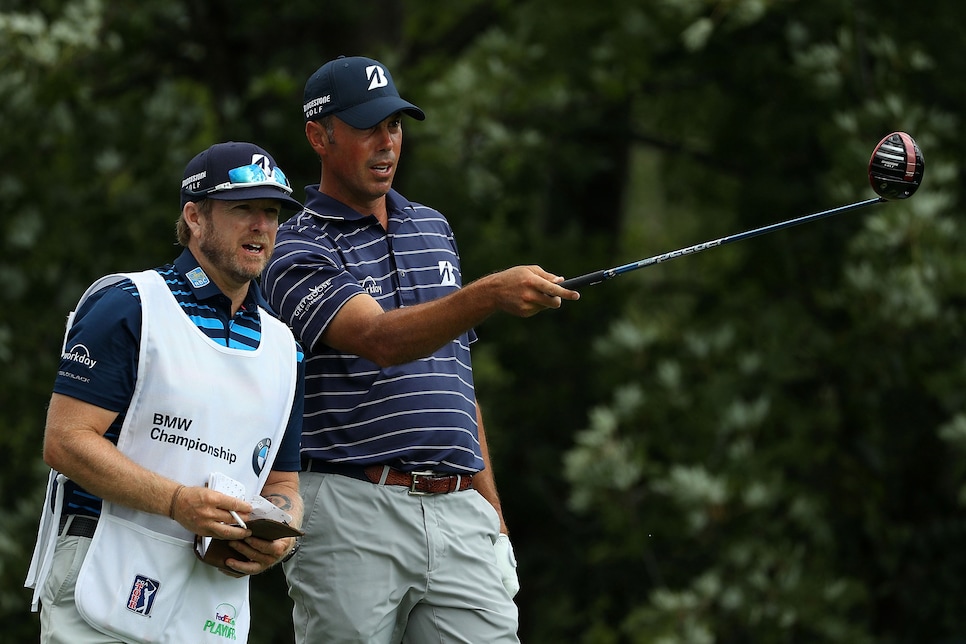 Scott Halleran/Getty Images
John Wood would someday like to follow in the footsteps of colleague/close friend Jim Mackay and transition from caddieing to broadcasting. Wood and Mackey worked together at the 2015 RSM Classic and passed the audition with Tommy Roy, the lead producer for Golf Channel on NBC. "Both are very similar in that they're very savvy guys on the course," Roy said. "They were very successful at RSM in their first time out. To do as well as they did was shocking." However, the 47-year-old Wood, with 21 years on tour, and currently working for one of the world's most consistent players in Matt Kuchar, is in no hurry to make the move. He is five years younger than Mackay and has four years less experience on the PGA Tour. "I really enjoyed it," Wood told me last week of his time on TV. "I enjoyed it a lot more than I thought I would. It's definitely something I'd like to do one day when my caddie days are over." Wood prepared for his work that week as he would as a caddie, surmising the strengths and weaknesses of players in his group and plugging that into the windy conditions at Sea Island. Wood knew when Roy came to him during the telecasts, he was expected to work similarly to his role as caddie, delivering the information as clearly and concisely as possible. "It's fun when they come to you, and you have this little window to communicate exactly what you want to say." Wood said. "You have to know when to finish talking." As for Mackay, Wood sees him excelling, especially in team events. "Nobody's been in more team rooms than him," Wood said. "He will bring a lot to the table at Presidents and Ryder Cups."