Courses
No. 15 at Reynolds Plantation's Oconee course, named for the lake it borders.
Google Maps will tell you the 90-mile drive to Greensboro, Ga., from the Atlanta airport should take an hour and 36 minutes. Perhaps this is so, if you keep to the speed limit. But nobody goes the speed limit on I-20 east of Atlanta. Even in the right lane, you can be doing 70 in a 55-mile-per-hour zone and other drivers will get right up against your rear bumper. "This is NASCAR country," a local explained.
Yet once you pull off the Interstate into Greensboro, everything seems to downshift. Which, of course, is a big part of the appeal. Harried city slickers have been seeking refuge in this sleepy, pine tree-lined territory for decades, with much of their activity focused on 19,000-acre Lake Oconee and the resort communities that have sprung up around it.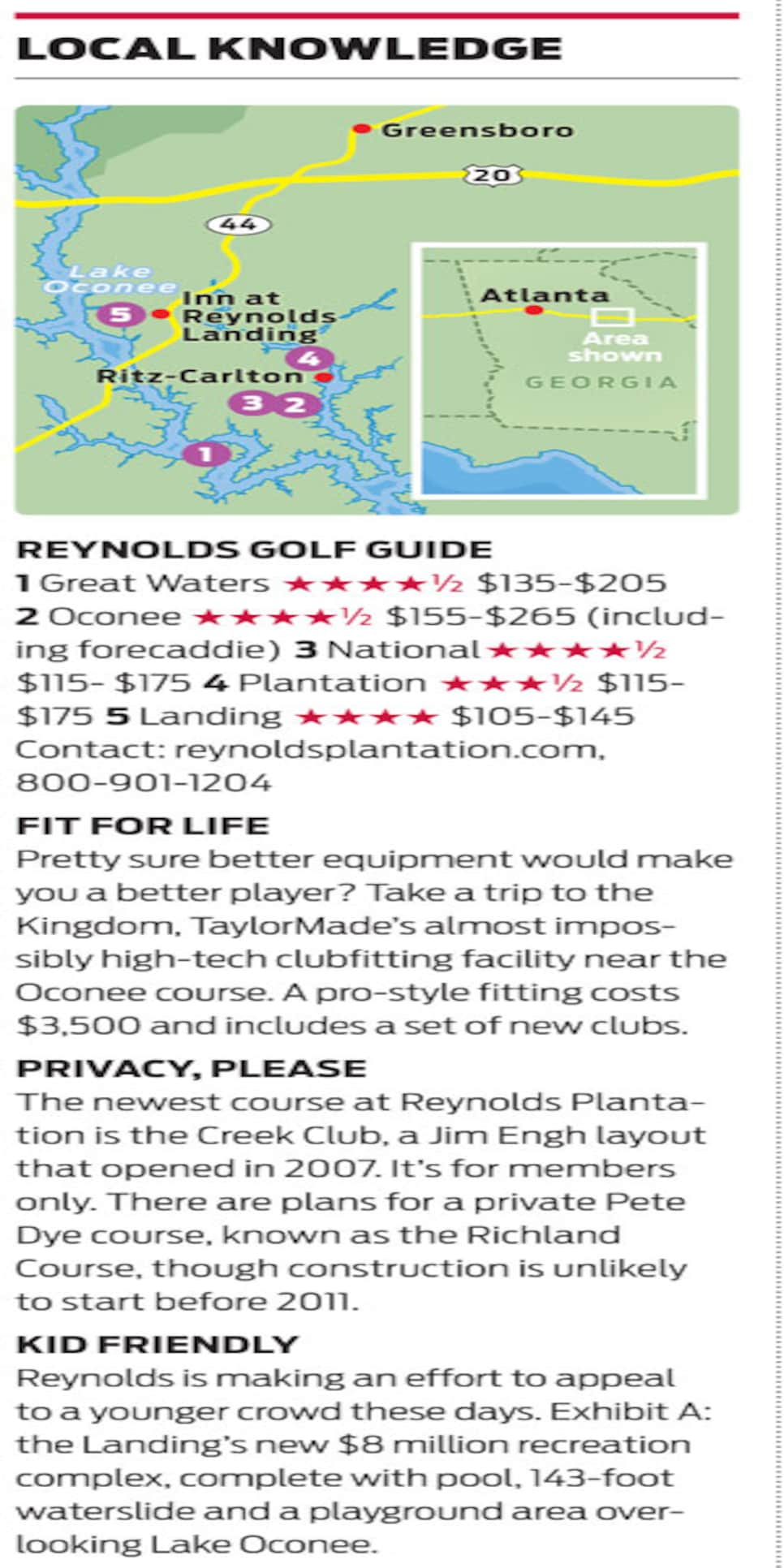 Reynolds Plantation is the toniest of these communities, with mansions lining many of its fairways, and a Ritz-Carlton Lodge that typically asks $299 a night and up.
Not long ago, only property owners and Ritz-Carlton guests could enjoy Reynolds' golf courses and other amenities. But there's a new way to experience it all for considerably less. The trick is to stay at Reynolds Landing, a golf community formerly known as Port Armor. Set less than a mile from the entrance to Reynolds Plantation, the Landing was bought by Reynolds' parent company in 2005 and became a full-fledged member of the Reynolds family, with complete access privileges, in 2009.
The Inn at Reynolds Landing has seven small but nice rooms. For $235 per room, double-occupancy, you can stay here and get unlimited golf for two on the Bob Cupp-designed Landing course right outside your window.
When you're ready to partake of the many activities available on the "other side of the road" at Reynolds Plantation, like fishing, boating, Charlie King's acclaimed golf academy or the four other courses, just drive on over. (Note: You'll have to pay green fees at these courses, as you would if staying at the Ritz-Carlton.)
Based on my unscientific poll, locals seem to like the Great Waters course best. Designed by Jack Nicklaus and opened in 1992, it has 10 holes that hug or otherwise overlook Lake Oconee. Keep an eye out for Steelers QB Ben Roethlisberger, who has a home on the course. Closed for renovation since Jan. 1, 2009, Great Waters reopens to members in March and guests in April.
The Oconee course, a Rees Jones design, features some pleasing elevation changes, and the back nine, especially, makes the most of its proximity to the lake. Oconee fans were stunned last summer when a fire burned their clubhouse to the ground, but luckily no one was hurt and, except for the big hole where the building used to be, the course is operating as if nothing ever happened.
The Tom Fazio-designed National course has three high-quality nines. Only a few of its holes skirt the lake, but you won't lack for great scenery. As at all of the Reynolds courses, most of the houses overlooking its fairways are discreetly tucked into the woods, hidden behind flowering dogwood trees and among tall pines.
The most scenic moments at the Landing course come early in the round, with holes 2 through 5 offering expansive views of the shimmering lake. The consensus among accomplished golfers seems to be that the Landing is the toughest of all the Reynolds courses, especially from the back tees (7,048 yards) and with its greens cut to tournament speed. From the 6,409-yard members' tees, I found it no more challenging than most, with the exception of its brutal, uphill 464-yard par-4 10th hole.
The first course built at Reynolds, a Cupp design called Plantation, is considered the easiest. It's the shortest layout on the property -- the regular tees are just more than 6,200 yards -- and there are only 20 bunkers, fewer than half of what you'll find on the other courses.
Hungry? Georgia's Bistro on the ground floor of the Ritz-Carlton Lodge offers the area's finest dining. Here the menu includes the likes of "day boat" scallops overnighted from Boston and barbecued Greensboro quail and duck breast, with entrees starting at about $22. Linger a little after dinner on Fridays and Saturdays and there'll be live jazz in the lobby lounge. Or you can head outside, where starting at 8 every night there's a campfire, where marshmallow toasting is encouraged.
The greater Greensboro area isn't exactly teeming with other high-end restaurants, but there are some good, moderately priced options if you know where to look. These include the folksy Silver Moon, two miles down Route 44, where the favorites include fish and chips ($12) and a full rack of ribs ($18). There isn't any Silver Moon sign. The post outside reads simply Bar & Grill. Another local favorite is Richland Creek, just to the north of Reynolds Plantation, with good live music and a busy bar scene that's popular with Reynolds employees.
A few people encouraged me to drive 20 minutes west to the town of Madison for additional restaurants and music. Madison is charming, with rows of beautifully preserved pre-Civil War homes, antique stores and museums. On a warm Saturday afternoon, I found an outside table at the Amici Italian Café, where I lazily read the local papers and watched tourists shop their way around the leafy town square. I had reached a state of total relaxation.
Then I got back on I-20, pointed the car toward Atlanta, and gunned it.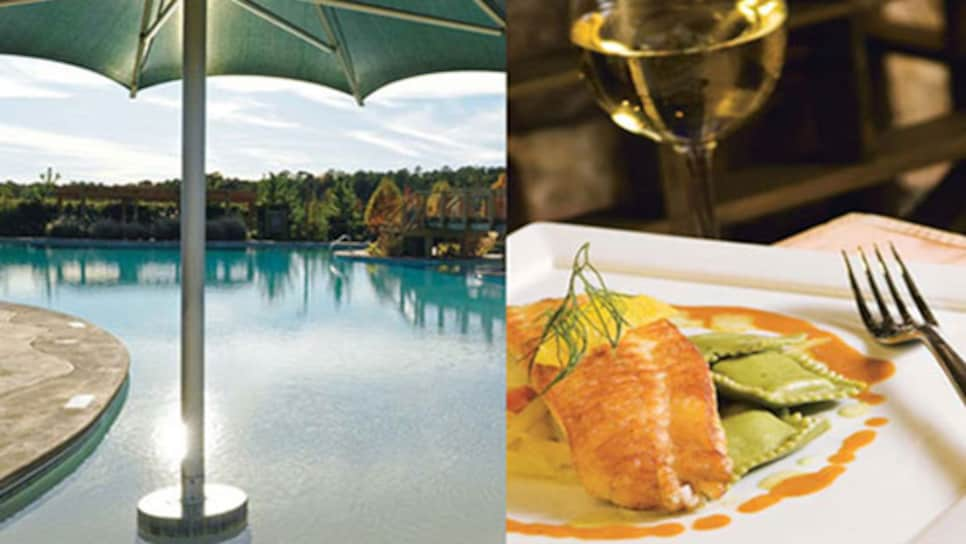 Atlantic sole, shrimp agnoletti, fennel and lobster sauce (right) at Georgia's Bistro.