Courses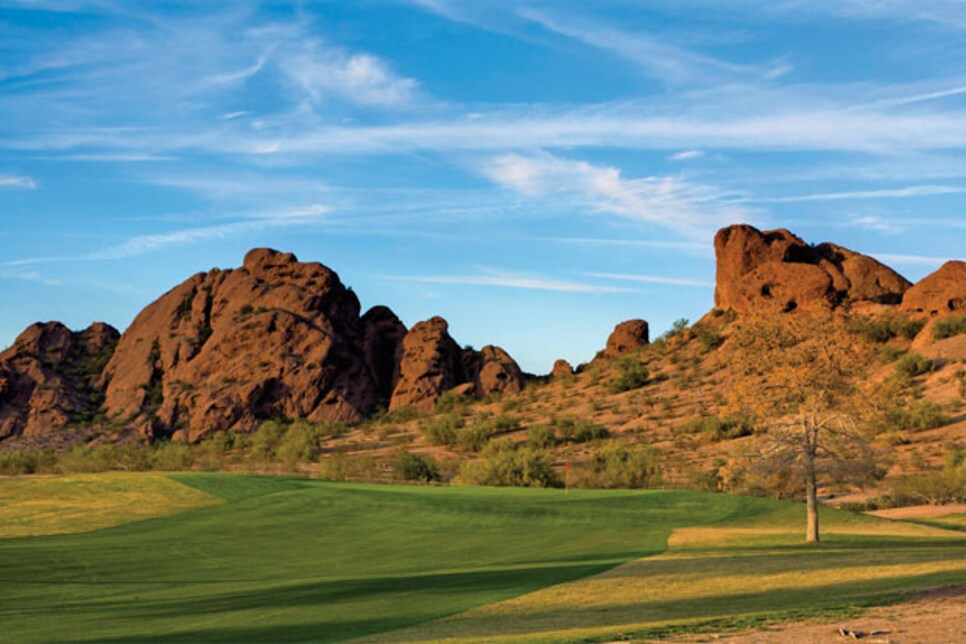 Framed by desert buttes, Papago isn't your ordinary muny.
Seeking between the hotel drapes, you're not sure if it's dawn yet. Across the street opposing gas-station lights glow, obscuring the desert sky in a pale haze. But if your vision rises high enough, up over the street lamps and strip malls, you see it is in fact night, and checking the bedside clock, that your sunrise tee time is still three hours away. You're wired, with zero chance of falling back asleep. Maybe you've flown in from the East, and the time change is messing with your cycle. Or maybe you've flown in from anywhere with winter on the ground, and you're simply eager to play. Either way, relax. As certain as the sun will rise, one promise the climate of Phoenix keeps is that golf will happen.
Most golfers who fly into Sky Harbor International immediately head northeast to Scottsdale. Their reasons are valid: It has better golf courses, fewer big-city issues and it's less than an hour away. But it's pricier, too. If you're a golf junkie out for a quick fix that won't break the bank, stay put in Phoenix.
This all sounded ideal to my old college teammate, David Haase, a real-life Van Wilder who took eight years to earn a four-year degree and now does mold removal in Knoxville.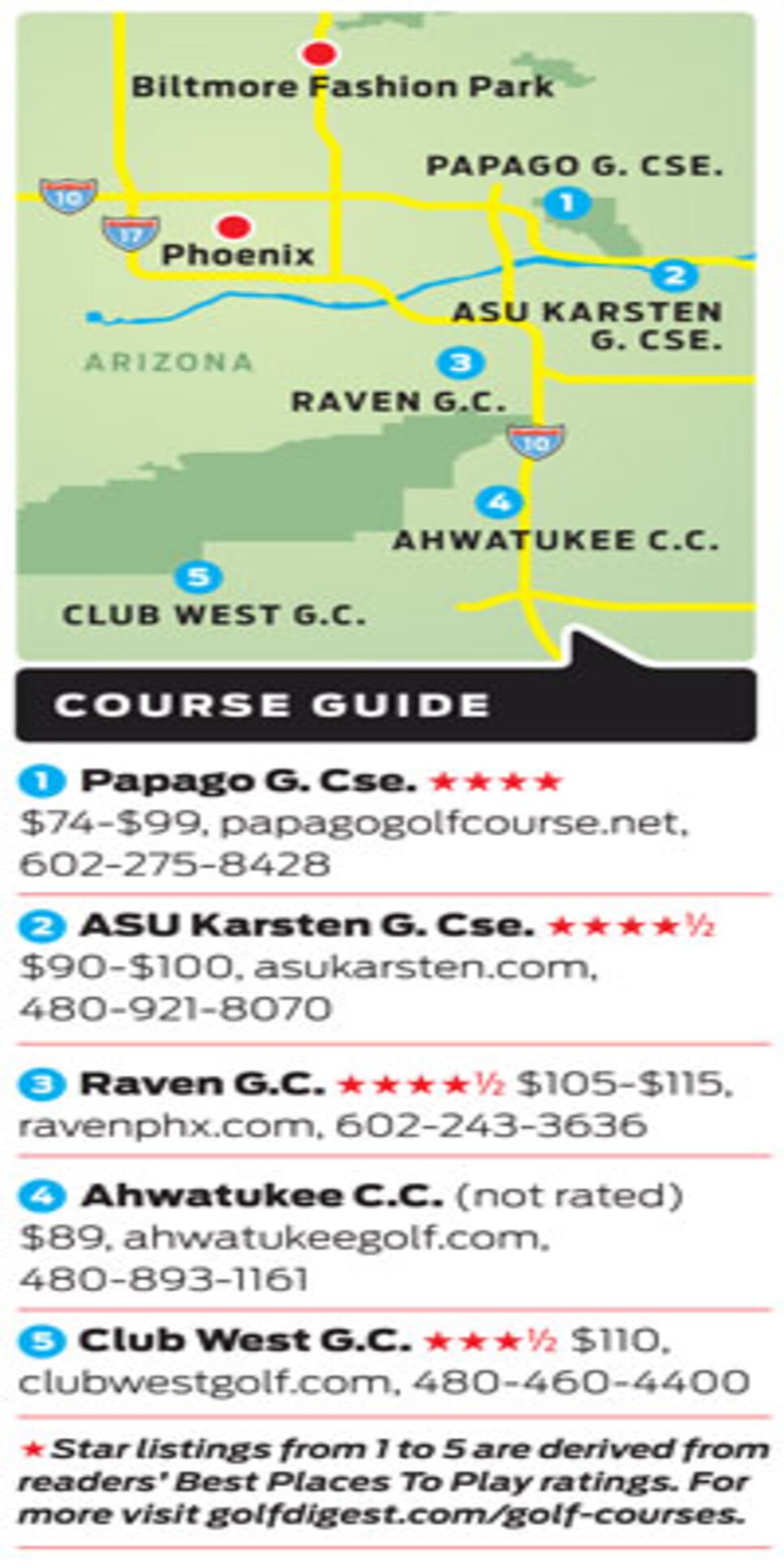 We stayed at a Homewood Suites 10 minutes north of the airport for $160 a night, but should've spent an extra $30 and driven two more minutes to the Embassy Suites in the Biltmore Fashion Park. There the urban grit suddenly breaks, and a cluster of new restaurants and designer shops are right out the lobby door. For healthy, organic cuisine that actually tastes good, try True Food Kitchen and drink a Medicine Man. This nonalcoholic concoction of different juices and antioxidants might sound girly, but daylight averages just 10 hours in January. You won't squeeze in 36-hole days without resorting to fast-food, so I recommend balancing your gastronomy when you can.
The first course to play is ASU Karsten. It was built for Arizona State University in 1989 by Pete Dye and was financed by Ping's founder, Karsten Solheim. Other than to glimpse the training ground of Phil Mickelson, the only collegian to capture three NCAA Division I individual titles outright, the reason to play it is the course could soon be no more. The land lease expires in June, and ASU is making noise about redevelopment.
Dye has never seen one of his creations bulldozed but is resigned to the possibility. "There's nothing you can do about it," he says. The staid 86-year-old won't be confused with Lord Tennyson, who would say, "Tis better to have loved and lost than to have never loved at all."
Walking is a rare desert treat that helps you remember any course more vividly, and you don't need a cart to play Karsten. Though the land base is as flat as a football field, Dye's freehanded mounding obscures the industrial perimeter and grants identity to each hole. With that quality special to campus courses, Karsten makes golf feel like any sport. School colors adorn the flags and tee markers, and the back of the range is the softball stadium. When we played, the faint, pleasing echo of lacrosse practice drifted over.
Close by is another course mired in development controversy. In 2008, the municipal Papago began a $9.7 million renovation that fell short of what was promised. But don't be fooled by the two trailers that serve as the golf shop and clubhouse. A new irrigation system has improved conditioning, and the tips have been stretched to 7,333 yards. Mark Woodward, who served as golf-operations manager for the City of San Diego when Torrey Pines was host of the 2008 U.S. Open, has been named interim manager. "I grew up playing Papago, lived a mile and a half away, so I'm excited to restore her to her old glory."
In a way, it's a blessing the new cartpaths were never realized. You drive in the sandy washout areas bordering the holes, which preserves a rugged aesthetic in keeping with the spectral Papago Buttes that overlook the course. To combat dust kick-up, the cart boys apply a greasy coat of Armor All to the tires, interior, and even the steering wheel. Luckily, Haase drove, and so only he had to worry about his clubs slipping from his hands.
What's smart about establishing base camp in the heart of Phoenix is that you'll catch the reverse traffic flow as you drive out to golf in the morning and return in the evening. South of the city, Ahwatukee Country Club and Club West pair conveniently. Giant eucalyptus trees establish the doglegs at the first, and the latter has dramatic elevation drops.
For one last round before flying back to whatever tundra awaits you, the Raven Golf Club is minutes from the airport and underwent a face-lift last June after being acquired by OB Sports Management. The bunkers were rebuilt, and a lot of unkempt vegetation was sculpted so that the tee boxes are like desert versions of Victorian gardens. With 6,000 Georgia pines, the lush look in the midst of the Sonoran Desert is at once bizarre and beautiful. The clubhouse and service evoke a private-club experience, but I felt bad for the employees who are made to wear matching knickers.
After all, it's not Scotland. It's not even Scottsdale.
The McDowell Sonoran Preserve is a 30-minute drive from downtown Phoenix. Access is free, and the well-marked trails are shared by runners, mountain-bikers and casual strollers. Rent a bike at Arizona Outback Adventures, and you can pedal right to the main trailhead.
If booking tee times online, don't fall for websites that charge service fees, usually a couple of bucks per player. Instead go to azgolf.org, which is free. Depending on your itinerary, the AZAccess Passbook ($59.95) can be worth it with coupons for low rates at many courses.
A culinary masterpiece is spreading throughout the Southwest and can be found at roadside stands and restaurants alike. The "Sonoran Hot Dog" adds bacon, pinto beans, tomatoes, cheese, jalapeños and crumbled potato chips in a Mexican bolillo roll.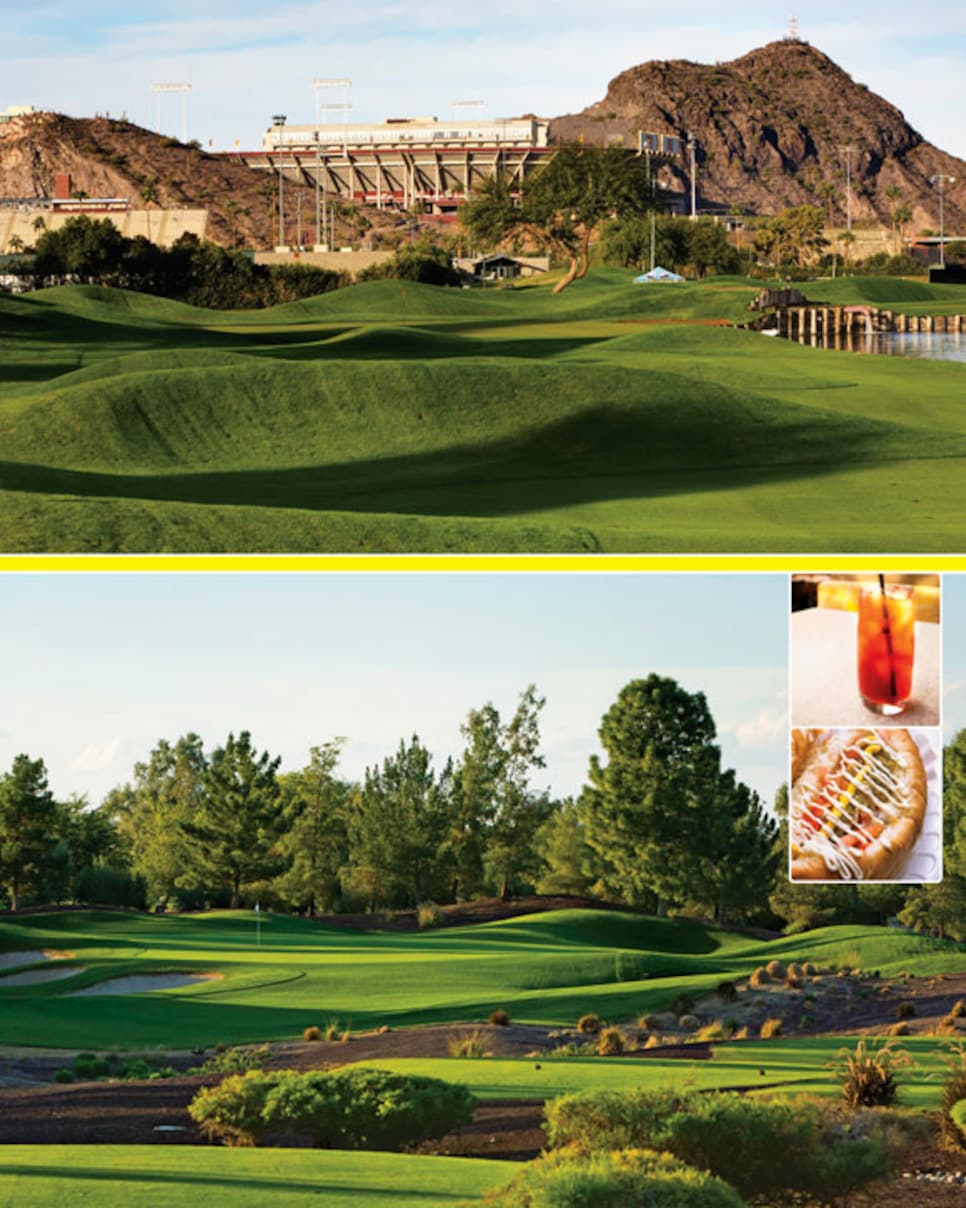 Clockwise from top: ASU Karsten is right on campus; a Medicine Man can cure what ails you; eat a Sonoran Hot Dog after a round, never at the turn; the par-3 11th at manicured Raven Golf Club.