Courses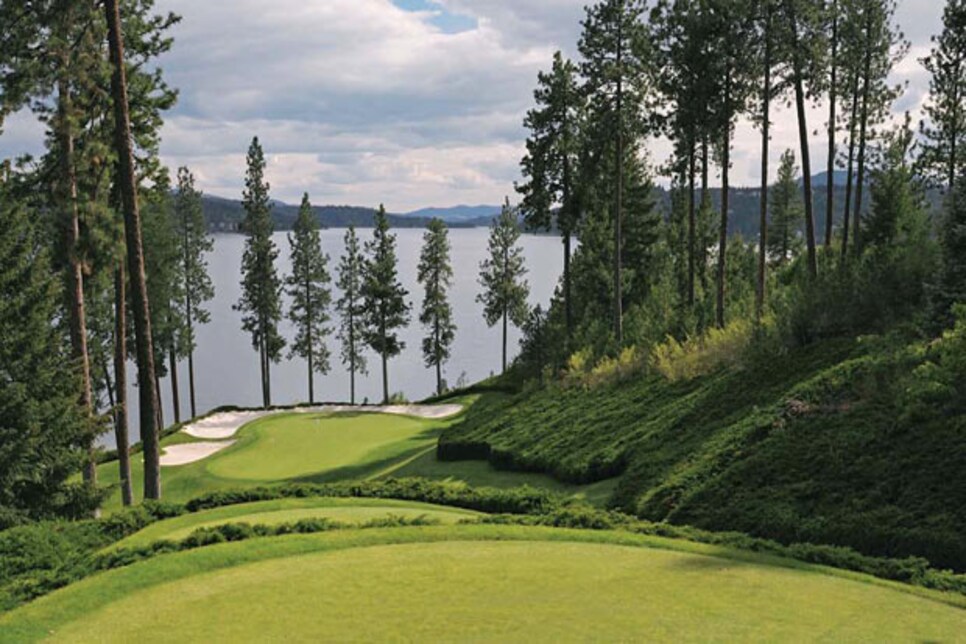 DROP ZONE: The 163-yard No. 6 at Coeur d'Alene Resort Golf Course.
The sun had just dipped below the horizon -- the part of the evening some photographers call "the golden hour" because of the light's warm, diffuse glow. As I packed my car, having just finished 18 holes at the Idaho Club
, the air was cool and quiet, almost impossibly so. "Look over there," club owner Chuck Reeves said in a stage whisper. A brawny moose and her calf had moseyed out of the trees and were easing onto the otherwise empty course. "Never loses its thrill," said Reeves.
Yet what impressed me most, in the end, was the area's natural side: the shimmering lake, the towering ponderosa pines, the snow-capped peaks on the not-too-distant horizon, the moose.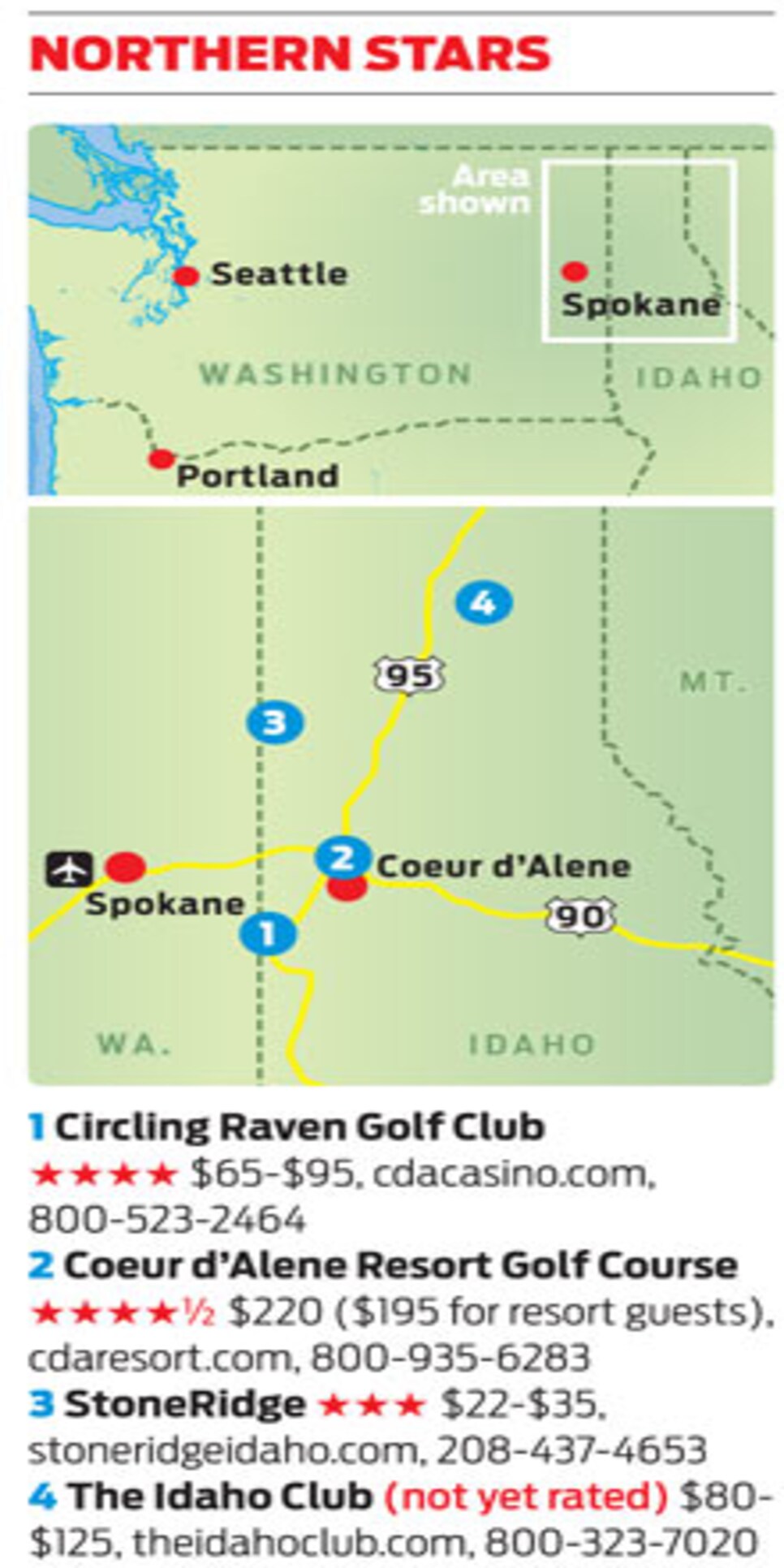 To get there I flew to Spokane, Wash., about half an hour from the Idaho border. In addition to Coeur d'Alene and the Idaho Club, I played Circling Raven Golf Club
. One knock on the Coeur d'Alene Resort course is that "it's kind of showbiz," as one Idaho golfer put it. True enough -- but if you accept that, it's a blast. The whole experience is over-the-top, starting with the mahogany boat that ferries you to the course from the resort. The golf carts have seat warmers and adjustable steering. There's a massage therapist stationed at the range or inside the golf shop's front door, ready to give you a pre-round back rub that's included in your green fee. (Take five minutes before you play and try it; you won't be sorry.) At the range, you hit out into the lake. The balls float and are gathered by boat.
Back when they were building the course, resort co-owner Duane Hagadone told architect Scott Miller he wanted visiting golfers to shoot a couple of strokes better than their average--the idea being that everyone leaves happy. Mission accomplished. With the exception of the 14th's floating green, there aren't many forced carries, and the fairways are mostly bowl-shaped, resulting in few lost balls.
The course isn't entirely benign. Since 2002, they've added 17 fairway bunkers, brought in about 250 trees, and added new tees on half the holes. Nevertheless, its USGA Slope Rating is just 119, even from the 6,803-yard back tees.
Circling Raven, about half an hour south of Coeur d'Alene on Highway 95, is a far more robust test of golf. Just do yourself (and everyone behind you) a favor and play one set of tees forward from what you'd think. It's not that the Gene Bates-designed course is unfair. To the contrary, there are many alternate approaches and bailout options. It's just that you won't reach the bailout options if you're playing from too far back. Again and again you'll be asked to hit driver or 3-wood over a big stretch of native grasses, wetland, a water hazard, or all of the above. Its back-tee Slope: 144.
The course is one of the better values I've played recently. Green fees are $65 to $95 in the summer, including a cart with GPS and unlimited use of Circling Raven's 25-acre practice area. Stay-and-play packages are available through Coeur d'Alene Casino Resort, owner of Circling Raven, or the Coeur d'Alene Resort. (I stayed at both. The latter, with a base summertime rate of $199 a night versus the casino's $100, is substantially more upscale.)
Circling Raven and Coeur d'Alene set a high standard for public-access golf, and to its credit, the StoneRidge course doesn't try to pretend it's in their league. About an hour's drive north of Coeur d'Alene, StoneRidge is a strong daily-fee that charges a maximum of $49 per round, including cart. The course often features midweek promotions offering all-day play, use of the practice range, a sleeve of balls and a $12 food credit for as little as $60.
Golfers intent on a more high-end experience might want to skip StoneRidge and drive to Sandpoint, home to the Idaho Club and an hour north of Coeur d'Alene. Club owner Reeves has not had the best luck. An electrical fire leveled his 20,000-square-foot clubhouse in December 2008, and the crummy economy has had a similar effect on his property and membership sales. Yet he's doing what he can. A model home now serves as a clubhouse--the golf shop is in the former wine closet--and Reeves is allowing public play after 11 a.m. and before 4 p.m. to help pay the bills. The green fee ranges from $80 to $125.
The Idaho Club has a lot of what you'd expect from a Nicklaus course: big landing areas, approach shots requiring extra precision and some crazy undulations on its greens. (Reeves has plans to make them a little less crazy.) The course also has its share of surprises, including several stunning holes highlighted by 50- to 100-foot towers of granite midway through the round.
There are a number of good-looking choices for post-golf dining in Sandpoint, but I decided to head back to Coeur d'Alene. It has a nice little downtown that is home to a handful of good restaurants, bars and other shops... and not a chain store in sight.
My favorite was the Wine Cellar, a cozy, subterranean spot that features live jazz and blues nightly. I asked the waitress for a recommendation, and she suggested a heaping plate of spaghetti and meatballs. Mainly I was grateful she didn't say "moose."