Courses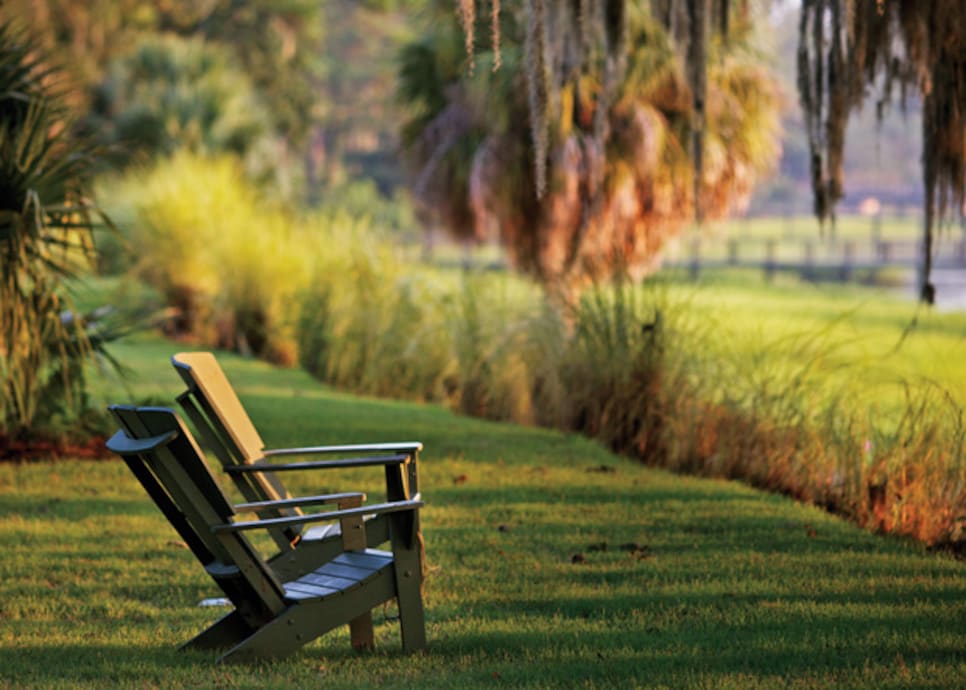 Unwind Here: Outside the Inn at Palmetto Bluff.
The morning I'm to fly to Hilton Head Island, I open a box of books, telling myself I'll bring whatever's on top. I split the packing tape (I'm in the process of moving) and lying face up is A Western Approach to Zen by Christmas Humphreys, a British barrister who founded the London Buddhist Society in 1924. Bought for a college class, it'd been clunky and thick, and I'd never really read it. Surely this isn't the book to take on a trip to golf-saturated Hilton Head. But there's no turning back. I've pulled fate's headcover, and I'm sticking with it.
Hilton Head is 45 minutes from the Savannah, Ga., airport and a perfect day's drive in a minivan from Ohio, which is why the place can sometimes feel like Buckeye Country on family vacation. If you're in search of inner peace, embrace this energy: Traffic will get backed up at one of the island's signature roundabouts, so remember, impatience achieves nothing.
especially if you know the course from watching the Heritage Classic on TV two weeks after the Masters. The Pete Dye layout has one of the shortest yardages (6,973 yards) and some of the smallest greens of any regular PGA Tour stop. With lots of rescue shots off manicured pine straw and loblolly pines leaning like beanstalks along the holes -- except the finishing three on the water -- it's like a flat, narrow Augusta National with condos. From the tips I shot 74, and admittedly I tend to like places better when I score well, which isn't very Buddha-natured.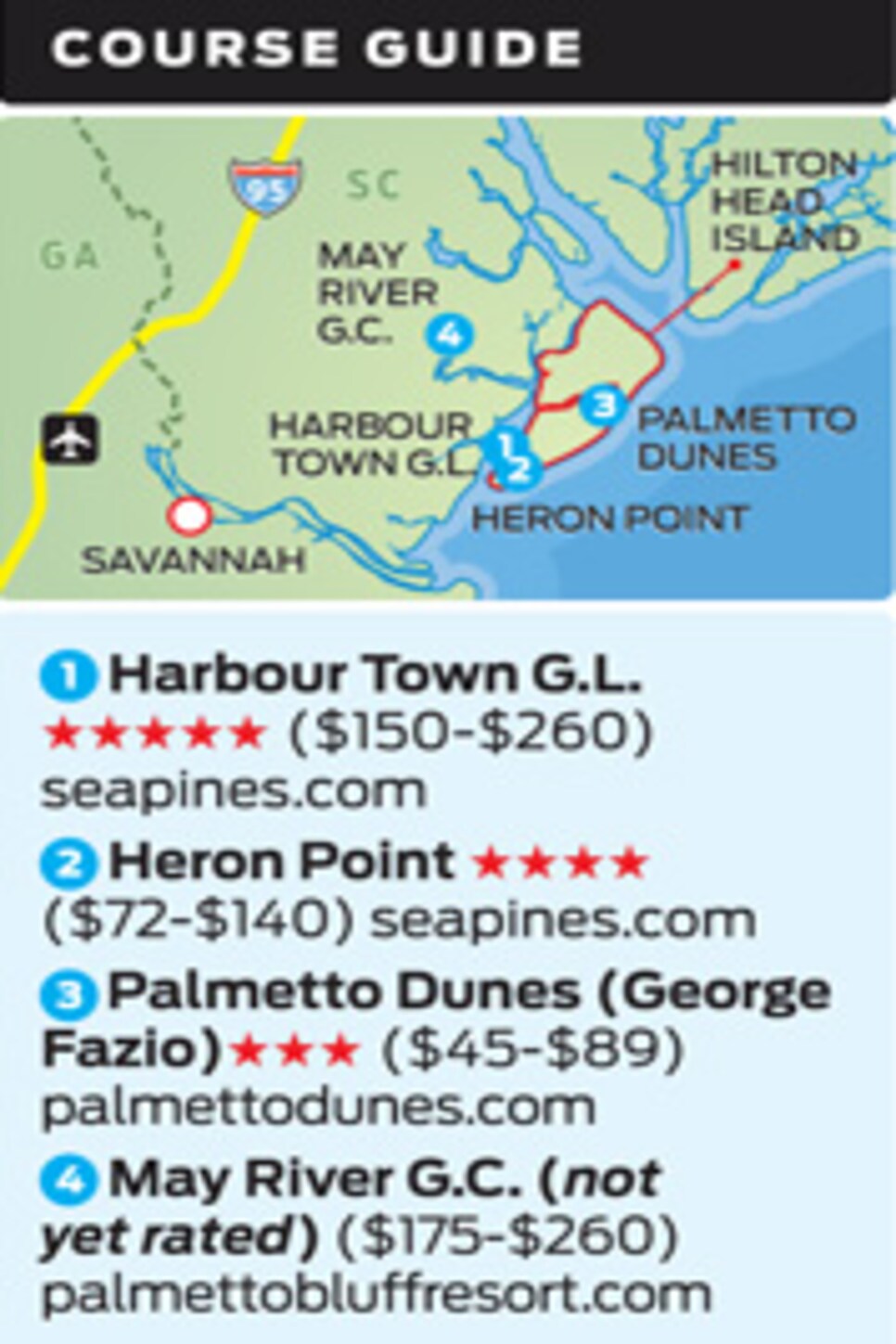 When you pony up the cash for Harbour Town (anywhere from $210 to $260 for morning tee times depending on the season), you get a break on an afternoon round at the other two Sea Pines Resort courses, Heron Point
. Packages go from $285 to $350. I picked Heron Point, which for me proved a minefield of modern, punch-to-the-groin bunkers and mounds. I joined a single playing the 6,168-yard tees and made too many Xs to even suggest a score. With lots of angular doglegs, it's one of those courses where you're better off choosing longer tees if you're not smart enough to not hit driver. But to channel the teachings of my airplane read, I tried not to let my poor play, or anything at all, upset me. Filling my lungs with salty air, I took in the exotic lowcountry vegetation of palmettos, marsh grasses and oaks dripping with Spanish moss. The concept of wabi-sabi says that all is transient and imperfect, and so it's important to enjoy beauty in the brief moments it exists -- even Pete Dye's fairway bunkers.
Anyone with basic knowledge of Zen is familiar with the term "nirvana," the state of wanting nothing when the body is released from the chains of desires. But the path to spiritual enlightenment is long and with many steps. So after playing 36, I forgive myself for heading off resort property and into town in search of fine food and drink.
Just when you thought a post-round beer couldn't taste better, the owners of Bomboras Grille make you think again. To preserve the aromas and heads of their many craft beers, your pint glass is filled from the bottom then sealed with a magnetic disc. Don't toy with the magnet, or you'll drench your lap.
It's hard to order bad seafood on an island. One upscale yet comfortably casual dinner option I can vouch for is The Sage Room. If you like, sit at the chef's table, a 10-seat bar where you can interact with the chefs as they prepare plates. A vantage that can help you decide what to order, as well as make sure the five-second rule or some variation isn't applied to your snapper. For breakfast, Palmetto Bay Sunrise Cafe is tops. Get the shrimp hash.
has three championship courses (the George Fazio is the most walkable). There's also a beach, a pool, tennis, biking, fishing and kayaking in a convenient atmosphere ideal for families. If you want independence, there are accommodation options along South Forest Beach Drive, where you can walk to the water. A warning for this area: You get what you pay for. My table lamp at the Metropolitan Hotel and Villas ($90 night) sported just a bulb, no lampshade.
Of course, what's so great about Hilton Head -- the bumping supply of golf, bars, restaurants and people -- might be a turnoff to those looking for a gentler scene. For an elegant place reminiscent of what coastal South Carolina used to look like, you needn't drive farther than 20 minutes inland to Bluffton. At the gate of the Inn at Palmetto Bluff, an Auberge resort, you're given an introductory audio CD timed to the seven minutes it takes to arrive. The place is essentially a 22,000-acre nature preserve with a small, uniformly developed town square that's very "Truman Show" but in a good way. You can stay as a guest in one of the cottages (packages go for $535 to $745 a night), or you can rent a vacation home. The May River Golf Club, designed by that famous Ohioian Jack Nicklaus, is not open to outside play. The only way to get on the course is to stay on the property.
Hate to name-drop again, but in soft focus the course is like Pine Valley. Each hole is firmly isolated by forest, and the fairways and greens, though manicured, blend into the surroundings like natural clearings. Life grows quickly, and when it comes to pruning, superintendent Chris Johnson says, "We try to always tread the perfect middle between manicured and rugged." The course is demanding, but the sandy hardwood forest floor is kept clean in the areas you're most likely to miss.
Yes, it's expensive, but with Southern grace the luxury draws scant attention to itself. Sitting outside my cottage, watching the sunset on the ripples of the May River, the next idea to rise from my book is that of the Eternal Now. All there ever is, all we ever have, is the present moment.