Courses
Teacher's pet: No. 8 at the Schoolmaster in Muscle Shoals, Ala.
'I think you've made a mistake," my friend Rob told the woman behind the counter at the Bear Trace course at Tims Ford in Winchester, Tenn. He was buying breakfast for both of us--two messy egg-cheese-bacon-biscuit things, two large coffees and two 20-ounce bottles of water--and the total was just $10.20.
"Did you forget to charge us for something?"
"Nah, honey," she said. "I added it up all right."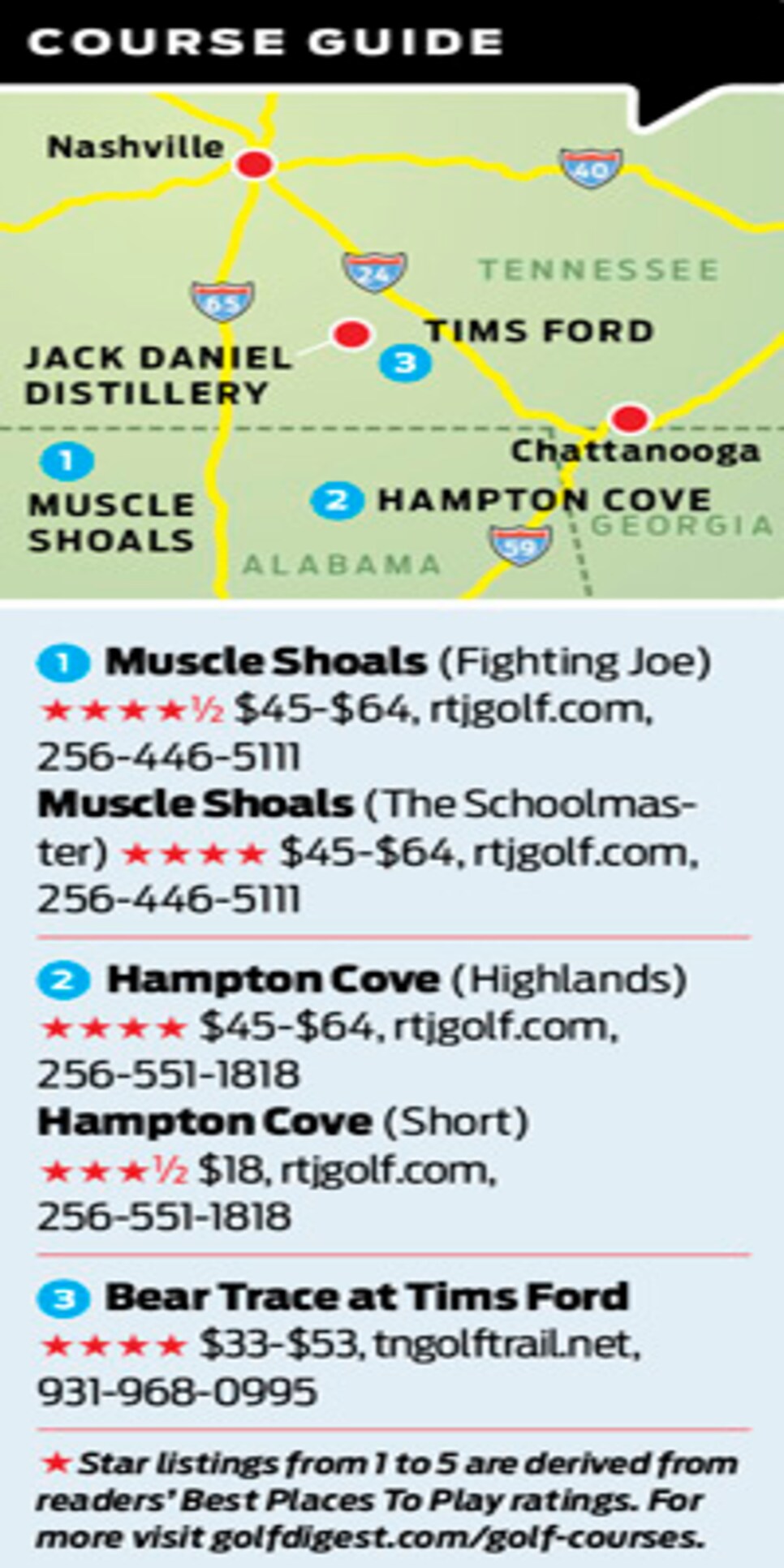 The price of just about everything will surprise city slickers in this part of the country. Our three-day road trip took us to five high-quality golf courses in northern Alabama and south-central Tennessee, none of which charged us more than $45 to play. If you're looking for value in golf, not to mention breakfast, this is where it lives.
Our journey began in Knoxville, Tenn., on a Saturday morning with the car pointed toward Huntsville, Ala., three hours away. Huntsville's roots are in the cotton trade, so you'll pass plenty of cotton fields if you miss a turn and wander off the interstate (as we did). These days the area's economy is mainly dependent on defense contracting, with a special emphasis on rocket science. The U.S. Space & Rocket Center (rocketcenter.com) beckons tourists with thousands of artifacts, including a life-size space shuttle simulator that looms large over Highway 565.
Huntsville is also home to Hampton Cove, one of the two northernmost stops on Alabama's Robert Trent Jones Golf Trail. There are three 18s--Highlands,
We shook off our car ride with a quick nine holes on the Short course, then hit Highlands, the more acclaimed of the two "big" courses, before finishing our day on the Short's back nine. Highlands is a fun and pleasantly varied layout with water affecting your strategic decisions on nearly half the holes. It cuts through a prosperous neighborhood of massive homes, many of them owned by people working in defense contracting. In other words, it seems a bit like an upscale country club in Anywhere, USA. This adds little to its appeal for visiting golfers hoping for something more out of the ordinary.
We found what we were looking for the next morning in Muscle Shoals, an hour and 15 minutes west. The two RTJ Trail courses here, Fighting Joe
are dramatic brutes built along the Tennessee River. We joined an event called Bring Your Old Buddy, a shotgun tournament that its organizers claim is the biggest in the world. All but one of the 11 RTJ Trail sites participated, with a total of 1,461 golfers going off at exactly 10 a.m. Central time.
With much of the course sitting on a bluff and unprotected by trees, Fighting Joe will wear you out when it's windy. The first three holes played directly into the breeze for our round, which meant that even No. 2 and No. 3 (less than 400-yard par 4s from the tees we played) took three shots to reach. Not that the course is toothless when the wind dies down. You can play from tees stretching as far back as 8,092 yards, if you must.
The Schoolmaster inhabits a more sheltered piece of property, with trees and rolling hills acting as natural wind buffers. Golf Digest readers give it __ __ to Fighting Joe's __ ½__, but locals seem to prefer the Schoolmaster. "It's a little less intimidating than Fighting Joe, which has more water to deal with," says Dan Benedetti, head professional. "In the summer you get more shade on the Schoolmaster."
Escape from the heat wasn't an issue for us, playing in early December. The afternoon temperature, only slightly higher than usual for that time of year, was right around 60 degrees. It should be back into the 70s by April, when green fees start to inch back up, too. At their peak in May, a round costs $64 at Hampton Cove and Muscle Shoals--though package deals and replay rates can reduce that a bit.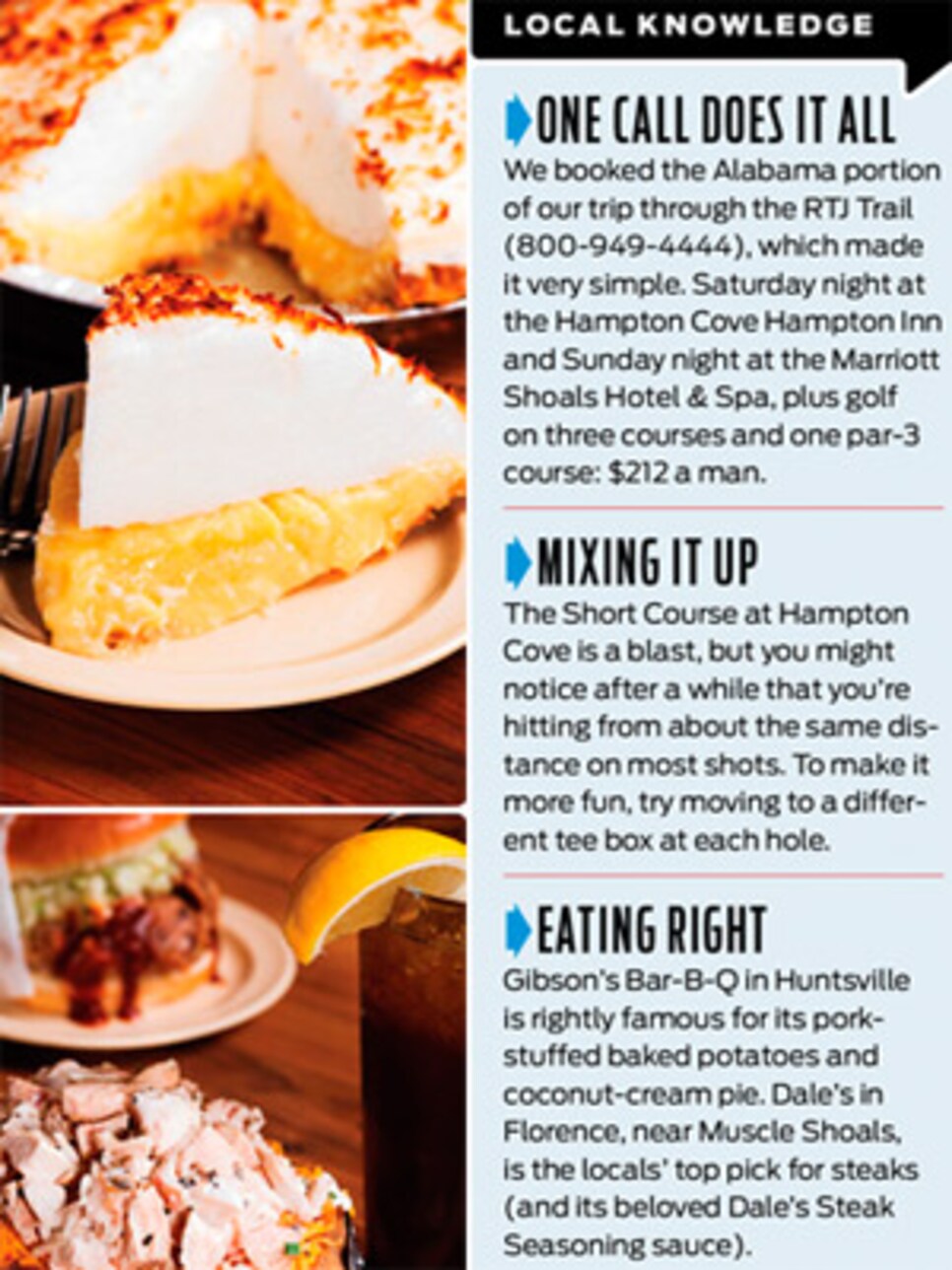 The final leg on our trip took us back into Tennessee and, happily, right by the Jack Daniel Distillery in Lynchburg. Fans of the famous whiskey will get a kick out of the free 75-minute distillery tour, though not the kind of kick they might be expecting. The only drinks available for tasting after your tour are lemonade and iced tea, as the company is based in a "dry" county. (The gift shop does sell bottles of Jack Daniel's.)
Be sure to leave a little time to explore Lynchburg's kitschy but energetic little downtown, the site of multiple gift shops and several funky restaurants. The Rebel Yell cheeseburger ($4.50) at NeNe's Diner lives up to its name, smothered in a spicy blend of habanero, chipotle and NeNe's special sauce.
at Tims Ford State Park is less than half an hour away, putting it squarely in the middle of nowhere. "I have to give out a lot of directions," concedes head professional Matt Daniels. The course is worth finding. Designed by Jack Nicklaus as part of the Tennessee Golf Trail--the state's sort-of answer to Alabama's RTJ Trail--it was built on a peninsula in the Tims Ford Reservoir. Most of the holes adjoin the water and, though it's seldom in play, it makes for a picturesque round.
The breakfast biscuit isn't half bad, either.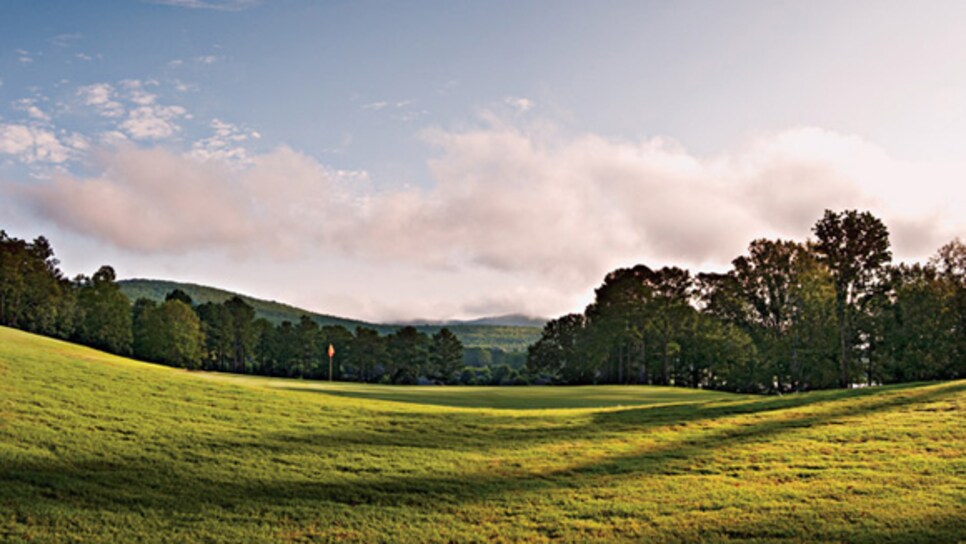 No. 9 green at Hampton Cove's Highlands; (above) the par-3 18th at Muscle Shoals' Fighting Joe course (below); gift shop at the Jack Daniel Distillery (bottom).