Editor's Letter
Avoiding the Inertia Trap: Take your clubs around the world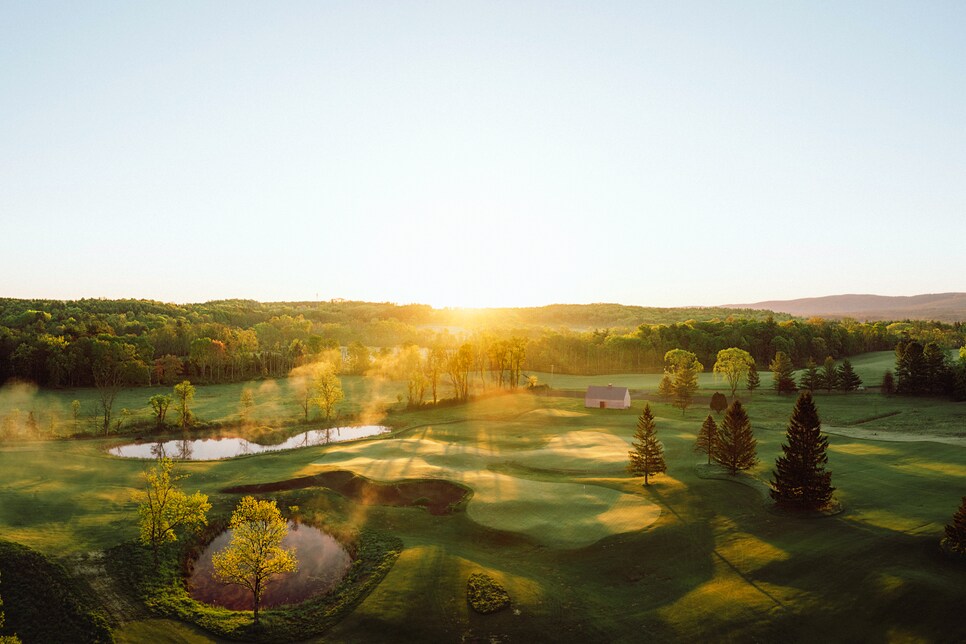 DIFFERENT VIBE Inness is more relaxed than the courses two hours south by New York City.
There are two types of golfers: those who seek new courses and those who don't.
Global pandemics notwithstanding, inertia is what keeps people at home. Maybe a membership has been paid for, and each round increases some divisor of utility. Maybe someone in your life keeps your clock and calendar with too sharp a pencil. Maybe you've found enough fascination in trying to replicate shots in a game where no two are ever quite alike. I'm so far gone that if quitting were the only other option, I'd gladly sign up to play the same two holes for the rest of my life in some Sisyphean nightmare. That's actually a fun question to bat around with buddies: Which consecutive holes from your home course would you choose?
I can almost understand not traveling to play. For all the drawbacks of living in an overpopulated commuter suburb of New York City, the collection of courses in the MGA (Metropolitan Golf Association) might be the best in the world. Peg a tee in the middle elevator bank of the Golf Digest offices at Discovery Sports Headquarters on Park Avenue in Manhattan, scribe a 100-mile radius, and you'll hit 27 courses on our 200 Greatest, starting with Pine Valley, Shinnecock, Merion, National, Fishers Island, Winged Foot, Bethpage, Friar's Head, Sebonack, Baltusrol, Somerset Hills, Garden City, Sleepy Hollow, and on and on. And, oh, just wait until Gil Hanse finishes Yale.
Yep, golf in my corner of the world oozes tradition: leather loafers, caddies, sumptuous menus, history, stonework, waitlists, cash tips. Sometimes snobbier golfers will refer to playing a slightly lesser course as "camping out." (Such people should be slapped, by the way.) Despite snowy winters, the best players from the Met section go on to win everywhere. It's Alpha Golf, which is why I was intrigued when I heard about the recent opening of Inness in Accord, N.Y.
Named for the 19th-century landscape painter of the region, George Inness, it's the proverbial back nine of Tad King and Rob Collins' cultish "little course that could" Sweetens Cove in Tennessee. Though 900 miles apart, both nine-hole layouts would fit together nicely with their friendly width and architecturally significant elements for all skill levels. Both emphasize walking, sustainability and a relaxed vibe. In the golf shop at Inness, you'll find a woodstove, a fridge of IPAs and the head pro rocking Merrell light hikers. John DeForest, 65, carries a Sunday bag with no headcovers and still flashes the game that played in three majors.
I played with DeForest and Lee Pollock, one of the developers. Pollock is proud that the property "doesn't feel like a golf resort." The farm-to-table meals, contemporary cabins, hiking, and swimming present more like a nature retreat. Affluent, stressed-out New Yorkers have been escaping to such havens in the Catskill Mountains for a century, but rarely has golf been involved and never quite like this.
"I just want this place to be fun," says Pollock, who asked my opinion on finishing details like additional tee boxes and whether to next put in a practice range or a short course. As at Sweetens, he envisions selling passes for addicts to lap the course all day and whimsical events where golfers choose from multiple cup placements. For now, his plan is a mix of resort and public play with green fees at $90 for nine holes and $135 for 18, and annual memberships for $6,000. With the uptick in remote work, Pollock knows the ability to spend more and longer weekends away has increasing value.
For me, Inness was just over a two-hour drive. That's the bare minimum of what qualifies as "golf travel," I think. Throughout the rest of this special issue are stories that might inspire you to take your clubs across the world. Wherever you go, you'll be reminded of one truth: The biggest trap in golf isn't made of sand; it's playing nothing but the same course over and over.