Change the Channel
Insane Aussie swims across English Channel for record 44th time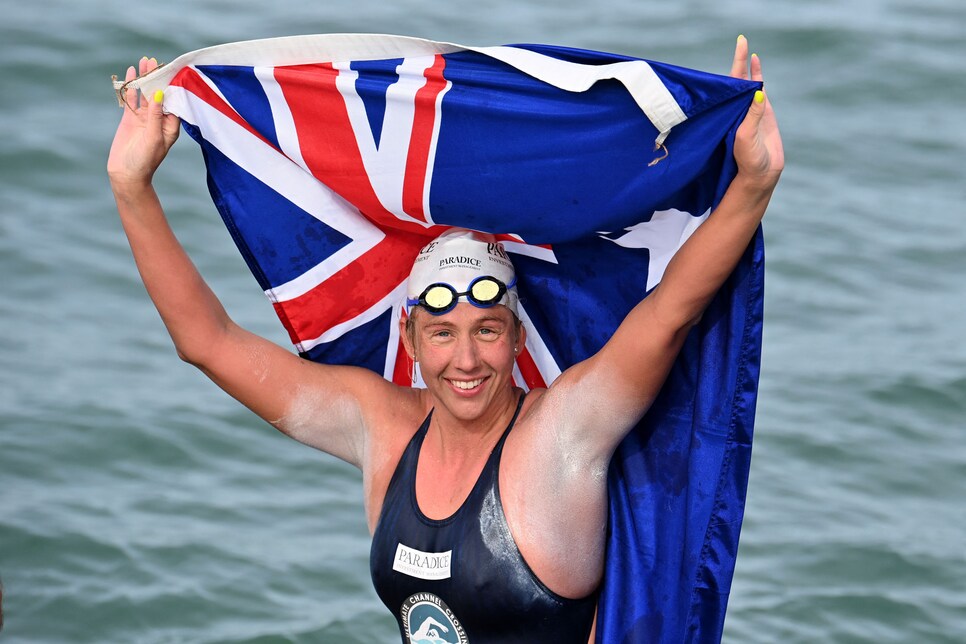 For most people, swimming across the English Channel one time would be a signature achievement. It's like running a marathon, except the bumper sticker has to be way cooler; less than 2,000 people have ever done it, and more than 2,000 people at your kid's last birthday party have run a marathon. But once you've done it, why bother doing it again? Right???
Wrong—at least if you're 36-year-old Australian fanatic Chloe McCardel. If you're her, you don't stop at one time, or twice, or three times. You keep swimming, from Kent to Point de la Courte in France, until you've done it 44 *&*($%* times. You keep swimming until someone hands you some crystal and says, "okay, you have the world record, please go home now."
In truth, McCardel is a complete badass, and by repeatedly swimming across the Channel as though she is some sort of ferry vessel—she's crossed seven times since mid-July, which is likely a more reliable schedule than your average publicly funded English boat—she broke the record held originally by Allison Streeter. (Streeter, of course, is also Australian, because no other nationality is quite crazy enough for this kind of thing.) She had long ago eclipsed the men's record, and she once did a nonstop "triple-crossing," although her attempt at a "quadruple-crossing" fell short because the ocean is cruel:
That wasn't her first rodeo with life-threatening situations, either. This is the kind of person whose Wikipedia page contains these kinds of sentences:
"On 12 June 2013, she attempted to be the first person to swim across the Straits of Florida from Cuba to Florida without using the protection of a shark cage...After 11 hours, McCardel stopped her record swim attempt after she was severely stung by multiple box jellyfish and was in too much pain to continue."
She also holds the world record for longest unassisted ocean swim after completing a 71-miles, 41-hour trek from South Eleuthera Island to the Bahamas. That is longer than anybody should be in the water...for an entire lifetime. Still, impressive.
McCardel now plans to retire from Channel life, which is a shame, because she's only 36 and the oldest people to ever cross the channel were 71-year-old Linda Ashmore and 73-year-old Otto Thaning. At least in theory, McCardel could go for 100 crossings, or perhaps even 1,000. But she's earned some time off, and we only hope that when she heads back to Australia to celebrate, she treats herself and takes a plane.