News
Austin Cook's circuitous route to the PGA Tour and victory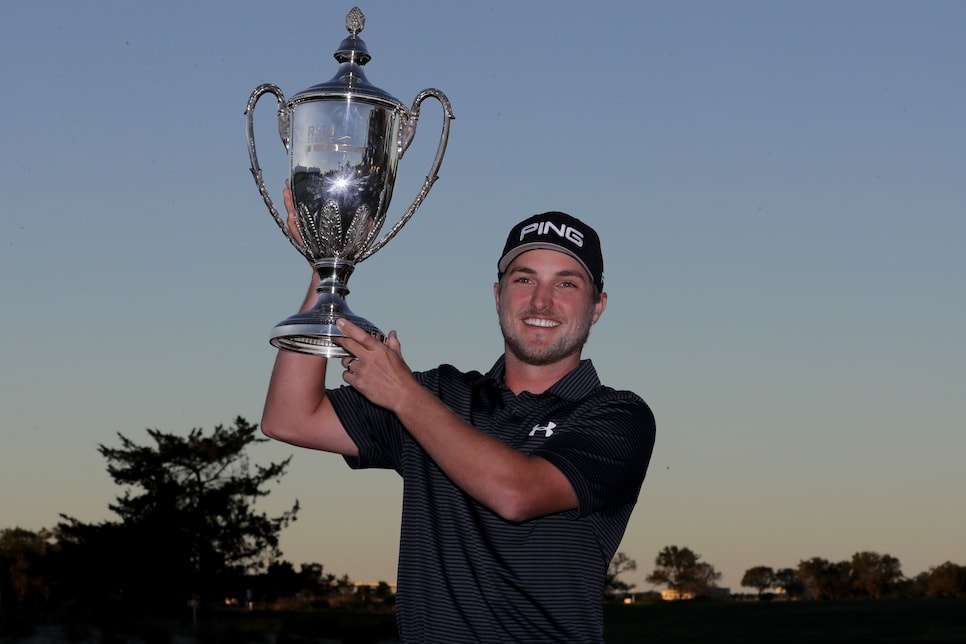 Part of the beauty of golf, particularly at the highest level, is that there are all sorts of ways to play a hole. Or in the case of Austin Cook, who won Sunday's RSM Classic by four strokes over J.J. Spaun, a few different paths to make it to the big stage.
Unlike other sports, it's rare when a successful college golfer goes straight to the bigs. Cook, a Southeastern Conference All-Freshman for Arkansas in 2010, an All-American the following year and a fixture in the Razorbacks lineup with nine career top-10s before turning pro in 2014, took a circuitous, and at times testing, route to finally getting his card for the 2017-'18 season.
In his first year playing pro and with limited Web.com Tour status, he opted for the mini-tour circuit. In nine starts, he finished in the top 10 five times and missed just one cut on the Adams Tour.
The following year, he was a couple of strokes inside the number at Web.com Tour Q-school at PGA National when he had a Top Gun worthy crash-and-burn, finishing bogey-bogey-quadruple bogey-double. Oof.
Then last year, Hurricane Matthew roared toward the northeast coast of Florida and the Web.com Tour Championship. The decision was made to cancel the event, meaning the money list would revert back to the previous week. Cook missed getting a card by $425. Double oof.
Cook is hardly the first—or last—guy to take a roundabout route, but along the way he had already proven that he belonged. By 2015, he'd made nine starts in PGA Tour events, five of those coming via Monday qualifying, where it usually takes a score in the low-to-mid 60s to advance. He also nabbed a couple of top-10s in two of those starts to earn a spot in the field the following week.
That kind of guile was not all that dissimilar to another player who had Monday qualified a handful of times before becoming a five-time winner, Ryder Cup stud and top-10 player in the world—Patrick Reed. All those Mondays hardened and honed Cook's game, too.
At Sea Island, Cook opened 68-62, led the field in strokes gained: tee-to-green, got up-and-down 11 of 12 times, made just two bogeys all week (his first not coming until the 50th hole) and hit the pedal when things briefly got tight on Sunday.
After starting the windswept day with a three-stroke lead, Cook's lead was twice cut to just one by Spaun with the last coming after a birdie on the par-4 16th. Cook, though, birdied three of his last four, to cruise. His 21-under 262 total was a stroke off tying the tournament record and he also held off a pack of veteran winners that included Brian Gay, Chris Kirk, Kevin Kisner and Brian Harman.
"You always grow up thinking that you can do it, but actually being able to get the job done and perform and hold all the nerves down and still put in a good round especially in these conditions and on this golf course," Cook said. "I'm just so happy."
With good reason. After earning his card by finishing 20th on last season's Web.com Tour money list, the 26-year-old rookie is headed to Maui for the Sentry Tournament of Champions when the season resumes the first week of January. He's also in his first Masters, having twice been there before as a spectator in 2008 and 2012 and telling himself he wasn't going back until he was playing in it.
"I've been close on the Web a couple times but haven't been able to get the job done, and to be able to do it on the biggest stage in the world, it definitely boosts my confidence and lets me know that I can play with these guys," Cook said. "I've told myself all along, and for it to actually come true, it's amazing."
So too are the paths some players take to success. They come in all forms.