News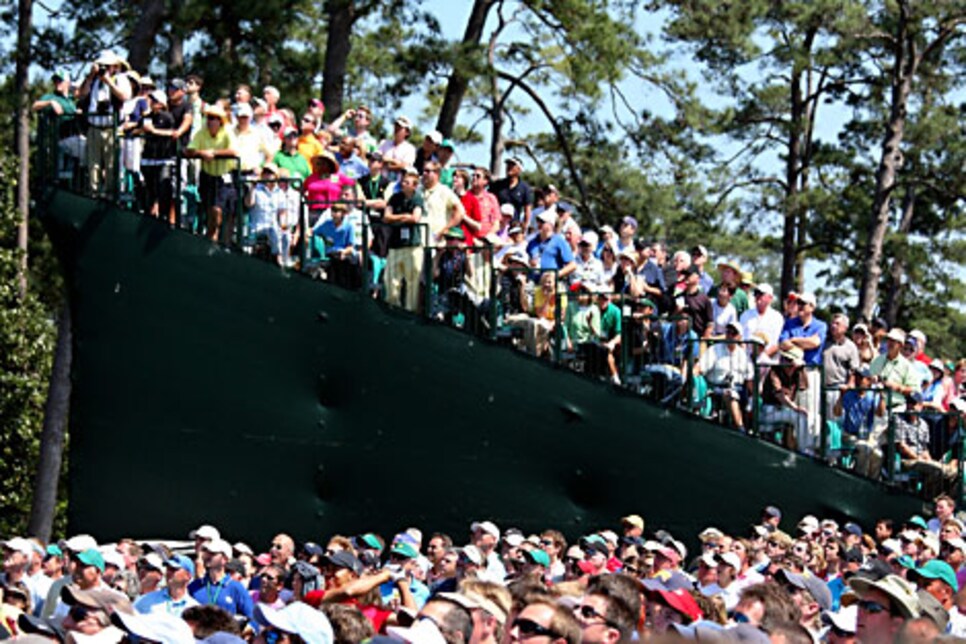 As opposed to the previous couple of years, the crowds at Augusta National had plenty to savor the final round.
Before the choke part, the wonder of this Masters was pretty much what Bobby Jones had in mind. This was the Augusta National we love. We've had enough of those forced marches over broken glass, everyone bleeding. Boring bogeys are for the sadists who run the U.S. Open. At the Masters, the idea is that great shots can transform a golf tournament into a thrill ride. And even better, there comes the time, with immortality there for the taking, when a man's right hand suddenly gets a mind of its own. Poor Kenny Perry testifies to that.
This was an unforgettable Sunday at the Masters. Every time Tiger and Phil took a cut, magic-making lightning came from their sticks -- except when they bounced it off a loblolly pine or went brain-dead from three feet. Mere mortals, playing out of television's sight, strung together birdies and eagles in bunches all day long. Somehow, a Japanese fellow in a cowboy hat finished fourth. I am not making this up. This was also true: on a gorgeous Easter evening, the sunlight golden, an angel won the thing. Angel Cabrera is an Argentinian and the 2007 U.S. Open champion, now a Masters winner as well.
Who'd have thought it an hour earlier?
But then, the week had been strange enough. Whoever thought we'd see Greg Norman again? Or that he'd shoot 70 only to hear that Larry Mize -- yes, that Larry Mize -- had shot 67 the same day? But then, when Norman made a hole-in-one at the Par-3 contest, his rewards included a leaping kiss from his wife, Chris Evert -- yes, that Chrissie. To be read at the champion's dinner on Tuesday night, Seve Ballesteros, in a life's struggle with brain cancer, sent a letter telling the boys in green jackets that he hoped to be with them again soon. Friday afternoon, the last act in his 52 years on golf's grandest stage, three-time Masters champion Gary Player bent to one knee and clasped his hands in prayerful appreciation of the fans.
And then, on Sunday evening, Kenny Perry had this thing won. He had it won when he hit an 8-iron tee shot on the par-3 16th hole. He had it won for his mother, dying of cancer. Had it won for his father, who taught him to win. He wanted it for himself, too, because he thought it was time he become something other than "a nice guy and a good player." It was his when Tiger put it in the trees on both the last two holes, at the 18th ricocheting a swooshball sideways off a pine to end the idea that he was all the way back with a new knee. Mickelson had birdied six of the day's first eight holes to make 59-ish noises until he put one in Rae's Creek at the 12th and missed dinky putts at the 15th and 18th.
In the lightning storm of superstars doing what only they can do, Perry just kept walking. "I thought, 'Wow, they must be having a lot of fun out there,'" Perry said. "I just kept chugging along." He was the leader, comfortably ahead. Even as his tee shot was in flight toward the 16th green, the country boy from Kentucky was walking -- the way Gary Player used to chase after shots that he knew were good. "The greatest golf shot of my life," Perry called this one, an 8-iron on the par-3, 170 yards.
The 16th tee sits in a valley below towering pines. As Perry followed his shot, his eyes on the ball, sunlight through the trees played against his face. He allowed himself a professional's small smile of satisfaction at work well done. "I knew I hit it perfect," he said. He knew it would land in a spot that funneled every ball toward the hole. He also knew what would happen when the thousands of fans near the green saw the ball. "They were going to go crazy," he said.
And they did because Perry's shot stopped rolling four inches short of the hole.
A two-shot lead in the Masters with two holes to play.
Had Perry been able to get to the house with pars, he would have been, at 48 years, eight months, and two days, the oldest major tournament champion in golf history. But Augusta National Golf Club's 17th and 18th holes allow for no mistakes, especially on a Sunday when even an old man, even a tour veteran such as Kenny Perry, admits he is not in full control of all his body parts In this case, it was his right hand. He spoke of it as if it belonged to someone else who skulled that chip shot on the 17th and rolled it 20 feet past the pin, to the green's front edge. It has happened before, Perry said, that that traitorous right hand rushes the chip. "I can't calm it down."
So a simple chip shot, under Sunday pressure, with a two-shot lead in the Masters, can create catastrophe. The resulting bogey sent Perry to the 18th tee with no room for error, and error quickly arrived with a drive that rolled into a fairway bunker from which only the most fortunate player ever makes par. His bogey there produced a three-way playoff, then another bogey on the playoff's second hole ended it for Perry -- three bogeys in the last four holes he played.
And when it was done, Kenny Perry said what a man should say when he has lived Kenny Perry's life. Twenty years ago, he was broke. He borrowed $5,000 from his church to play professional golf. He has since repaid that loan 280 times over -- in contributions that have reached $1.4 million.
"I just didn't get the job done," he said, "and I'll look back the rest of my life saying what could have been. But I'm not really going to go there because if this is the worst thing that happens in my life, my life's pretty good."