News
Well, Now That You Ask ...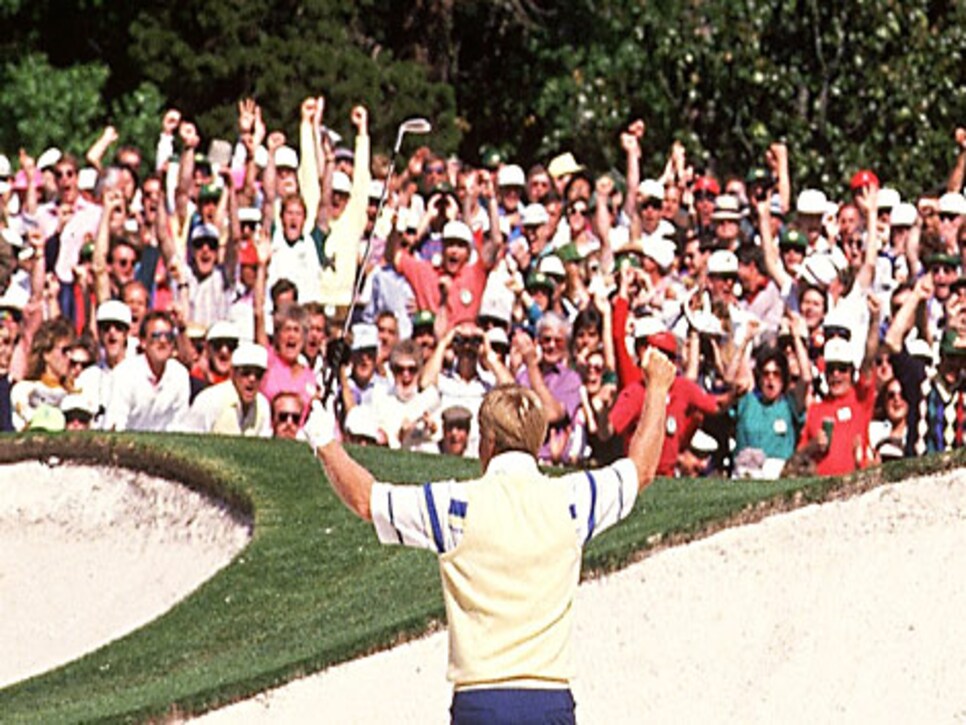 The Masters was once defined by dramatic Sunday finishes. Players say it won't take much to get back there.
There never will be more than one president of Augusta National Golf Club, and that is co-founder and golfing legend Robert T. Jones Jr., who, after his death in 1971 was named President in Perpetuity. But the chairmanship, first filled by Jones' partner and friend, Clifford Roberts, is the revolving leadership position that continues to rule the club, with Billy Payne the current commander of all things at 2604 Washington Road.
Payne is the sixth club chairman, succeeding Hootie Johnson in 2006, and his executive management of club business and the Masters Tournament is supreme and unquestioned. Such power was bequeathed to him via the iron-fisted command of Roberts, who became known as a "benevolent dictator," during his tenure from 1934-76. So absolute was his reign that Roberts summarily dismissed President Dwight Eisenhower's wish to have a large oak tree removed from the left of the 17th fairway because it stymied his slicing tee shots.
Roberts was meticulous and sought perfection for every facet of the club and the tournament. His successors have all taken up the cause with unparalleled commitment. Their combined efforts must have yielded something special. After all, no one this side of Lee Trevino would ever think of missing the Masters, and no ticket in sports is more coveted.
"Top to bottom, Augusta is a pretty neat deal," Scott Verplank said.
Indeed, but even the most perspicacious individual could never think of everything.
Fortunately, the capable Mr. Payne won't ever be at a loss for ideas. The men he invites to the Masters on behalf of the club are only too happy to offer their suggestions -- when prompted -- on ways to improve the venerable home of the season's first major.
As Hunter Mahan says: "I don't think there is a place in the world that couldn't be better, even one as good as Augusta. So anything you do, you just want to make it better. But you want to walk softly when you do it."
True, but what's the fun in that? Herewith is a list to get Mr. Payne's fertile mind working even faster:
*Sunday, Sunday, can't trust that day ... *
Hunter Mahan:"You can't undo what another guy has done. You want to be respectful of what someone like Hootie (Johnson) has done for the tournament. But my goal would be to make sure I bring back the excitement to the back nine again on Sunday. That's what the Masters represents is one of the most exciting tournaments in the world. You don't want to see a battle for pars. The way Phil (Mickelson) won in 2004, shooting all those birdies on the back nine, that's what you want to see every year."
Dudley Hart: "I wish they would go back to the original course setup. I know what they were trying to do, and that was they didn't want anybody shooting too low or to shoot low too easily, so I understand. But I remember as a kid there was nothing more exciting than the back nine on Sunday at Augusta and watching to see who could come out of nowhere and win it. Just speaking as a fan I would love to see that happen."
Steve Flesch: "Set up the golf course on Sunday exactly how it was when Jack (Nicklaus) shot 30 on the back nine in the final round in 1986, and never change it again. That was the most memorable comeback in history, and who wouldn't want to see more of that? That is what the Masters has lost is the ability for a player to make a back-nine charge on Sunday. Right now, people are cheering pars instead of birdies. It's become a test of survival, and that's not what the Masters is about. That was always the fun part about the Masters, the chance that somebody could go out and shoot a score to win."
Because, you know, everyone is an architect ...
Mike Weir: "They make changes every year to the golf course, and if I were in charge, I would certainly look at doing a few more things. I would probably, first of all, change No. 7. I'd change it back to the way it was, when it was a much shorter hole. I would also like to change 15 to make the green a bit more receptive. You can hit a great shot there and be in the water."
Scott Verplank: "There wouldn't be much. I think I would just eliminate a few back tees. The golf course isn't the same as it once was. The greens are the same, and the ground that it actually sits on is the same, but the rest of the course is a lot different. It doesn't take the same kind of skills it used to take. It was more fun to play and a more fun atmosphere for the crowd."
Kenny Perry: "For my money, I would change the 13th and 15th holes to make them more accessible like they were before. There needs to be more risk and reward there, bring back the excitement on those two holes."
*Then there's that other side of the clubhouse ... * Fred Couples: "What I would change is exactly what they are doing now -- work on the range. The golf course has been upgraded -- and I love it the way it is now -- but the range needed to be fixed up, and I hear that whenever they get it done, it's going to be great. But that's nitpicking. The place is awesome, but to say 'nothing' would be the easy thing."
And now for the easy thing ...
Davis Love III: "Honestly, I wouldn't change a thing."
Anthony Kim: "I can't think of one thing I would do differently there."
Sergio Garcia: "I wouldn't change anything. It's very special."
Trevor Immelman: "There isn't a thing I would ever change about Augusta. It is just the coolest place; it really is. It's something I can't even think about."
*Yeah, it's green, but we'd like less of it, actually ... *
Ben Curtis: "Augusta National is an unbelievable place. But, you know, I was watching a tape of the '97 Masters, and if we could get the golf course like it was then, without the rough, have the ball rolling 30-40 yards, I think with the length it's at now, that would make it an even better test. Take away the rough, and then if you've got a big hitter who is hitting it off line, he finds himself in the trees and the pine straw. I think without the rough you actually have to be more precise. That would be the only thing I would do."
Justin Rose: "I would love to see it play as long as it is now, but with no rough. I would love to see what that would be like. I've always dreamed about seeing Augusta as just one big carpet, which you don't see now with the second cut and it gets trampled down. It doesn't look as pristine as it could, and I would just really love to see that just once."
Stewart Cink: "I would get rid of the intermediate rough and I would like it to be all fairway again. I would leave everything else the same, but have that one cut, all fairway. That totally separated it from every other course in the way it looked and the way it played."
Hey, ever heard of that stampede at The Who concert?
Todd Hamilton: "There's no way this would ever happen, but if I were the chairman, I would have a Monday qualifier for the Masters. How many people do you think would enter that? How much interest would there be by fans? There would be thousands upon thousands entered, I think, so you would have to limit it, and it would only be for a few spots, but how cool could that be?"
He won't be intimidated by the point of a bayonet ...
Paul Azinger: "Wow, where do I begin? The first thing I would do is put bigger lightning rods on the oak trees behind the clubhouse. Gotta protect those. And also another a big lightning rod on the Eisenhower Tree to make sure I don't lose that, and then the trees on Magnolia Lane. Protecting the key trees would be the top priority.
"Then I would go to a global warming alarmist and find out how global warming is affecting the magnolia trees down Magnolia Lane. I'd be into the environment. Then I would work on raising the height of the fence on the range, just to be safe, so that these new long bombers don't airmail one over the fence and nail one of Martha Burk's supporters on Washington Road. Actually, raising the fence would be the first thing I'd do, just to protect myself from liability. Now, that's a good program right there, don't you think?