Courses
15 Augusta National-style holes that you can actually play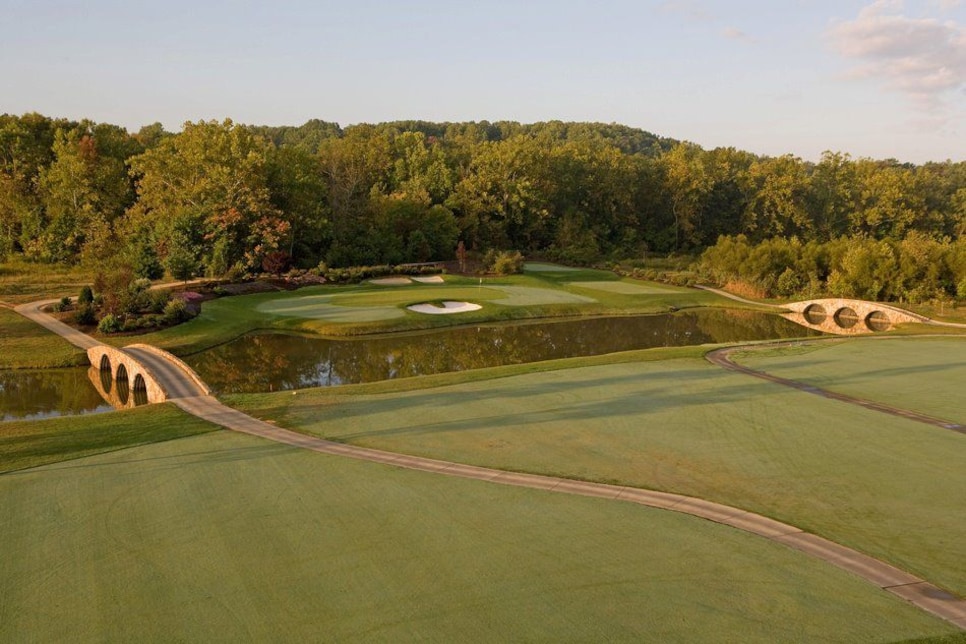 Fast forward 25 years to Columbus, Ohio. Aspiring architect Jack Nicklaus might have called his dream design Muirfield Village, but he based its design philosophy, its strategies, its conditioning and even its invitation tournament after those found at Augusta National. For good measure, Jack's par-3 12th hole at Muirfield Village has more than a passing resemblance to the 12th at Augusta National. So acclaimed did Jack's 12th hole become (perhaps only because of its derivation) that he subsequently reproduced it at a public-access course called Bear's Best near Atlanta.
Lansbrook Golf Club, Palm Harbor, Fla.
But those were merely hints of Augusta. By the mid-1970s, designers became more brazen in their admiration of several of its holes and began blatant reproductions. At Tarpon Lake Villages in Palm Harbor, Fla. (now named Lansbrook Golf Club), Lane Marshall, a landscape architect who dabbled in golf design, built the par-3 11th in the image of the 16th at Augusta National. It may well have been a show-stopper back then, but today it seems like a weak effort. Yes, the green has two levels and is surrounded by three bunkers and the hole does play over water, but the putting surface is so far removed from water's edge that it lacks the essential drama of the original.
Crotched Mountain Golf Club, Francestown, N.H.
About the same time, club pro Dick Tremblay, with the assistance of golf course contractor Horace Smith, laid out a course consisting of 18 versions of famous golf holes. It was the first of what we now call Replica Courses. Tremblay named it the Hall of Fame Golf Resort and his closing hole, a 485-yard par-5 sharp dogleg-left, was a kissing cousin to the par-5 13th at Augusta National. The course still exists, now named Crotched Mountain Golf Club, but all pretense of its Hall-of-Fame collection of holes is gone. The old 18th is now the ninth, listed on the scorecard as a 420-yard par 4 (which may have been its true length all along). Its long green is still guarded by water in front and on its right flank, and if you squint, it sort of looks like Augusta's 13th.
Heartland Golf Park, Brentwood, N.Y.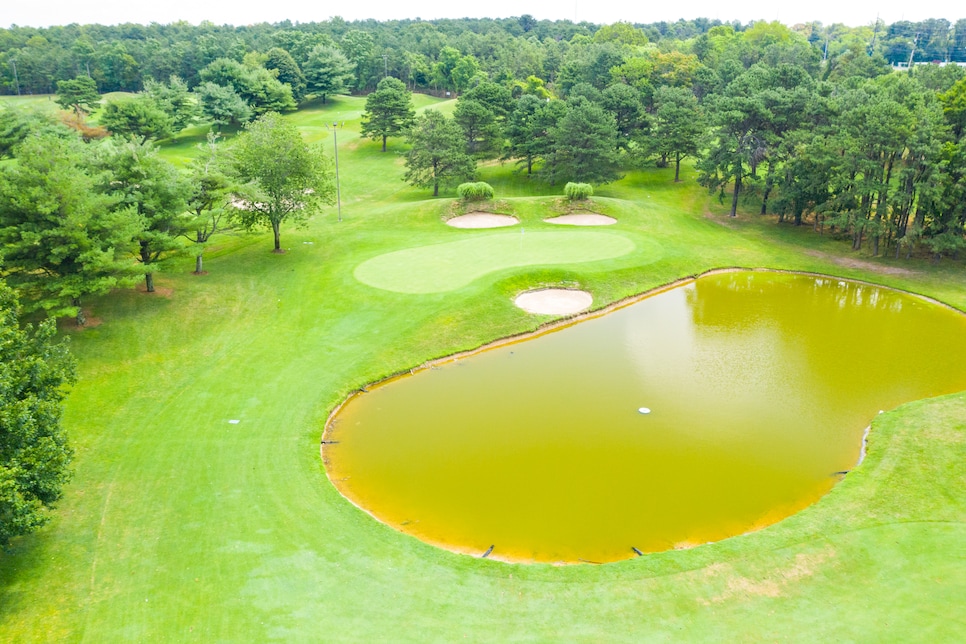 Other such modest efforts were developed over the next decade or so, individual holes that still exist and are available for scrutiny. At the 9-hole par-3 Heartland Golf Park on Long Island, N.Y., the third hole fashioned by designer Bob Retnauer tries hard to be recognized as the 12th at Augusta National, although it falls a bit short.
Sinaloa Golf Course, Simi Valley, Calif.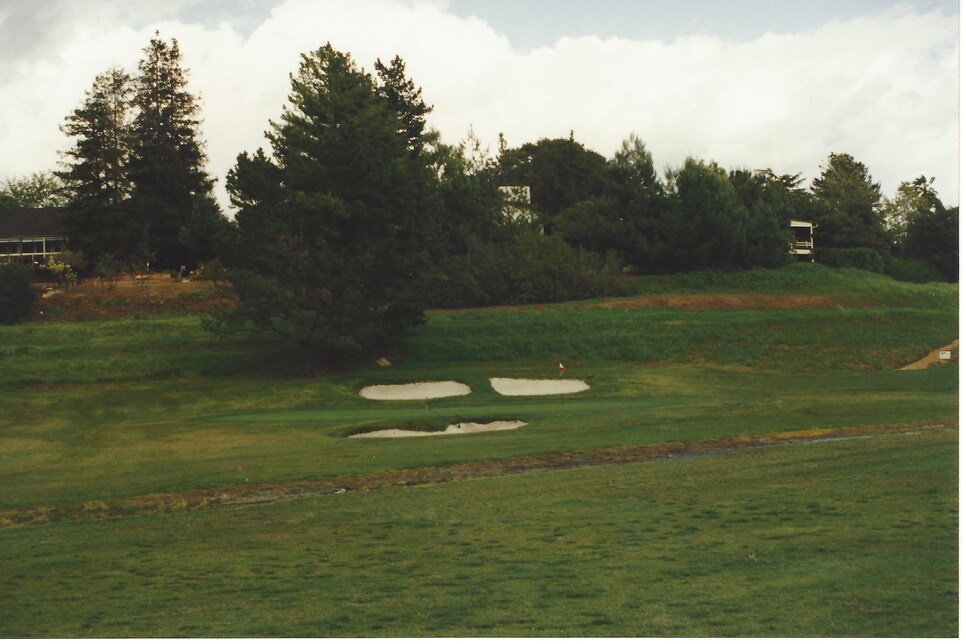 In the early 1990s, when Lynn Shackelford wanted to upgrade his 9-hole par-3 Sinaloa Golf Course in Simi Valley, Calif., he turned to his son, Geoff Shackelford, and shapers Dave Axland and Dan Proctor to remodel the layout and spice up the greens. They patterned the 135-yard fifth after the 12th at Augusta National, and while the bunkering is true to heart, the diagonal drainage ditch well short of the green is no Rae's Creek.
Broken Arrow, Lockport, Ill.
Architect David Esler added a nine-hole pitch & putt that included a recognizable version of Augusta's 12th. Most of the course has since been replaced by a driving range, but the Augusta hole still exists as part of a 3-hole practice loop.
Golden Ocala (Fla.) Golf & Equestrian Club
Imitation Augustas became far more sophisticated once golf architect Ron Garl entered the picture in the early 1990s. Garl utilized computer data to nail down precise dimensions in order to duplicate as closely as possible famous golf holes. At Golden Ocala in central Florida, Garl mixed eight replica holes within his 18-hole routing. Its par-3 sixth hole is a painstaking re-creation of the 16th at Augusta National and its 11th and 12th holes are Augusta's 12th and 13th, arranged in the same alignment as the actual and with much the same vegetation.
Wooden Sticks, Uxbridge, Ont.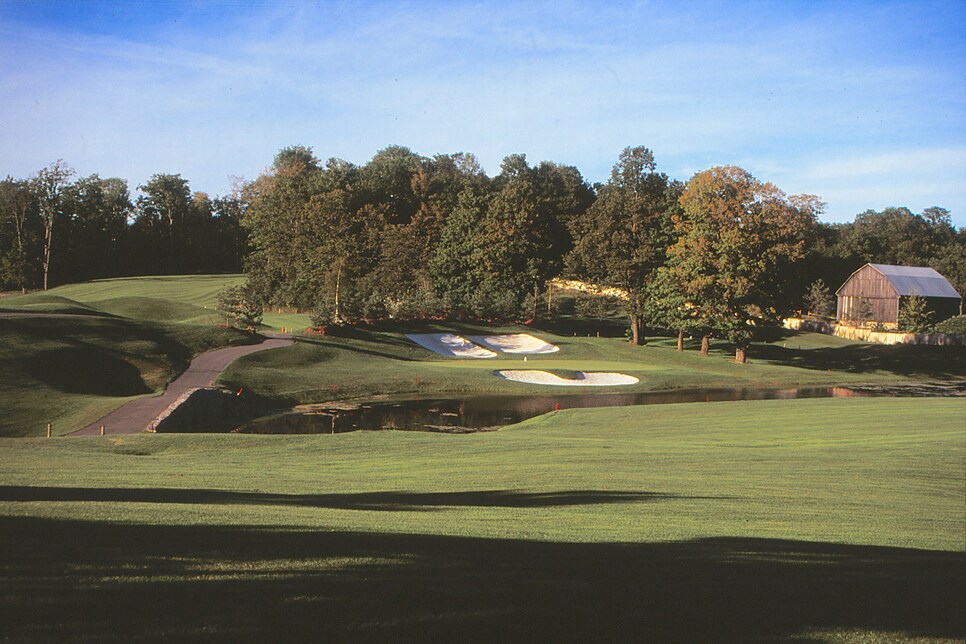 Garl's effort was so well-received that he soon repeated it at Wooden Sticks in Uxbridge, Ontario. By then he had access to digitized plans that allowed him to hone in with even more precision on another version of Augusta National's 11th and 12th to serve as Wooden Stick's third and fourth holes. So close is the resemblance that even the angle of slope between the side-by-side, high-low member and championship tee boxes on his imitation 12th seem authentic. Little expense was spared in creating the illusion of Augusta in Canada. The flowering azaleas behind the tribute 12th and 13th greens bore blossoms made of silk.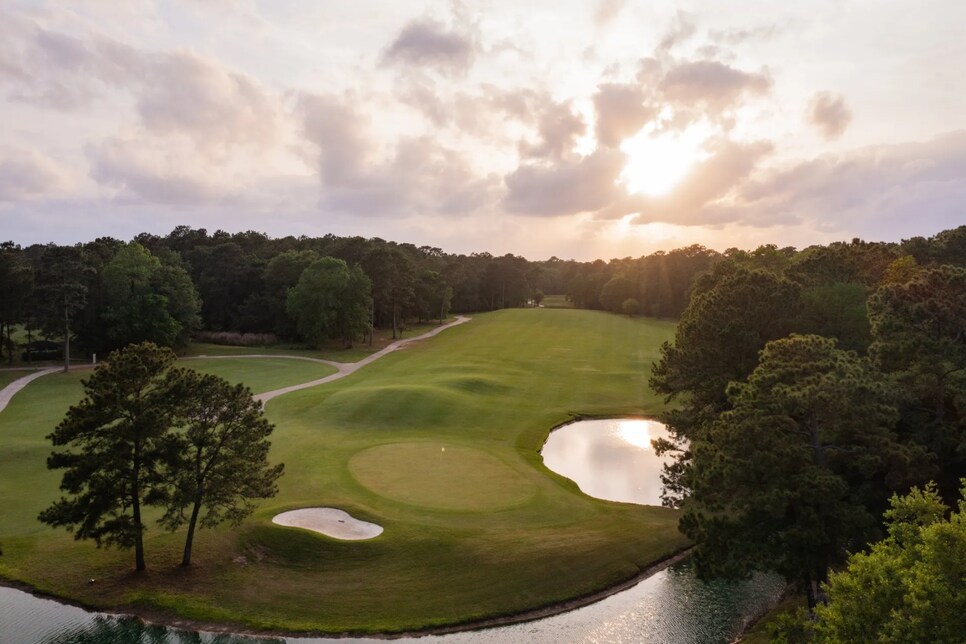 Garl's success generated a rival, Tour 18, established by golf architects Robert Rauch and David Edsall, who planned to build a series of courses consisting solely of replicated holes. Two were built in Texas, one in Humble near Houston, the other in Flower Mound near Dallas, and at each is found not just one or two Augusta National holes but its entire three-hole Amen Corner. At the first one built, Tour 18 Houston, their fifth through seventh holes are a very good version of Augusta National's 11th through 13th. They did an exceptionally good job of reproducing the topography of Augusta's 11th, with the second shot downhill over fairway knobs to the green edged by a pond.
Tour 18, Flower Mound, Texas
At Tour 18 Dallas, Edsall, working solo, made Amen Corner the climax of each round, with the 16th, 17th and 18th being Augusta's 11th, 12th and 13th, although the illusion here is not quite as effective because the terrain and vegetation is less Augusta-like.
Renditions Golf Club in Davidsonville, Md.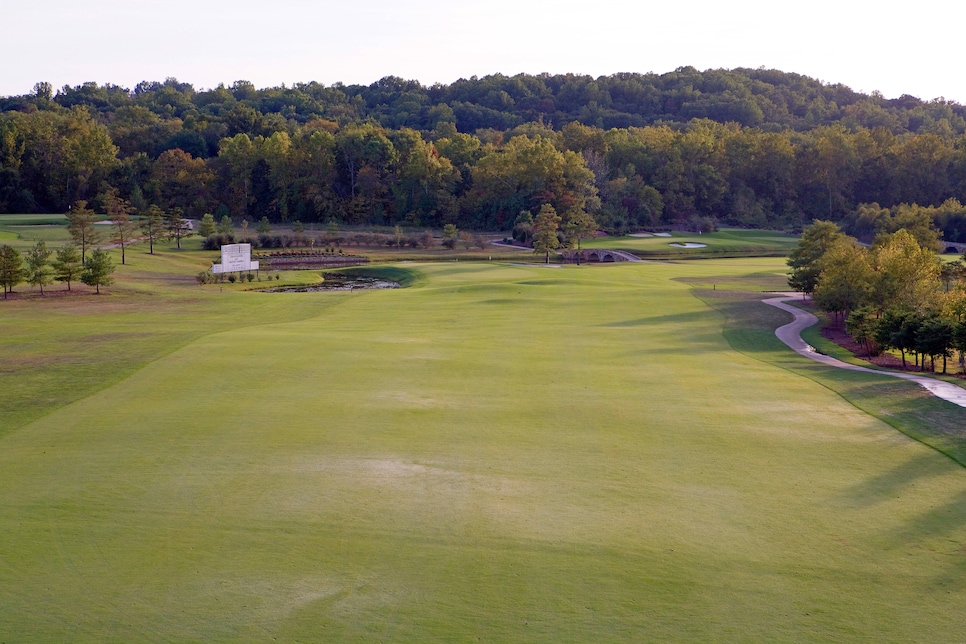 Edsall later collaborated with Jeff Sheehan, the former director of golf of the two Tour 18s, and developer Spencer Clements on the design of Renditions Golf Club in Davidsonville, Md, where the sixth through eighth holes are their collective representation of Amen Corner.
World Tour International, Myrtle Beach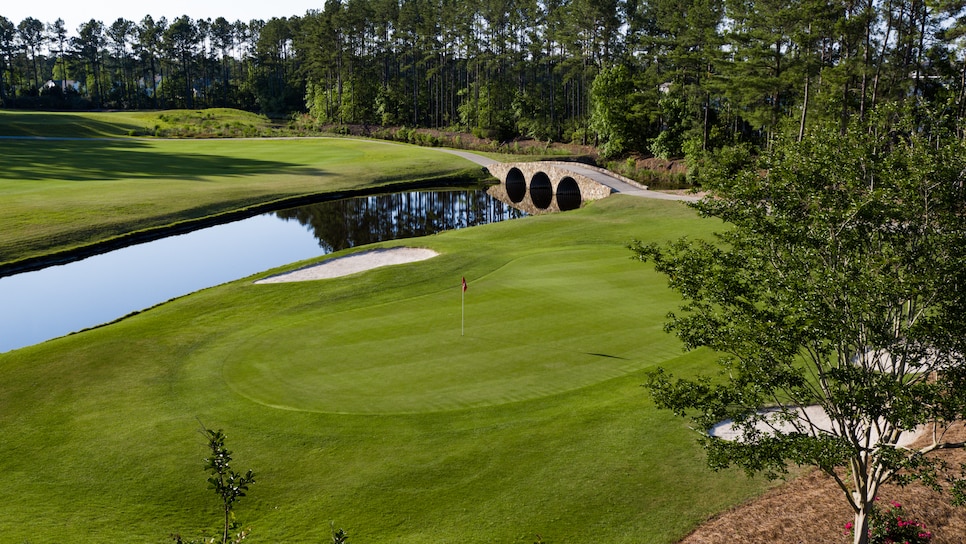 Even before Renditions opened in 2002, others were embracing the concept. Golf architect Mark Bennett teamed with developer Mel Graham (nephew of evangelist Billy Graham) to create the 27-hole World Tour International in Myrtle Beach. (Nine of its holes have since been abandoned.) In an apparent attempt to outdo Tour 18, they not only created Amen Corner on one nine, but did a replica of Augusta National's 16th on another nine.
Augusta Pines Golf Club, Spring, Texas
David Relford, a landscape design graduate of Kansas State who apprenticed under Edsall during the Tour 18 projects, incorporated Augusta National on two subsequent designs. At the semi-private Augusta Pines Golf Club in Spring, Texas, the par-5 second is a flip-flopped version of Augusta's 13th and a decent if dyslexic representation, but the par-3 third, meant to be Augusta's 12th, is lacking in details: the hole plays over a lake cove instead of a creek, the green is much bigger, the bunkers behind are flat instead of flashed sand and the front bank consists of thick Bermuda rather than tight turf.
Northern Bay Golf Resort & Marina, Arkdale, Wis.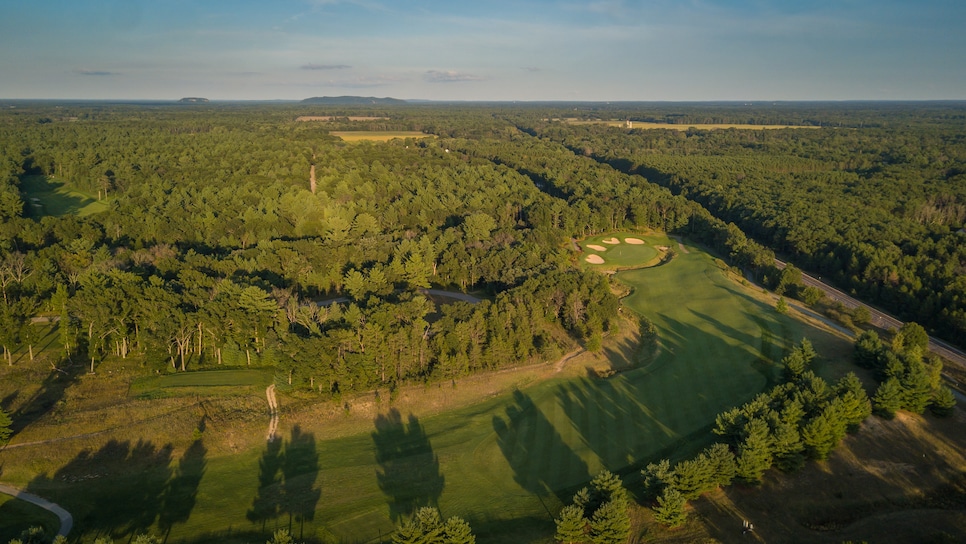 Brien R Ramsey/Courtesy of the club
Relford's other attempt, Northern Bay Golf Resort & Marina in Arkdale, Wis., is marginally better. Northern Bay's par-5 11th (above) is a passable version of the 13th at Augusta National but its par-3 third (below), patterned after Augusta's 16th, doesn't make the cut, even though it does capture the original dimensions of green, bunkers and pond. Where Augusta National has pines, The Castle has condos, so it's nothing like the original.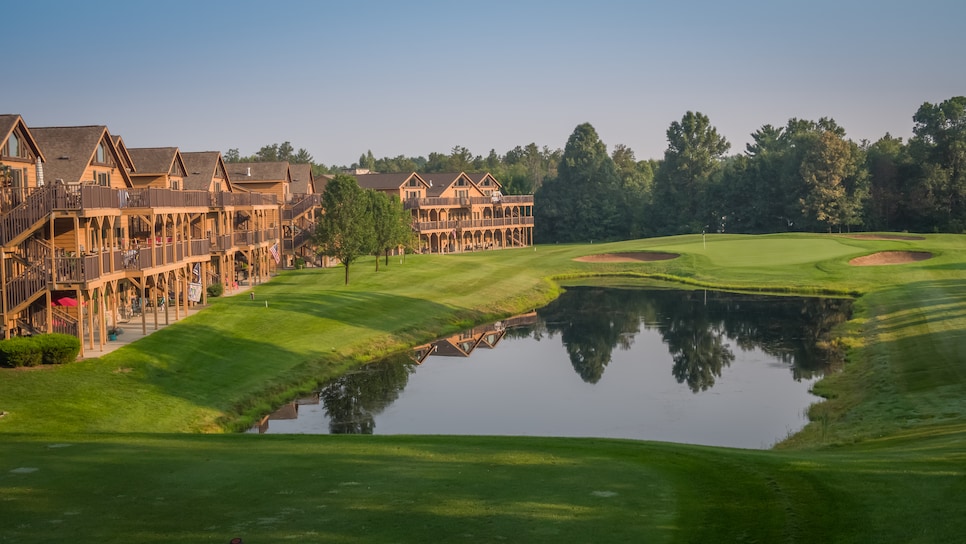 This brings us back to Ron Garl, who a dozen years ago did the mike-drop of all Augusta National covers when he unveiled the Dream Arena course at Royal Gems Golf City in Nakorthpathom, Thailand. At Royal Gems, Garl didn't just reproduced Amen Corner, but replicated the entire back nine of Augusta National! This writer has not stepped foot on it, and thus is unable to determine how well Garl accomplished the third-dimension of such an ambitious endeavor, but an aerial view of the course confirms that he nailed the routing, green configuration and bunker placement. The sight of cart paths along Augusta's fairways, however, is a bit jolting.
Architects Golf Club, Phillipsburg, N.J.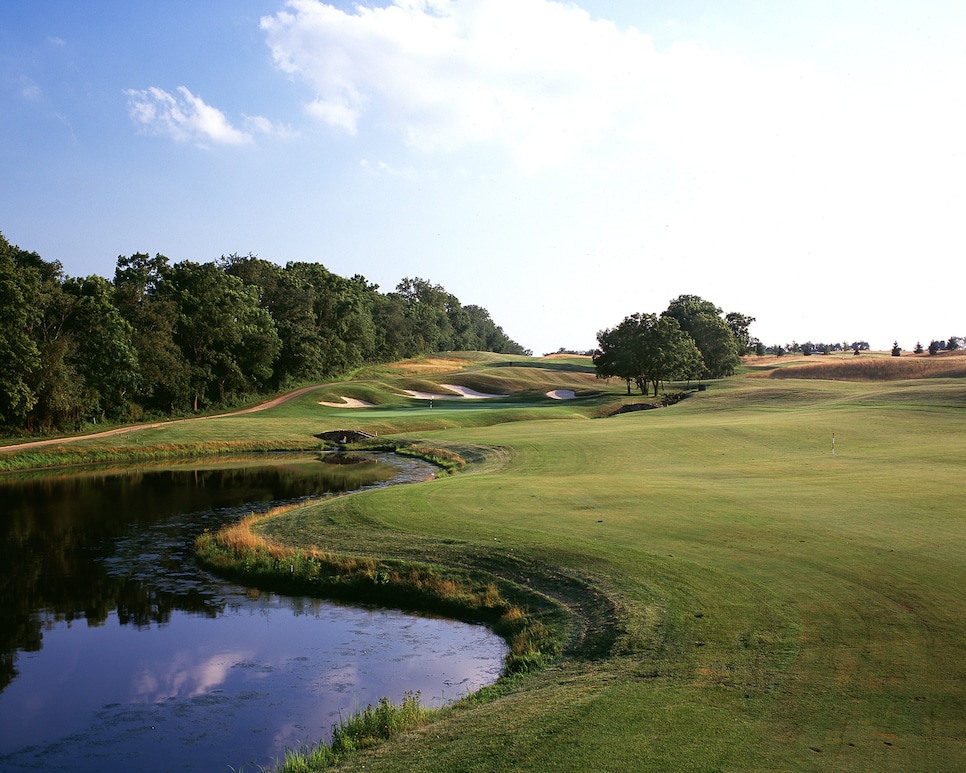 At the risk of being accused of self-promotion, I will close by mentioning the Augusta National influence on three projects in which I've been involved. When Stephen Kay and I teamed up to design The Architects Golf Club in Phillipsburg, N.J., we built the par-5 13th to reflect the architecture of Alister MacKenzie, so the green complex is supposed to bring to mind the 12th at Augusta National, with its shallow diagonal green fronted by a stream. But we chose to provide a three-level green, stair-stepping down from right to left, as found on other MacKenzie designs.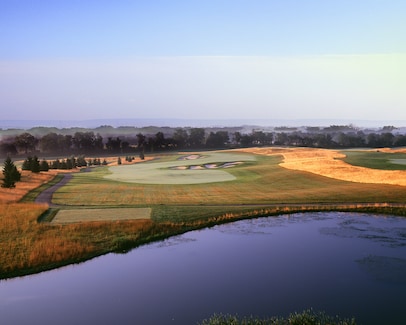 Architects Golf Club is perhaps the most thoughtful public design in New Jersey. Built in the spirit of the game's best (dead) architects, Stephen Kay and Ron Whitten (Golf Digest's editor emeritus of architecture) designed greens and bunker complexes and routed holes reminiscient of the styles of the game's best designers, such as C.B. Macdonald, A.W. Tillinghast and Donald Ross. One of the highlights for many golfers is the course's 13th hole, which is inspired by Alister MacKenzie's par-5 15th hole at Augusta National.
View Course
Some others: At the recently opened Cutalong on Lake Anna in Virginia, veteran architect Tom Clark asked me for an idea for the ninth green, an uphill par 4, so I suggested a mirror-image of the 14th green at Augusta National. That's what we built, and it provides some of the most challenging putts of each round.
Lastly, I'm working with architect Todd Clark (no relation to Tom) on a new 9-hole par-3 course for Oakwood Country Club in Kansas City, Mo. Our second hole there will be a shorter version of the ever-popular 12th at Augusta National, playing over a pond that hopefully will mimic the dimensions of Rae's Creek. Construction should start early this summer.
In the world of golf design, the allure of Augusta National is strong indeed.