News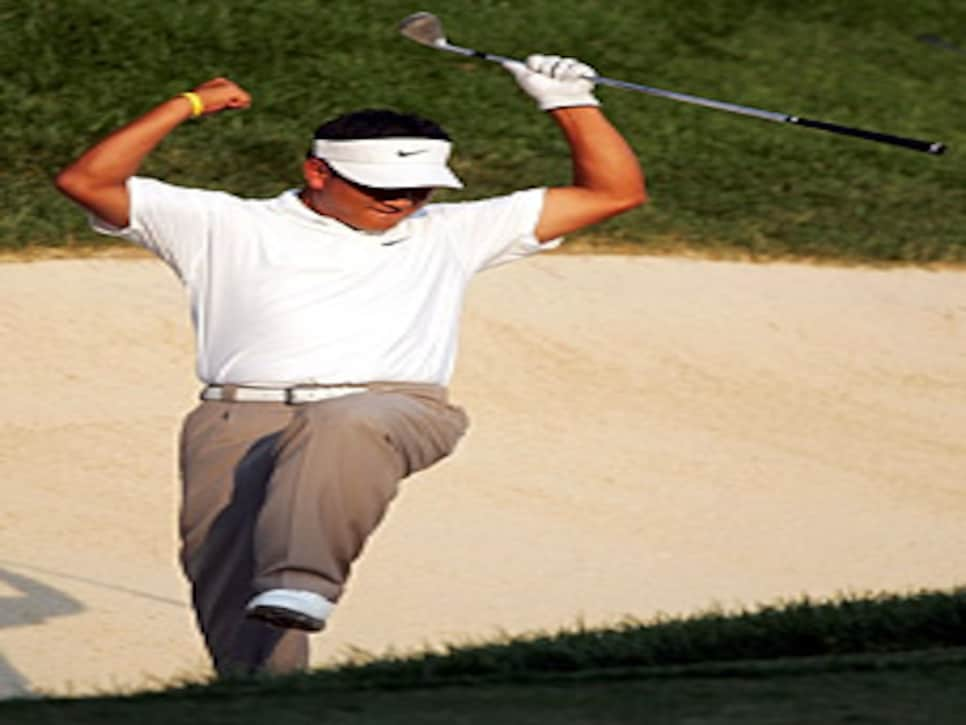 Choi sealed his victory by holing a bunker shot at the 17th.
BETHESDA, Md. (AP) -- Tiger Woods stood on the 18th green and again followed a path blazed by Jack Nicklaus.
No, it wasn't a spectacular bunker shot or a tournament-winning putt. It was a championship presentation to K.J. Choi.
"Here's your trophy, big guy," said Woods, who watched as Choi kissed the silver-colored replica of the Capitol.
For the second time in five weeks, the biggest South Korean star of the PGA Tour soaked up the cheers as the prized guest at a golf party thrown by one of golf's greats. Having accepted the crystal trophy from host Nicklaus at the Memorial in late May, Choi persevered in an adventurous back nine for a three-stroke victory Sunday at Woods' inaugural event, the AT&T National.
"This tournament is just too big for me to really absorb right now," Choi said. "But it's a very big win for me, and definitely the biggest win of my career."
But even Choi's victory -- with the accompanying $1.08 million first-place check that equaled the one he got at the Memorial -- couldn't overshadow Woods, who turned his first tournament into a red, white and blue spectacle of military tributes and Fourth of July patriotism. In return, the huge galleries all but worshipped Woods' every move, thanking him endlessly for bringing the tour back to the Washington area after the long-running Booz Allen Classic was dropped last year.
"It's been a perfect week," Woods said.
Perfect, with one obvious exception: He was never really in contention at his own event. His putter let him down Thursday (73) and Saturday (69), and his 66 on Friday wasn't enough to compensate. Seven strokes behind as Sunday dawned, Woods played a final round of even-par 70 that was more celebratory than competitive.
Still, the crowd of 37,211 didn't seem to mind.
"I didn't get a 'W,' so that was frustrating in that sense," said Woods, who finished tied for sixth at 2 under. "But this tournament in general has been a bigger success than anyone could have imagined."
Woods wore several hats during the week, juggling daily organizational meetings in between rounds while also dealing with the joys of becoming a father, but no one had any qualms when he proclaimed the event a success. Servicemen from all branches of the military served as announcers at the first tee and 18th green. A huge American flag welcomed the leaders Sunday as they headed down the 18th.
Choi added to the international flair, attracting a substantial gallery of Korean-Americans that cheered him in his native language. One fan held a sign with a Korean flag with the words "Go Tank," a reference to his nickname. He's also known for learning golf from an instructional book in Korean that featured pictures of Nicklaus, a present from a physical education teacher who thought the teenage Choi might have a gift for the game.
There's now no question that Choi, 37, has that gift. He shot a final-round 68 for a 9-under 271 total to win for the sixth time on the PGA Tour, the most victories by an Asian-born player.
"One thing I can say this week's trophy is a lot heavier than Jack's trophy, if that means anything," Choi said through an interpreter. "But just winning both events, all I can say is that I have a lot of respect for both players, and to be able to win in their tournaments is just -- I can't even express in words."
Choi had three bogeys early on the back nine, jostling with Steve Stricker atop the leaderboard, but Choi steadied himself with a 12-foot birdie putt at the 15th to take a two-shot lead.
That shot was worth two fist pumps from Choi's usually even-keeled demeanor, but the celebration was bigger at the 17th, where Choi holed from the greenside trap for a birdie. Choi took off his visor, retrieved the ball and threw it into the crowd.
His next goal: to become the first Asian player to win a major.
"It's never looking back, don't look back, just move forward just like a tank," Choi said. "Just progress. It's how I felt when I first came over to the U.S. starting out. You know, it was a new culture, new language, everything was new. There were a lot of hurdles for me to overcome, but I just took it day by day, just believed in myself, trusted in the Lord and just moved forward with it and tried my best."
The third-round leader was Stuart Appleby at 9 under -- two shots ahead of Choi -- but he collapsed by dropping six strokes in his first seven holes. The free fall began when the Aussie put his tee shot beyond a cart path at the par-3 No. 2, where he carded a double bogey after missing a 4-foot putt for bogey. Appleby shot a 40 on the front nine and a 76 for the day, finishing in a tie for third at 3 under.
Stricker was among several possible contenders who struggled with the bumpy greens on a sweltering day at Congressional Country Club. Stricker had three bogeys on the back nine to finish with a 70. Mike Weir (74) also got close before three consecutive back-nine bogeys. Jim Furyk (69) was in the hunt before going 2 over after the turn.
Stricker got frustrated as he watched one putt after another bobble away from the hole.
"You end up just tapping it down there," he said, "and it goes any which way it wants."