chaos
Get ready for a new bonkers stadium hole, this time at the PGA Tour's AT&T Byron Nelson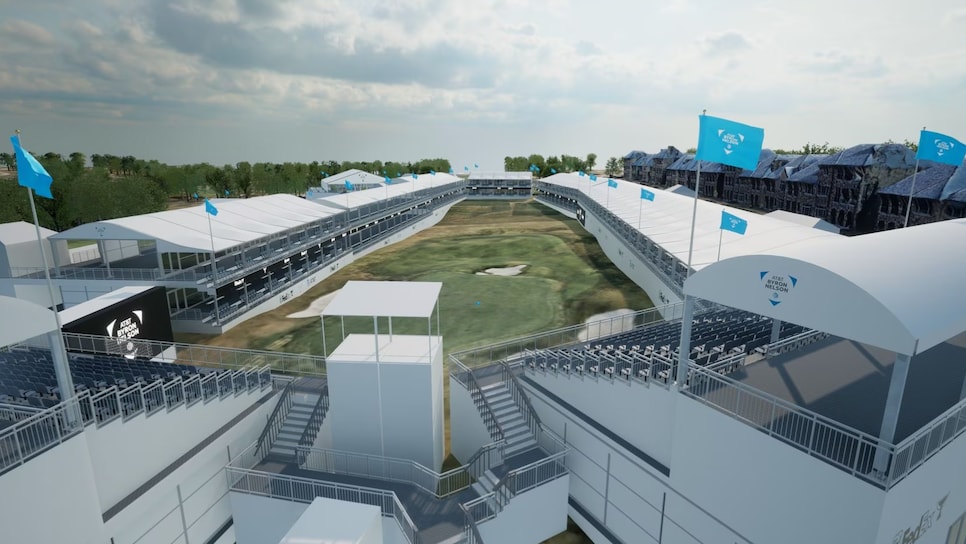 Rendering of the new stadium design from AT&T Byron Nelson, which will be in place for next week's event.
Stadium holes are so hot right now.
With the PGA Tour's WM Phoenix Open and LIV Golf's event in Adelaide, Australia, creating a template, the AT&T Byron Nelson wants to have its own spot for electricity, holes-in-one and a bit of chaos. The famed 16th hole at TPC Scottsdale and the newfangled 12th hole at The Grange Golf Club are set to be joined by the signature par-3 17th at TPC Craig Ranch, as it undergoes quite a few changes ahead of its upcoming PGA Tour event.
Last year was the second time the course hosted the event, and it was also first sellout crowd at the AT&T Byron Nelson since 2008. Not surprisingly, tournament organizers decided to go even bigger with a stunning stadium feel on No. 17.
With a new capacity of 6,000 fans, up from last year's 3,500, the acclaimed par 3 will feature public bleachers around the green (with concessions available, of course), 41 new hospitality units and an updated look for hole-in-one celebrations.

"Really this concept is three years in the making," Jon Drago, the tournament director of the AT&T Byron Nelson, told the Dallas Morning News. "Once we saw how people gathered around the area in our first year at TPC Craig Ranch, we knew this would be instrumental for our tournament. The popularity and the demand were there, and it led to what you will see this year. As we do every year, we will analyze all areas of the tournament after this year and adapt where needed.
"Once the vision and initial design were completed, the physical construction of the area takes approximately three months to bring the stadium concept to life. What started out as a casual sketch led to detailed renderings, which turned into a 6,000-person per-day venue."
Dubbed "Ranch17," it looks like we're in for another wild hole-in-one moment. Now all we need is an ace …