At The Intersection Of Skater Culture And Golf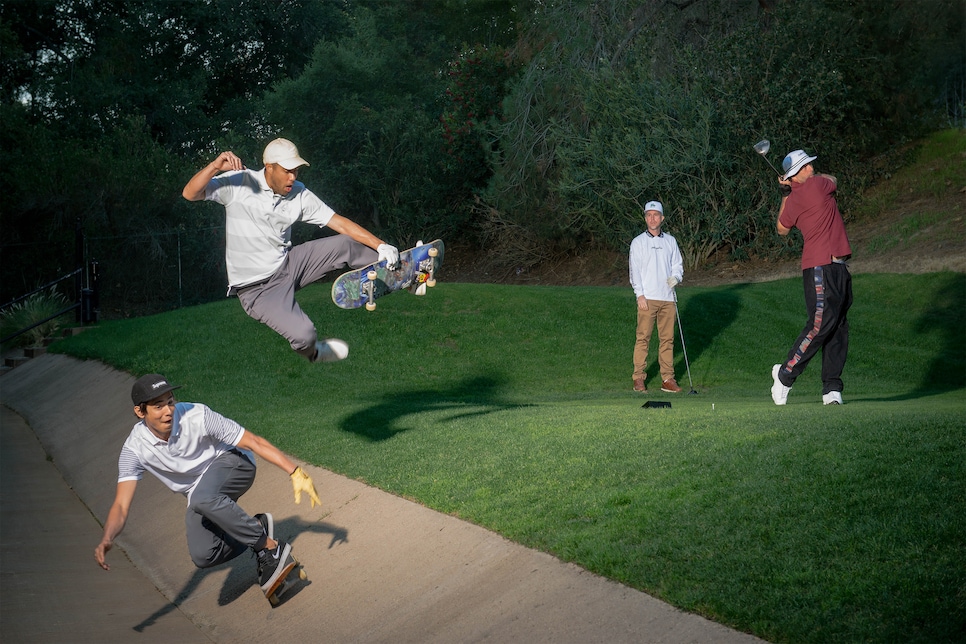 Photo By: Photo by Giovanni Reda
These aren't some hooligans who hopped a fence. The man in the air is none other than Eric Koston, 11-time X Games gold medalist and, at age 42, Tiger Woods' closest peer among fellow Nike-sponsored athletes. The skater barreling underneath is Sean Malto, 28, whose mix of stardom, quiet charisma and potential evoke Rickie Fowler.
When Golf Digest heard that several of pro skateboarding's biggest stars were also keen golfers, we thought it'd be fun to organize a mash-up. So we called around Los Angeles to find the hilliest course with steep and smooth cartpaths, and found Braemar Country Club. We told management what we had planned, and they were cool with it. As long as we came on a Monday.
Koston got into golf in his early 20s when another skater introduced him to the game. The bug bit him hard. "Whenever I jam a finger, my first thought is always, Oh, no, how am I going to be able to play golf?" says Koston, a 9-handicap who has been as low as a 5.
Malto, who learned golf with his dad and brother, grew up with posters of Koston in his bedroom. His hero worship hasn't diminished much. "I have saved screenshots of incoming calls from Eric," Malto says. He also carries a 9-handicap and once partnered with Koston in a golf tournament in Munich exclusively for action-sport athletes.
Today, they're partners again. This time it's a smack-talking match of arms and legs against Keith Hufnagel, a New York kid who parlayed his pro-skating career into a streetwear label called Huf, which he recently sold for tens of millions, and the low Index in the group, Stephen Malbon, whose skateboarding skills don't earn money.
A year ago, he opened Malbon Golf on gritty but trendy Fairfax Avenue in West Hollywood. It's surely the world's only golf shop that opens at 11 a.m. and is less than a sand wedge from a record store, hydroponics grower, jujitsu dojo and psychic parlor. The centerpiece artwork is a relief collage stitched from vintage leather golf bags. The clothes are what Arnold Palmer would've worn if he were a hipster.
Malbon Golf does club-fitting, but hats, gloves, bags and flasks are the hot items. With a putting green and simulator, the shop has become a kind of clubhouse for an eclectic network of skaters, musicians and artists united by golf and irregular working hours. They play private tracks when they can, and at least suffer the slow rounds at public courses in good company. "I've thought about joining somewhere, but never too seriously," says Hufnagel, who's playing in a gray hoodie and a black cap with a profane directive.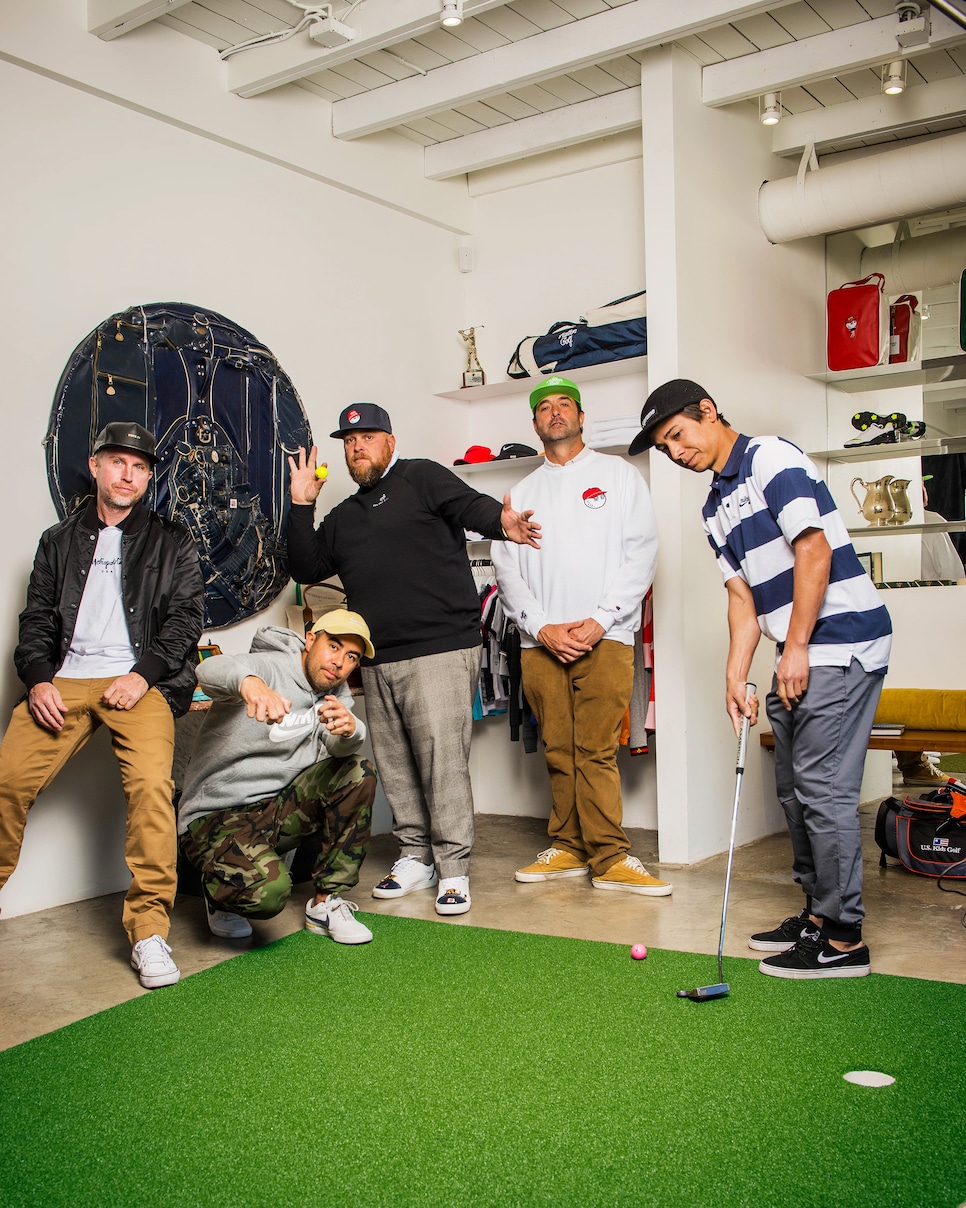 Malbon, who grew up a golfer and launched the culture magazine FRANK while attending the Art Institute of Atlanta, appreciates the support of his famous friends, as his mission is to make golf cool to kids. Namely, the same kids whose shopping fervor has required police barricades at the most popular skate shop on Fairfax: Supreme. Jon Buscemi, who made $900 sneakers a thing, is an investor in Malbon Golf.
"The other day a kid with an Afro walks in the shop and says, 'What's this?' " Malbon says. "I'm like, 'This is golf.' He says, 'I'm not a golfer.' I had him hit a putt and then said, 'Now you are.' " Malbon, a father of two, has a pair of teachers on staff whose lesson books are heavy with juniors. "For a lot of people, this is the first golf shop they'll ever enter," Malbon says.
Koston and Malto, each with Instagram followings of more than 750,000, regularly post about golf and report no harm to their street cred. Malto says golf is largely accepted in the skate world, recognized as another social but ultimately individually driven passion that presents a steep initial learning curve and technical mastery that's forever elusive.
Is the acceptance mutual? "I once met Tiger," Koston says, "and he knew way more about me than I expected. He knew all about the injuries I'd sustained and wanted to get deep into how I'd managed to get through them." At a Nike event, Koston scored a lesson from Michelle Wie. "She was super cool. She gave me a couple great tips because she has the same miss as me—a block to the right."
Like golf, skateboarding is about managing misses. Except when focus lapses, it's a snapped ankle instead of a lost ball. Which should give this skate-naive Golf Digest editor responsible for this photo shoot pause when he suggests, "Do you think one of you guys could slide down the railing of those tee-box stairs while someone else does a trick or something along that curb?" The answer, I'm told, is the railing is too high for the fact there's no approach, and the concrete is too gritty for sliding. We could apply wax to increase the curb's viscosity, but it would look bad for years or until somebody worked it with a sand blaster. OK, never mind.
Scouting terrain is an integral part of skate life. "Your mind never turns off," Koston says. "We've always noticed spots on golf courses as places we could skate, so it's fun that we're actually doing it."
If the thought of skateboarders ripping around a golf course rankles your sensibility, remember, the two pastimes are closer to brothers than cousins. The basis of either uniform is a pair of pants, and both started as a criminal activity. History's first mention of golf dates to 1457, when the King of Scotland outlawed it for distracting soldiers from practicing archery. In the late 20th century, young people with idle time similarly explored a new way to muck about the contours of their habitat and were targeted by police. Prohibitions against four tiny wheels went up across schools, parks and sidewalks nationwide, spurring the protest slogan: "Skateboarding Is Not A Crime." Not until corporations, led by energy drinks, legitimized the act with formal competitions could a teenager pull a kick-flip in public without fear of reproach.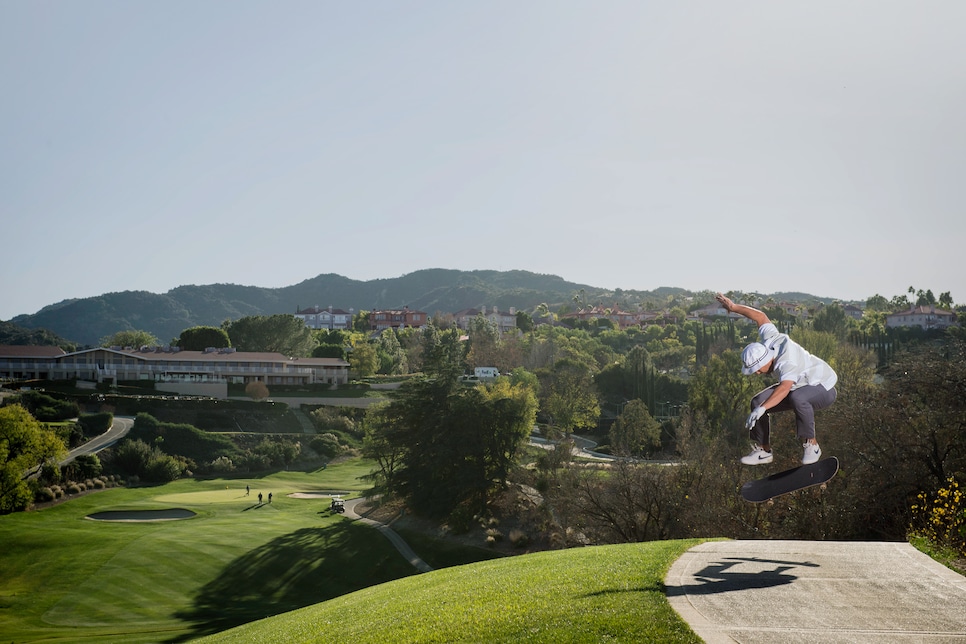 Now skateboarding's acceptance has rolled all the way to a debut in the 2020 Summer Olympics. The sentiment is akin to what golf felt in 2016: glad for inclusion but uncertain what meaning the event will carry forward. "I like competing, but it's a different mind-set," Malto says. "Your legacy is longer in video. There's more permanence in what you create."
Cameras rolling, Malto peers down the precipitous par-4 third. "I'm going to be seriously hauling oats, so if I pitch forward, I'm diving toward the grass," he warns, then sends it. He carves left and right with the twists of the cartpath, the whir of the wheels fast and sickening. At the bottom, he steers onto the rough to make a casual stop. There are thousands of skaters who can perform the most difficult feats, but only a handful with such grace and ease.
As much as skateboarding was born out of containment—the urban- and suburban-locked seeking thrills in underpasses and drained swimming pools that others find in snowy mountains or ocean waves—travel is an exciting prospect, too. London, Paris, New York: Just about every major city offers something unique. "The taller the building, usually the greater the requirement for the plaza-like space around it, and that's where you get the best features," Hufnagel says.
As our photographer packs up, everyone takes a minute to attend their social feeds. Do cool things and share them—the daily grind of a pro skater. Judging by the sun, Koston thinks there's daylight for at least three more holes. Skateboarders think just like golfers. We'll play until they kick us out.