News
At Colonial, golf returns with barely a whisper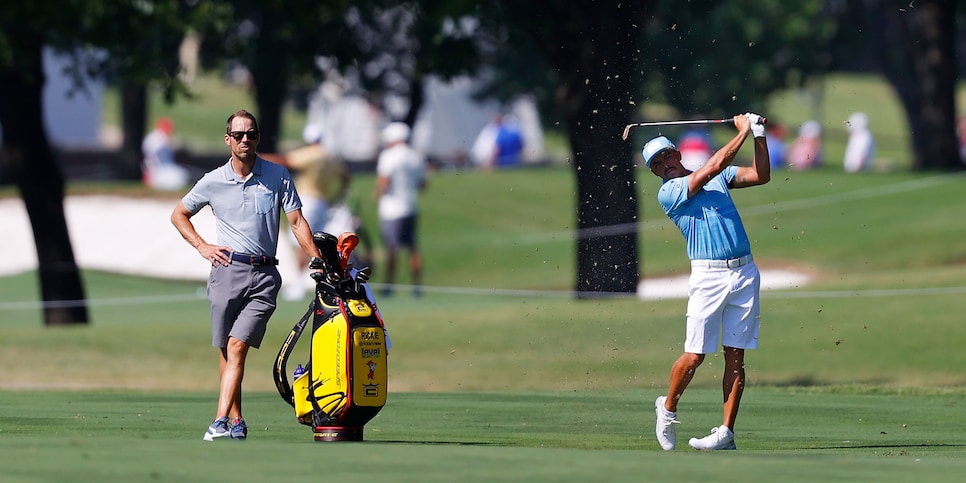 FORT WORTH — The morning began at Colonial Country Club as it has since Hogan ruled its fairways. In the 75-year history of the tournament on the Trinity River, now called the Charles Schwab Challenge, few spectators came for the Tuesday practice rounds anyway, and especially not early. Nothing looked amiss with no one out to watch just yet.
The difference this time is that's the way it stayed all day, and how it will remain for this landmark but bizarre week in golf history.
Many in the field of 148 practiced and played with so few witnesses it looked like the first day of a member-guest. As a precaution during the coronavirus pandemic, the PGA Tour will play its first five events since March 12—when the Players Championship was canceled after one round—with no spectators and limited staffing. Everyone wondered what that would look like. They found out Tuesday: surreal.
The return of golf meant an empty golf course. Besides no fans, there were no bleachers, no concessions, no merchandise area, no corporate hospitality tents. Dustin Johnson and Rory McIlroy played together in near-solitude. Their only companions were a photographer and a bluejay.
It meant that Justin Thomas and Jon Rahm conducted the first two pre-tournament interviews remotely, answering questions from reporters sitting at desks more than six socially-distant feet apart in an entirely different building on club property.
They used words like "different" (Rahm) and "crazy" (Thomas) to describe the sensation of preparing for competition with no one watching, no one shouting their names or inquiring about signing a hat bill. They didn't use the word lonely. But they'll likely feel that word soon.
"The atmosphere will definitely be different," Thomas said.
Colonial has seen its gatherings. The Wall of Champions alongside the first tee tells you that. Jack Nicklaus won here. So did Ben Crenshaw, Phil Mickelson, Arnold Palmer, Jordan Spieth, Lee Trevino and Tom Watson. Three of those champions are Texans. All of them did their winning in front of thousands and thousands of souls.
You might remember the Colonial in 2003. That's when Annika Sorenstam played in the spring invitational. The curious were a dozen deep that Thursday around the tenth tee, leaning over the famous brick wall to see her begin her quest to play with the men. Sorenstam hit her shot—a fairway metal, right in the fairway. The place shook.
Nothing shook Tuesday. The leaves of the enormous pecans waved in the frisky winds out of the south. It was really the only sonic presence at Colonial.
"Expectations?" asked Rahm. "Who knows?"
Rahm has never played in a professional golf tournament that looks like a Sunday skins game. He actually hasn't even played golf in seven weeks, he said, so the matter of expectations isn't only about what Colonial will look like, or sound like, when the shots matter Thursday morning.
But it's what he was thinking at his remote press conference (also a first). "Can you imagine if somebody makes a 30-foot bomb on 18 to win the tournament? Nothing? Crickets?" said Rahm, the 2017 champion at Colonial who, like everyone here, had more questions Tuesday than answers.
Here's one answer he did have: "It's going to be a little weird."