Rules
Asian Tour follows LIV's lead, allows golfers to wear shorts during tournament rounds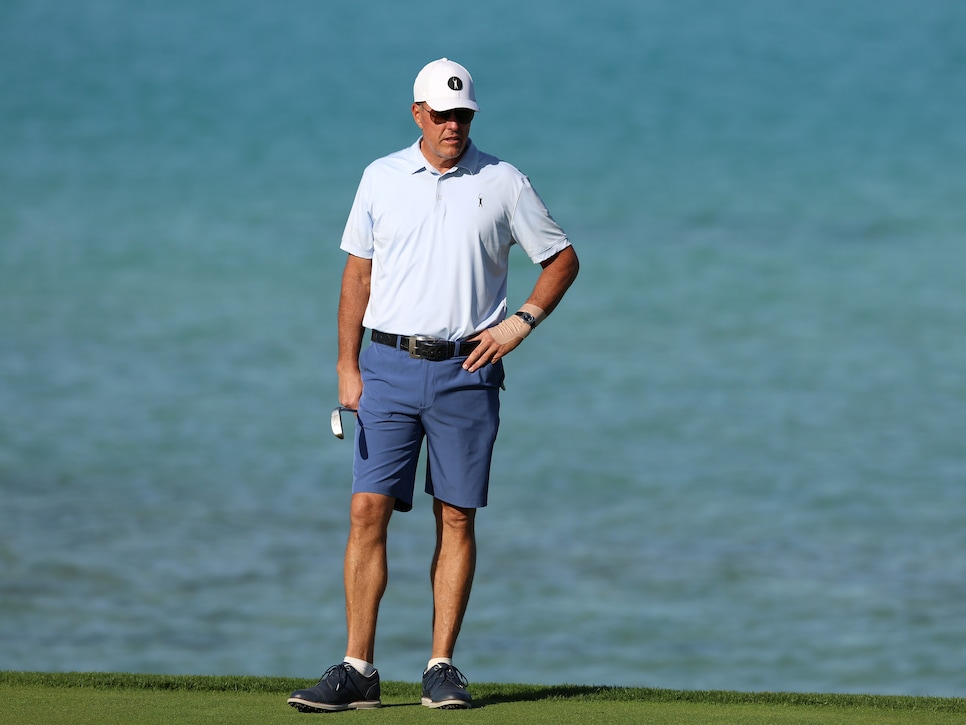 Phil Mickelson in action this week at the Asian Tour's Saudi International.
Luke Walker/WME IMG
The LIV golfers competing in this week's Saudi International should feel right at home after the Asian Tour relaxed a longstanding rule about long pants.
Starting this week, Asian Tour players are allowed to wear shorts during tournament rounds. And it's a move that was directly affected by LIV Golf's decision to do the same last September.
"We just started it this week," Asian Tour CEO Cho Minn Thant told Golf Digest Middle East on Friday. "It is a new rule that has come about through our new TPC, which is selected every two years, and the current one just said: 'Look, we are playing in destinations where it is very warm.' They have taken a look at the LIV players last year and how it looks on TV and they were OK with it."
Pants are still required on the PGA Tour and DP World Tour, although shorts have been allowed in practice rounds for several years. PGA Tour caddies have been allowed to wear shorts since 1999.
The DP World Tour allowed players to wear shorts at the 2019 Alfred Dunhill Championship in South Africa due to extreme heat. On the other hand, the LPGA has allowed players to wear shorts—and skirts–for decades.
"Obviously there is the debate about: 'Do shorts make us look less professional?'" Cho added. "But in a climate like tropical South East Asia, destinations in the Middle East, it just makes sense."

Not surprisingly, Phil Mickelson, making his 2023 debut, was one of those players taking advantage of the rule change during the first two rounds in Saudi Arabia. This on the heels of a Saturday tweet from the man who loves showing off his calves mocking the PGA Tour for not allowing shorts, but allowing joggers.
Mickelson is part of a large LIV Golf contingent at this week's event on the Asian Tour, which has a partnership with the Saudi-backed league. However, golf fans won't see the six-time major champ in shorts, pants, or joggers this weekend after he missed the cut on Friday.