News
As the caddie-club relationship draws new scrutiny, some creative solutions surface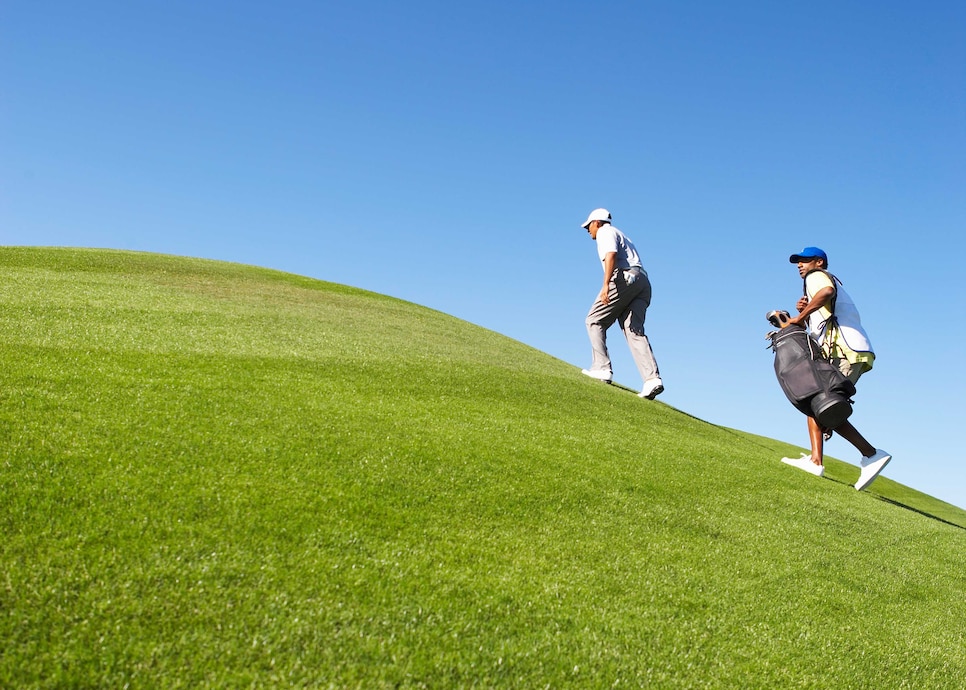 Garden City Golf Club is one of the most celebrated courses in the world, a Devereux Emmett/Walter Travis collaboration that, thanks in part to Tom Doak's more recent renovations, Golf Digest ranks as No. 46 in the U.S. and No. 9 in New York.
Set just 20 miles east of Manhattan, the club offers its members a respite from their everyday burdens: a comfortable old clubhouse; a rolling, pastoral golf course; and a team of seasoned caddies.
Yet it's also the site of an ugly legal dispute over those same caddies, their working conditions and their pay. A former looper, Robert Wiggins, has sued the all-male club in federal court claiming it fails to pay caddies minimum wage or overtime and that it doesn't make contributions on their behalf to Social Security, Medicare or unemployment insurance.
The core of his argument: The club treats caddies like employees—requiring them to be there at certain hours, to wear a hat with the club's logo, to work on projects other than caddieing—but pays them as independent contractors based only on the hours they spend carrying golfers' bags. That's not only unfair, the Wiggins suit contends, it's illegal. (Garden City Golf Club's president, Brian Nelson, says the club isn't able to comment while the lawsuit is underway.)
This is a conflict that has plagued the golf business for decades, and lately it has only gotten more intense, notes Brad Steele, VP of government relations and general counsel of the National Club Association. The Department of Labor under President Trump has backed off Obama-era guidelines that made it harder to call caddies independent contractors, but still, many clubs remain exposed to potential lawsuits, IRS inquiries or both. Florida's Streamsong Resort faced a similar suit to the Garden City case a couple of years ago. The suit was settled.
Now, some are hatching plans to take the caddie/golf club relationship in new directions—ones that could potentially head off these sorts of problems. Among their leaders are Adam Corson, a PGA Professional who used to work on staff at Dick's Sporting Goods, and Kurt Seifert of 4 C Caddies, a company that manages caddie programs at 10 East Coast clubs. They're the co-founders of the U.S. Caddie Association, a group that's set to launch in early March with this mission: "To preserve, promote and protect the traditions of caddying through the great game of golf."
Corson and Seifert have the support of some powerful figures, including PGA of America CEO Pete Bevacqua, USGA Executive Director Mike Davis and former Oakmont Country Club head professional Bob Ford, who are on their advisory board.
The association aims to charge caddies $10 to $25 a year, depending on their age. In return, members get access to moderately priced worker's compensation insurance (paid for with a small upcharge to golfers who hire them) and they can work at any club affiliated with the USCA. Clubs will pay $250 annually for their memberships.
The way it's set up, there should be no question about USCA caddies' employment status: They will be independent contractors. Indeed, they'll click a button on their smartphones affirming this with every loop. Clubs using USCA caddies will also get guidance from the association on how to make sure they remain independent contractors in the eyes of the law.
"To me, it's as good a vehicle for solving this age-old dilemma as has surfaced in my 26 years of practicing law," says Greg Keating, a partner at Choate Hall & Stewart, who has represented multiple clubs in employment disputes.
An entrepreneur named Dave Cavossa is coming at the problem from a similar, if slightly different, angle. He's got a smartphone app called CaddieNow that connects loopers with golfers, much as Uber connects drivers with people needing rides. Launched two years ago, it can find you a "true independent contractor" caddie at 110 clubs within the U.S., and he's aiming for 200 clubs by year's end. The system works where both player and caddie are affiliated with the app, and meet at the club with the club's permission.
As with Uber, golfers rate the quality of their caddies—and vice versa. There's no charge to the club for the service.
A competing app called Baggr offers caddies at courses in Wisconsin and around Pinehurst, N.C., among others.
"Uber showed us how do this," Cavossa explains. "This is an on-demand, gig world. It's the future of labor, especially if you're a millennial or Gen-Zer. They want to work part-time, on-demand, flexibly. And that's what we allow them to do."
The USCA intends to partner with both of these apps, and others that may come along, to find work for its members, says Seifert.
Meanwhile, there's a new initiative called Carry the Game that aims to bring more young people into golf through caddie programs. Created by the Western Golf Association, it has the backing of the USGA, the PGA of America, the World Golf Foundation and the First Tee, among others. Its goals include becoming "a resource for anyone interested in becoming a caddie or forming a youth caddie program" and it will offer "best practices on creating and managing programs."
That kind of advice might've come in handy at the Garden City Golf Club. Neil Frank, attorney for former caddie Wiggins, notes that he has filed a class-action suit—meaning it could involve all the caddies who worked there for the past three years. Add up the wages and overtime they should have earned and "the potential liability is astronomical," Frank says.
The employee vs. independent contractor dispute isn't the extent of Wiggins' gripe with the Garden City club. He's filed a separate suit claiming racial discrimination caused him to quit working there. His departure from Garden City is a grotesque story involving a club employee allegedly holding a sex toy near Wiggins' mouth while he dozed and someone taking a photo, which then appeared on social media.
"Can you imagine?" says Frank. "Who would do a thing like that? We have a discrimination claim for millions. He was so embarrassed he had to leave his job, because people were making fun of him."