The Loop
Arnold Palmer photo with young daughter speaks to 'the person everyone else saw, loved'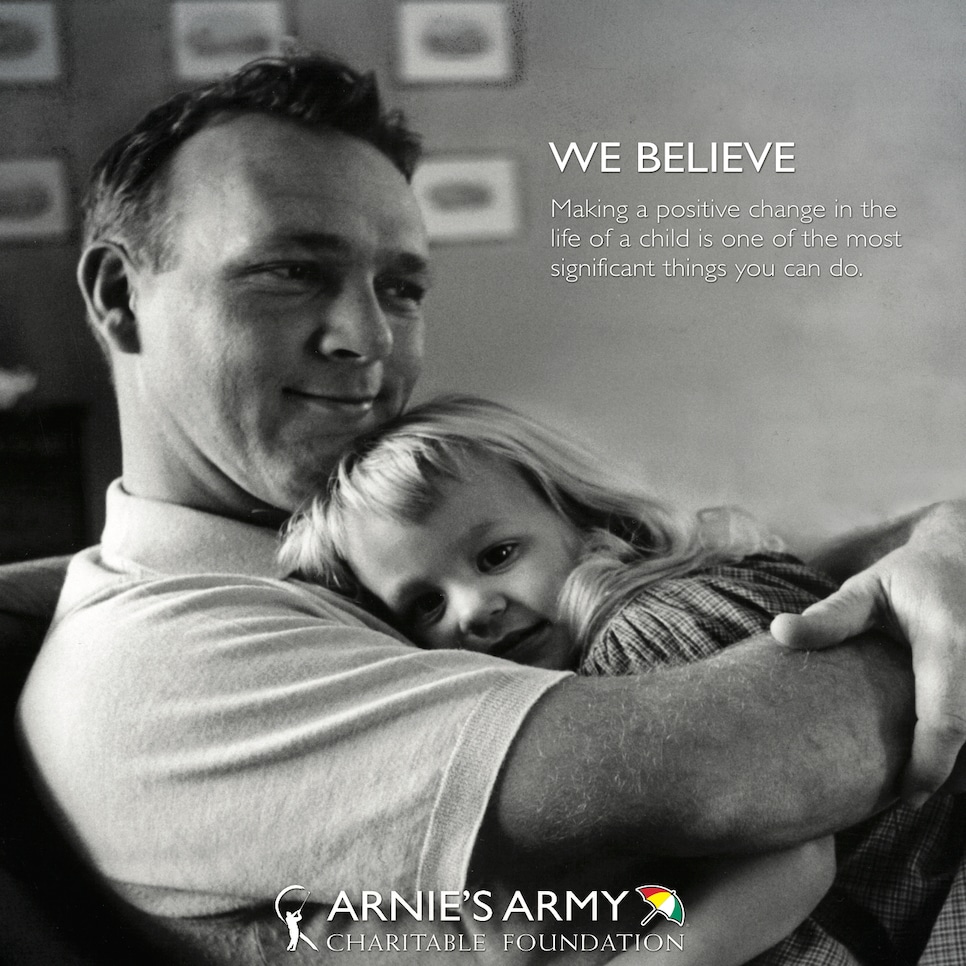 ORLANDO – She's the adorable blonde-haired girl in the picture, swallowed up in the muscular arms of her famous father, doe-eyed and innocent and content. Amy Saunders didn't know until recently who took the photograph, and there was no special occasion for it. But the black and white snapshot has become a touchingly familiar and timeless illustration of Arnold Palmer's innate kindheartedness.
"What you see is not unlike hundreds of other moments I had with my father," said Saunders, the youngest of Arnold Palmer's two daughters.
The photograph in question, captured by Robert Huntzinger of Sports Illustrated, has appeared in numerous magazines and Palmer-related ad campaigns, including the most recent Mastercard commercial that is a tribute to the late golfing legend and which anchors a social media campaign promoting the message "Arnie would."
Palmer died in September at age 87 from heart complications, leaving this week's Arnold Palmer Invitational presented by Mastercard at Bay Hill Club without its host for the first time in its 39-year history. It's been an emotional, heart-tugging time for the Palmer family as well as for the King's army of fans and supporters.
Saunders had no idea the photograph would be used in the commercial, and although she's seen it countless times, its use in this instance stirred strong feelings the first time she viewed it. "I thought it represented well all the things that were important to my dad and the impact he had on people," she said. "What was unexpected was the picture at the end. It comes up and sort of gives you a very real sense of who he was with that one image."
The picture's setting is Palmer's office in his first home in Latrobe, Pa., across the street from Latrobe Country Club. The office was at the front of the house, and Palmer's desk was against the wall and complemented by an oversized chair. Saunders estimates she was three years old at the time, meaning it was taken in 1961.
"We would sneak in, and we were always able to be with him," Palmer said of her and her sister Peggy." We always were welcome, and he always gave us a hug. It was a place you could crawl up in his lap, and he would stop whatever he was doing."
Saunders said that many pictures taken of the family that have been made public tended to be scripted. Arnold and his first wife Winnie tried to shield their young children as much as possible and protect their privacy, a difficult undertaking given Palmer's immense popularity, even in the era before cell phones and social media.
"A lot of the pictures people have seen of our family were intended to be seen," she said. "This was a spontaneous and private moment where someone happened to be there and caught it. It really showed him as he acted with us at home. There were not a lot of those because we were private and my parents tried to guard our private moments. That's why it might resonate with a lot of people, because it was truly authentic and not something staged."
Not surprisingly, she was too young to remember any of the particulars of that moment.
"You ask yourself, 'Do you remember it? Or do you just remember it because it has become so familiar?'" she mused. "What I do remember is the overall sense of what I was feeling. My dad was strict with us, but he showed us the most unconditional love and affection. You know and sense in that hug that your parents love you and that you're safe, and that's a wonderful feeling as a child."
Interestingly, it was only recently that the rights to the photograph were purchased through the Arnie's Army Charitable Foundation, though it had been used often in various print ad campaigns. That includes a new Foundation promotion. Nevertheless, Mastercard's treatment of it resonated more deeply with Saunders, perhaps not only because of the theme of the commercial, but also given the emotionally charged proceedings this week.
"It's pretty powerful, because it backs up all of the things that the public and his fans were the recipients of throughout his life, Saunders said. "But the person everyone else saw and loved, that was the same person we knew, and that means so much to me."