I miss my friend, Arnold Palmer.
Every year about this time, as his beloved Bay Hill tournament approaches, I can't help but think how lucky I was to have known that man. How fortunate to have shared many rounds of golf, belly laughs in locker rooms, and the friendship of not just a remarkable sportsman, but an American icon. I'm certain many others have that same feeling of emptiness right now that I do. Thankfully, we all have so many cherished memories of our time with Arnold, it helps us cope with that grief.
Consider for a moment Arnold's impact—not just on golf but on American life and culture. Did you know that Arnold's last win on the PGA tour—his 62nd—came 50 years ago this week? It was right about this time in late winter 1973, at the star-studded Bob Hope Desert Classic, a wonderfully unique melding of golf, showbiz and politicians.
Arnold was 43. He called that win his "sweetest ever." Hard to believe when you consider his four Masters, two Open Championships and that 1960 U.S. Open classic. Maybe it was because he hadn't won for a long time. He wasn't used to droughts. I happen to think it was more about who he beat that day, his biggest rival, Jack Nicklaus, by two strokes along with a young phenom named Johnny Miller who was about to win his famous U.S. Open at Oakmont. No one loved competing like Arnold. And no one relished winning like he did. Oh, how he lived to win!
There's no way he could've known it at the time, but that would be Arnold's final time lifting the trophy above his head in a PGA tournament. Sure, he would win a bunch of Champions events for older golfers, but 1973—50 years ago—would be the end of what I believe to be the most storied, consequential and impactful sports career of any American in the 20th century.
Shows like ESPN's First Take or PTI love to debate who goes up on Mt. Rushmore. If you're building a Mt. Rushmore of 20th century sports icons, I put Arnold Palmer up there with Babe Ruth, Muhammad Ali and Michael Jordan. If there's room for an annex, that's where Wayne Gretzky and Jack Nicklaus would go (though I'm certain Arnold would insist Jack belongs right up there with him, and he'd have a point).
Despite never winning again, from 1973 until his death in 2016 at age 87, Arnold was arguably the most successful businessman to have come from the sports world. And he was unquestionably the games' biggest and most popular ambassador. Even today, more than six years since his passing, his legacy shines bright. More than his business acumen, his entrepreneurship or all those golf courses he designed around the world, Arnold left behind a philanthropic legacy that continues to inspire and change lives forever.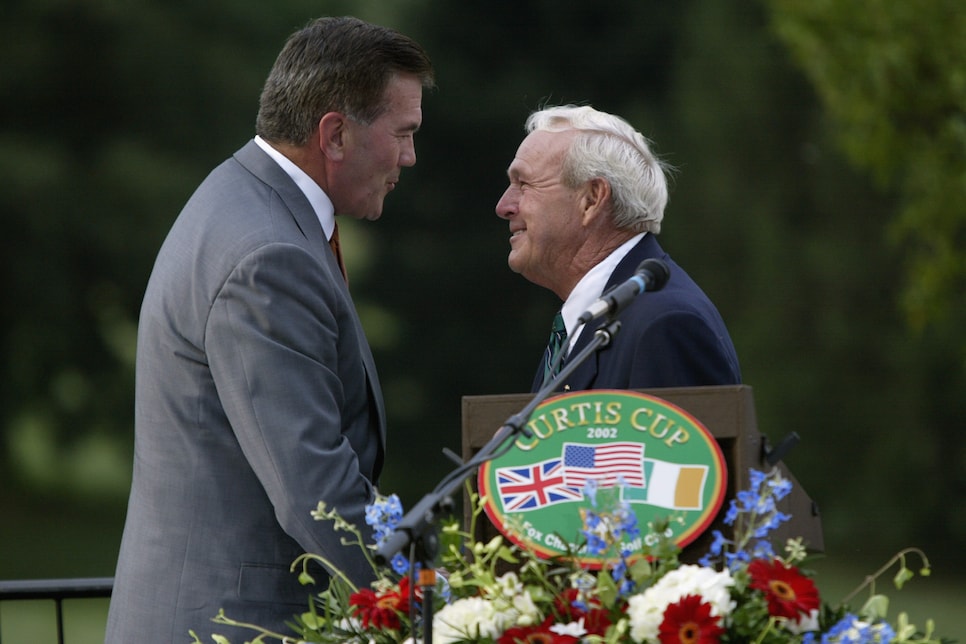 Homeland Security director Tom Ridge (L) is introduced by Arnold Palmer during opening ceremonies for the 32nd Curtis Cup Matches in 2002.
Craig Jones
I'm not exactly sure what drew Arnold to me at first all those years ago. Certainly, as the governor of his home state of Pennsylvania, our friendship continued a trend of his spending time with politicians. That included Gen. Dwight D. Eisenhower, the 34th president of the United States. Longtime golf writer Jim McCabe noted in his wonderful profile of Palmer that Eisenhower once gave Arnold an oil painting he'd done of Gettysburg as a birthday present. Later, McCabe reported that Vice President Spiro Agnew would be his regular pro-am partner in Palm Springs … until I got that gig years later at Bay Hill. You think briefing the president of the United States in the Oval Office tests your nerves? That was nothing compared to that tee shot on No. 1 with Arnold and his huge gallery of fans all watching yours truly. My ball fell off the tee more than once from a less-than-steady hand!
More than politics, though, I think Arnold and I connected from having both grown up in the western half of Pennsylvania, in similar circumstances. We both worked hard to earn our places in life. There was a mutual respect and admiration for what we had accomplished. And we just enjoyed each other's company.
At Arnold's funeral in his beloved Latrobe, that one-time competitor turned longtime friend, Jack Nicklaus, called him an "everyday man. Everyone's hero," Jack said. "Arnold managed to remove the 'I' from icon and instead let the world share in his greatness."
I miss my friend, Arnold Palmer.
Tom Ridge was a twice-elected governor of Pennsylvania and served as the first U.S. Secretary of Homeland Security. He writes from his home in Erie, Pa.