Tribute
Arnold Palmer: The King for Eternity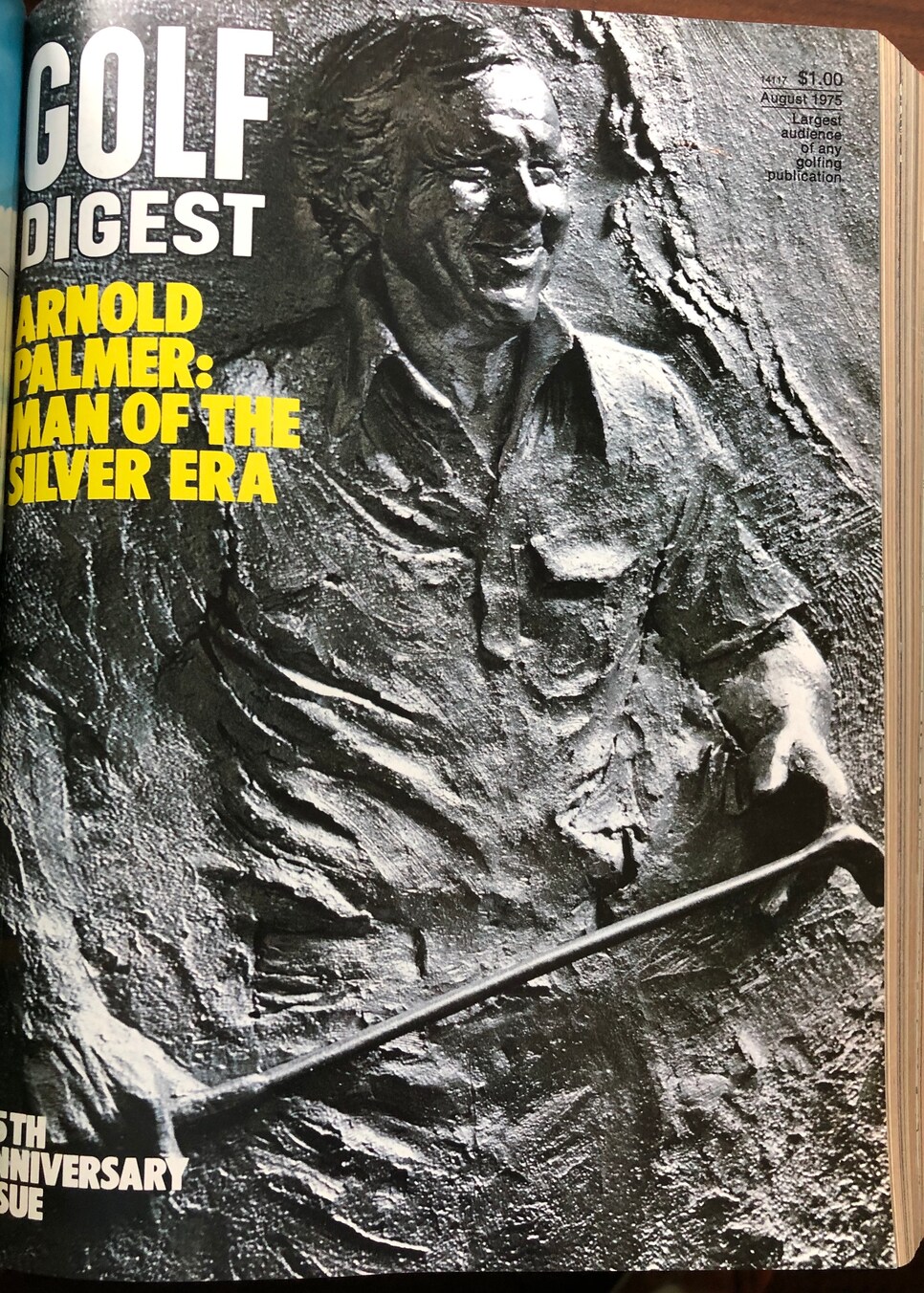 Editor's note: In celebration of Golf Digest's 70th anniversary, we're revisiting the best literature and journalism we've ever published. This is the 70th of 70 installments. Future additions will be tied to current events, anniversaries and milestones. Catch up on earlier installments.
In August 1975, on the 25th anniversary of Golf Digest, the editors of the magazine voted unanimously to name Arnold Palmer as "Man of the Silver Era." The traditional metal for a 70th anniversary is platinum, but the man hasn't changed: Arnold Palmer endures as the figure who personifies golf through the years of Golf Digest's existence. Ben Hogan might have been the greatest ball-striker, Jack Nicklaus the greatest champion, Tiger Woods the greatest player, but for the spirit he embodies, our Playing Editor in Perpetuity is Arnold Palmer.
This story by contributing editor Tom Callahan in the December 2016 issue paints the full arc of Arnie's life, which largely coincided with Golf Digest's publishing span. The first issue of the digest-size magazine at 16 pages rolled out of William H. Davis' bedroom in Evanston, Ill., in 1950. As Davis once wrote, "During the next 25 years, the game of golf grew from a minor diversion in the United States, with a few major championships, to a major sport with a year-round season. It not only awakened assuredly from a war-time slumber, but became a lifestyle for millions of Americans."
As a player, Palmer inspired those millions with his go-for-broke style. His partnership with super-agent Mark McCormack practically invented sports marketing and sponsorship. But it was his humility, his charisma, his sense of integrity and fair play that continue to make Arnie our "Man of the Platinum Era." —Jerry Tarde
He looked like an athlete, a prizefighter, a middleweight. He opened golf's windows and let in some air. He lifted a country-club game, balanced it on his shoulders, carried it to the people and made it a sport. He won big. He lost big. People who didn't follow golf followed him. People who hated golf loved him. He was photogenic in the old newspapers. He was telegenic in the new medium. He was the most asked question called into the night desks on weekends: "What did Palmer do today?"
He was a Pittsburgher, like Billy Conn, Mike Ditka, Honus Wagner and Johnny Unitas. The Mellons and the Carnegies and the Rooneys and Gene Kelly and David McCullough and Sean Thornton.
He was loamy meadows and smoky skies, river valleys and steel mills, like the plant where his father, Milfred, sometimes worked ["Steel, Michaeleen, steel in pig-iron furnaces so hot a man forgets his fear of hell"] until just in front of the Depression, Milfred took a job as greenkeeper and pro [mostly greenkeeper] at Latrobe Country Club. Nobody addressed him as Milfred, except Doris when she was of a fanciful mind. To most, he was Deacon. A few said Deke. Arnold called him Pap.
From Pap, Arnie learned many important things, like how to grip a golf club and integrity. But Doris' contribution was what made all the difference. She was as light and delicate as a scarf, but ready company and a natural communicator. She liked people, and they liked her. Deacon was always prodding his son to be tougher and try harder and succeed more. But whatever the boy did pleased his mother, provided he was kind.
Nobody had to teach him to love golf. As Peter Dobereiner wrote, "Arnold did not catch the golf bug; he was born with it like a hereditary disease."
He started to play at the age of 3 and turned pro at 7 when Latrobe member Helen Fritz offered him a nickel to hit her drive over a ditch. After adjusting the cap pistol strapped to his hip, he took a whirling cut that brought to mind a finish-line flagman or a revolving lawn sprinkler. Mrs. Fritz's ball floated down like a paratrooper onto the fairway. Every Ladies' Day thereafter, he was available to bash dowagers' drives for five cents. "Some of them," he said, "were slow pay."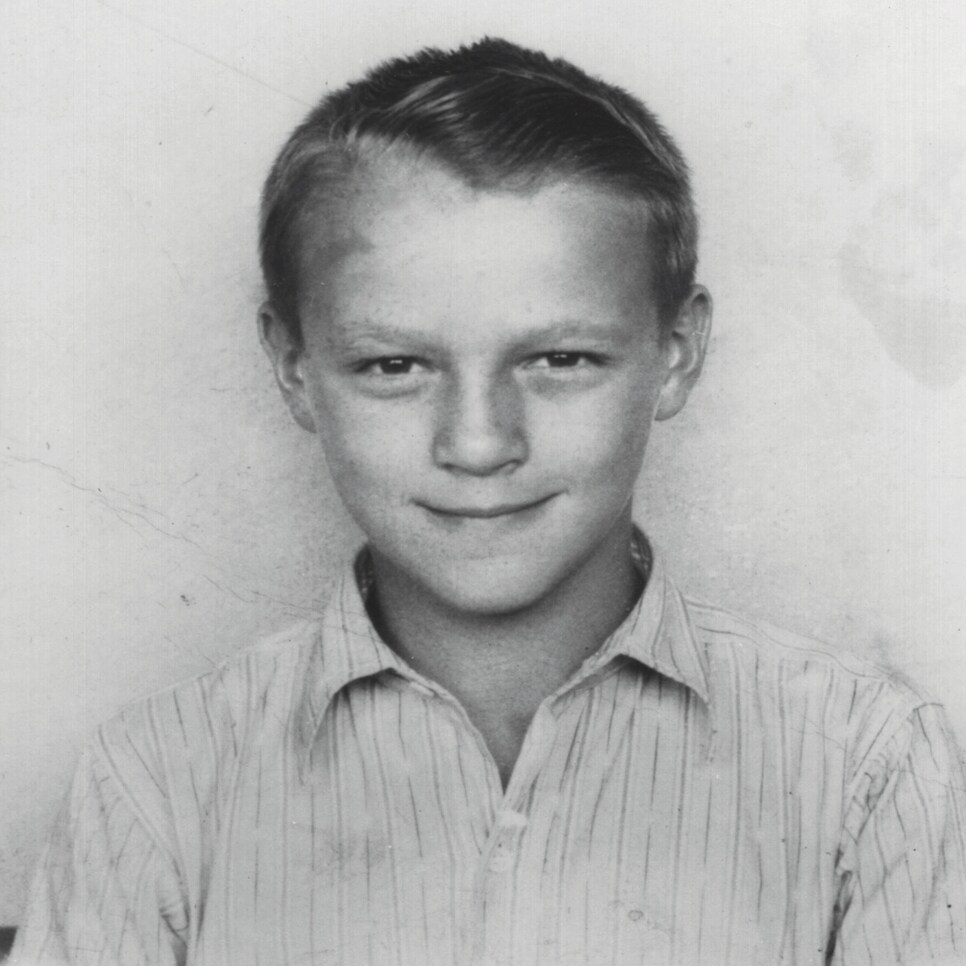 What does he know that we don't? Arnold in an undated photo. (Golf Digest archive)
He had a second love as well: airplanes. Whenever he could, he ran down the country club road to Latrobe's tiny airport with its grass runway, no control tower, no instrument landing, no radio direction. He passed his hands over the few biplanes parked there and imagined himself an aviator like Wiley Post. He sat in the flight room by a pot-bellied stove and listened to the pilots' "by-gosh and by-God" adventures.
He went to Wake Forest College but couldn't stay. A teammate and a member of the basketball team drove to a dance in Durham and never made it home. The teammate was Bud Worsham, his best friend, whose brother Lew won the 1947 U.S. Open. Undeservedly but understandably, Palmer blamed himself for the accident, for declining their offer to join them. Had he accepted, he reasoned, he might have been at the wheel on the way back. Finishing the semester in a heart-broken fog, he dropped out of school and joined the Coast Guard.
He spent three years guarding coasts and honing his game. For a time he sold paint supplies in Cleveland. The U.S. Amateur brought him back on course. He won it in 1954, 1 up over investment banker and middle-age millionaire Bob Sweeny. That same year, Arnold successfully defended his Ohio Amateur Championship outside Toledo, where late one day he had the range to himself, knocking down 9-irons in the rain. Only one spectator stood watching, a 14-year-old named Jack Nicklaus. They would end up hyphenated like Dempsey-Tunney. Nobody wanted Dempsey beaten, either.
In December of '54, Arnold Palmer and Winifred Walzer eloped. To Winnie, he was Arn. The next April, they pulled up at their first Masters in a dusty and dilapidated old Ford hitched to a small trailer. Palmer tied for 10th, good for $696. Winnie told him she loved him, she'd always love him, she'd follow him to the ends of the earth, but the trailer had to go.
Though he won the Masters in 1958 and 1960, Palmer didn't formally become Palmer until the 1960 U.S. Open near Denver. There were other applicants, including Mike Souchak, a muscleman himself, and Ken Venturi, the betting favorite to succeed Ben Hogan atop golf. Hogan's favorite, too. "Hogan never called me by my first name," Palmer said coldly. "Never."
Souchak led the first round by a shot, the second by three and the third by two, leaving Palmer a full seven strokes and 14 players behind. But in the final round he drove the 346-yard par-4 first hole at Cherry Hills and went out in 30, smoking everybody [while smoking L&Ms]. His ultimate 65 was good for a two-stroke victory over the 20-year-old amateur, Nicklaus. They had begun.
A month later, with the Masters and U.S. Open in pocket, Palmer felt obligated to make his first bid for an Open Championship, in the Centenary Open at St. Andrews. Following local caddie Tip Anderson's nose [a veiny, purple masterpiece], he lost by a stroke to Australian Kel Nagle. But Palmer and Anderson won the next summer at Royal Birkdale and the summer after that at Troon.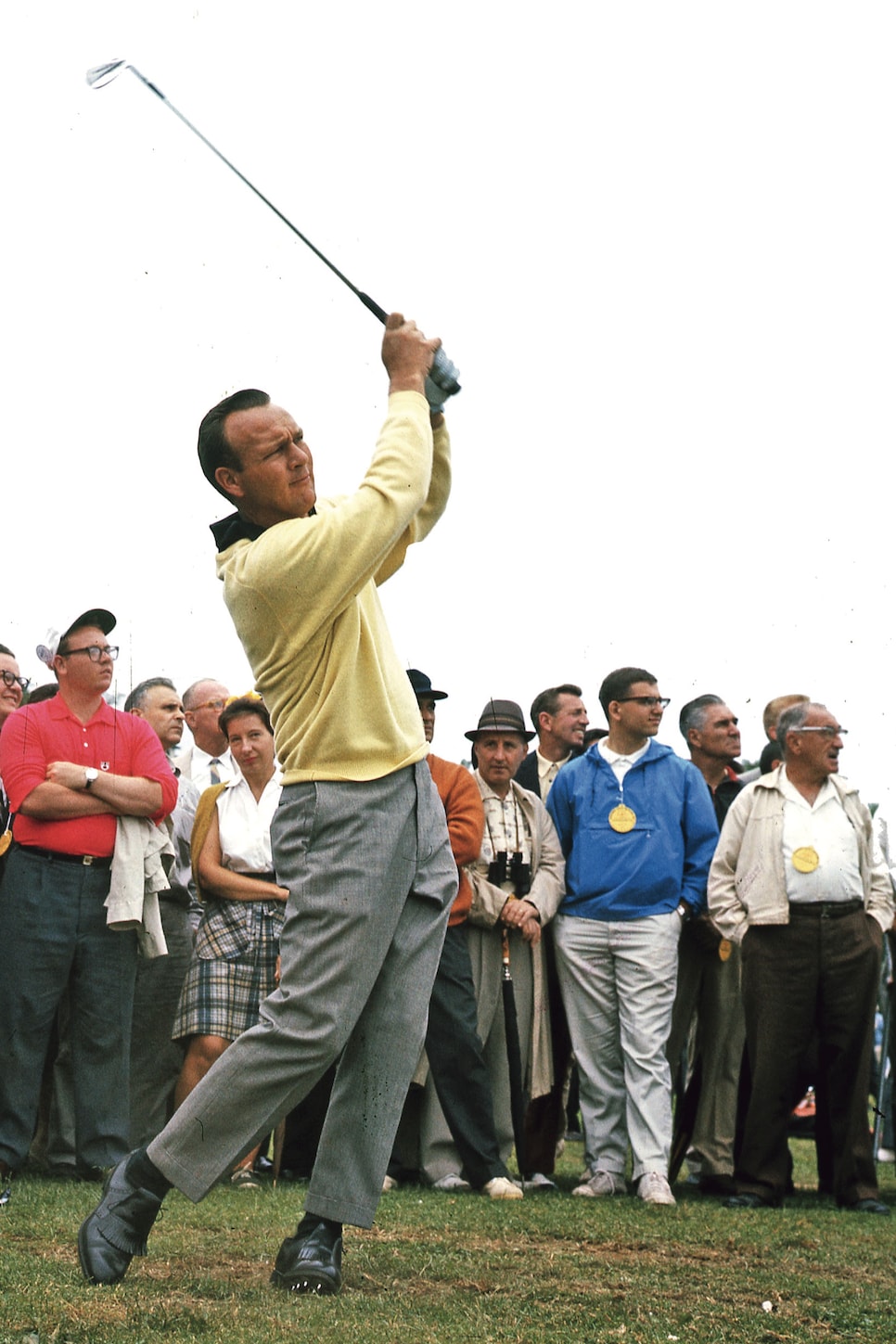 Arnie with his Army in the early '60s.
Transcendental Graphics
After taking his third Masters, in 1962, he was defeated by Nicklaus over 18 extra holes in the U.S. Open at Oakmont, just down the road from Latrobe. Jack's famous concentration was so good that week that he didn't hear anyone in the crowd say, "Miss it, Fat Guts."
Palmer, Nicklaus and South African Gary Player, dubbed The Big Three, flew the world for a while, Arnold at the controls. Leaving an exhibition in Seagraves, Texas, Nicklaus and Player had to hold onto each other to keep off the ceiling. They were all over the sky. "I had Gary crouching under his seat," Palmer said. "I shouldn't laugh. But it wasn't always hard-nosed stuff, was it? We had some fun."
Still, even as partners, Palmer and Nicklaus clashed. It was as if God said to Nicklaus, "You will have skills like no other," then whispered to Palmer, "but they will love you more."
"I can remember ginger-ale battles in our hotel rooms," Palmer said. "One night," Nicklaus said, "we got to kicking each other's shins under the table. I don't know why. I kicked him. He kicked me. Neither would give. We ended up with the biggest damned bruises. We used to do the stupidest stuff."
Getting back to work on his 62 PGA Tour victories, Palmer added a fourth Masters in 1964. With that he stopped winning major championships, but no one noticed for 10 years.
His third playoff loss in a U.S. Open, at Olympic in 1966, was the most lingering. Leading Billy Casper by three strokes on Sunday morning, he covered the front side in 32 to Casper's 36. Now the advantage was seven with just nine holes to play. But he allowed himself a daydream—par in from here and you beat Hogan's Open record—and the world fell apart.
The public didn't mind. He could sling four straight 3-woods out-of-bounds to make a 12 at Rancho Park in Los Angeles, and they still didn't care. If anything, it made him even more attractive. He always went for broke, and they always went with him.
Nicklaus and Palmer finished 1-2 at the Baltusrol Open in 1967 and 1-3 at Pebble Beach in 1972. Either man might have won the 1975 Open at Medinah if they hadn't been paired together in the fourth round and become so fixated on each other that they lost track of the field. Afterward, Jack was bemoaning three closing bogeys so pitifully that Arnold finally jumped in and said, "Why don't you just sashay your ass back out there and play them over?"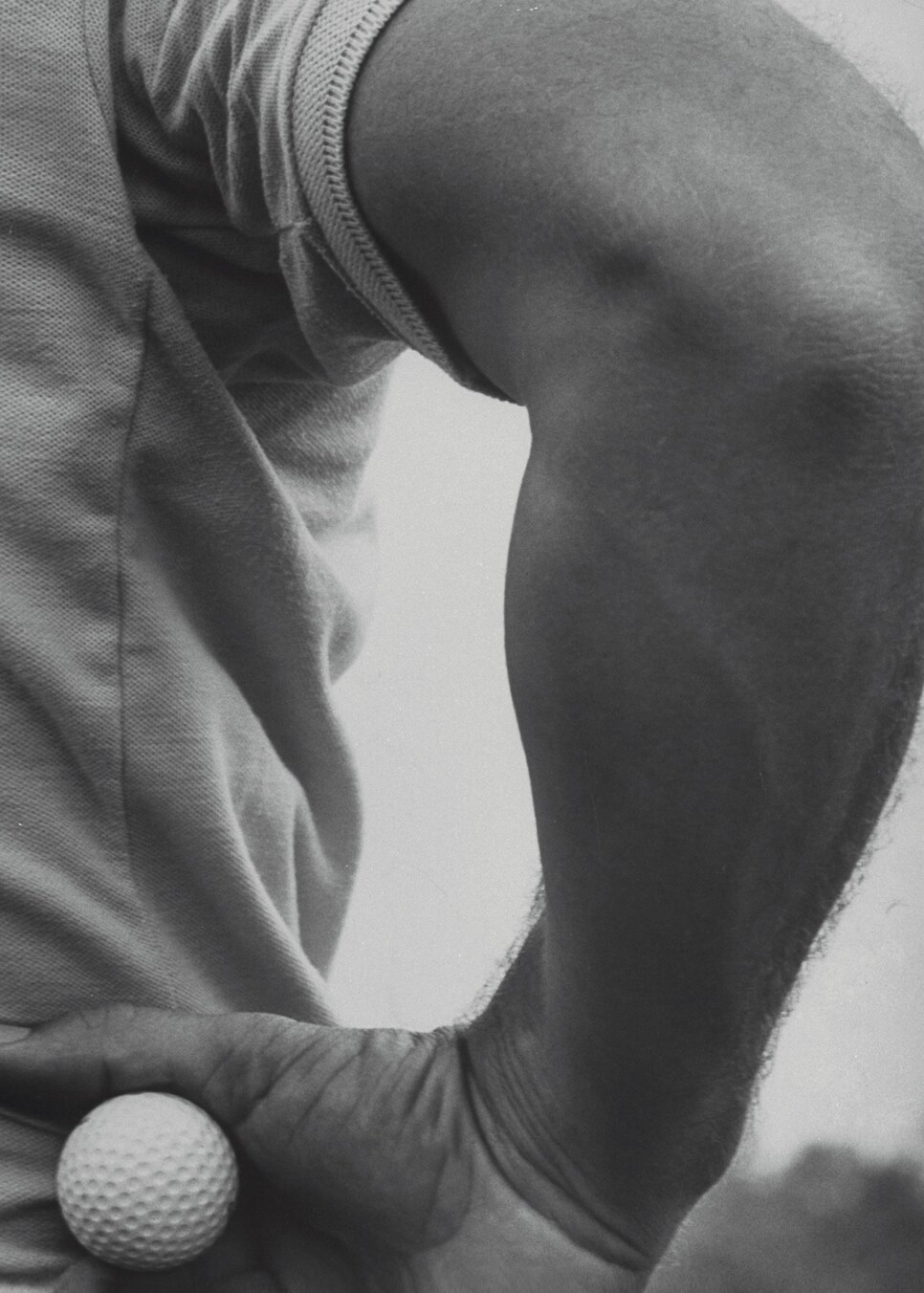 The vinegar evaporated in time. Palmer made the first move. At a senior event, The Tradition, he knocked Nicklaus over by asking him to look at his swing. "Can you imagine?" Jack said. "Me? We've played 30 years, and that's the first time he ever asked me."
"We still have the needle out," Arnold said, "but we know now that we love each other, and we always did."
Even during the hatchet-burying ceremony, when Palmer was the honoree at Nicklaus' Memorial Tournament, the needle was still glistening. Asked by a Canadian writer if he would be returning to the Canadian Open [Arnold's first pro success, the only blue ribbon to elude Jack], Nicklaus replied, "Barbara says she's going to keep sending me back there until I get it right." To which Palmer inquired innocently, "Are you sure she's talking about golf?"
They began to play practice rounds together again. At Augusta in 1996, Tiger Woods' last Masters as an amateur, the three of them went out together Wednesday morning. On the par-5 13th, Woods popped up his drive and for once was away. Nicklaus had his back turned to Tiger. Peeking over Jack's shoulder, Palmer saw the 20-year-old pull out an iron for his second shot and whispered, "He's laying up."
"Oh, Arnie," Jack said affectionately. "He's not."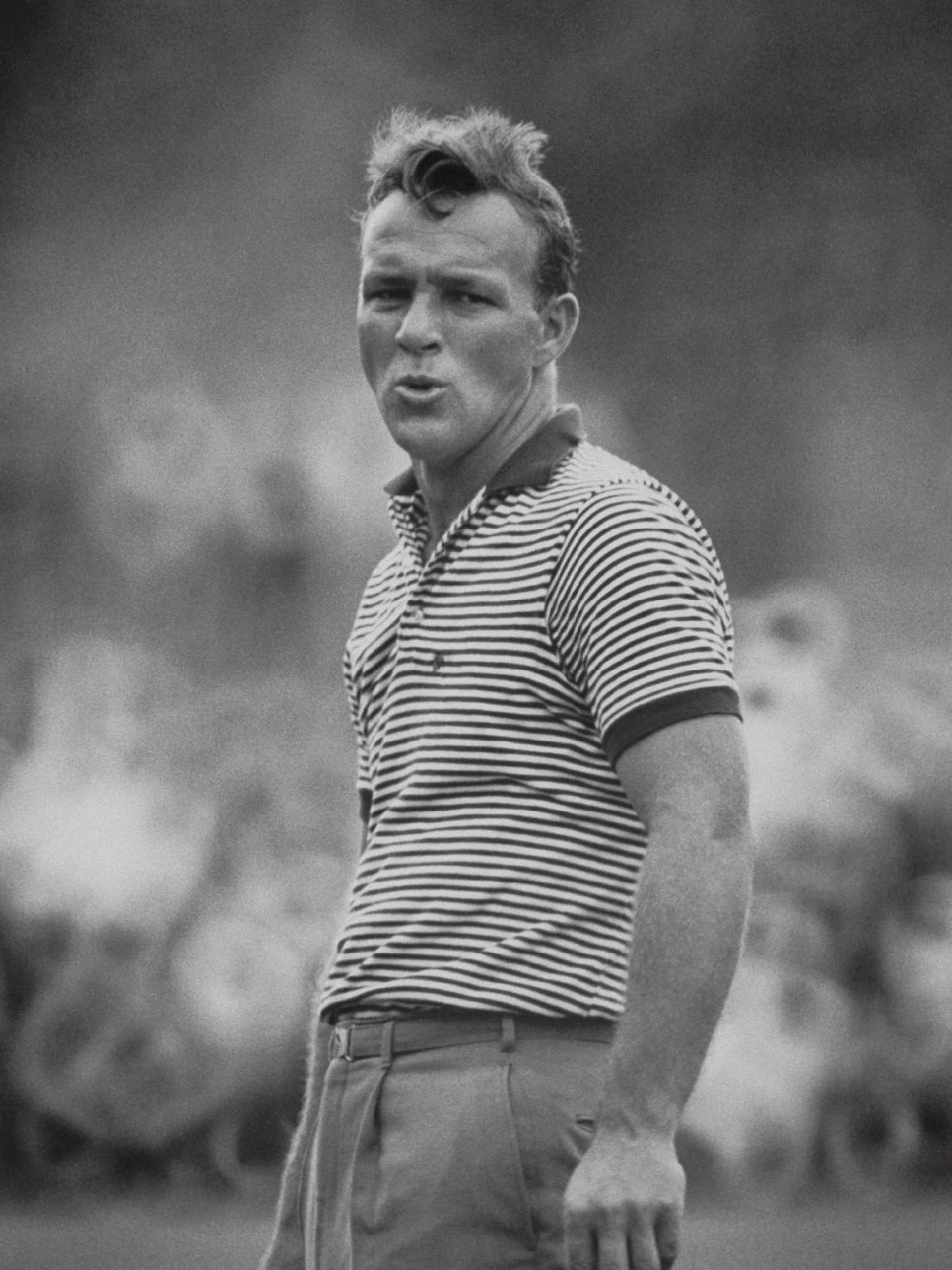 (Bob Gomel/Time Life Pictures/Getty Images)
Bob Gomel
Tiger hit a blue darter over the creek onto the green.
THE SEARCH FOR PERFECTION
"Arnold and I didn't do everything perfectly," Nicklaus said. "You try for perfection in golf, but you never get there."
On the subject of perfection, Palmer wasn't a plastic saint. He didn't glow in the dark. For 45 years he adored Winnie, but he loved all women, and more than a few loved him back. PGA Champion Bob Rosburg, his roommate on tour for some of the hungry years, fielded a phone call once from an especially agitated husband. Rossie tried to mollify the man, but, never wanting to come between Arnie and buckshot, signed off by saying, "My bed is the one by the window."
In 2013, Tom Watson complained to Golf Digest about a cover photo posing 84-year-old Palmer with supermodel Kate Upton in a parody of Grant Wood's "American Gothic." Mimicking the somber farmer, Arnold is holding a bunker rake instead of a pitchfork. "He looks doddering," Watson said. "If they had only shot him sneaking a peek out of the corner of his eye at Kate—eyes twinkling—that would have been all right. That would have been Arnie."
He earned $40 million that year without taking an official swing, and another $40 million the next. Palmer's net worth as of last year was an estimated $680 million. His original money man, contemporary Mark McCormack, sport's first super-agent, was at least a co-builder of his great friend's great brand. McCormack died in 2003. He went in for a face-lift and didn't come out.
Palmer made his side money in advertising, architecture, clothes, cars, motor oil, catsup, dry cleaners, umbrellas, everything. He actually guest-hosted for Johnny Carson on "The Tonight Show." It was the most wooden performance since Charlie McCarthy. But the audience enjoyed him. He walked through a movie scene from "Call Me Bwana" for Bob Hope. His pals ranged from Bing Crosby, Perry Como and James Garner to Mrs. Simpson's husband, Edward, the former King of England. A lot of pros have played golf with presidents, but only Palmer answered the doorbell at his home to find Dwight Eisenhower on the porch saying "Happy birthday."
Palmer maintained two residences, Bay Hill and Latrobe. The portrait Norman Rockwell painted of him was in Latrobe. To revisit his boyhood, all Arnold had to do was swivel the chair in his Latrobe office and gaze out the window. Since 1971, he owned the golf course where his father had been an employee who never set foot in the locker room, the dining room or the bar unless specifically invited by a member. Pap and he walked that hillside over there, shot pheasants, rabbits and squirrels, cleaned them in a nearby stream, and soaked them in salt water overnight. On the edge of the hill, an old oak tree fell over. The trunk was crumbling and honeybees moved in. " 'Now, Arnie,' my dad says, 'we're going to take this honey home to your mother.' But he says, 'We have to get two five-pound bags of sugar. When we take the honey out, we're going to put those two bags of sugar right there, so the bees can have their food.' By God, we did it, too. I was about 7 or 8 years old."
You might say, he spent his whole life taking the honey out and putting the sugar back. On May 23, 2014, he wrote a thousandth [ten-thousandth?] letter to a junior golfer in Massachusetts whose older brother had reached out:
I understand from your brother, Adam, that you are quite a golfer and a great younger brother. ... As you graduate from High School and continue on to Stonehill College, I think you will find life to be enjoyable and fulfilling if you follow this advice:
Courtesy and respect are timeless principles, as well as good manners ...
"Whatever Hogan did to Arnold that hurt him so," Byron Nelson said, "I can't believe he truly meant it. You know, Hogan knew that people as a group didn't like him. Maybe that was it. Ben had some friends, but most people didn't like him. He was so driven and he was so good. I think he had, I don't know, kind of a fear of being close to people. After his automobile accident—and, you know, he played his best golf after he learned to walk again—Ben told me, he said, 'Byron, I didn't realize that so many people liked me.' You could almost cry."
Knowing when to speak is just as important as knowing what you say ...
"Palmer went to bed at night with charisma," Sam Snead said, "and he woke up the next morning with more."
Know how to win by following the rules ...
"When I think of him," Raymond Floyd said, "I think of his hands. The greatest set of hands I've ever seen. Those eyes, too. On the golf course, all I ever saw was a mass of people. I saw, but I didn't see. He was able to focus in on everybody in the gallery individually. It wasn't fake."
Know the importance of when and how to say thank you ...
"We were paired together," Ernie Els said, "at my first major in America, the PGA at Bellerive [St. Louis]. How old was I then, 22? As we shook hands on Friday—those unbelievable hands—he invited me to play the next year in his tournament at Bay Hill. He said it was the only time he had ever extended an invitation on the spot like that. I can't tell you what it meant to me. It was like he opened a door and invited me in. I felt so glad, and so lucky, when I came to win his tournament eventually." Twice.
Never underestimate the importance of a good education ...
"I've stayed in Arnold's house," Player said. "He's stayed in mine. He came to South Africa, and we took him down a gold mine. And his mother! I just loved his mother. She was a dear lady. And I loved his father. He was just as tough as they say, but that wasn't the whole story. We compete, professional golfers. We're competitors. But you laugh together as you go, and you cry together sometimes. He and I did, physically. We cried together. At the end of the day, you play for each other."
In a Champions event near Washington in 1986, Palmer made a hole-in-one with a 5-iron and, the following afternoon, at the same tee, did it again. "I saw Gary standing by the green, looking back," Palmer said. "I wanted to hit a good one."
"That's it! That's it!" Player said. "He always knew how to share a moment of triumph, yours or his."
Good luck in college and study hard.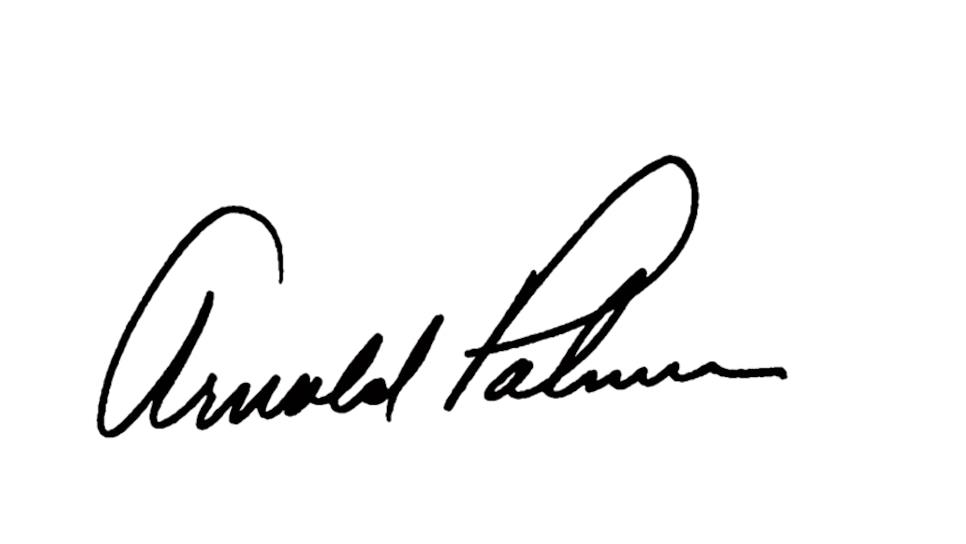 Incidentally, it delighted him to hear that his autograph was worth almost nothing on the market because there were so many of them.
Six years after Winnie died of ovarian cancer in 1999, Arnold found Kit. Families don't always embrace second wives, but he had someone with whom to unveil the morning again, and his daughters and their children cheered.
He shook off his own cancer and, missing a prostate but not a beat, hitched his pants and went on.
For golf, he had the simplest wish: "That every 20-handicapper who goes to the first tee with a knowledge of the game should pass it on to someone who doesn't know or doesn't care. For every swing lesson a golfer takes, take a lesson in rules and etiquette. Preserve what we have."
He had to be talked into talking about Tiger Woods, who won his tournament eight times.
"Let me make sure I say exactly what I want to say," he said, staring out the window for a moment. "Let's not put a name on it. Let's not talk about anyone specifically. Let's just say that not everyone in golf or sports wants to share his life with the public, or for that matter, with anyone else at all. I think that's the simplest way to put it. I've liked sharing my life. I think being out there among the people, letting them know you and sincerely wanting to know them, too, is the happier way to go. But everyone has to go his own way."
As the 2016 U.S. Open was going on at nearby Oakmont, Palmer was in Latrobe, talking about flying. "I knew the chairman of Boeing," he said. (Of course he did.) "He let me take up a 747." Arnold's visitor guessed, "It must have been like piloting a skyscraper." "Yeah," he said with a wonderful smile, "from the top floor." He was pallid but he was himself. Only at the mention of journeyman pro Sam Saunders did his eyes water. "It isn't easy for him to be my grandson," he said, and to have elected this particular grandfather's life's work.
Since tripping on a rug and separating his right shoulder in 2015, Palmer had looked shockingly fragile. Not just colorless, gray. But his mind was terrific and his sense of humor intact. Walking his big yellow dog, Mulligan, at dusk, he said, "I'll be old one of these days."
Severiano Ballesteros' brain tumor had been stalled (but not stopped) by the spring of 2009 when a photograph from Pennsylvania arrived in northern Spain. "Arnold Palmer sent me a dog," he said with a laugh. "In a picture. His dog, called Mulligan." The Spaniard got the message and understood it for what it was, a prayer. "The doctor saved my life; now I use my mulligan." Seve, of course, was the Palmer who came along. Adopting his own Labrador puppy, he named it for the Palmer who followed him. Phil.
"Never saying 'No,' " Lee Trevino said, "is why Arnold wore out sooner than he should have [in the majors]. I don't think he'd change it, though."
What about that? Any regrets?
"Sure, I would love to have won the four [U.S.] Opens I almost won," Palmer said, "or the two or three PGAs I barely lost. But, if I had it to do over again, would I take a different approach? I wouldn't. Let's say I could start over. I could have five Opens and two PGAs and six Masters and a couple more British Opens, but not as many friends? No. No way, Jose. Keep the trophies. I mean, I remember teeing off in Palm Springs at the Bob Hope, and because I had a couple of bad rounds, I'm starting early. Real early in the morning. Maybe 7 o'clock. And here comes Arnie's Army in their pajamas and robes."
He was equal parts humble and proud. He was equal parts commoner and king. He was equal parts iced tea and lemonade.
He'd bobble across a clubhouse grillroom (home or away) to tell an offender (stranger or friend) to remove his cap indoors.
For 87 burned-and-burnished years, he lived his life with joy and grace, swooping and soaring like a biplane over Latrobe on the earned estimation of men and the free favor of God.
Which was how he left this world September 25, 2016.