Takeaways
Viktor Hovland gets a redemptive shot at Bay Hill, Rory McIlroy's wayward finish and 50 shades of Sergio Garcia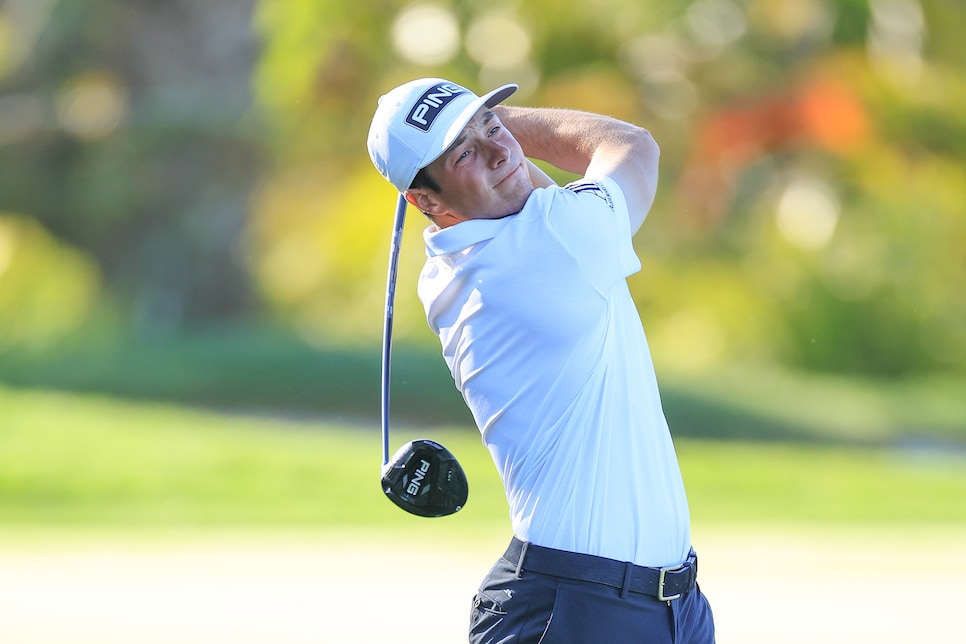 Viktor Hovland of Norway plays his tee shot on the par 5, 12th hole during the second round of the Arnold Palmer Invitational.
David Cannon
Viktor Hovland followed the blueprint for picking apart Bay Hill with the surgical precision of a veteran on Friday, playing the par 5s in four under par during a six-under-par 66 that vaulted him into the Arnold Palmer Invitational lead as he stalks his fourth worldwide win since last summer.
Hovland must have had a moment of clarity on the range before his round as he came out firing. Five birdies on his first nine (the course's back nine) set the tone, while two easy birdies on his final par 5s allowed for a two-stroke 36-hole lead with a nine-under total.
Of course, last year, Hovland was in the mix here before completely ejecting on the weekend, shooting 77 and 78 to finish tied for 49th. The good news about young players? They're resilient and anything can be a learning experience. And that's exactly how he took it.
"I kind of try to forget the weekend here last year. I played really well the first few days, very similar to kind of how I played so far this year," Hovland said after his round on Friday. "The course just gets harder and harder every single day, and it started blowing. A few too many bad swings and I ended up in bad spots and just didn't really take my medicine. I kind of compounded the errors instead of playing smart and just taking the bogey when you're out of position."
He'll be looking for an encore performance of his first two rounds Saturday afternoon as he plays alongside 2020 champion Tyrrell Hatton.
Bunched at seven under, first-round leader Rory McIlroy, Hatton and Talor Gooch are Hovland's closest competitors entering the weekend.
Here are three more takeaways from Bay Hill.
Through 14 holes, McIlroy's afternoon was going just fine. Not great, but fine. After setting the pace Thursday, he was tied with Hovland for the lead and still had a short par 5 left to put a red number on the board. Combine that with the fact that he was pouring in near-50-footers and it seemed like it might actually be his week.
Instead, he faltered, repeatedly, en route to a two-over inward nine with bogeys on 15 and 17. His birdie putt on 16 never had a chance and left an almost equally-as-long putt coming back for par in his eventual round of 72. McIlroy's undoing was reminiscent of several tournaments over the past few years where he's flashed some of the former glory that once made him the best in the world in one round, only to look pedestrian in the next.
But hey, tournaments are 72 holes for a reason, and it would be unwise to bet against a player of McIlroy's caliber, especially when he's a little peeved at how he scored on Friday, despite striking the ball well. And he did strike it well, gaining more than four strokes on the field tee-to-green. He just happened to give two strokes back to the field once he got on the green. Those greens are expected to continue to firm up as the tournament progresses, so if he can get hot, or maybe even just less cold, with the putter, look out.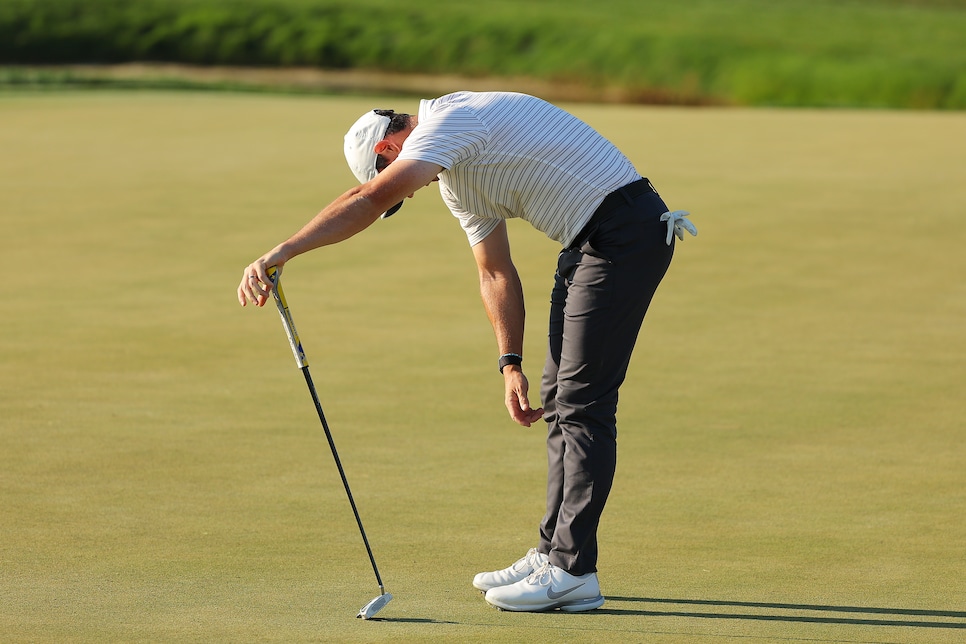 Rory McIlroy reacts to a missed putt on the 13th green during the second round of the Arnold Palmer Invitational.
Kevin C. Cox
Asked about Hovland and Hatton only having 23 and 22 putts, respectively, in the second round, McIlroy quipped, "See how they do tomorrow."
Great golf courses have a way of separating those who are really on their game from those who are not. This week at Bay Hill may be an overexaggerated case.
Five players are six under or better. Then there's a big gap before a group of seven players tied at three under. As course conditions have been a point of emphasis this week, this may turn into a battle of attrition as we head into the weekend. By Friday afternoon, the television crew was already remarking how the rough had grown to four-plus inches and that the grounds crew had no plans to cut it at all before Sunday. On the other hand, the greens had firmed up, changed color and become as glassy as we see outside of majors.
Among that lead group of five there are three categories: the hot putters, the ball-strikers and Billy Horschel.
Hovland and Hatton gained 5.23 and 3.75 strokes, respectively, on the field putting on Friday. For a player like Hovland—whose short game and putting have been a bit of a struggle—to be putting like that, other players should be shaking in their spikes.
Meanwhile, Rory did his Rory thing and Gooch had the low round of the afternoon, gaining 6.16 (!) strokes on the field en route to a 68, bested only by Hovland's 66.
Then there's Horschel, who's just solid across the board. The Florida Gator didn't have the cleanest scorecard (three bogeys and a double) but more than made up for it with six birdies. He's got a bit of ground to make up, but when the course starts to bite, the fiery Floridian looks like he'll be ready to bite back.
You know what they say: look good, feel good, play good.
Well, Sergio Garcia, another Florida resident, has nailed the first two steps this week. At one over, he made the cut, which is never "bad," per se, but it's safe to say he won't factor into any weekend leader board drama.
But he sure does look the part. Fully embracing the warm, sunny Florida climate, Garcia has donned some stylish shades through two rounds at Bay Hill.
Thursday, he matched his white outfit with some white wayfarer-style shades. He looked more like he was ready for a night out in Miami than an afternoon round in suburban Orlando.
He came back from his opening, whited-out 75 with an all-black look Friday morning.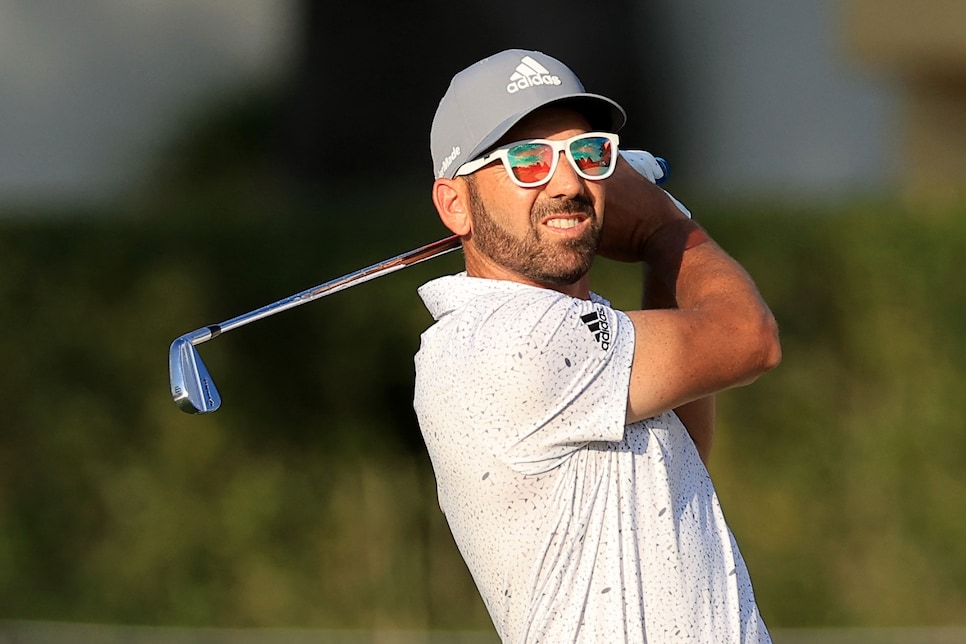 Through another set of matching shades, Garcia carded a two-under 70 and will stick around for the weekend.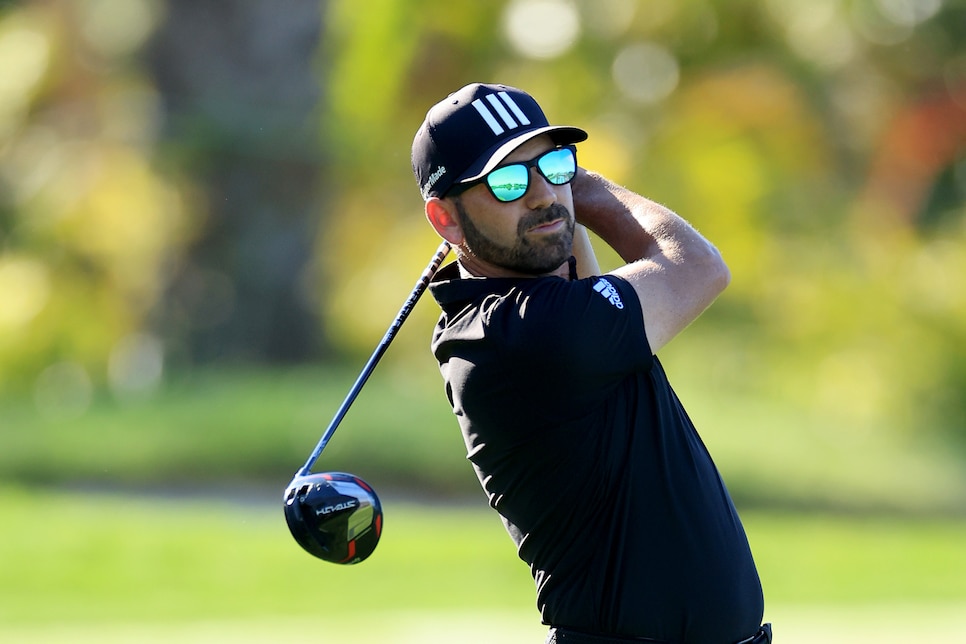 He's not quite in Adam Scott brown sweater territory just yet, but if he starts breaking out shades to match more colorful outfits, watch out.